FUUD: Shogunai Tacos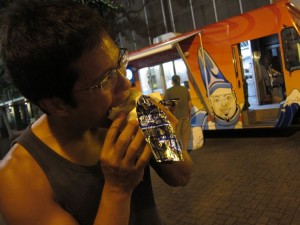 Matt Duffy waited a little too long.
He had been working on a unique taco truck — loosely based on the Korean taco trucks popular in L.A. and something Hawaii hadn't seen — but within a year, several new ones opened up, stealing a bit of his thunder.
Not that he doesn't have something to set him apart from the rest.
For starters, Shogunai Tacos, which opened earlier this month and sets up shop around downtown and at late-night venues, offers an international assortment of tacos, from Greek to Moroccan to Thai. Duffy has about 17 to 20 different tacos, which he rotates daily to keep the menu fresh.
Then there's the truck itself.
Custom-made by a company in New Jersey, this food truck is as interesting (visually) as the menu.
It's stylish and hip, with tattoo-style artwork all over it, strung together by an interpretation of Hokusai's famous woodblock print, "The Great Wave at Kanagawa."
Fitting for Duffy, since he spent about four years in Osaka, Japan, where he gets some of his culinary inspiration.
"I wanted to do something international," said Duffy, 35, who's actually a trained mortician and deejay. (Long story.) "Not just the normal tacos."
And so far, he's succeeded.
Here's what our recent visit looked like:
Shogunai Tacos
Shogunai Tacos,, Usually Punchbowl and Queen streets in downtown. Hours: Around 11 a.m.-2 p.m. Monday through Friday, various other venues. Follow @Shogunai_Tacos on Twitter to get updated times and locations. Phone: 808-256-4020.
***
CAT'S GIFT IDEAS
SHOPPING DAYS LEFT: 1
TODAY'S GIFT IDEA: Tickets to "Cats" at the Blaisdell Concert Hall
Tickets to "Cats"
Picture 1 of 19
PRICE: $35 to $60 each
THE GIST: The longest running show in Broadway history, "Cats" returns to Hawaii with all of its feline fantastic-ness. Shows run from Dec. 28 to Jan. 2 — and tickets are still available online at www.ticketmaster.com.
THE ADDED BONUS: You can print out tickets from your computer and, viola, instant gift!
BEST FOR: Broadway fanatics, cat lovers and anyone on your list for whom you haven't shopping.
Got a gift idea? Send 'em my way at cat@nonstophonolulu.com.
***
To read all of Cat's blogs, visit www.nonstophonolulu.com/thedailydish. Follow Cat on Twitter @thedailydish or send her an e-mail at cat@nonstophonolulu.com.
Subscribe to Nonstop Honolulu on YouTube »
RECENT BLOG POSTS
Look at your TV, now back to this blog
Cat Chat episode 7: Holiday wine pairings
ASK DR. DISH: Regifting is great!
Preferring the imperfect Christmas
FUUD: Your favorite pho
Sign a friendship contract?
Cat Chat episode 6: iPad, iDunno
Your favorite Christmas flicks
TOP BLOG POSTS
Amber-Lynn Hyden's Top 5
New eats: Zaratez Mexicatessen
Introducing Cat Chat
Top 10 best memories of Europe
Top 10 first dates
36 hours of eating in Maui
North Shore Eats