FUUD: Pablo's Cantina in Ward Centre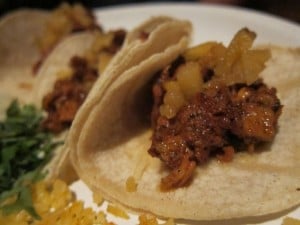 It's not every day you come across an Irish-themed pub that serves Mexican food.
But that's exactly what Pablo McGinty's is, a pub-slash-cantina that's popular on the Mainland.
Too bad that's not what opened last month in the space vacated by Compadres Bar & Grill in Ward Centre.
Instead, we have Pablo's Cantina, a Mexican-style restaurant with maybe a couple of Irish-themed dishes such as Guinness beer-battered fish and chips and a solid lineup of beer. Not that I'm complaining — but the fusion would've been interesting.
The principal owner, Oahu native Steve Hamile, is a part-time Lanai resident who wanted to move this Long Beach, Calif.-based chain of Irish pubs to Hawaii. He saw the void left by the closing of Compadres, a fixture in the Ala Moana area and famous for its Taco Tuesdays, which offered cheap tacos and drink specials. (Pablo's is bringing that traditional back, by the way.)
In all, the food was, well, good enough. It didn't blow my mind, but Pablo's did offer some unique dishes that are worth trying. And you can't beat the prices — you get a lot of food for a fairly reasonable price — the hours — open daily from 11 a.m. to 2 a.m. — or the bar selection.
It's a great place for hanging with your friends — there was '80s music by Cyndi Lauper, Billy Joel and The Cure playing on the house speakers — or meet with coworkers. Not the best date spot — but still, a fun restaurant to check out before watching a movie or heading home after a long day at work.
Here's what we ate:
Outside the cantina
Picture 1 of 13
When Compadres Bar & Grill closed down at Ward Center two years ago — it had been open for a surprising 24 years! — it left a void not only at the mall but in Oahu's Mexican offerings. While it may not have been the best in serving authentic fare, it did boast a fun atmosphere, easy-to-eat foods and, of course, Taco Tuesdays.
Pablo Cantina, Ward Centre, 1200 Ala Moana Blvd. Hours: 11 a.m. to 2 a.m. daily. Phone: 808-591-8307
***
To read all of Cat's blogs, visit www.nonstophonolulu.com/thedailydish. Follow Cat on Twitter @thedailydish or send her an e-mail at cat@nonstophonolulu.com.
RECENT BLOG POSTS
ASK DR. DISH: Male shorage
Dear 'Hawaii Five-0' writers
Here's a secret: don't bathe
FUUD: Rainbow Dine-In & Take-Out in Waikiki
McRib returns to happy fans
Andy Irons dies; I'm in shock
How annoying is product placement?
'Long hair not appropriate for grown-ups'
TOP BLOG POSTS
Top 10 best memories of Europe
Top 10 first dates
36 hours of eating in Maui
North Shore Eats