From Our Files
January archives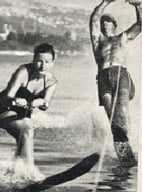 In 1888, King Kalakaua issued a royal charter, commissioning a magazine. Then titled Paradise of the Pacific, this publication became HONOLULU Magazine, making it the oldest magazine west of the Mississippi.
1930
"The Pālama Settlement is quite different from any other, an institution unique in a land where nearly everything presents a distinctly individual aspect," writes Paradise of the Pacific. The Kalihi settlement, established in 1896, provided medical care, education and recreational activities to neighborhood families. "Pālama finds its greatest field in preventative, rather than corrective measures; disease, squalor and distress can be more effectively nipped in the bud, than eradicated after having fully flowered." The Pālama Settlement is still thriving today and offers an array of classes and activities.
1950
The Oahu Railway and Land Co. may have shut down its mainline operations in 1948, but Kahuku residents still saw its trains rolling down the tracks. After halting its service, the OR&L donated one of its coaches to the members of the Model Railroad Engineers of Hawaii. "Puffing through the cane fields is a rather diminutive locomotive, drawing two well-filled, though ancient, passenger cars," observes Paradise of the Pacific. The nonprofit dubbed its railroad the Hibiscus and Heliconia Short Line and every Sunday took passengers through Green Valley and cane fields.
1960
"Water skiing, at one time considered a tourist attraction, has gained popular appeal with local folks who are very much interested in what is called 'America's fastest growing sport,'" observes Paradise of the Pacific. Water skiing was the new surfing that year, as thousands turned up to watch competitions that included ramp jumping, ski ballet and backwards skiing. Local sales for boats spiked, and the Hawaiian Islands Water Ski Club was established. "The Islands offer good skiing waters no matter which way the wind blows. Water skiing can go on in bays and ocean lanes which are protected on all sides by reefs."