Frolic picks: Weekend events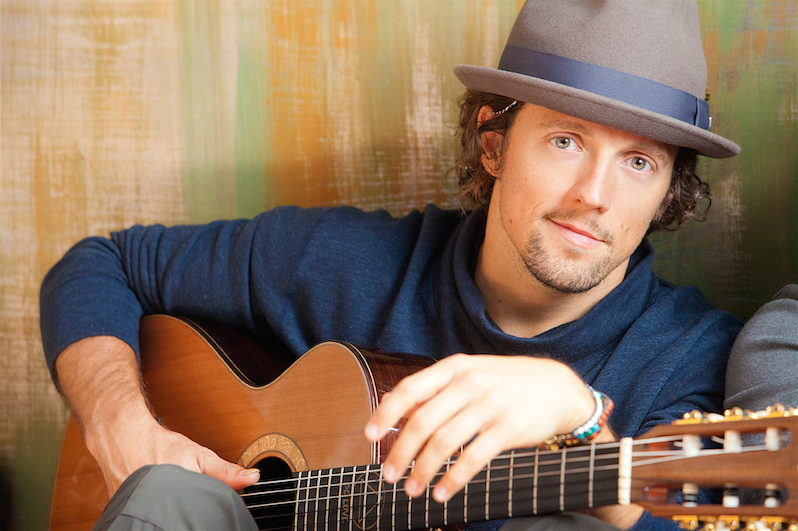 Thursday, Dec. 11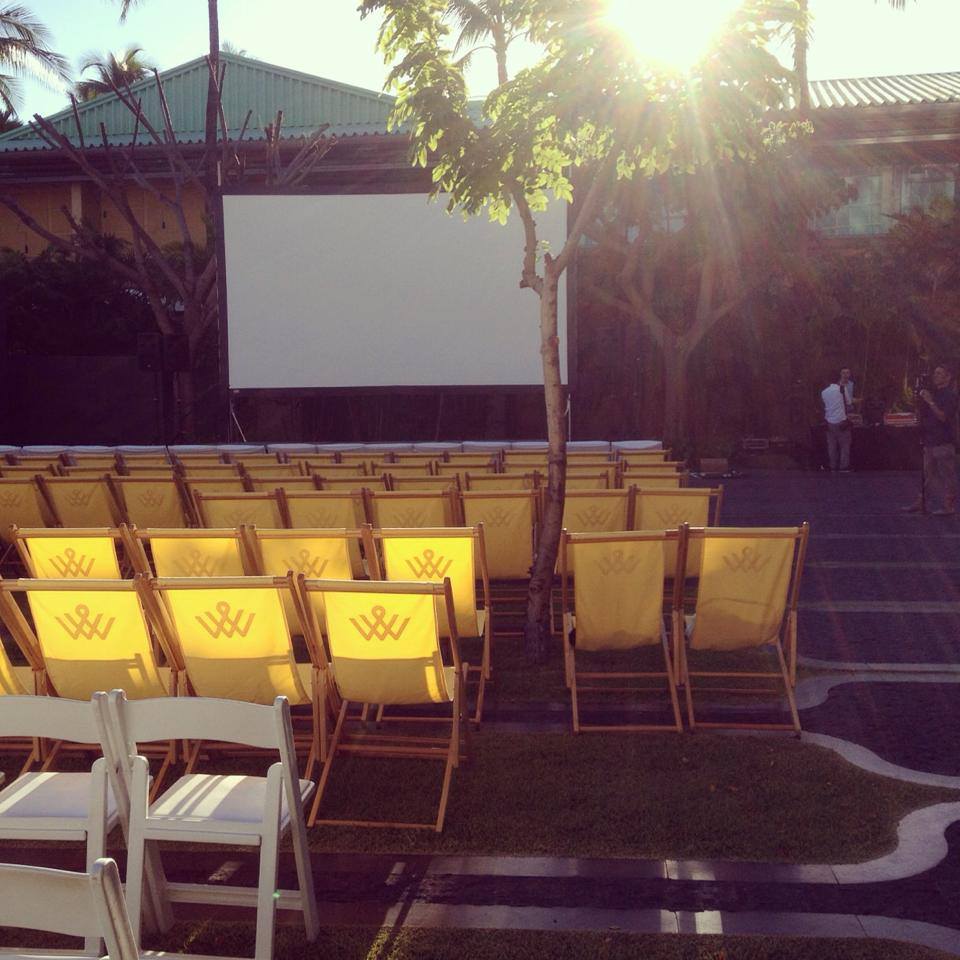 Dec. 11, 6 p.m.
IBM Building Courtyard
1240 Ala Moana Boulevard
Free
This month's Ward Village Cinema flick is "It's a Wonderful Life." For those who haven't seen this classic holiday film, it's about an angel who helps a compassionate, but despairingly frustrated, businessman by showing him what life would be like if he had never existed.
Doors open at 6 p.m. and the film starts at sunset. Food trucks and other local vendors will be selling holiday items for purchase.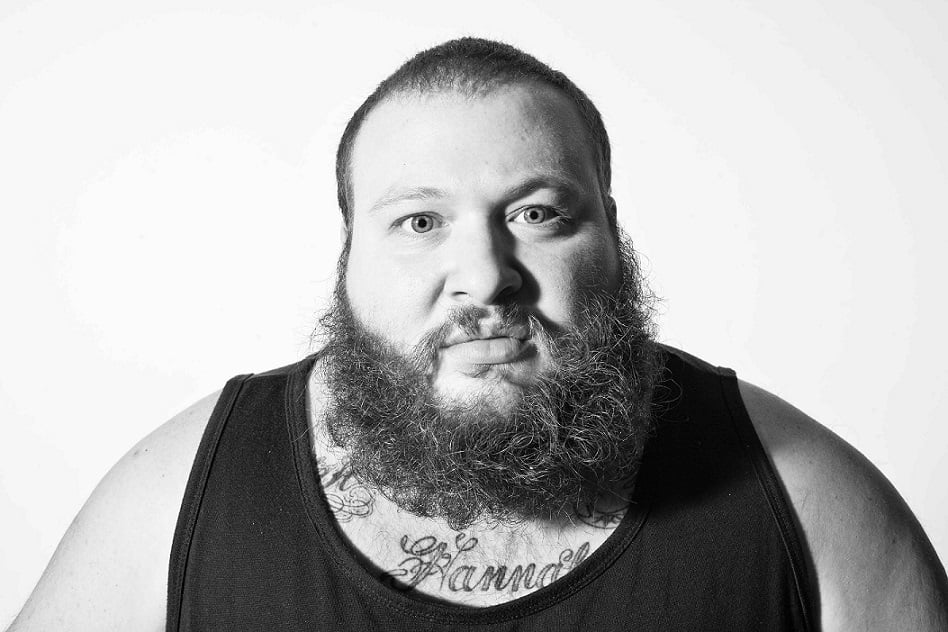 Dec. 11, 7 p.m.
The Republik
1349 Kapiolani Boulevard
Free
A raunchy, cylinder-shaped ginger of Eastern European ancestry might not be the first guy pegged for rap stardom, but that's exactly the mantle Action Bronson is on the verge of possessing. Over the last two years, the 28-year-old Queens native has become one of hip-hop's most charismatic and colorful new characters. He has a wicked sense of humor, a buffet of impressive releases, and the rare knack for updating cherished East Coast aesthetics into indisputably modern music.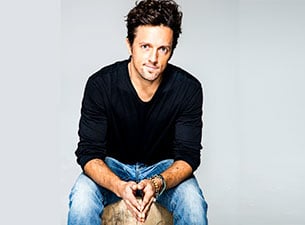 Dec. 11-12, 7:30 p.m.
Blaisdell Concert Hall
777 Ward Ave.
$25-$75
Purchase tickets
Jason Mraz returns to Honolulu for two performances at Blaisdell Concert Hall.
Since getting his start 15 years ago performing in coffeehouses in his adopted city of San Diego, Mraz has brought his positive message and soulful, folk-pop sound to rapt audiences around the world through his recordings, vibrant live performances, and philanthropic efforts. Along the way, he has earned platinum or multi-platinum certifications in more than 20 countries for his various releases. He's come a long way selling 48 million singles, winning two Grammy Awards, performing in amphitheaters and arenas across the globe, and has selling out such iconic venues as The Hollywood Bowl, Madison Square Garden and London's O2 Arena.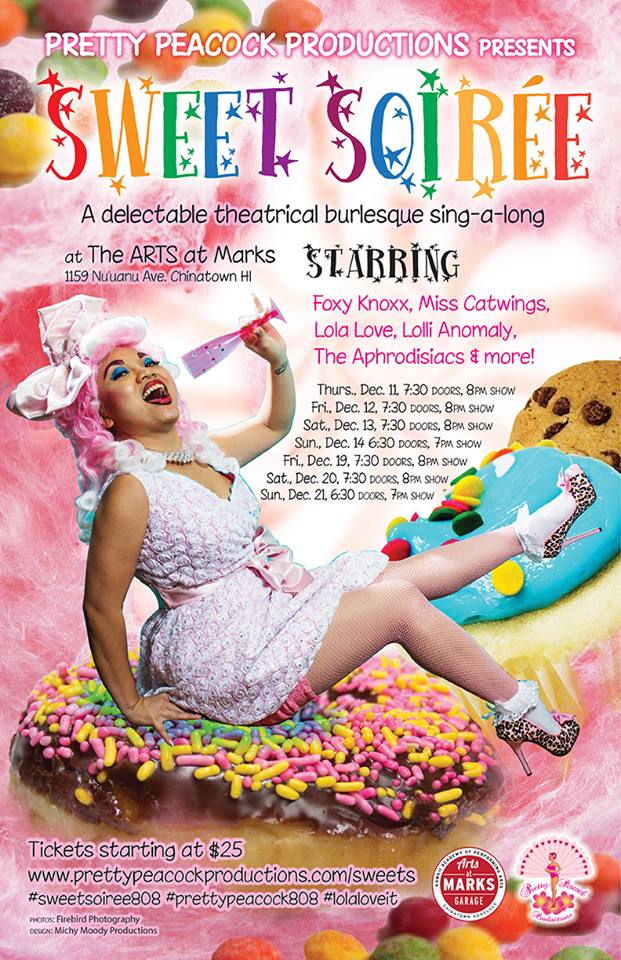 Dec. 11, 7:30-10:30p.m.
The ARTS at Marks Garage
1159 Nuuanu Ave.
$25 GA, $35 VIP
Purchase tickets
Written and directed by Lola Love, Sweet Soiree is a theatrical burlesque sing-a-long hosted by Foxy Knoxx. Guests will be enchanted and delighted by the performances of Miss Catwings, Lola Love, Lolli Anomaly, Jacqui Boom Boom, The Aphrodisiacs and more as they celebrate the evening with their favorite songs sugary treats.
Friday, Dec. 12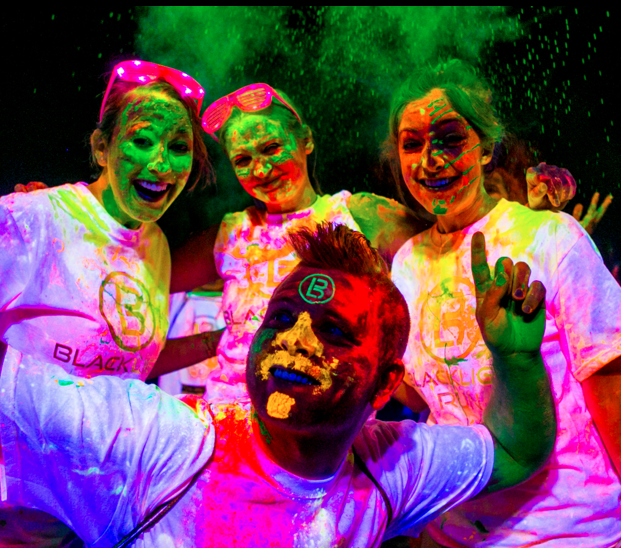 Dec. 12, 3 p.m.
Aloha Stadium
99-500 Salt Lake Boulevard
$40-$80 GA; $55-$95 VIP
Purchase tickets
Blacklight Run is a unique night 5K fun run focused less on speed and more on UV neon-glowing fun with friends and family. Glowing participants come from all different ages, shapes, sizes and speeds, but every participant will get glowing and will have the time of their life. Whether you're an avid runner or an around-the-park walker, the three-mile course will have you glowing and waiting for the next one.
Participants will receive a commemorative white Blacklight Run t-shirt, glow-in-the-dark tattoo, race bib, glow pack (at finish line), admission to the after-party and a donation to a chosen local charity. Check-in starts at 3 p.m.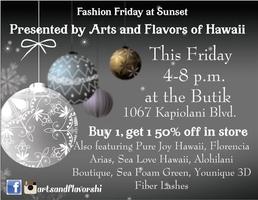 Dec. 12, 4-8 p.m.
The Butik
1067 Kapiolani Boulevard
Free
Arts and Flavors of Hawaii present Fashion Friday at Sunset. Attendees will enjoy a special discount when they buy one item, they'll get the second for 50% off. There are a variety of local vendors, including jewelry by Pure Joy Hawaii and clothing and accessories by Sea Love Hawaii, Florencia Arias, Alohilani Boutique and Sea Foam Green. Younique 3D Fiber Lashes cosmetics will also be available for purchase. So kickstart your holiday shopping and be sure to attend this fashionable event.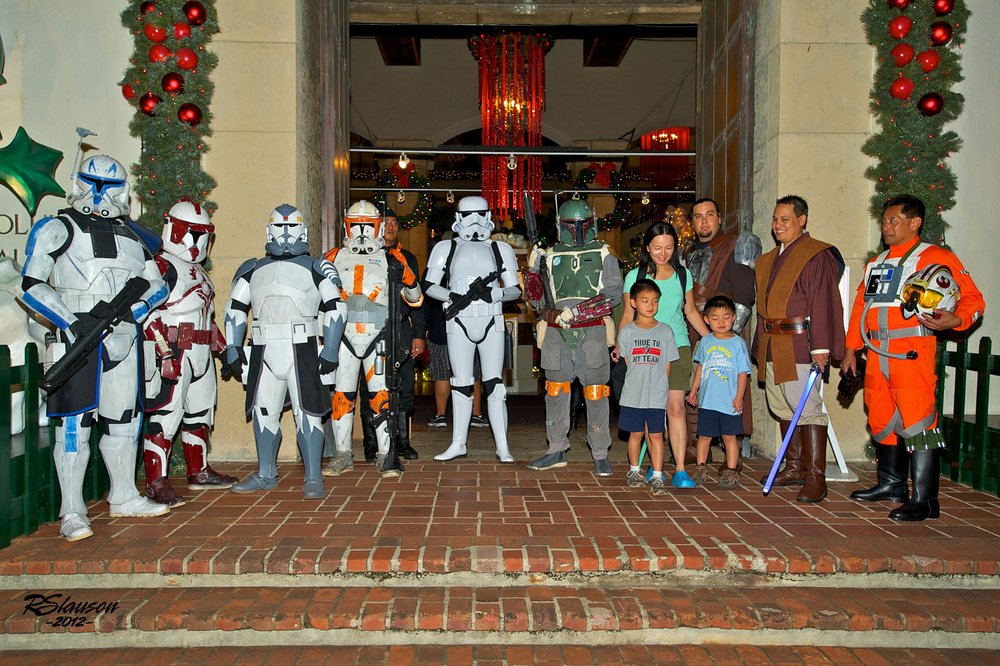 Dec. 12, 6-8 p.m.
Honolulu City Lights
530 S. King Street
Free
The 501st Legion, a worldwide Star Wars costuming organization, will make a special appearance at Honolulu Hale to collect toys for the U.S. Marine Corps Toys for Tots program.
Honolulu City Lights visitors are encouraged to bring a new, unwrapped gift when they stop by the Honolulu Hale courtyard where the 501st Legion – Pacific Outpost troopers will be stationed in full costume. Cameras are welcomed.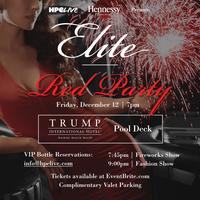 Dec. 12, 7-11 p.m.
Trump International Hotel Waikiki
223 Saratoga Road
VIP Guest List free before 8 p.m.; $10 pre-sale; $15 SWIMBOOK pacakge; $300 Elite VIP Bottle Service
Purchase tickets
Elite at Trump is known as Honolulu's most sophisticated nightlife event for guests to mix and mingle in a luxurious setting. Elite Winter Edition: Red Party has a recommended red dress code to enhance the unique and unforgettable experience. Guests will also walk the red carpet in style for photos.
Elite Winter Edition: Red Party will be held in the lavish dual interior of Trump Tower's In-Yo Restaurant and sleek pool deck. At 7:45 p.m. Elite will feature the famous Waikiki fireworks show with amazing views to the spectacular sights, and at 9 p.m., Elite will host a fashion show featuring Loco Boutique and Kaimana Beachwear. Entertainment will be provided by local DJ Shift, who will entertain the crowd with original and familiar mixes. To quench thirsty appetites, Elite will feature refreshing, poolside sangria.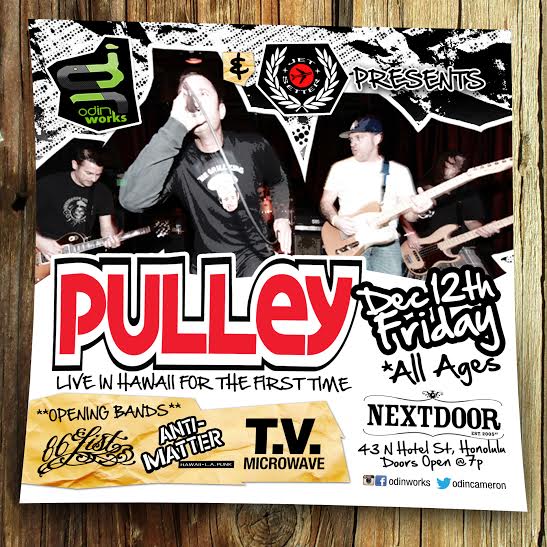 Dec. 12, 7 p.m.-2 a.m.
NextDoor
43 N. Hotel St.
$20
Purchase tickets
Veteran punk band Pulley is making its Hawaii debut at this all-ages show. Formed in Southern in California in 1994, the band is best known for its straightforward, hard-edged, melodic punk rock. Opening acts for Pulley include The 86 List, Anti-Matter and T.V. Microwave.

Dec. 12-13, 7:30 p.m. and 12/14, 2 p.m.
Hawaii Theatre
1130 Bethel St.
$30 – 75
Purchase tickets
Hawaii Theatre's Hawaii Kalikimaka stars Robert Cazimero, one-half of the award-winning Brothers Cazimero, with this year's special guest star is Nā Hōkū Hanohano winner, Starr Kalahiki.
The holiday presentation will feature hula by Robert's Hālau Nā Kamalei O Līlīlehua, Miss Aloha Hula 2014 Keʻalohilani Tara Eliga Serrao, Miss Keiki Hula 2014 Keolani Hokuleʻakeaouli Hosino, and Master Keiki Hula 2014 Kamaka Leao Kaleionapali Hoʻopiʻi. Enjoy vocals by the Hawaii Theatre Christmas Glee singers and music by the Hawaii Theatre Hawaiian Ensemble under the musical direction of Aaron Sala. Hawaii Kalikimaka will be produced and directed by Hawaii Theatre Center's artistic director and general manager, Burton White.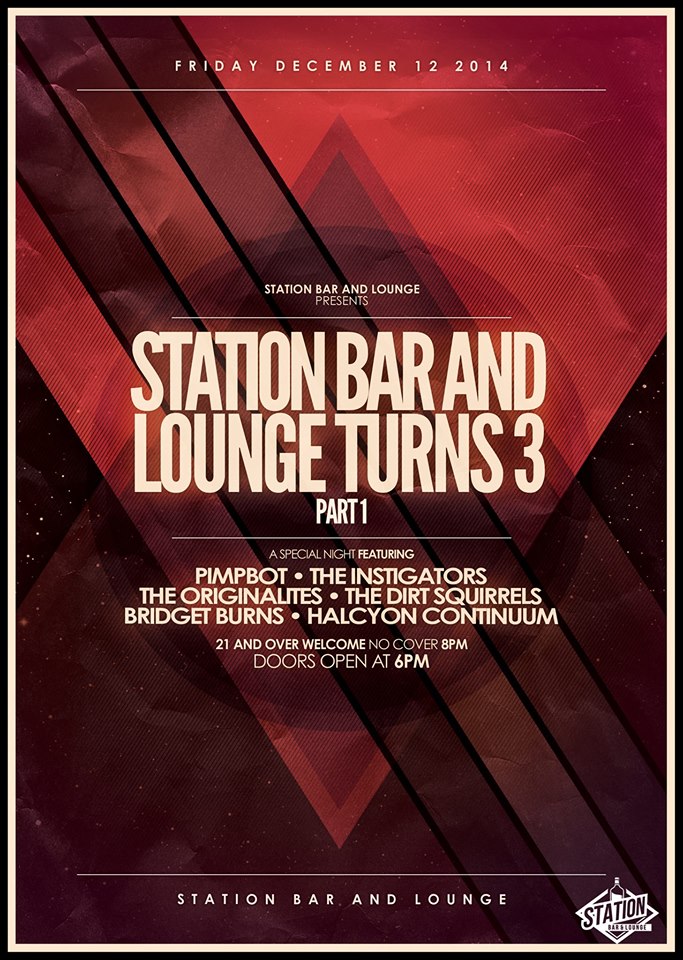 Dec. 12, 8 p.m.
Station Bar and Lounge
1726 Kapiolani Boulevard
Free
Station Bar and Lounge is turning three years old this week. After a week full of awesome events, they are ending the celebration with two big shows. Part 1 begins on Friday with performances by Pimpbot, The Investigators, The Originalites, The Dirt Squirrels, Bridget Burns and Halcyon Continuum. Doors open at 6 p.m. and the show starts at 8 p.m. sharp.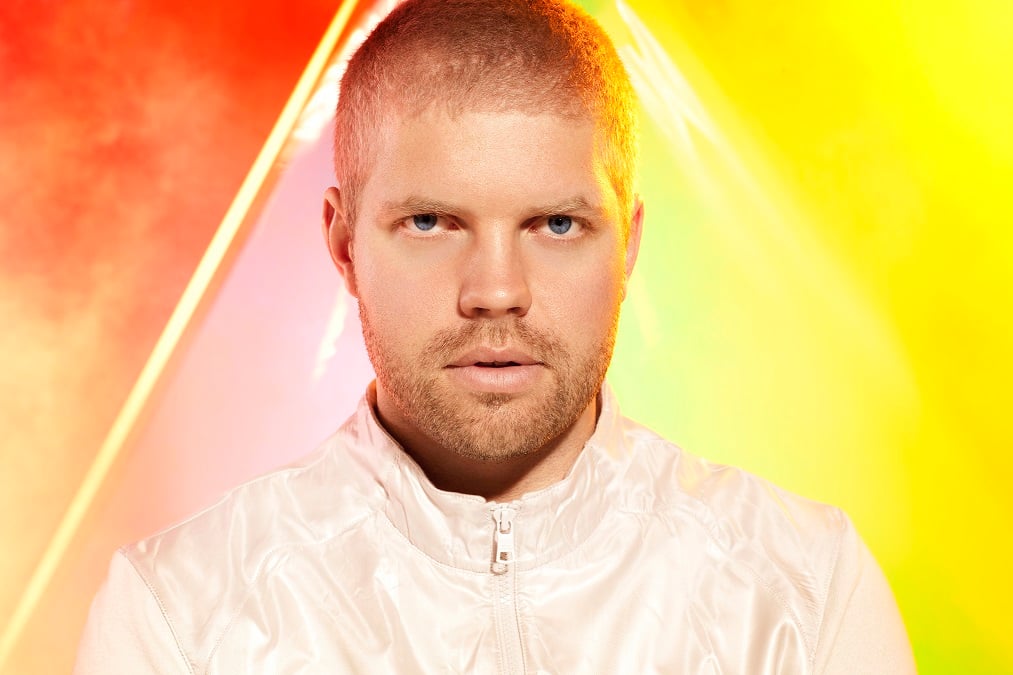 Dec.12, 10 p.m.
The Republik
1349 Kapiolani Boulevard
$20 early bird, $25 GA, $30 at the door (plus fees)
Purchase tickets
Electric Palms presents DJ Morgan Page performing live at The Republik. Layering memorable pop-driven lyrics over the crisp synths and pounding beats of progressive house, Page has emerged from under the radar with a unique sound that connects with dance music veterans and newcomers alike. With one Grammy-nominated song and two IDMA nominations in 2009 alone, Page has firmly established himself as one of the top talents of the next generation of dance music producers.
Saturday, Dec. 13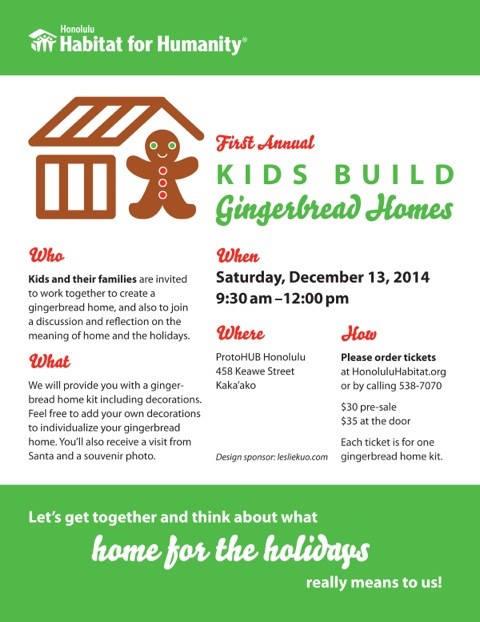 Dec. 12, 9:30 a.m.-12 p.m.
ProtoHUB Honolulu
458 Keawe St.
$30 pre-sale; $35 at the door
Purchase tickets
Honolulu Habit for Humanity is kicking off the holidays by celebrating with Oahu's youngest community members with our 1st Annual Kids Build: Gingerbread Homes. Each registered keiki will receive a gingerbread house kit with all decorations included. Participants are encouraged to add their own touches by bringing favorite candy decorations. Along with the opportunity to build their own Gingerbread Home, we will have plenty of games, music, snacks and prizes and maybe even a visit from Santa. While participants are creating their gingerbread homes, Honolulu Habitat will be hosting discussion questions that encourage kids to reflect on what "home" means to them.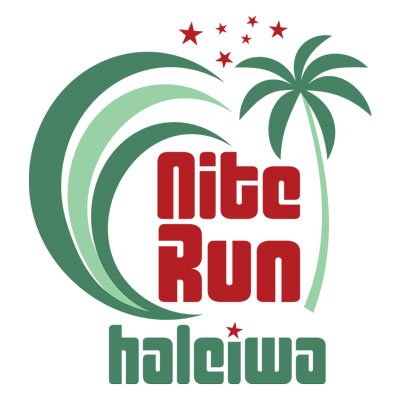 Dec. 13, 5-9 p.m.
Haleiwa Beach Park
62-449 Kamehameha Highway
$45 GA, $35 Military/Student/HGEA
Purchase tickets
The Haleiwa Niterun is a 5k fun run/walk and family fair that benefits JDRF Hawaii. All participants will receive a headlamp to light their way as well as water and snacks during the race. The family fair is from 5-9 p.m. with rides, fun treats, a Santa photo booth and more. The race begins at 7 p.m. and includes a costume contest and stroller division for parents with small children.
All race proceeds benefit the JDRF Hawaii whose mission is to find a cure for Type 1 Diabetes.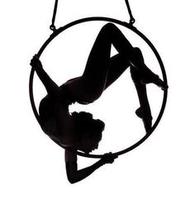 Dec. 13, 6-9 p.m.
Kakaako Agora
441 Cooke St.
$30 GA; $50 VIP
Purchase tickets
Attend this modern circus event featuring aerialists, acrobats and contemporary circus performers of all persuasions. Be amazed and enchanted by trapeze artist Heather Booth, burlesque dancers Missfortune and Dick Sunday, aerial silk performer Laura Matsumoto, lyra artist Tara Lavery, acrobats Angela Saucedo Warren and David Saucedo Eichelmann and many more.
Proceeds of this event benefit the Oahu Fringe Festival, an organization that supports and promotes the development of original work in theatre, music, dance and other performance-related art.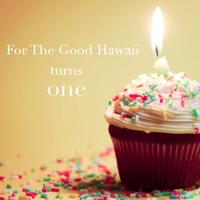 Dec. 13, 7-11 p.m.
Fresh Cafe Downtown
1111 Nuuanu Ave.
Free
For The Good of Hawaii is a lifestyle brand that provides several products and services towards building a community of individuals who do good things. They believe in paying it forward and through their charity and outreach programs are able to work directly with the community to make an impact and create waves of positive change for good.
This year, For The Good Hawaii is turning one and they're celebrating at Fresh Cafe Downtown with free admission, food, drinks, fashion shows, entertainment, shopping and more.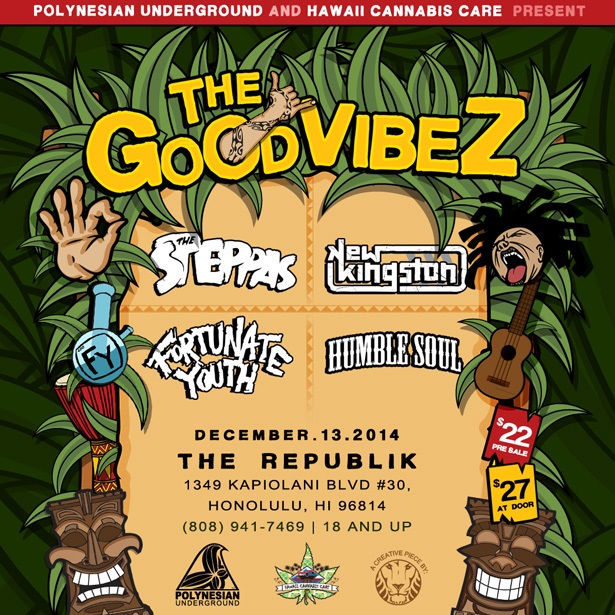 Dec. 13, 7:30 p.m.
The Republik
1349 Kapiolani Boulevard
$22 GA; $27 at the door
Purchase tickets
The Steppas are a seven-piece reggae band from Hilo spreading the message of peace and love through their music. Their name serves as a reminder to step and move forward, and that's exactly what they're doing. After self-producing two albums, their second EP entitled, "The Love Shack," debuted at number two on iTunes' reggae chart. They toured seven states, performing in more than 30 cities before heading back to the recording studio to record their first full-length album with Leslie Bimwala Ludiazo.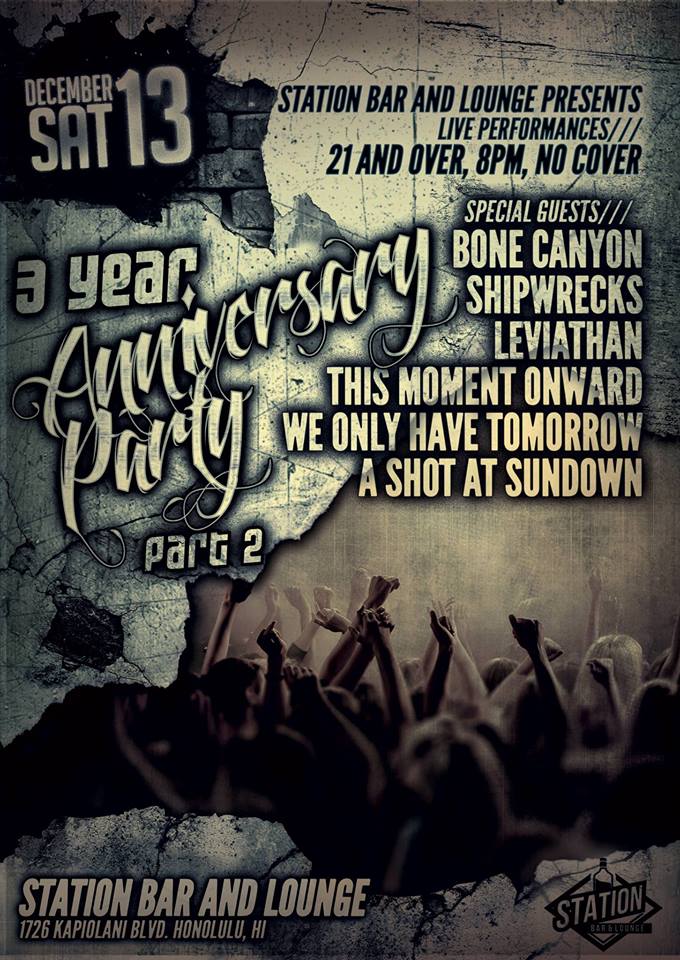 Dec. 13, 8 p.m.
Station Bar and Lounge
1726 Kapiolani Boulevard
Free
Station Bar and Lounge is celebrating its 3rd anniversary. They celebrated with a week full of awesome events followed by part one of their anniversary finale. Part two includes even more performances with Bone Canyon, Shipwrecks, Leviathan, We Only Have Tomorrow, A Shot at Sundown and This Moment Onward. Doors open at 6 p.m. and the show starts promptly at 8 p.m.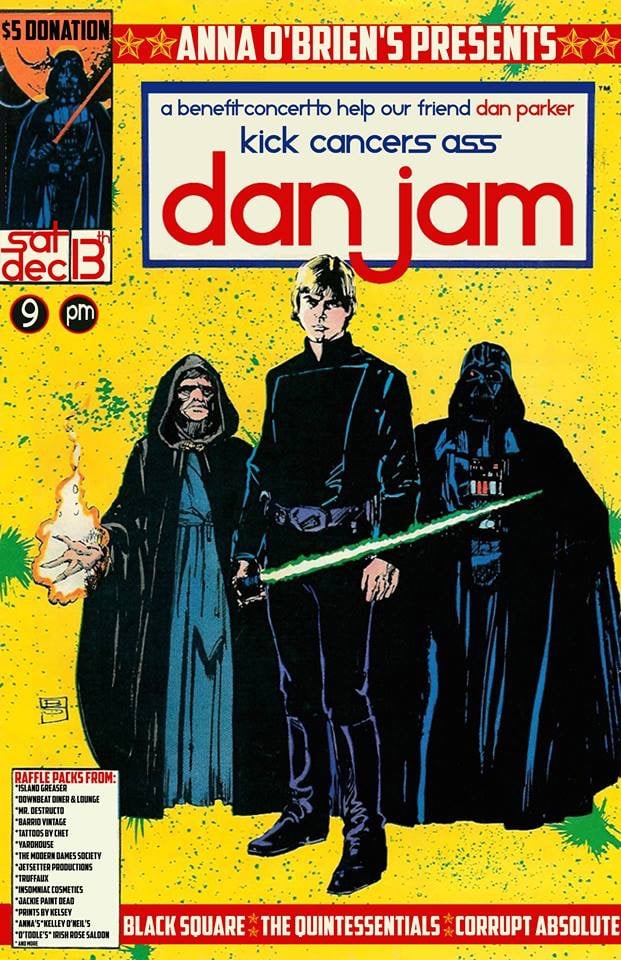 Dec. 13, 9 p.m.-2 a.m.
Anna O'Brien's
2440 South Beretania St.
$5 donation
This is a 21 and over benefit-fundraiser concert to help local scene kid Dan Parker kick cancer's ass. Rock out to music by Black Square, The Quintessentials and Corrupt Absolute. The event will also have prizes and raffle packs from local vendors and venues, including Island Greaser, Downbeat Diner & Lounge, Barrio Vintage, Jet Setter Productions, Anna O'Brien's, O'Toole's and many others.
Dec. 13, 9 p.m. – 3 a.m.
The Fix
80 S. Pauahi St
$20-$30 tiered presale
Purchase tickets
For the first time live in Hawaii, Bassment Hawaii and EDM Hawaii present Sound Remedy. Based out of Los Angeles, this electronic music producer has been crafting his sound since the young age of 16, although he only started producing music full-time two years ago. He made a name for himself by composing tracks that defy the laws of traditional dance music, creating musical journeys that captivate the listener from start to finish.
Sunday, Dec. 14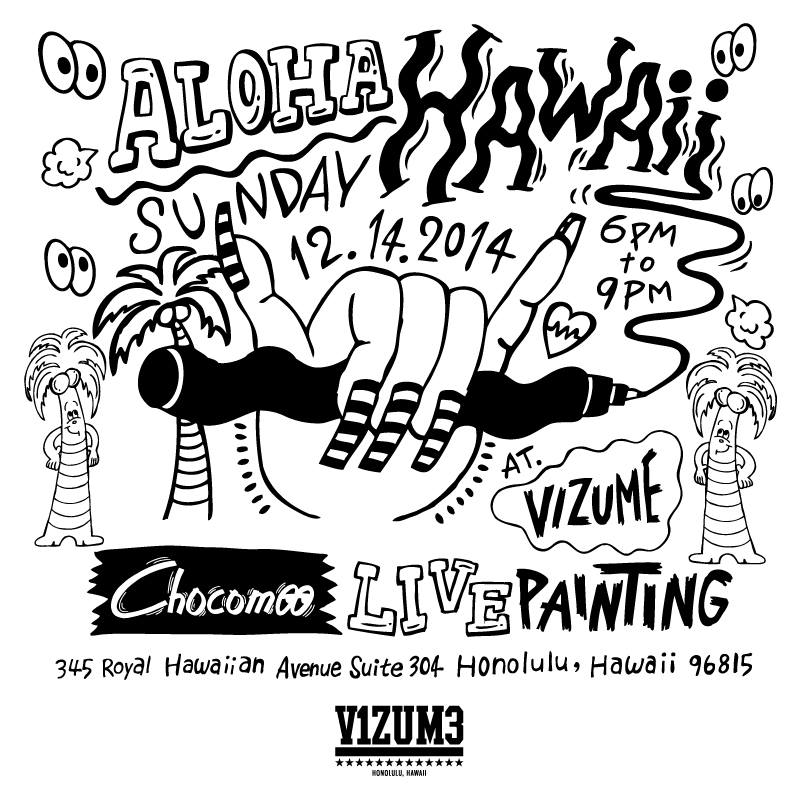 Dec. 14, 6-9 p.m.
Vizume
345 Royal Hawaiian Ave.
Free
For those unfamiliar with Chocomoo's work, she has collaborations with G-Shock, Joyrich, Gizombies and Nana-Nana. She has also done artwork for the Ultra Music Festival, The Wallpaper Tokyo, and recently took part in Be Street in Paris and The Babe Show at Agenda WMNS.
Her limited-edition items and collaborations can be found in numerous print and online publications as well as in stores like Gr8 in Harajuku, Joyrich stores worldwide, Macy's New York, Parco and more.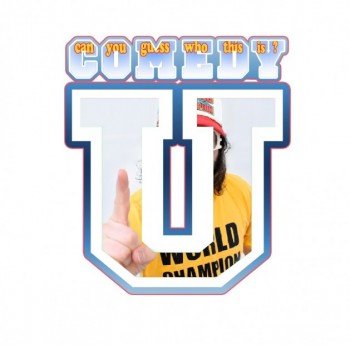 Dec. 14, 7 p.m.
The Republik
1349 Kapiolani Boulevard
$25 GA; $35 premium seating (plus fees)
Purchase tickets
ALT 105.9, Bud Light, Comedy U and Bamp Project present World Champion Christmas Comedy show with Judah Friedlander, a stand-up comedian since 1989.
Friedlander satirizes America's ego-centric tendencies, false promises, but will still continue to prove why America is the greatest country in the United States. In his unique and absurd style, the World Champ tackles every vital issue concerning America and the world, including his personal solutions for making it even greater. Seeing Friedlander perform live is always a fun and unique experience with fresh, new jokes, improvisation and audience interaction.