Free Coco Puffs, Four New Restaurant Openings and One Farewell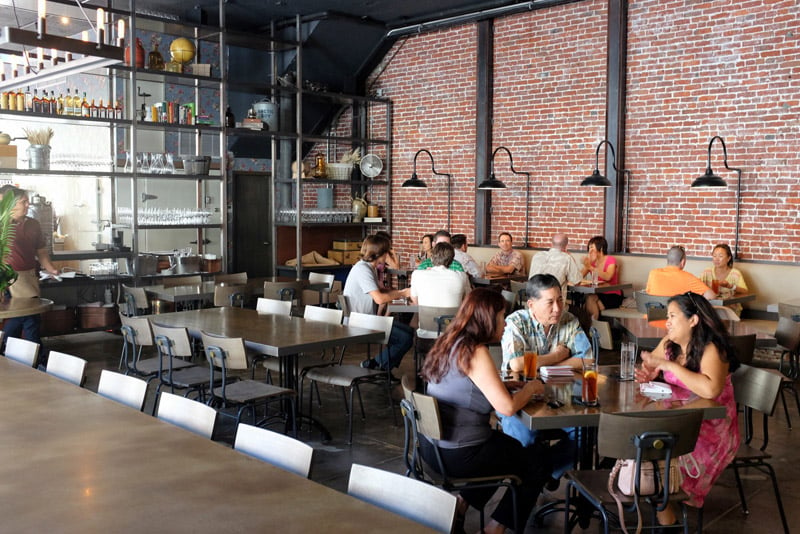 Livestock Tavern
Livestock Tavern, brought to you by the owners of Lucky Belly, recently opened its doors for lunch. It's another great space—business partners Dusty Grable and Jesse Cruz have a terrific eye for design. What used to be the dive bar Amy's Place has been stripped down to expose the original brick walls, opened up with windows near the ceiling to let in light, and made old-timey with vintage tavern lights and menus printed in a colonial American font. While the "Autumn Lunch" menu certainly has its share of meat, such as a venison carpaccio, bourbon-marinated hangar steak and braised beef tongue sandwich, Livestock Tavern is also veg-friendly, with a grains salad of kale, pears and bleu cheese and a grilled portabella sandwich.
49 N. Hotel St., 537-2577
Izakaya Mai
The new Izakaya Mai isn't so much an izakaya (a place oriented around small plates and drinking) as it is a regular Japanese restaurant: There's a sushi bar serving nigiri and inside-out rolls, a menu of noodles and curry rice, the usual suspects of tempura and chicken karaage, and oh, there's okonomiyaki, too. The most striking thing about Izakaya Mai may be its highly visible location on Kapi'olani by the convention center.
1718 Kapi'olani Blvd, 942-3838
HASR Deli
HASR Deli, a takeout spot above HASR Bistro, opened this week, offering ready-made salads and sandwiches (definitely get them toasted). There's a HASR club with bacon, chicken, shrimp and avocado and the "Tri-feta" of ham, baloney and salami and feta. They're a step up from Subway sandwiches, but not quite the level of the Bistro plates served downstairs. Also in the deli case: Mama Nita scones, quite possibly our favorite scones in town. New are the sconettes, two-bite versions of the regular-sized scones—the Madre chocolate sconette is dark and delicious.
2nd floor of HASR Bistro, 31 N. Pauahi St., 533-4277
Liliha Bakery
The second Liliha Bakery on Nimitz is officially open. Wait, didn't it open in July? Turns out, that was just a soft-launch, and the crowds that swamped the place caught restaurateur Peter Kim completely off guard. He's hoping the restaurant has now worked out its kinks in terms of service and food quality and invites everyone back with free Coco Puffs. For the grand opening week, from Oct. 17 through Oct. 23, you get a free Coco Puff if you dine in, and a dozen Coco Puffs to-go are a discounted $11.99.
580 N. Nimitz Highway, 537-2488
Heavenly Cafe
Heavenly Cafe, at the Joie de Vivre Shoreline hotel in Waikīkī, offers a short menu with a healthy bent and breakfast all day, like a kale and quinoa salad and a loco moco with a veggie and bean rice. If some of the items look familiar—such as the Shinsato pork belly eggs Benedict and a Big Island honey French toast, it's because the new cafe is run by the same owners of Goofy's Cafe.
307 Seaside Ave., 923-1100
Salt Bar and Kitchen
Of the recent restaurant closings around town, the biggest blow was Salt Bar and Kitchen, voted one of the Hale 'Aina Awards' best new restaurants in 2013. Kevin Hanney says, "basically, it was underperforming, that's it." He will be reopening it with a new concept—he has some ideas, but he's keeping mum for now to "build a little mystery." When Salt originally opened, Hanney envisioned it revolving around housemade charcuterie, but having lost his charcutiers—first Bob McGee, then Doug Kocol—it seems the Salt concept just wasn't working out. ​