Former The Whole Ox and Meatball Owner is Now Making Sausages From Local Meats
Robert McGee is back with a new venture called Link.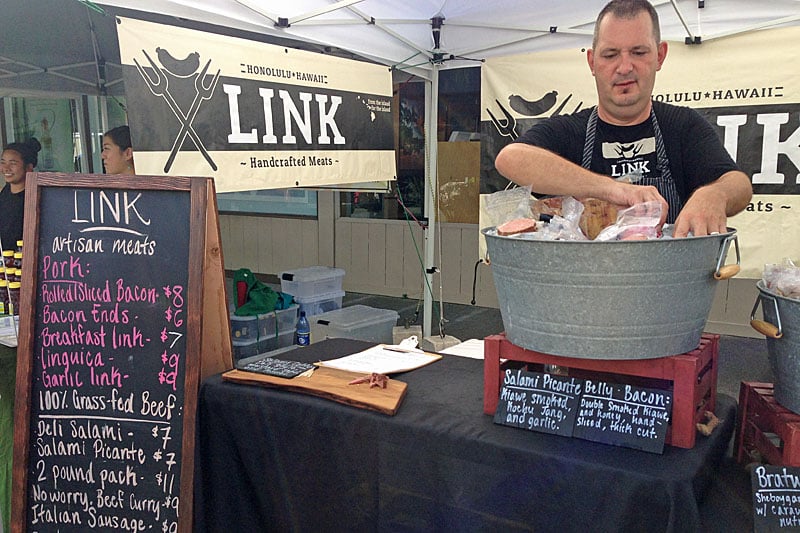 Robert McGee is back, doing what he has always done best: promote local meats. His newest venture, Link, summarizes in one word what he wants to do: make sausages and "be a part of the supply chain of proteins here in O'ahu," he says. At farmers markets around the island, he sells sausages in flavors of spicy Italian beef and linguica, a pork link in the style of Portuguese sausage. He's also making bacon and smoked beef salami, using odd cuts from the ranchers he works with. His sausages carry the flavors of dishes he created at the pau-before-their-time eateries The Whole Ox and Meatball: bold and, well, meaty.
Link's beef comes from different ranches throughout the state. "We're kind of like the 18-year-old college kid not willing to commit to one side of beef," McGee says. "I worry I can't get supply from everybody all the time."
His current farmer for pork is David Wong in Nanakuli, who uses the Korean natural farming method, a relatively new practice that's gaining some traction in Hawai'i. It avoids chemicals in farming through the use of indigenous microorganisms (aka bacteria and fungi), but one of its biggest perks? The promise of odorless hog farms.
As excited as we are about McGee's newest project, we also wanted to know: So what happened The Whole Ox and Meatball? His answer is a little evasive, or Zen, depending on your perspective: "Everything happens as it's supposed to," McGee says. "There's no master plan."
Find Link at FarmLover's Farmers Markets in Kaka'ako (Saturday mornings), Hale'iwa (Thursday evenings) and Kailua (Sunday mornings)