Foodscene: November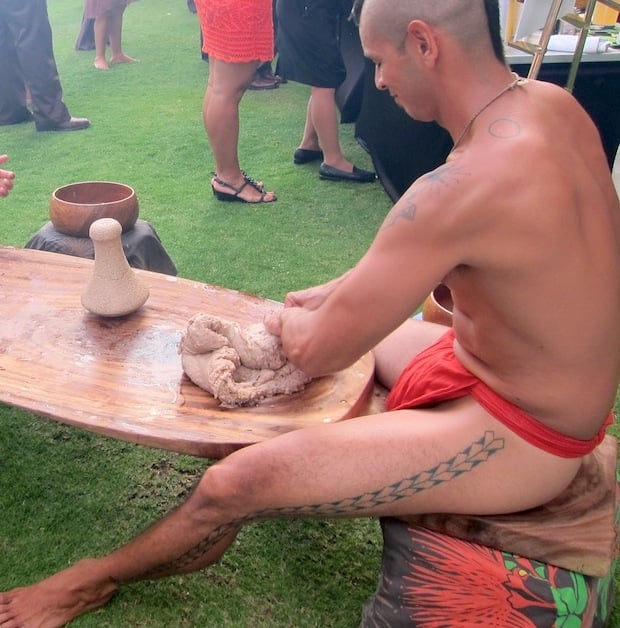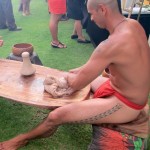 All of November: National Peanut Butter Lovers Month
I don't know what to do with this except to tell you, because I find it strangely exciting. Slather, people!
Nov. 1: Shochu Day
Distilled from barley, sweet potatoes or rice, 25 percent alcohol by volume and rising fast in the popularity polls. The day has passed, but for all who love the strong stuff, Happy (belated) Shochu Day!
Nov. 3: Taro Fest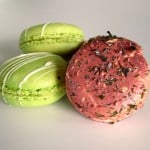 Ala Moana Center Farmers' Market
8 a.m. to 1 p.m.
Poi-pounding, lei-making and other demos, shuttles to a taro loi and sampling of taro and poi products at this weekly market in the parking lot at the Sears end of the mall
Nov. 3: Celebrate Kaimuki Kanikapila
Waialae Avenue between Koko Head and 11th Street
9 a.m. to 3 p.m.
Waialae Avenue closes to traffic for this sixth annual craft and food fair, with live music and grazing stations including Cake Works, Bistro Blends,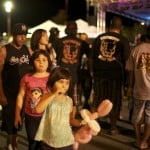 Primo Popcorn, Bentos Mochi and Delectables, Happy Days, Waiola Burger, Ono Pops and Hawaii Doggie Bakery
Nov. 3: Taste of Waipahu
Waipahu Festival Marketplace
94-340 Waipahu Depot St.
3:30 to 10 p.m.
The venue moves this year, with Kona Ice, Thai Kitchen, Laverne's Restaurant, Aloha Ice Cream Tricycle, Wow Wow Waffle, Ono Giant Shrimp Chips and more lining Waipahu Depot Street, and still more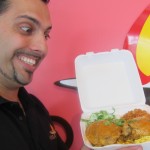 vendors at the marketplace. Say hi to community groups like Waipahu High's softball team and jive to live community entertainment including ska, reggae, island and rock
Nov. 4: Deepavali Indian Festival of Lights Buffet
India Cafe Curry Factory
Kailua Shopping Center
600 Kailua Rd.
11 a.m. to 7 p.m.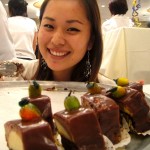 Admission
India Cafe celebrates the triumph of good over evil with a mini-block party featuring live Bollywood dancing, story telling, henna and children's face painting and an all-you-can-eat buffet of chicken, meat, lamb, seafood and vegetarian curries and chutneys
Nov. 4: Dessert Fantasy
Pacific Beach Hotel Grand Ballroom
2490 Kalakaua Ave.
1 to 3 p.m.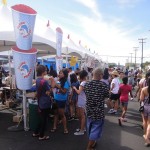 Tickets: $25 online
THE best all-you-can-eat deal on cream puffs, mousses, tarts, cakes and other sugary fantasies, from top kitchens and bake shops all over the island. All competition-level, because eaters and industry pros vote for their faves. All benefiting United Cerebral Palsy, with take-home boxes at the end
Nov. 10: Taste of Kalihi
Colburn Street between Waiakamilo and McNeil
10 a.m. to 8 p.m.
Pansit, lumpia and dinuguan galore, plus other local food, shave ice,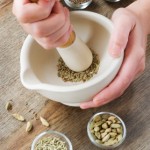 community booths, possible mass Macarena dancing and, we can only hope, a reprisal of the balut-eating contest of years past
Nov. 10: Street and Spicy
Fishcake
307c Kamani St.
11 a.m.
Tickets: $65 at streetandspicy.eventbrite.com
Cafe Julia chef Lance Kosaka does upscale Asian street foods in this live cooking demo and three-course lunch at Kakaako's cool consignment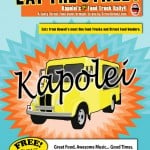 furniture space. Bonus: Post-lunch tea and tisane tasting by Pacific Place Tea Garden. Extra bonus: Everybody takes home a mini-herb pot handcrafted by ceramist Daven Hee
Nov. 10: Discover Kakaako
Ward Centers
Auahi Street at Kamakee
3 to 7 p.m.
Leonard's Malasadas, Girls Who Bake Next Door, Kona Ice, Tin Hut BBQ,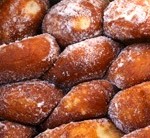 Xtreme Tacos, Fairy Cakes and Chili in Hawaii lead the lineup of food trucks at this mall-based event on the second Saturday of every month. More than just food, there's also a fashion show and Nesion N.I.N.E. concert
Nov. 10: Eat the Street Kapolei
Kapolei High School
3 to 8 p.m.
The island's mobile street food scene moves to the Second City for ETS' third foray to these burbs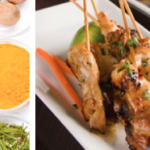 Nov. 12 – 18: Restaurant Week
View each restaurant's special menu online
For you who've drooled over the island's finest menus, and you who've never been to Wailana Coffee House or tried J.J. Dolan's pizza pies, here's your chance: More than 80 restaurants islandwide (plus a few more statewide) are bringing it for this benefit for the Culinary Institute of the Pacific at Diamond Head, with specially priced menus and menu items. At these prices, you have one week to indulge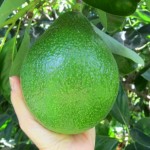 Nov. 14: National Guacamole Day
Is it me or is guacamole not the reigning condiment of summer? Shared because I find this unsettling
Nov. 16: Nonstop's 2nd Birthday Party
Five-O Bar and Lounge
Royal Hawaiian Shopping Center
2233 Kalakaua Ave.
7 to 9 p.m.
Nonstop turns 2 years old (!!) with a free party open to all. Light pupus, a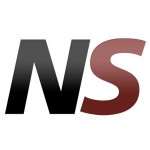 special Nonstop drink at the no-host bar and prize giveaways including $100 certificates to Royal Hawaiian Shopping Center stores and restaurants. Not so much a foodie event as a fun happy birthday bash, but it's our party, so it's in Foodscene — come celebrate with the Nonstop team!
Nov. 17: Aida Mollenkamp @ Williams-Sonoma Ala Moana
1450 Ala Moana Blvd.
12 noon
Cooking Channel's willowy, upbeat host of FoodCrafters demos some of the 300 whole-foods recipes from her new cookbook, Keys to the Kitchen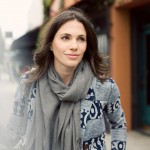 Nov. 17: Eat Out Kailua
Enchanted Lake Elementary School
770 Keolu Dr.
4 to 8 p.m.
The Windward side's own monthly food truck confab, benefiting school programs and youth sports teams
Nov. 17: Honolulu Night Market
Auahi Street between Keawe and Coral streets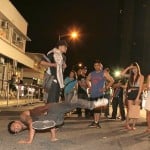 7 p.m. to midnight
Admission: $2
Second outing for the party that closes down Auahi Street, with fashion, art, skateboarding demos, live interior design (yup) and way more street food than last month
Nov. 18: Eat Me! – Bruno Iezzi's Italian Pop-Up Dinner
Lemongrass Café
83 N King Street
6 p.m.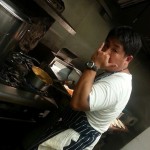 Tickets: $45 at myaing2@pacificgatewaycenter.org or 521-7041
The chef/owner of downtown's Mix Cafe and Bruno's Forno cooks a one-time, four-course Italian pop-up dinner. We'll be all over the homemade gnocchi with shiitake, portabello and oyster mushrooms
Nov. 21 & 22: Everything But the Turkey
TASTE
667 Auahi St.
$100
www.tastetable.com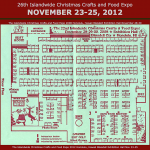 Mark "Gooch" Noguchi and fellow chefs whip up three Thanksgiving side dishes, traditional and otherwise, plus dessert for four for pickup at Kakaako's new food venue. Stay tuned for the lineup, or if you trust, like we do, just call 808-772-3020 and place your order
Nov. 23, 24, 25: 26th Annual Islandwide Christmas Crafts & Food Expo
Blaisdell Center Exhibition Hall
777 Ward Ave.
Click here for daily hours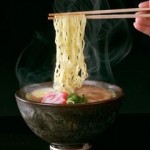 Admission: $4, military and seniors $3
Four hundred booths, including dozens and dozens of specialty food vendors. Best part: free sampling, of course
Nov. 25: Ramen Night by Ramen Lab NY
Lucky Belly, 50 N. Hotel St.
5 to 11 p.m.
Sun Noodle's executive chef flies in for a night of ramen magic: N.Y. Heritage ramen with sausage, mushrooms and cheese in a tomato broth; Tokyo shoyu ramen; black tonkotsu ramen with black garlic oil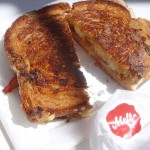 Nov. 27 & 28: Night Breakfast, a pop-up at Morning Glass Coffee
2955 E. Manoa Rd.
6 p.m.
Tickets: $40 at 673-0065
Six courses at Manoa's fave artisan coffee house, including a trio of bacon with Naked Cow Dairy cheese grits and a local beef loco moco on risotto. And this breakfast is BYOB
Nov. 28, 29, 30: Return of Melt
TASTE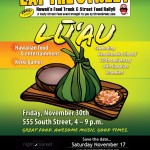 667 Auahi St.
11 a.m. to 2 p.m.
Few other food trucks merit a "Return of" prefix with as much likelihood of living up to the hype. Melt, a pioneer of the mobile food movement in Honolulu, reprises its gourmet grilled cheese creations for three days
Nov. 30: Eat the Street: Luau
555 South St. at Halekauwila
4 to 9 p.m.
Streetgrindz closes out the month with a post-turkey celebration of Hawaiian food delivered street-style by food trucks and booths,
again with the no-cover beer tent