Foodland Farms' New Fried Chicken Tenders Are Finger-Licking Good
Make no bones about it—these tenders pack well for beach days, lunch on the go and all-around snacking.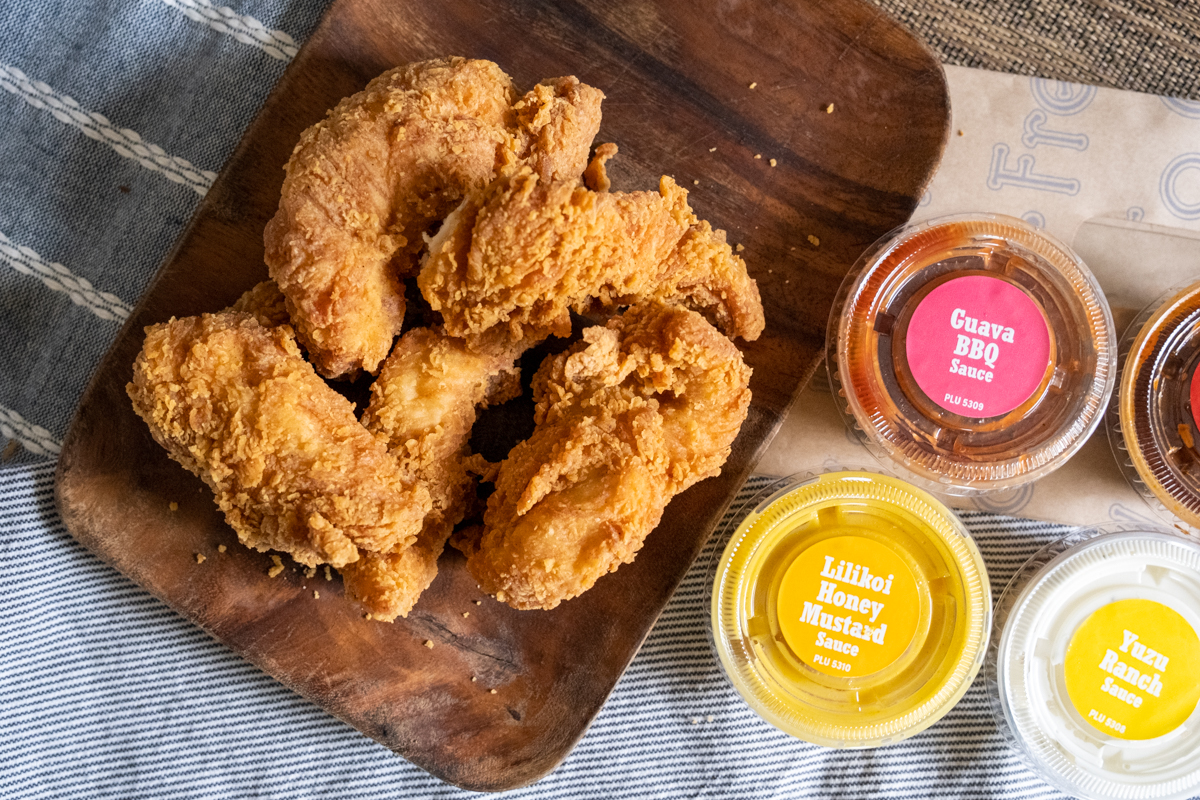 Call me out all you want, but boneless fried chicken tenders are the best form of fried chicken. Yeah, I said it. Chicken fingers, crispers, or goujons if you're from the U.K. are meaty, crunchy and just so easy to eat because there are literally no bones about 'em. Foodland, a major fried chicken player in our foodscape, recently added its version to the deli counters at Foodland Farms Ala Moana, Pearl City and Ka Makana Ali'i. A friend saw them on Instagram and implored me to see how they stacked up to the store's original bone-in fried chicken.
---
SEE ALSO: After 71 Years in Business, Hawai'i's Family-Run Foodland Is Swinging for the Fences
---
Foodland also has four new house-made local kine dipping sauces to accompany the tenders: umami-rich XO Ketchup, sweet Guava Barbecue, tangy Liliko'i Honey Mustard and creamy Yuzu Ranch (75 cents each). They're sold in 2-ounce containers and one is enough for two to three tenders if you dip with each bite. I enjoy them equally, but the plummy-tart and savory XO Ketchup is the most interesting of the bunch. While good, Yuzu Ranch lacks the jolt of citrus that I'm expecting.
Now back to the meat: Each breast tender is coated in Foodland's standard fried chicken dredge and deep fried until golden. If you're not a saucy type, you'll realize they stand up on their own with a well-seasoned crunchy crust. While the crust can be salty at times, I do wish for a good musubi flecked with salty shiso bits to back up each bite. Despite being made with lean chicken breast, the tenders are for the most part moist, while the crunchy ends tend to be dry, as expected.
---
SEE ALSO: First Look: Foodland Farms' New Store and Restaurant, Mahi'ai Table
---
Sold by weight ($9.99 a pound with Maika'i Card, $10.99 without), these are a better value overall than Foodland's fried chicken. I can see myself picking up a quarter-pound on my weekly grocery runs or before heading to Magic Island to catch the sunset. They're great for picnics, chopping up on salads, or just snacking.
And yes, they're just as good as the original fried chicken.
Multiple O'ahu Foodland Farms deli counters, foodland.com, @foodlandhi