Food, Glorious Food, and Fun in Honolulu!
Bountiful delicacies for everyone to enjoy makes this farmers' market a family-favorite weekend destination you won't want to miss.
Photography by Karen DB Photography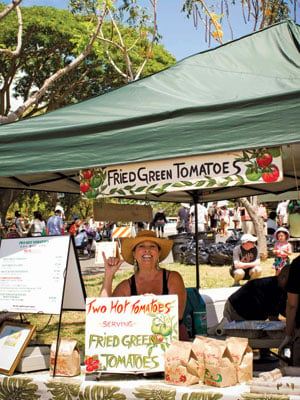 When was the last time your kids were excited about going grocery shopping? It is not easy picking out fresh fruit while comforting a hungry, fussy toddler. Goldfish or Cheerios might tide them over, but getting through a long shopping list takes special planning for parents with young ones. How about switching things up this weekend with a visit to the local farmer's market? Not only do you get to stock up on fresh, locally grown produce, but you have the most interesting and tasty snack bar at your disposal. Not to mention great teachable moments your kids will enjoy.
The Kapiolani Community College (KCC) Farmers' Market is a great place to start. Located in the college's spacious and multitiered lower parking lot, the KCC Farmers' Market features more than five dozen vendors spread along five rows of stalls. They sell everything from traditional offerings such as produce, flowers, honeys, jams and jellies to slightly exotic selections such as macadamia-nut pesto, sea asparagus, fresh ginger ale and grilled abalone.
The overall quality of the offerings has steadily improved through the years. Since the market is only a 5- to 10-minute drive from Waikiki, the presence of tourists is, well, organic. Of course, no one likes to wait in long lines, but I kind of like the crowds and the hustle and bustle. It makes me feel as though I'm at some special event, like the Punahou Carnival, except the food at the farmers' market is cheaper.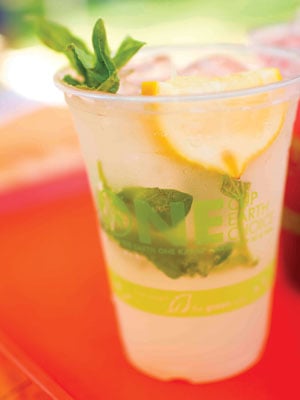 Parking
Don't let the crowds and questionable parking scare you away. I've never been completely unable to find parking. People generally don't hang out for a long time at the market, so cars are constantly pulling in and out. However, if you have young children, you may want to avoid the skirmish entirely. Park in the back lot along Kilauea Avenue. It's a longer walk to the market, but it's usually wide open.
Go early
If you have very young children, who are early risers, you might consider visiting the market when it opens at 7:30 a.m. It's still busy, mostly with area residents, but you'll escape the really big crowds that form shortly after.
Eating places
We're lucky enough to live a mile or so from KCC, so we are fairly regular customers. At first, my son didn't find the farmers' market as exciting as we did. The place can get pretty hot and the crowds a little chaotic, but when he realized that Mom and Dad tended to say yes and open up their wallets more at the market than at the mall, his attitude changed.
Today, vendors offering prepared foods outnumber the farmers and other agriculture people, and the venue seems more open restaurant than open market.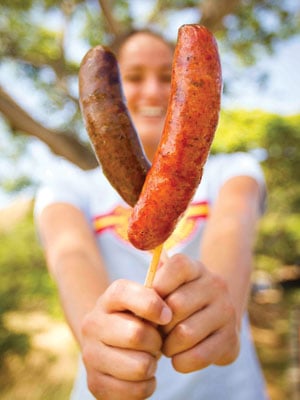 On a recent visit, we started our eating/walking tour with some sushi sliders from Purple Potato and Banana Fry. I got a combo plate, which featured three banana and Okinawan sweet-potato fritters drizzled with chocolate sauce and three ahi poke appetizers. The poke sits on a fried won ton pi and is topped with fried kale. It sounds like a funky combination, but it had a nice, sweet/salty contrast of flavors. The banana also added creaminess, while the fried potato had a pleasing crunch.
We next zeroed in one of the market's best kid foods: grilled sausages on a stick. The Kukui Sausage Co. has a surprisingly diverse selection. Besides regular and spicy Portuguese sausages, it sells ones that feature pineapple and kimchee as well as chorizo, pastele and many more. The queue looks intimidating, but the sausage company's booth is well staffed, so the wait isn't very long. We opted for the kim chee sausage, which was juicy and tender inside and crispy on the outside. The meat is mildly spicy, but, every once in awhile, you bite into a piece of won bok kim chee, which delivers a small explosion of spiciness and crunch. I intend on working my way down Kukui's menu in the coming weeks.
We then forged on to one of the market's most popular vendors: Two Hot Tomatoes. This one seems to be a particular favorite of the Japanese tourists, so be prepared to wait. However, I think it's worth it. A cornmeal batter forms a tight, crunchy crust that seals in the moisture of the tomato, which is still firm. It is served with wasabi-lemon and basil-lime dipping sauces, which give the dish a citrus-y kick that works well with the tomato's subtle tang.
We ended our meals with Ginger Coolers from PacificKool, one of my favorite thirst quenchers.
You know what they say about going grocery shopping when you're hungry? Well, the opposite is also true. We left the farmers' market with appetites satisfied and our canvas grocery bags nearly empty. That night we ordered takeout.
KCC Farmers' MarketSaturdays, 7:30 to 11 a.m.Kapiolani Community College4303 Diamond Head Roadhfbf.org/markets/markets/kcc.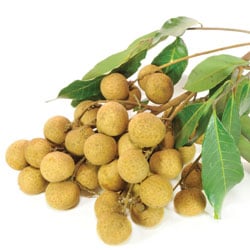 Four Fun Kid Activities
Experts say that when you involve your kids in the selection and preparation of their meals, they are more willing to try different foods. Here are a few games you can play.
The Saturday-Night Special
Our neighbors take a handcart with them to the farmers' market and buy all the food they need for the week. (They walk to the market!) I can't plan that far ahead, so, at best, we pick up things for dinner that night and sometimes we make a game of it: How many ingredients can we find to complete our meal? Extra bonus points (and maybe an Ono Pop) if you select an item you can't find at Costco.
Longan's Run
The longan fruit, native to South and Southeast Asia, looks like a small lychee, without the bumpy skin. It also tastes like a lychee, only sweeter. Challenge your kids to find the longan or another unusual fruit. They might even eat some when you get home.
Weigh and Pay
Here's a good one to reinforce some math basics. Tell your kids you need a half-pound of something and then have them estimate what that weight feels like. Finally, when they pay, they can practice subtraction.
Where in the World?
Pick a country or region, say, Liechtenstein, and see if your kids can pick out the fruits, vegetables and other foodstuffs that call it home. This will probably require them to speak with the farmers themselves, which can be an interesting experience for both children and parents.