Focus on fitness: Finding balance with SUP yoga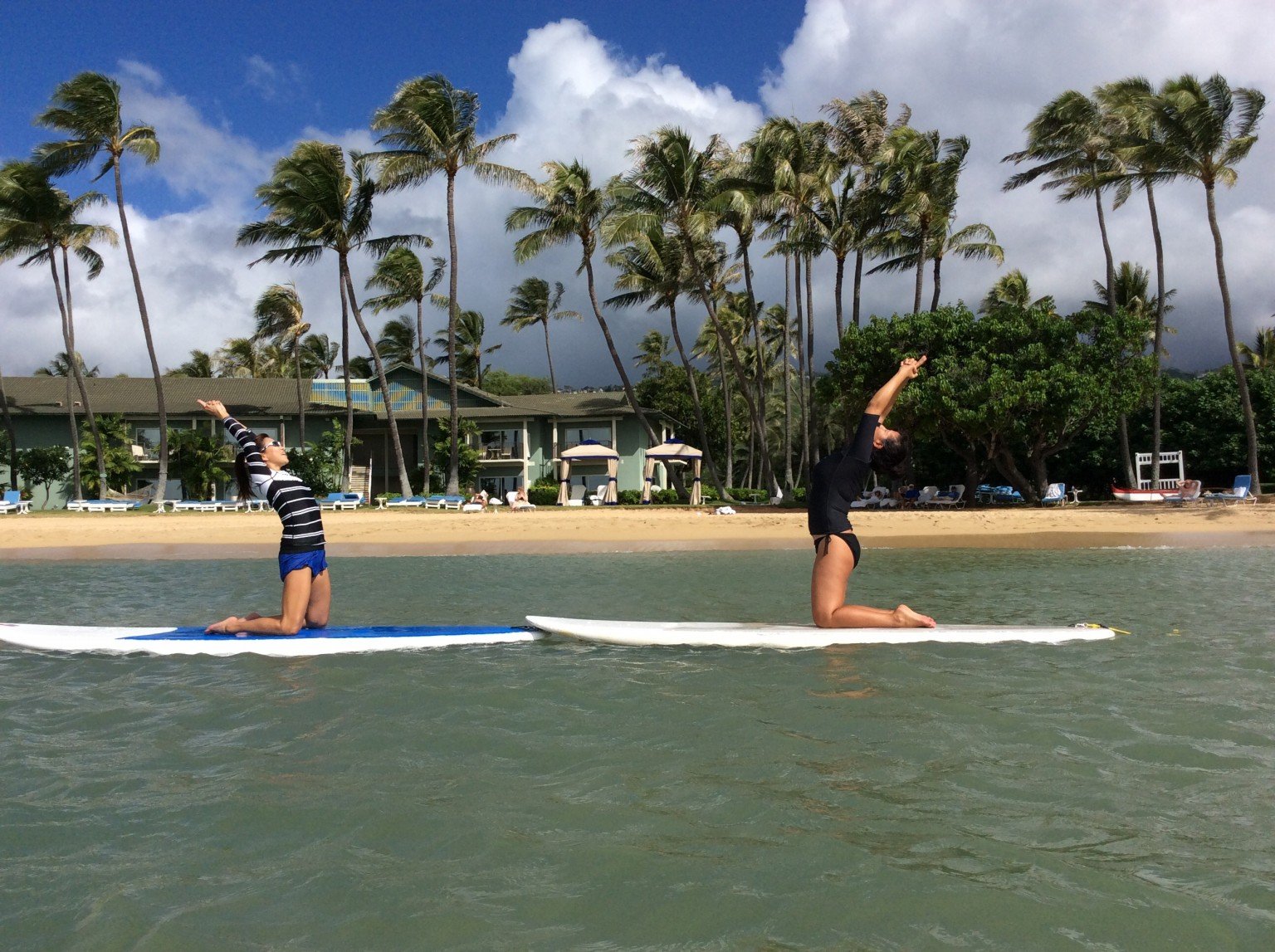 I recently participated in the Wahine Forum as a panelist. The topic of the panel was stress and how to deal with high levels of it at home, work and in your daily life. If you know me, my main focus is to live a positive, stress-free existence, which is partly why I left the news business. I don't allow myself to get bogged down with work or surrounded by negative people. I also take time every day to relax, do something for myself and stay physically fit, which in turn equates to having little or no stress.
With that said, I wanted to share an activity I recently tried that's a great way to de-stress, get centered and boost wellness levels. Located at The Kahala Resort, the CHI Health & Energy Fitness Center is open to the public and offers yoga, boot camp, SUP (stand-up paddle board) classes with instructors from the community.
I tried the SUP class, which was a fusion of barre and yoga while standing on a floating SUP board in choppy water.
The SUP yoga classes aren't new; The Kahala has been offering it for about five years. But what's new are the variations of SUP classes now being offered. "We do different types of classes, since a lot of other people do regular SUP yoga," says Spring Chang, The Kahala's director of spa and recreation. "We have instructors that do SUP conditioning, SUP barre, SUP fitness, SUP yoga, SUP meditation — trying to integrate all the different methods of exercise and relaxation on the water."
This is my cup of tea. I"m not new to SUP or yoga (I've been taking hot yoga and vinyasa flow yoga for a decade), but this is pretty hard. Not only do you have to balance on the board, but the postures are challenging and definitely work up a sweat. But after about 10 minutes, you forget you're floating on the water and feel more centered and stable.
Here's a video of my first time trying a SUP yoga/barre class. Keep in mind the water was pretty choppy, and it was windy. I'm not making excuses, but as you can see, it was challenging, and yes, I fell into the water, not just once but three times. It's okay; I was getting hot, so it cooled me down from the intense workout.
Along with The Kahala, there are many other places to take a SUP yoga class from the North Shore to Ala Moana Beach. Both group lessons and individual sessions are offered and range from $25-$65.
This month, The Kahala will feature special monthly events aimed at promoting health and wellness for guests, visitors and kamaaina:
Sunrise SUP Yoga Class
Sunday, Oct. 25 at 6 a.m. (Sunrise at 6:32 a.m.)
$50 per person (includes board rental, light breakfast and parking)
Mudras, Mantras and Mandalas (a mixture of hand yoga, then chanting and therapy art session)
Sunday, Nov. 22 from 10 a.m. to 2 p .m.
$75 per person (includes lunch and parking)
Moonlight Meditation
Thursday, Dec. 10 at 6:30 p.m.
$5 per person (includes parking)
Or you can purchase a fitness class pass, which ranges from $25-35 to drop in on one of their other classes. Call 808-739‐8940 for reservations, or for more information, visit www.kahalaresort.com.