Flying to Qatar
One of the reasons I flew to France via Tokyo was because I had a layover in Qatar, via Qatar Airways. You can tell a lot about a city from the airport, and the thought of getting a glimpse of this part of the world intrigued me. (Plus, it was only $600 round trip from Tokyo to Paris.)
Remember: 1. This is an area with a lot of wealth due to the oil they provide to the world, and 2. Qatar Airways is owned by the government.
First things first, upon boarding the plane, you enter at the border between first class and economy and there are wood floors, so it looks like a cruise ship. The first class passengers don't just sit in seats — these are like little personalized cubicles. And yes, this is a newer airplane; someone said they get new ones every two or three years.
Back in economy, where I was, the seats were as roomy as business class would be on an American carrier. Every seat had a touch screen for entertainment, and you could charge your little devices through the USB port. Each passenger got a pouch (nice enough to be a wallet) with socks, earplugs, toothbrush, toothpaste, and an eye mask.
On one flight, an Iranian businessman turned to me and snorted, "What is this? For my grandmother?" I told him they were socks to keep his feet warm, but since he was already dressed nicely in shoes and socks, he didn't need them. He laughed and said, "Okay…maybe I'll sell them."
The flight attendants didn't just give good service, they were rabid about it. They woke me up a few times to offer me water or tell me it was time to eat. They were constantly coming through the aisles to offer a full tray of water and juice. On one flight, I changed seats to a roomier row in the back and the flight attendant from my section came to check on me to be sure I was happy with my choice. Do you ever get that on an American airline? I don't.
The bathrooms are super clean and spacious, with motion-sensor everything. See the packets on the right? Those are individual towelettes that you can use to refresh your face or hands. I asked the flight attendant if I could have more than one and she told me I could help myself to as many as I wanted. (Don't ever tell a Chinese person that. I walked off the plane with a dozen.)
The toilets are also motion-sensor activated, so you don't have to touch anything to flush. The cylindrical thing on the right is sanitizing wipes so you can disinfect the toilet seat as needed, or the changing table above it.
The system at Qatar's airport is a little more rustic. You have to disembark onto the tarmac and catch a shuttle in, and when you leave you do the same. This is important so you bring the right carry on.
At Hamad International Airport, one of the iconic things you will see after processing through immigration is this gigantic "Lamp Bear" by artist Urs Fischer. I don't know why it's here or what its significance is to an airport, but there it is.
This hub, by the way, has a few huge screens with departure information, and there will be staff stationed there to help you find your connecting flight and point you in the direction you need to go. If you want to kill time, there are luxury cars and motorcycles on display all the time in this area, too.
I had emailed the airport via their website a few weeks prior to see if they have free wifi. Lo and behold, someone emailed me right back and said they had free wifi for all.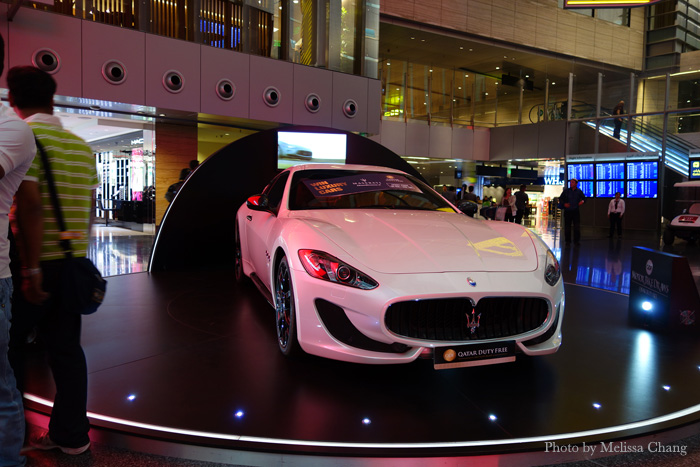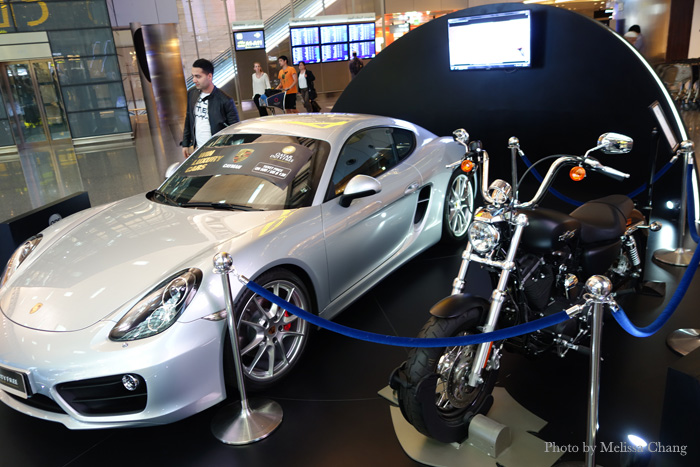 There are many shops with some area-specific things you'll want to buy, like baklava gift sets, saffron, Turkish coffee, etc. I should have taken more photos but was so caught up in the frenzy that I forgot. I heard there were some cool Arabian restaurants there, but didn't have time to get to them. The one disappointment was the food court, which offered more Western fare, like paninis and burgers. The only thing I got to eat that was unique was a croissant dusted with zaatar, or Middle Eastern herbs and spices. Well, I guess that means I need to go back.
I couldn't get a nice shot of Qatar as we flew over, but it looked like a very upscale series of man-made resorts. If I get to go back, I'll really have to save up to get a decent vacation there. But it was cool to at least see a little of it.
I hope you enjoyed my little peek at Qatar and its airline! Up next: One last look at Tokyo.