Flying on Emirates Air (plus Dubai travel tips)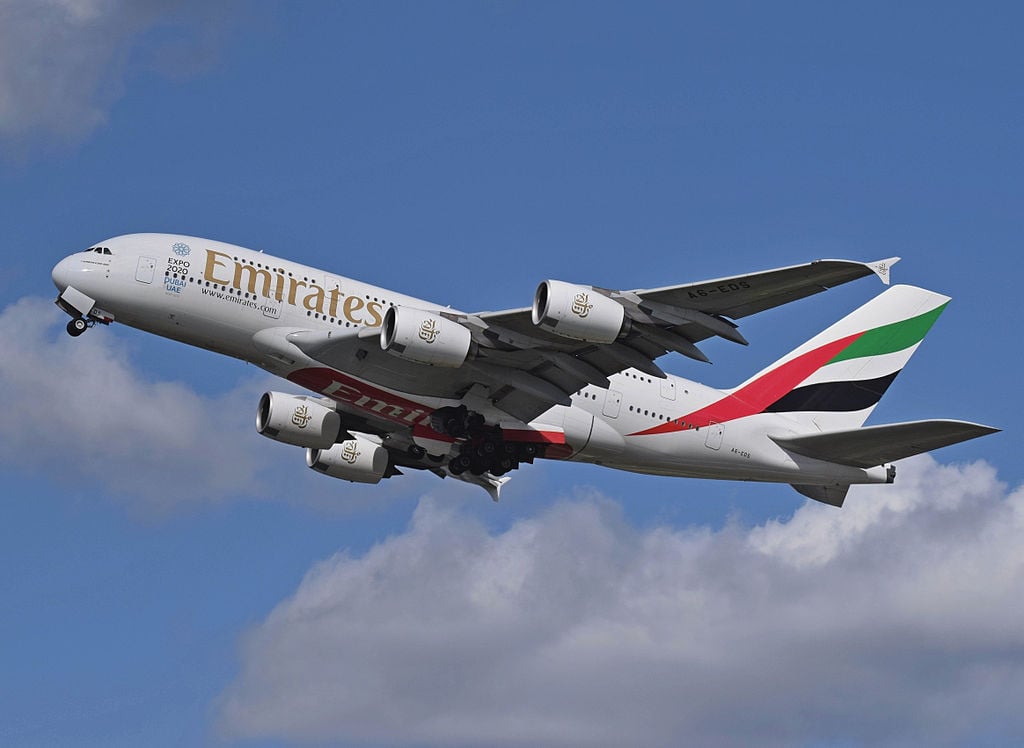 When we first booked our trip to Dubai, people's eyes would light up as they asked, "Are you flying on Emirates Airlines?" Everyone knows about the famous airline with the beautiful flight attendants that wear a red hat with a veil. They are considered one of the best airlines in the world, with some of the best service and outrageous first-class cabins that feature showers and suites.
When we booked our package deal at $1,200 per person, we asked how much it would be to upgrade to business class. At a whopping $9,000 per person, we decided we had to stay in coach. (First class fares can range from about $12,000 to $54,000 or so on Emirates, depending on the aircraft and flight.)
Here's what it looked like in our cabin:
Despite a ton of leg room, they strictly limit you to one carry on (which includes your personal item, so be prepared to stuff your purse in your bag). They won't even let you in to the TSA line until you have just one bag. They also say that bag can only weigh 15 pounds or less; on the flight over, they were very strict about this, but on the flight back, they were not.
They keep you fed on your 15-hour flight, so don't worry about starving. If possible, get a seat close to the front, though. On both flights, I was seated toward the back, and they ran out of meal selections by the time they got to us. So at that point, we had no choice — it wasn't a big deal for me, but it was a problem for the guy next to me, who was a vegetarian from India.
I love that you get 10 MB free wifi on the flight, but it is a little slow, as expected. This worked well on the flight to Dubai, but not as well on the flight home.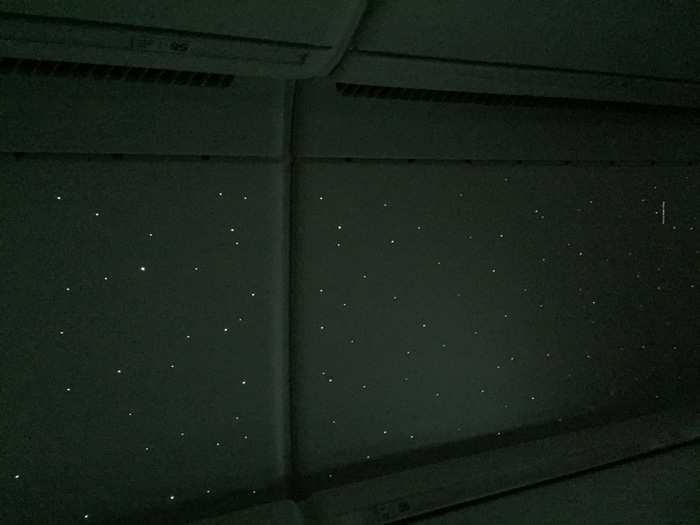 We think people in Dubai have a fascination with the night sky, since their nomad ancestors spent so much time camping in the open desert. It was kind of cool to see the ceiling of the plane twinkle with "stars" when the lights went down.
So did it live up to the hype? Even in coach, it was better than coach class on an American carrier. I did think the overall experience was better on Qatar Airlines, but if I could afford first- or even business-class seating, I'm sure I'd tell you different. But yes, Emirates Airlines was head and shoulders above any American airline, and the experience spoils you.
While on vacation, we got a chance to visit with Hawaii-born chef James Griffith, who has lived in Dubai for the last 24 years. He's now an assistant vice president at Emirates Airlines' kitchen — which is (of course) the world's largest stand-alone catering facility.
If you ever get the chance to do this, just a tip: Bring all your documentation. You actually have to give your passport to security when you check in — no other government-issued I.D. will do. Don't expect to take pictures, either. They put our cameras in a separate drawer before they would let us in. We brought our phones in, but maybe after this, they won't allow that, either.
They start planning the meals for all the flights, months in advance, and it goes like clockwork. Of the 157,000 meals they serve each day, 80 percent are for Emirates flights. Their meals accommodate dietary themes and flavor profiles for five main regions, and even sub-regions (for example, India has five different sub-regions). And as you saw in my menu, above, one 15-hour flight will serve about three meals per person.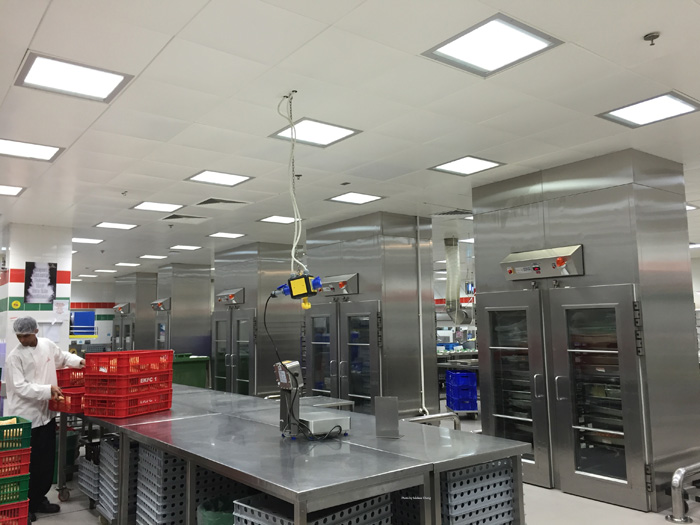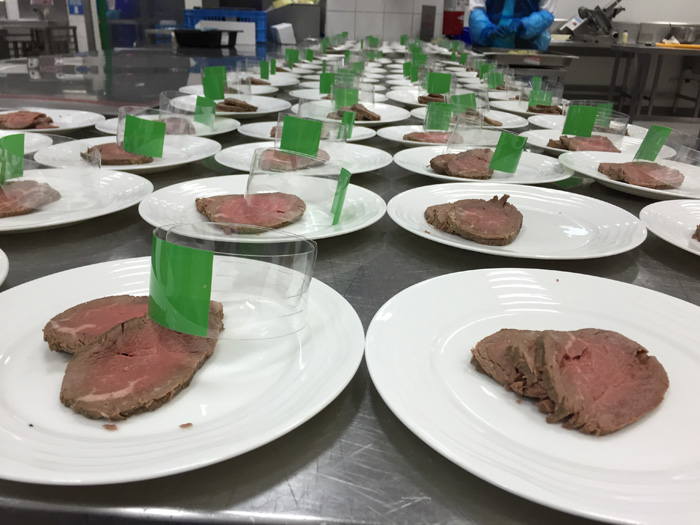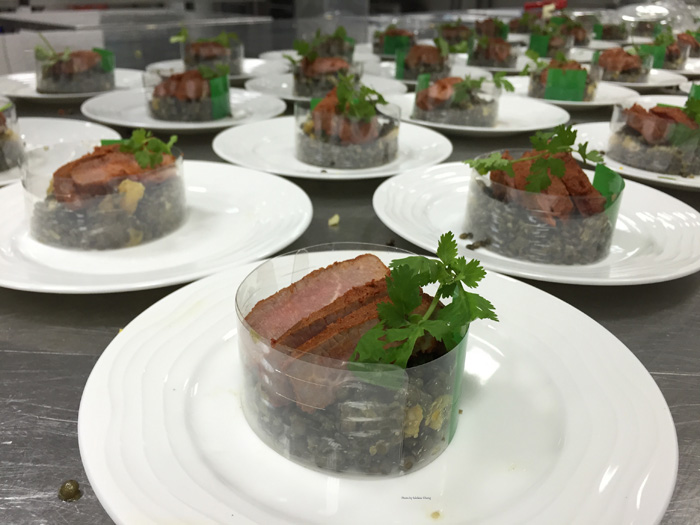 This is just one tiny section of one of the kitchen areas, where they are plating business-class meals for the next day. They're molded and packed so that the flight attendants can simply lift the plastic, and serve.
Timing is everything. A plate will be cooked, then blast-chilled from over 65 degrees Celsius (149 degrees Fahrenheit) to below 5 degrees Celsius (41 degrees Fahrenheit) in an hour and a half by their hygiene department. Entrees travel 36 to 72 hours from cooking to eating (usually just 36), while desserts and appetizers will take 24 hours.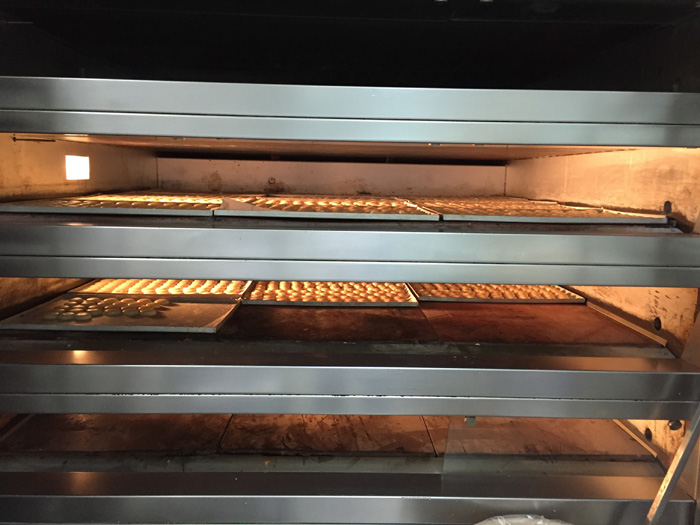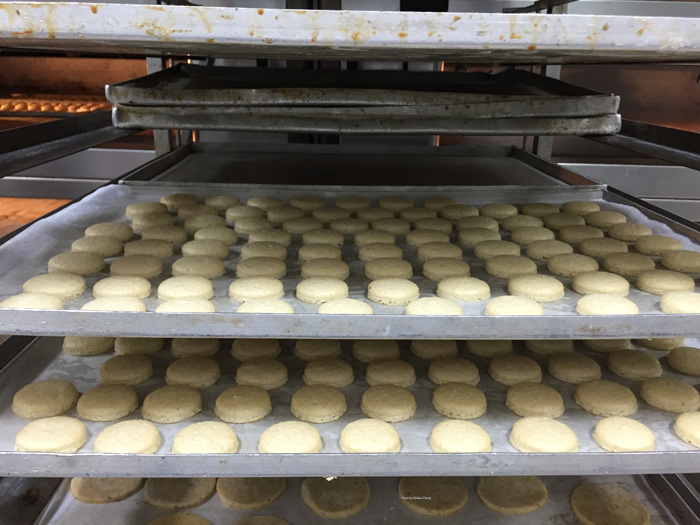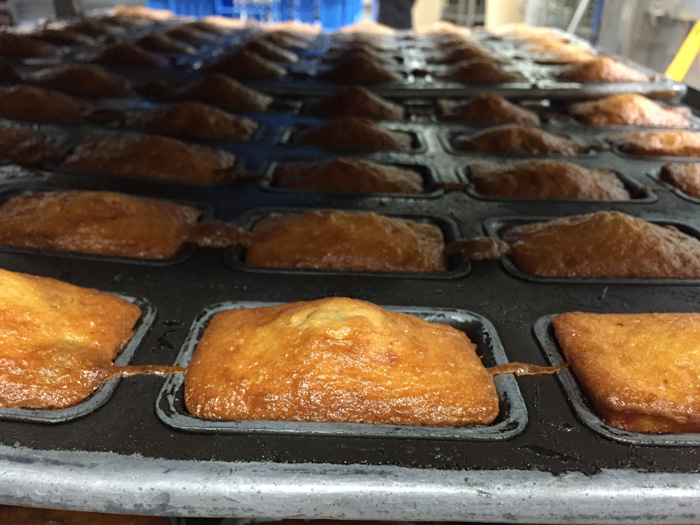 Baked goods for the next flight.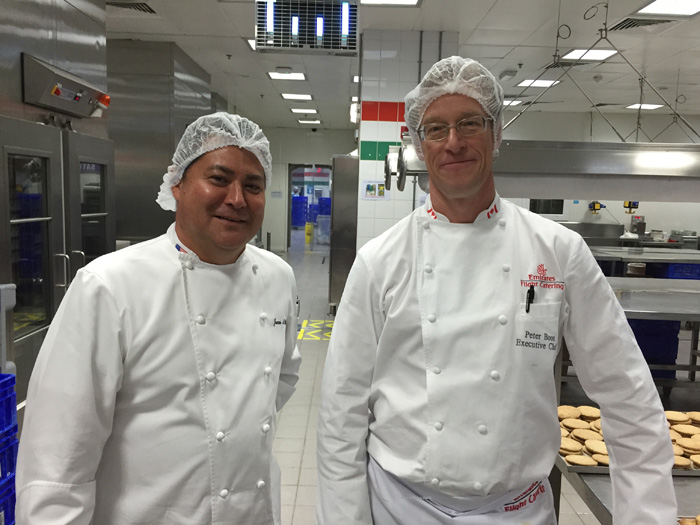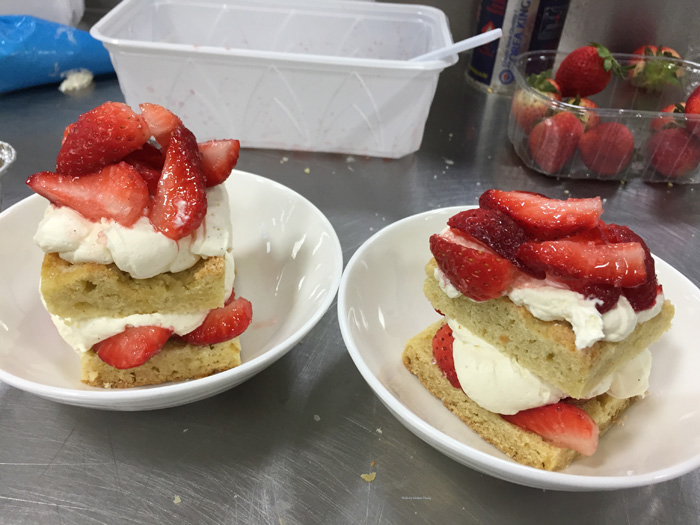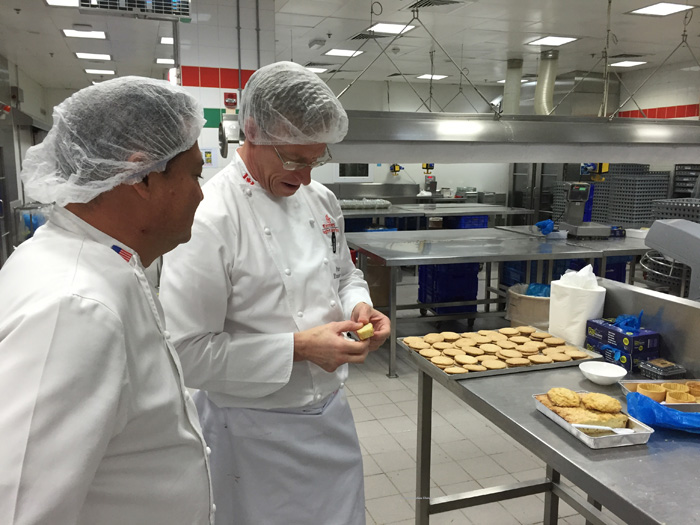 Speaking of baked goods … we dropped in on Emirates pastry chef Peter Boos (originally from Canada), who was experimenting with a dessert from home for their catering department. Here, he's not quite satisfied with the way the strawberry shortcake is coming out and is telling James that he needs to re-engineer it to match the flour being used in Dubai. Baked goods need to have different consideration here, as the flour is a blend from Europe, Australia, Egypt and some other regions to create a standard protein content — which doesn't quite match the protein content you might find in Canadian flour.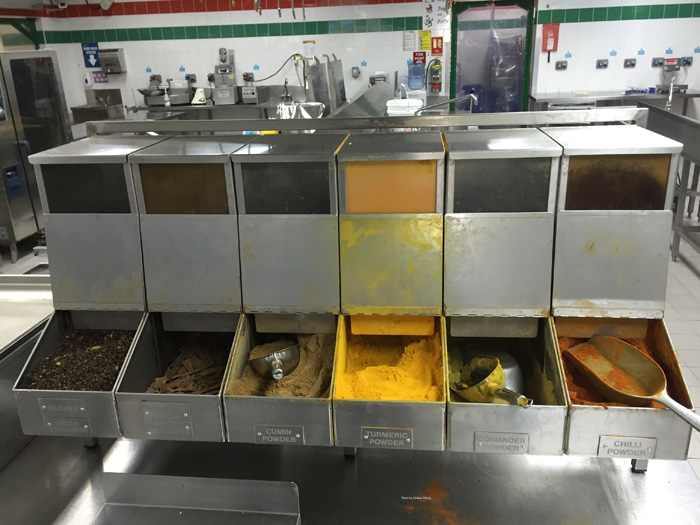 You can't run a kitchen in Dubai without all of your spices!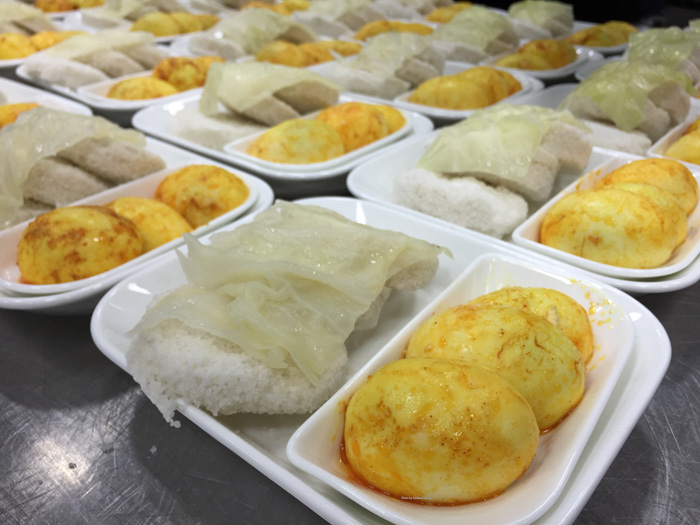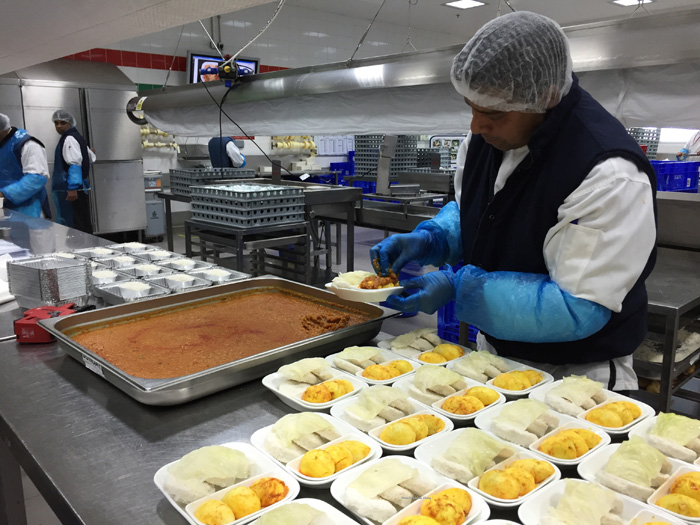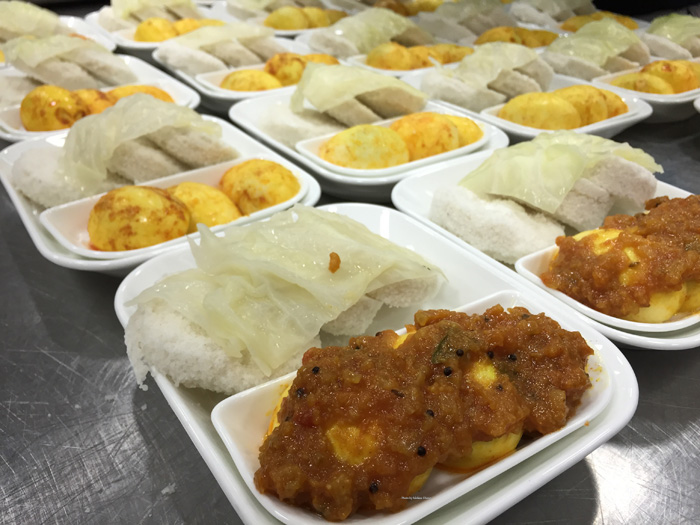 These entrees being plated for an India flight looked pretty darn good.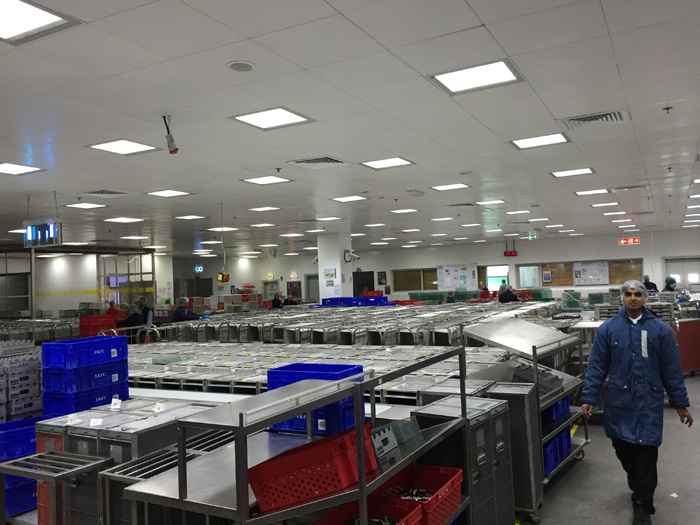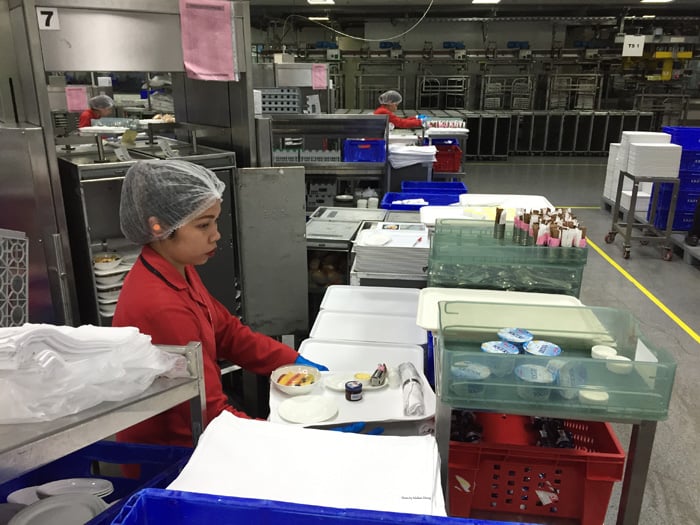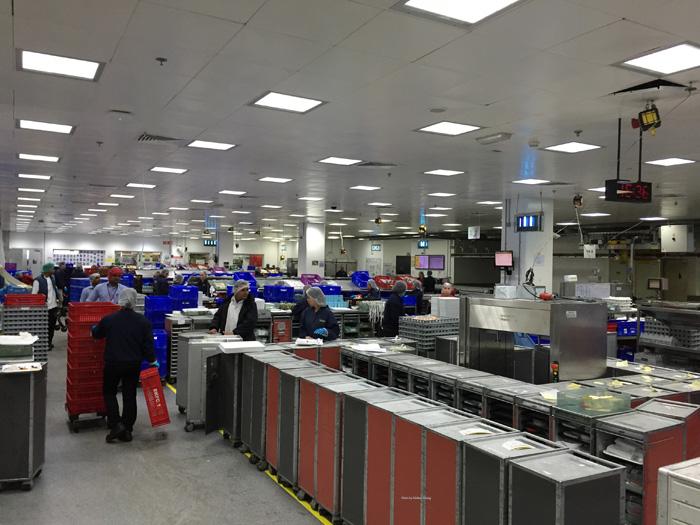 This area is where they pack the trays for the flights before sending them on their way. See the ladies with the red jackets? There are about 300 of them per shift. In all, James said they have about 10,000 employees, and their facility works around the clock.
And that was it for my whirlwind Dubai trip! We all agreed we could have used at least one or two more days, so keep that in mind when you go. If I go back — and I probably will, since Emirates has a fare sale twice a year — I'd go for those two days I needed, then go somewhere else on that side of the world.
Some tips for when you go:
How do I dress?
Men have it easy, as they can pretty much wear anything they want. Women have to be a lot more modest. I'm not going to reinvent the wheel, as there are numerous blogs, like this one, that tell you how to dress. No, you don't have to cover your head at all times or wear a burqa. In fact, you don't have to follow the dress code as outlined, but you should do it just to be respectful. You'll see one or two women in the mall wearing Daisy Dukes or spaghetti straps, but they actually stand out and look kind of offensive compared to everyone else. Plus, you run the risk of being asked to leave. If you aren't dressed modestly in the souq, the vendors will gawk at you and may follow you around.
Since Dubai hosts so many tourists, they are much more westernized, so the rules of dress are not enforced as strictly. However, if you plan to take a day trip to other places in the United Arab Emirates (UAE), you should dress more conservatively. Even in Abu Dhabi, regular people on the street might tell you that you need to cover up.
What's the deal with this, anyway? Their religion dictates that women need to hide their beauty from the world, so only their husbands can see them. Hair is often a part of that beauty, which is why they cover their heads. Many women feel it helps level the playing field; since men are so visual, the conservative dress gives them the opportunity to be treated equally (as women).
Is it expensive?
The currency is the Emirati Dirham and at this writing, the exchange rate is slightly in their favor. You'll find that things run a little on the expensive side, especially since the malls are full of designer goods, but for the most part it's probably the same as spending your vacation on Maui.
I exchanged a little bit when I arrived at the airport, then used my ATM card or credit card as I went along to get the best rate of the day.
Is it safe?
For the most part, Dubai is quite safe and we never felt in danger. Their laws are strict and enforcement is swift. This doesn't mean you can let your guard down, though, as all tourist hubs in the world have the same potential for petty crime, like pickpocketing — it just doesn't happen as often as other places.
Keep in mind that if something happens between a local and a foreigner, the foreigner is deported. Their theory is that if the foreigner wasn't there, the crime would never have happened in the first place.
Getting around
The Remingtons took us around, but in a pinch you can use taxis. We are told that the metro system is easy to use and super modern, so I'd want to try that next time.
Can they speak English?
They are fluent in English, so don't worry about having to learn the language. In fact, the UAE does a lot of trade with China and Russia, so you'll see a lot of tourists from those countries, as well.
Wifi
For the normal user, there is wifi in the malls, but it's slow and unreliable. The signal showed up in Yas Mall in Abu Dhabi, but it didn't work. When people tell tourists, "Wifi is everywhere," it's not always quite true, but Dubai does have more wifi than other places I've visited. Click here to see a list of places with good wifi, in addition to your own hotel. If you're like me and need to keep posting for work, you can rent a device from this airport kiosk.
Omiyage
Most of the spices and all of the honey that I bought, were actually from the supermarket because they were packaged nicely and were reasonably priced. The premium honey in the mall kiosks are exponentially more expensive, but they taste premium and have gold flakes in them. So it's up to you.
I regret not buying more nougat from Wafi Gourmet. Usually I don't prefer nougat, since it's too sweet, but in Dubai it's not as sweet and the toppings — like rose, pictured here, or the fruits and nuts — are amazing. Everyone I shared it with, loved the nougat.
I also bought some boxes of baklava at the duty free store at the airport, and I regret not buying more of those. Everyone who got a box, demolished it and said it was some of the best they'd had. If you're feeling splurgy, you can get camel's milk chocolate, but I thought it was too expensive for something that was more of a novelty.
Have fun! To see my other Dubai blogs, click here. To see all my photos from this trip, click here.