Your Ultimate First-timers Guide to Experiencing Osaka Like a Pro
Getting there on AirAsia plus where to stay, go and eat.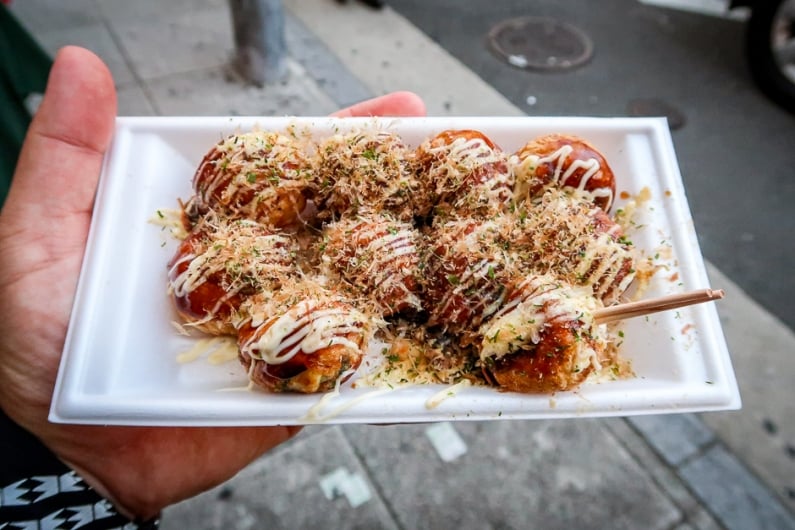 Osaka is Japan's second largest metropolitan area. It's famously known as Japan's kitchen — a foodie paradise where enclosed shopping arcades house miles of restaurants, bars, coffee shops and sushi counters. The choices can be daunting. Do I want freshly fried chicken karaage or a tray of takoyaki? No, I want a matcha soft cream parfait with shiratama mochi! With a city motto that translates as "eat yourself bankrupt," you won't be judged for choosing all three!
Take a walk down Osaka's most famous street, Dotonbori, and you'll see branches of famous ramen-ya, hawkers selling fresh-grilled takoyaki squid dumplings and multistory king crab and wagyu beef restaurants. If you love Japanese food and culture and haven't been to Osaka, you are missing out on one big buffet, my friend.
AirAsia flew me to Osaka and Kuala Lumpur, Malaysia, all expenses paid, to show you how easy it is to take advantage of their red-hot deals coming up this summer. This was my second visit to Japan's kitchen and I planned the entire trip myself. Here's my guide for first-timers on to how to get to Osaka, where to stay and how to experience this incredible culinary destination.
Getting there
AirAsia's flight D72 direct to Osaka-Kansai International Airport (KIX) departs Honolulu at 4 p.m. four days a week. Online checkin is not available for this flight, so I strongly recommend arriving as early as possible to check in at the counter which opens at 1 p.m.. I arrived around 1:30 p.m. and there were close to 100 passengers in the queue, but before I knew it I was directed to a separate line for Premium Flat-bed passengers. For an evening outbound flight, the flat-bed is a great way to get in some rest in before you hit the ground in Osaka at about 8:30 p.m. or, if you're continuing on, in Kuala Lumpur at 4 a.m.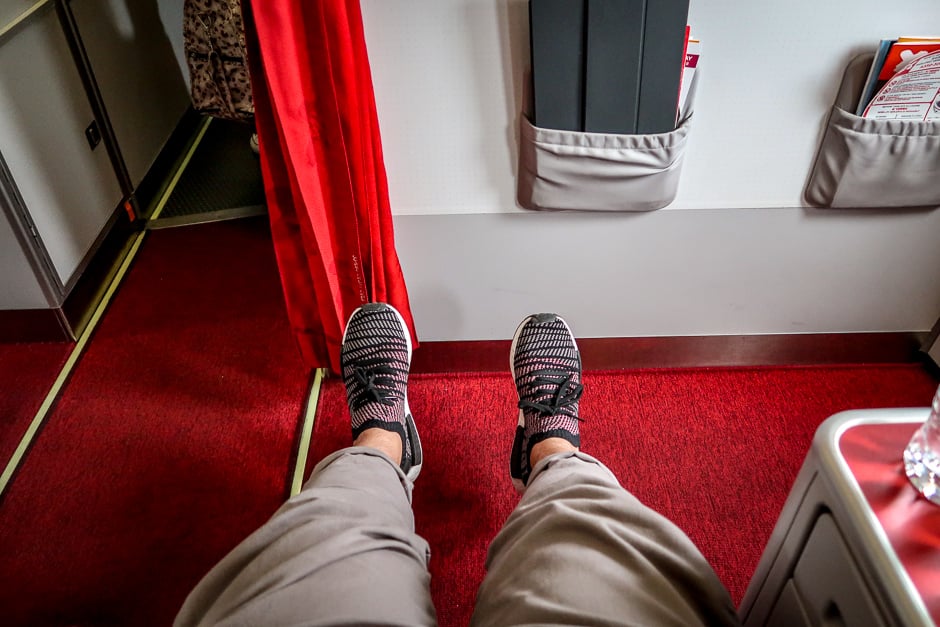 Legroom for days in rows 1 and 2!
The premium seat provides ample room both for my luscious hips and long legs. Though the seat reclines to about 170º (not entirely flat, but close enough) in about 30 seconds, I found the most comfortable position was slightly reclined and legs elevated. Up front, a down pillow and a comforter are provided for most of the flight, as are access to a personal outlet, complimentary meals, snacks and beverages, and up to 40 kilograms or 88 pounds in total baggage allowance. Alcohol, amenity kits and entertainment cost extra, so I wouldn't consider this business class – it's just the most comfortable option to travel on AirAsia.
If you're seated in economy, you'll want to fork over the dough to choose your seat or even upgrade to the Quiet Zone, which bars children under 10 and has soothing moodlights, privacy curtains and a higher chance of empty seats next to you. You can pre-book meals in economy or purchase them onboard for a slightly higher price. For flights in and out of Honolulu, skip the main entrees and go for one of the laksa curry instant noodles, or grab some nacho chips and cheese dip to munch on as you await your culinary adventure. AirAsia does have a pretty strict policy that bans outside food and drinks. Meals offered inflight to and from Malaysia are a totally different story, but I'll address that in my guide to Kuala Lumpur (coming up Thursday).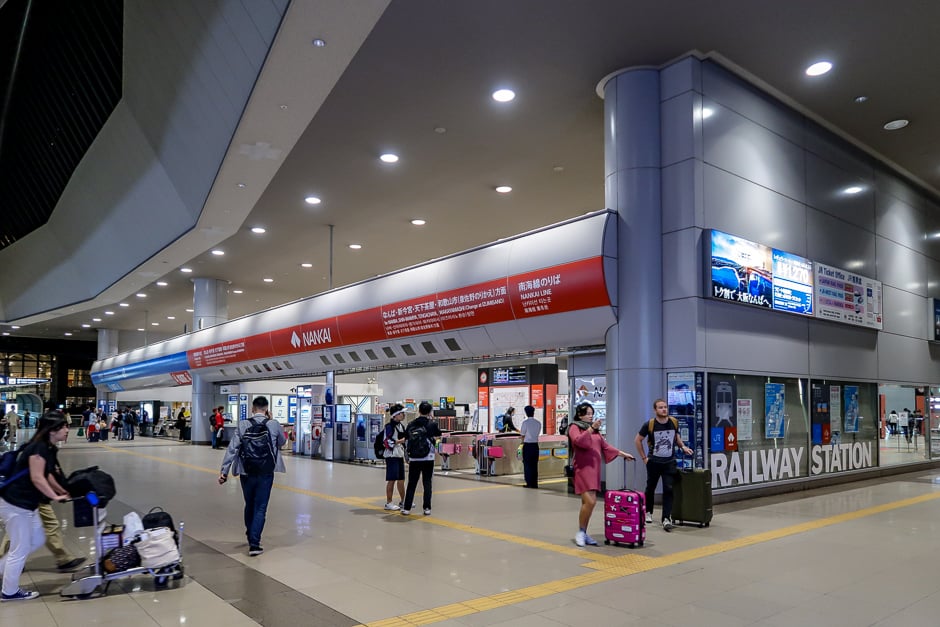 Landing at KIX, you'll have three options to get into the city. You can take a cab, a limousine bus or trains bound for Namba or Osaka stations. The most economical and reliable method I found is the Nankai Airport Express train, which plops you into the center of Osaka's dining scene in 44 minutes. For ¥920 adult (about $8.40) and ¥460 child (about $4.20), it beats having to pay up to 10-12 times that for a cab or Uber or waiting in traffic aboard a bus.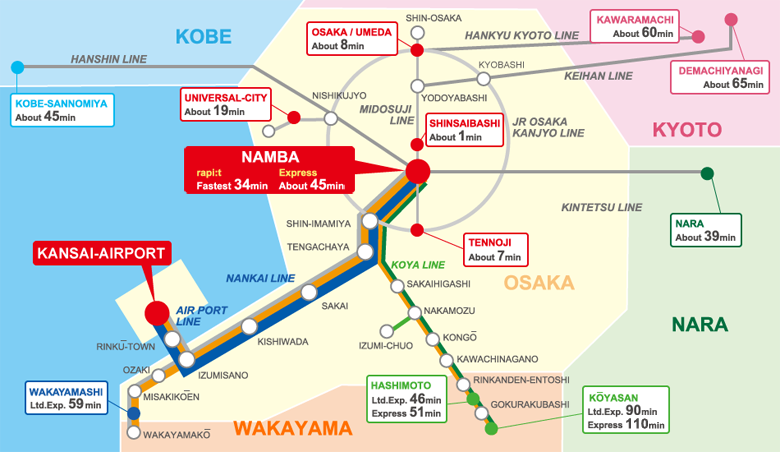 I also recommend buying an IC smart card (called ICOCA in Osaka or Suica in Tokyo) for ¥2000 (about $18.20; that's ¥500 deposit and ¥1500 in usable credit) or bringing your Suica or Pasmo cards from Tokyo to streamline your railway experience. These cards let you tap in and out of the train gates without having to buy a ticket each time. They come in handy especially on short trips when you need to maximize your time on the ground. Don't worry about spending it all, you can always cash in the card without losing any value, but I save mine for subsequent trips.
There are two main hubs in Osaka: Namba in the south and Umeda in the north adjacent to JR Osaka-eki, the fourth busiest train station in the world. Both areas have a ridiculous amount of attractions, but Namba has Umeda beat when it comes to convenience, especially for a first-timer! #TeamNamba
Accommodations
Look for accommodations near the following subway stations if you want to be within walking distance to the major attractions of Namba.
Namba and JR Namba
Shinsaibashi
Nipponbashi
Ebisucho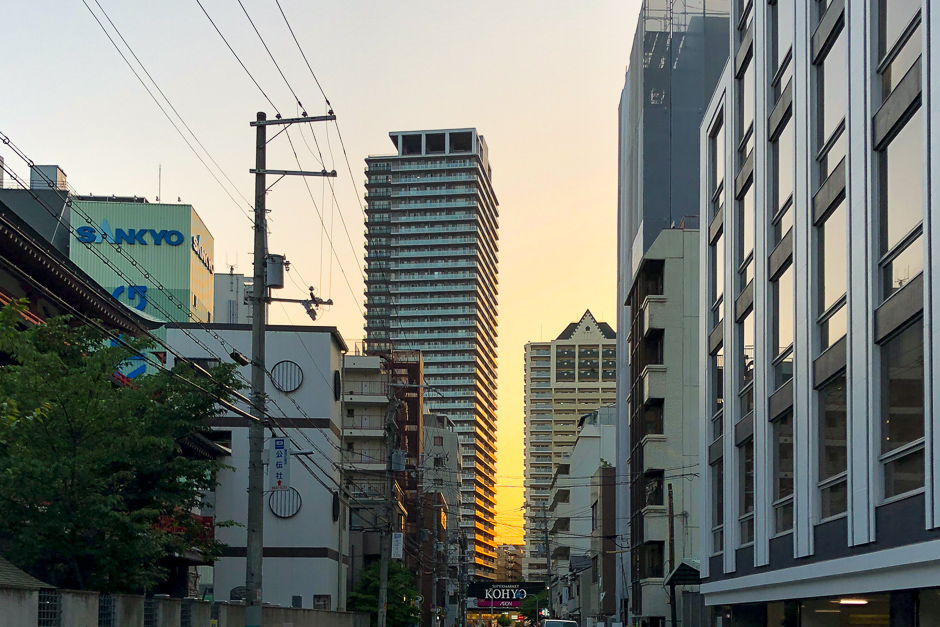 On this visit, I stayed three blocks from Namba station at an Airbnb in a quiet neighborhood called Naniwa. It's about a five-minute walk from the Nankai North exit, which made it super easy to walk to the points of interest I'll mention later. Airbnb rentals in Japan have yet to fail me because they are usually hosted by homeshare agencies and have great systems in place to ensure your checkin and stay are seamless and comfortable.
Around Namba: Dotonbori / Sennichimae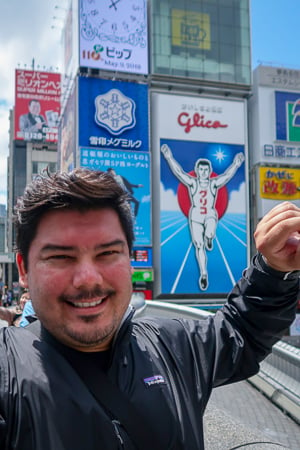 Chances are you've seen or heard about Dotonbori, Osaka's most famous eating street. Let it serve as homebase for your eating debauchery, but be prepared for long lines at peak times because plenty of other foodies will be clamoring for steaming hot okonomiyaki and kushikatsu sticks. Grab a selfie with the Glico man on Ebisu Bridge and be sure to walk along the canal for many more restaurant options. Most shops serve their last orders by 10 p.m. so you'll want to look for one of the few 24-hour restaurants if you're arriving on AirAsia's D72.
Restaurants to try: 
Ichiran Ramen –  24-hour tonkotsu ramen-ya famous for its individual eating booths 〒542-0084 Ōsaka-fu, Ōsaka-shi, Chūō-ku, Souemonchō, 7−18 1F
Kushikatsu Katsuhiro – a hole-in-the-wall kushikatsu spot frequented by locals 1 Chome-5-9 Dōtonbori, Chūō-ku, Ōsaka-shi, Ōsaka-fu 542-0071
Meoto Zenzai – a matcha tea and kakigori (shave ice) shop 〒542-0076 Ōsaka-fu, Ōsaka-shi, Chūō-ku, Namba, 1 Chome−2−10
Marufuku Coffee Shop – a classic kissaten dating back to the 1930s with tons of charm and excellent drip coffee 1 Chome-9-1 Sennichimae, Chūō-ku, Ōsaka-shi, Ōsaka-fu 542-0074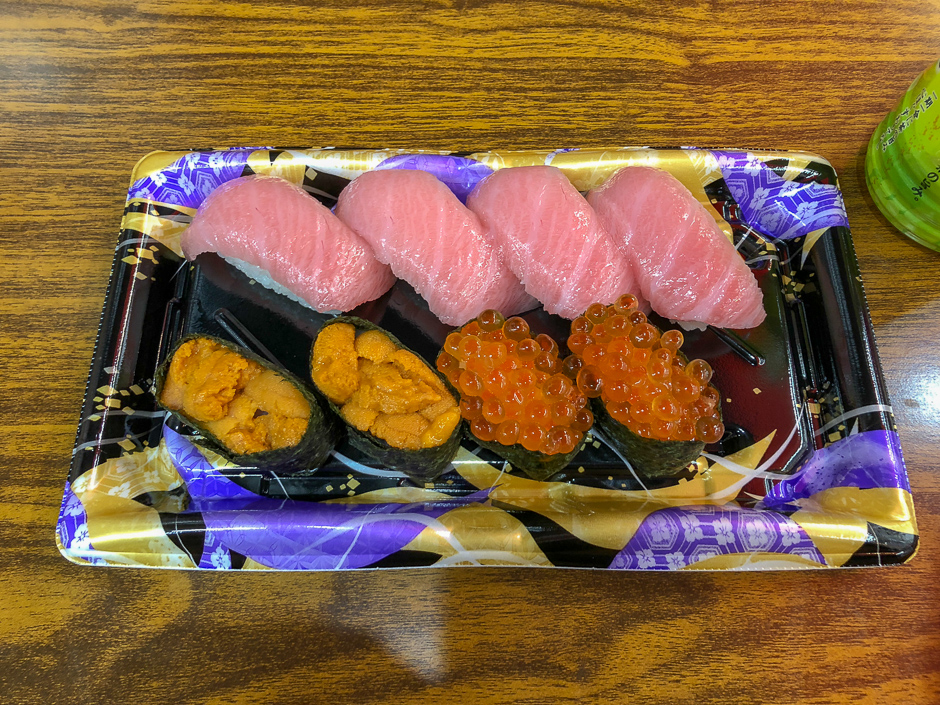 Kuromon Ichiba
Kuromon is a wet market with a heavy emphasis on fresh seafood; there are also stalls that roast coffee beans by the gram and torch up succulent Kobe beef. Kuromon's vastness and the many streets that splinter out are a good indication of its variety. You might love watching vendors cook up scallops and king crab right in front of you, but I found myself here twice in one day to eat otoro and uni – it was that good.
Shinsaibashi Suji
If shopping's your sport, have a sprint down Shinsaibashi, one of the main shopping streets in Osaka. It has a mix of everything from apparel and accessories to drugstores, department stores and plenty of luxury goods and shoes. With a history dating back nearly 400 years, this area was Osaka's hub for retail and commerce as it became a popular route for Osakans making their way to the Dotonbori theater district.
Shops to visit: 
Calbee+ – Japan's major chip maker has limited edition flavors and fresh fried chips with soft cream 1 Chome-5-18 Shinsaibashisuji, Chūō-ku, Ōsaka-shi, Ōsaka-fu 542-0085
3Coins – Useful, kawaii goods and gifts for ¥300  〒542-0081 Ōsaka-fu, Ōsaka-shi, Chūō-ku, Minamisenba, 3 長堀地下街4-74
Anello Flagship Store– Osaka-based bag brand popular among youth across the city  3 Chome-5-11 Minamisenba, Chūō-ku, Ōsaka-shi, Ōsaka-fu 542-0081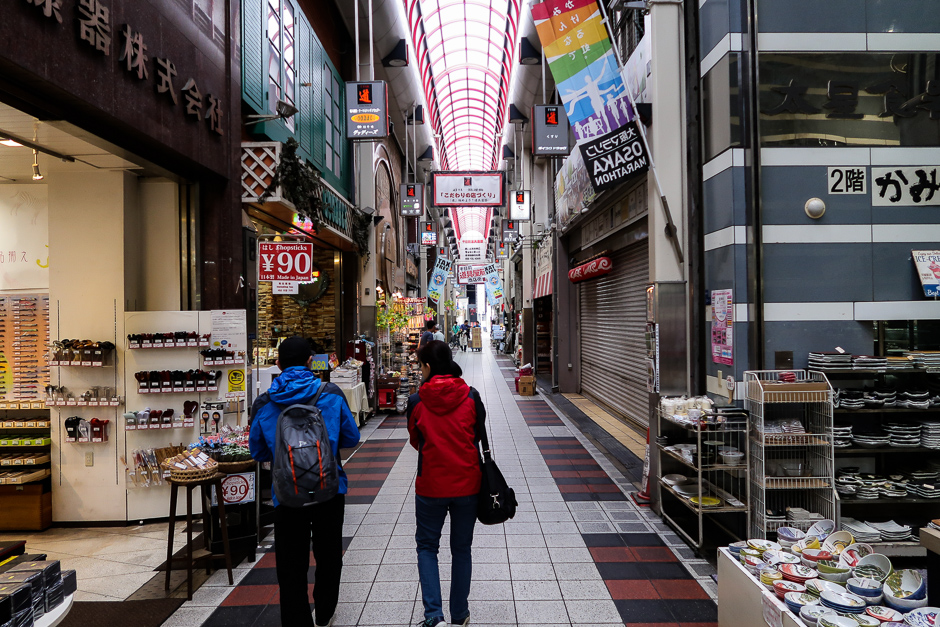 Doguyasuji Shotengai
Chefs and restauranteurs across the world know about Tokyo's Kappabashi district, but do they know about Osaka's Doguyasuji? It's a kitchen street, where you can find anything from fake food to wooden spoons and even taiyaki waffle presses. Merchants line this twisty little shotengai or commerical district with their wares bursting out onto the sreet. At a store called Senda Kitchen Utensil, I picked up some stainless steel pans with drainage racks to use for deep-frying. I'm inspired to make some kushikatsu at home.
Shops to visit: 
Senda Kitchen Utensil – an incredible store with everything from tiny mustard spoons to industrial teppan cooktops 〒542-0075 Ōsaka-fu, Ōsaka-shi, Chūō-ku, Nanbasennichimae, 8, 大阪府大阪市中央区難波千日前8−16
Yamashita & Co. – Japanese cooking knives of all shapes and sizes  14-3 Nanbasennichimae, Chūō-ku, Ōsaka-shi, Ōsaka-fu 542-0075
Amerikamura
Amerikamura has all the cool hipster vibes of Harajuku without the extremeness. The home of Osaka's youth, which embraced Western and American trends and culture, the area quickly drew many brands to set up shop around tiny Triangle Park. It's here you'll find perhaps the best takoyaki in Osaka – Michelin guide Bib Gourmand-rated Takoyaki Kogaryu. It's certainly worth the eight-minute walk from Namba Station or even a short ride on the Midosuji subway line to Shinsaibashi Station.
Shops to visit:
Takoyaki Kogaryu Honten – Michelin Bib Gourmand-rated octopus balls made from scratch across Triangle Park  2 Chome-18-4 Nishishinsaibashi, Chuo, Osaka, Osaka Prefecture 542-0086
Other tips
If you plan to document your feasts on Instagram, you'll want to rent a pocket wifi. You can rent one in Hawaii before you leave, or rent online for pickup at KIX or delivery to your hotel, free of charge. They average about $12/day. Some Airbnb rentals offer them with the unit, but be wary of data limits which can be throttled when you most need them.
You'll want to exchange your dollars for yen in Hawaii to have some cash on hand, since train tickets and some shops like Ichiran Ramen are cash only. For the most part, you can do just fine with your credit card – just be sure your foreign exchange fees are waived. You can also take out yen at many ATMs across the city. I recommend those at 7-Eleven, which have English menus.
Your total weight for two carry-on bags must not exceed 7 kilograms or roughly 15.4 lbs. I like to bring back tons of omiyage and snacks so checking a bag is a must, but I always bring a foldable Boston bag to bring back extra goodies or clothes that don't fit in my hardcase. Book your checked luggage, up to 35 kg, when booking your ticket to avoid super high checked-bag fees at the airport counter.
Bring your passport everywhere to take advantage of tax-free shopping – just look for the sign. Most shops have a refund counter where they pack up your consumables and issue you a tax refund if you've spent over ¥5400 (about $49). They require your passport so they can log the transaction and issue a receipt that you drop off at customs on your way home.
Summer will be here soon so you'll want to dress lightly for the heat and humidity. Sure, there are many shops and malls for you to duck into, but you have been warned.
Coming up Thursday: A first-timer's guide to Kuala Lumpur