First Thursday August highlights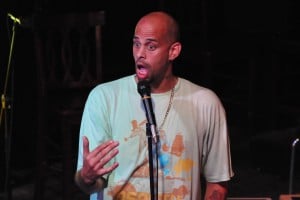 The "Summer of No Rules" came to an end last night at Fresh Cafe with the biggest turnout of poets and musicians yet. Over the last few months, poets were allowed to perform team pieces, cover poems, as well as use musical accompaniment and props. A lot of new faces showed up for this month's slam, which hints that there will be a deep and competitive field when qualifying rounds for the state team begin next month.
Headlining the night was Marc Marcel, who has performed who has performed in more than 150 American cities and four countries, as well as appearing on "Jimmy Kimmel Live!" and at President Obama's Presidential Inaugural Peace Ball.
Featured poet: Marc Marcel
Highlights
Music highlights