First Taste: La Tour Café, Honolulu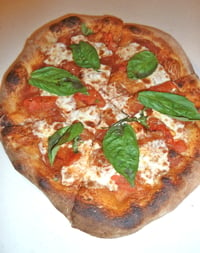 Honolulu always needs restaurants that are fast, fun, affordable—and have good food. La Tour Café fits that description.
The first La Tour Café opens in Honolulu 1/11/11, brought to you by the same family who established the Ba-Le sandwich shops, 25 of them across the state. (For the compelling story of how a young Vietnamese immigrant built the Ba-Le empire, see the upcoming February issue of HONOLULU Magazine.)
La Tour isn't Ba-Le. Its food is more French than Vietnamese—which makes sense since the French ruled Vietnam for a century and Vietnamese still love, if not the French, at least their cuisine.
Don't think high-end, wine-sauced French food. La Tour is casual, quick, order-at-the-counter and take out if you like. The food just happens to be high quality and tasty, as we discovered when La Tour opened its doors last night to try out its wares on friends and family. And us.
As you probably know, the offshoot of the Ba-Le shops is a commercial bakery, turning out French and other artisanal breads, including the breads at Whole Foods.
These people know how to bake: The crust under their fresh flatbread pizzas is made from organic sourdough flour. It's crispy with being hard, chewy without being doughy, and light as a feather under its load of fresh toppings.
The open-face tartin sandwiches come toasted to the table. You can get them topped with goat cheese salad, eggplant Parmesan, or—our favorite, pictured left—the Croque Monseiur: ham, melted Gruyere, topped with tomato. All on crusty artisanal bread that almost seems the best part.
If you look at the salad, it looks to have a little plastic ramekin of commercial Ranch dressing. No. That's a housemade dressing–they call it Swiss. The only difference between it and Ranch: It tastes good.
There are a few Vietnamese touches, including a chicken curry in a bread bowl. We had trouble placing the curry at first. Thai? No. Japanese, Indian? Certainly not. It was lighter and sweeter than most, and once we got used to it, we found it addicting.
Things get really French at dessert. Try the macaroons. La Tour's baker, Rodney Weddle, says it's tough to make good French macaroons in Hawaii's humid climate, but he's found a way to make them light and airy—in a whole range of flavors from mango to green tea. Warning: They are also addictive.
At La Tour, you can buy macaroons—and a whole range of bakery products, including bread fresh out of the oven every hour. Not to mention take-out soups, sandwiches and salads. Biting Commentary wishes the café was on his way home.
The first La Tour—there are four more planned—is in the newly the renovated Weyerhaeuser warehouse on Nimitz. It opens next Tuesday, 1/11, for lunch and is open for breakfast, lunch and dinner (7 a.m. to 9 p.m.) every day thereafter. So you've got a good alternative to a Costco hot dog, next time you're shopping in Iwilei.
La Tour Café, 888 Nimitz Highway, (808) 697-5000