First taste: Ala Moana Ewa wing eats (and lines!)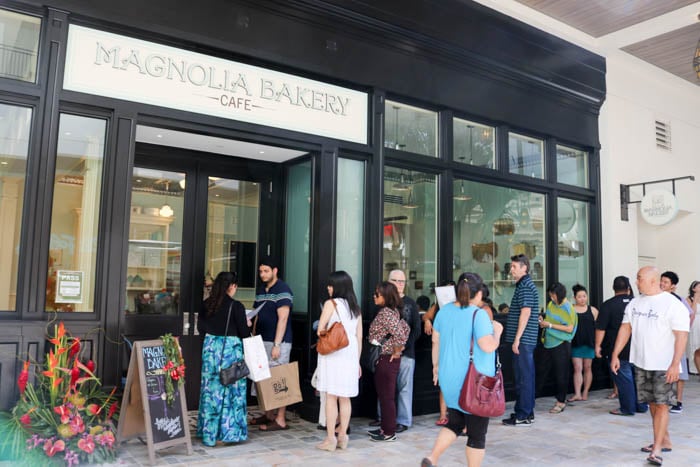 I don't enjoy waiting in lines. Yet there I was on Sunday afternoon waiting in not just one but THREE lines to try out some of the new eats in Ala Moana Center's new Ewa wing. I only have myself to blame, since I got excited about the new shops while putting together a guide to the new places.
Nitrogenie
What: Liquid nitrogen ice cream bar
Wait: 40 min. to make it out with my ice cream
Memories of "borrowing" liquid nitrogen from my college's chemistry department to make fun flavored ice creams with friends gave me high hopes for what I might find at this Australian ice cream chain. Nitrogenie uses liquid nitrogen to freeze ice cream so quickly it doesn't have time to form ice crystals, making for smoother ice cream. The shop rotates out their ice cream flavors every Monday, showcasing eight different flavors from a list of 72.
I used my wait time to decided on a cup of Lemon Meringue Pie, but got to the counter and found they had run out of it. Sad face. Luckily they had my second choice, Granny's Apple Pie — chunks of apple, squares of pie crust, crumble and whipped cream on top! The crust squares were a bit unwieldy for the small spoon, but the overall flavor was good and the mix-ins added a solid, chewable element. On the flip side, my friend's Mango of Summer didn't have much going for it other than the cute design they cut into the top. It's their dairy-free option and it reminded me of a mango-flavored Melona bar.
As advertised, the ice cream is smooth, creamy and rich. The flavors will probably be hit or miss, though — and there are no samples.
Magnolia Bakery Cafe
What: Gourmet bakery and cafe
Wait: 1 hr. to be seated
Our group knew what we wanted to order as soon as we were seated; we'd looked over the menu of this New York artisan bakery chain while we were in line. That's when we found out they were already out of the popular 'Nolia Pies (open-faced tarts) and pancakes. Oh boo. The server suggested we try the Croque Madame, so we ordered that and a couple other dishes.
The Wild Mushroom Roast skillet had nice earthy flavors, but we retrospectively missed the eggs we could've added on. The Apple Dutch Baby ($9) was light, fluffy and not overpowered by the cinnamon-spiced apples, but I was disappointed that it didn't have the crispy edges that I associate with Dutch Babies.
The server was right, the Croque Madame was a good choice! It's definitely a fork-and-knife dish, especially when you're in favor of the optional egg. Between the runny yolk and bechamel sauce, it's not something you'll want to pick up with your hands, but you might want to lick the plate.
When dessert time came, we thought we'd be able to order the famous Magnolia Bakery cupcakes. Alas, you have to visit their kiosk for most of their baked goods. However, we were able to order the equally famous Banana Pudding. Reaction: MUST! TRY! I'm not big on pudding, much less banana pudding, but this was really good. FYI, it's on the sweeter side, but a great dish to fight ov-, I mean, share.
Magnolia Bakery
Wait: 20 min. to the cupcake window + 5 min. to the register
After finding out the cafe didn't sell cupcakes, I sucked it up to stand in another line for the bakery kiosk outside. I occupied my time watching cupcakes get frosted on the other side of the glass; it was sort of mesmerizing.
While you can drool over the whole bakery menu online, you can only pick from what they have in the display case at that moment (read: They don't have everything all the time). Or maybe learn to order ahead. I ended up with the meager options of chocolate vanilla or vanilla vanilla (cake and frosting flavors). That luckily changed with the arrival of a tray of Sno-Caps (chocolate cake with meringue frosting) and Red Velvets (with cream cheese frosting).
The cupcakes are moist and spongey, both very important attributes, but the flavors were just average. I'd love to try their fun flavors like Hummingbird, Truffle, Pistachio or Peanut Butter & Jelly, but I guess I'll have to check back another day and cross my fingers that they're in the display case.
So I learned some lessons from my venture:
Tip #1: Bring friends. Have someone stand in each line and meet back at the Magnolia Bakery Cafe line just before being seated so you can enjoy pre-meal snackage from Nitrogenie and score baked goods from Magnolia Bakery for later!
Tip #2: Be prepared for items to be sold out. That's just the way the cupcake crumbles when shops are this popular and new. I'll be waiting until the crowds die down to head back.
Tip #3: If you can get there when everything opens, then you won't have to worry about waiting or running out!
Nitrogenie & Magnolia Bakery and Cafe
Mall Level 2, Ewa Wing
Mon. to Sat. 9:30 a.m. to 9 p.m.
Sun. 10 a.m. to 7 p.m.