First Look: Ethiopian Restaurant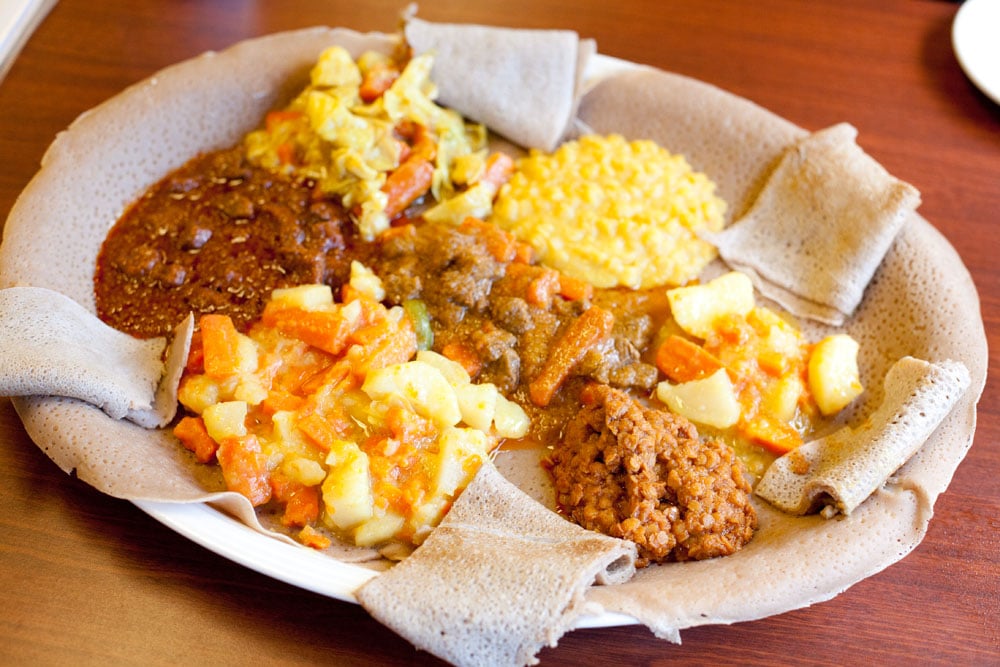 Honolulu, welcome to your first Ethiopian restaurant. It's called—get this—Ethiopian Restaurant, and it shares a kitchen with a ramen spot.
Abraham Samuel, who runs the kitchen with his fiancé and her cousin, is originally from Addis Ababa, Ethiopia's capital. He's a former cab driver in Honolulu, tax accountant in Washington DC and travel agent in Kansas City. He's been heading west ever since he closed his accounting firm in Washington DC, where there are plenty of Ethiopian restaurants, to Hawaii, where there were none. (Even South Dakota, one of his stops along his way west, has Ethiopian food, thanks to the Ethiopian immigrant community there.)
Once in Hawaii, he heard the owner of Takahashiya Ramen on Kapahulu was looking to share his kitchen space; Samuel saw it as a perfect opportunity to test Hawaii's appetite for Ethiopian cuisine. And apparently, ours is voracious enough that he's hoping to open his own spot—with a real name—in six to eight months.
Those familiar with Ethiopian food will recognize the wots and tibs, served on injera. For the rest, here's a primer: Wats are stews, available at Ethiopian Restaurant with beef or lentils; tibs are stir-fries, here with beef or chicken. A common seasoning is berbere, Ethiopia's staple spice blend with a base of chilies, layered with ginger, cardamom, coriander and more. No one spice dominates; it all harmonizes for a simultaneously exotic and comforting effect.
Everything's served on injera—the spongy, fermented teff flatbread—which also serves as your utensils. If there's one thing that Samuel is finding the most difficult about running a restaurant, it's the injera. At Mainland restaurants, he says, everyone buys the injera from an outside vendor. Since no one makes it here, obviously, he has to make it from scratch. Which might explain why his tastes different from what I've had before—a little stickier and less sour. The cooking could use a little more refining (less oil, for starters), some freshness (our side of tomato salad seemed to be missing) and more vegetable variety (collards, perhaps?). But really, I'm just happy Ethiopian Restaurant is here. (And I kind of like the name. Tell it like it is!)
The menu is vegan friendly, but be warned—everyone's orders end up on the same plate, so vegans and vegetarians might want to ask for their dishes separate, if dining with carnivores.
Ethiopian Restaurant, Entrees $10.95 to $16.95, 730 Kapahulu Ave. (inside Takahashiya Ramen), 725-7197