Finishers Gallery: HONOLULU Family Virtual Fun Run Presented by Mobi
Congratulations to all our virtual fun run finishers of all ages from across the nation!
The first ever HONOLULU Family Virtual Fun Run, presented by Mobi, sent families running, walking, jogging and strolling through their neighborhoods and yards from mid-April through May. We received photos of finishers from as far away as New Jersey, Canada and New York. A portion of the proceeds went to provide masks for front line workers as well as people across Hawai'i. Congratulations to all our finishers!
---
Lā'ie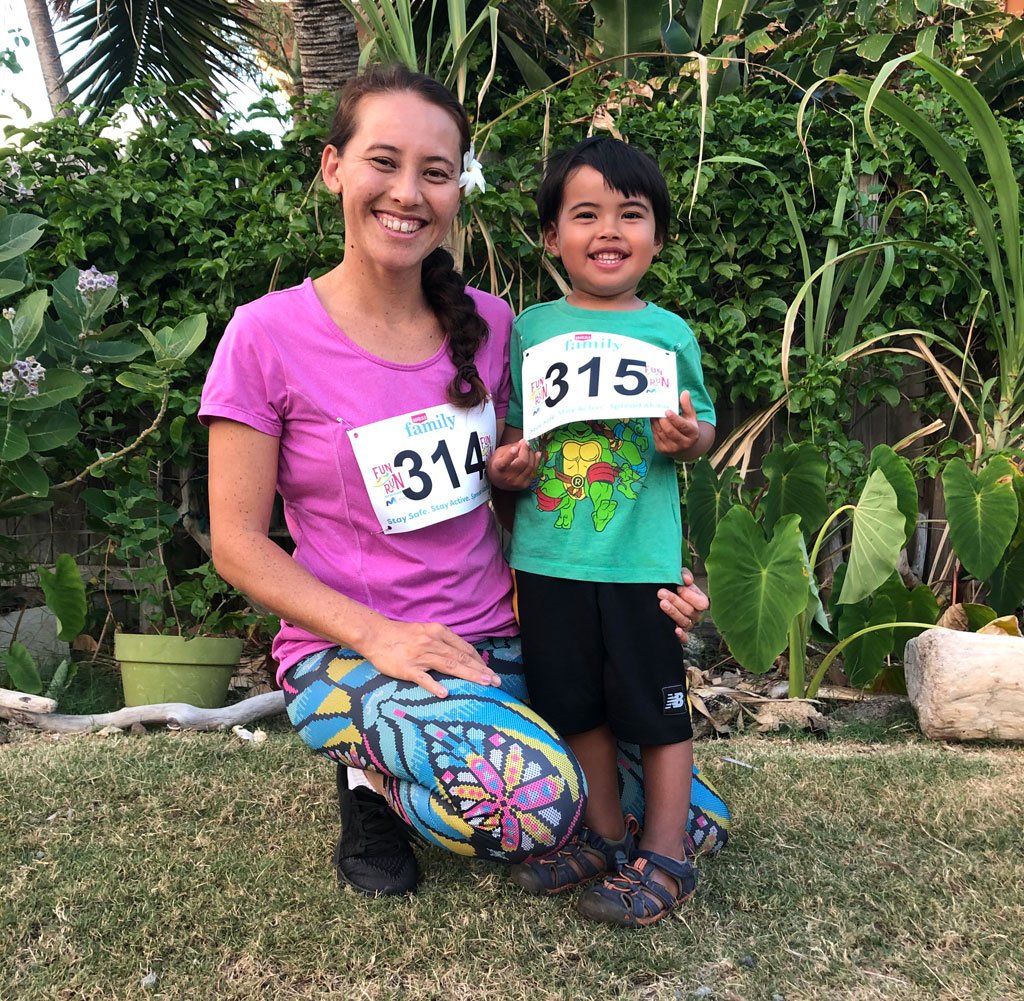 Photo: Courtesy of Roxanne Ortiz
Roxanne and Kaimana, 3, finished a mile together. Then mom completed the 5k course by herself. "It was fun to say 'Hi' to neighbors as we passed," she says.
---
Lithia, Florida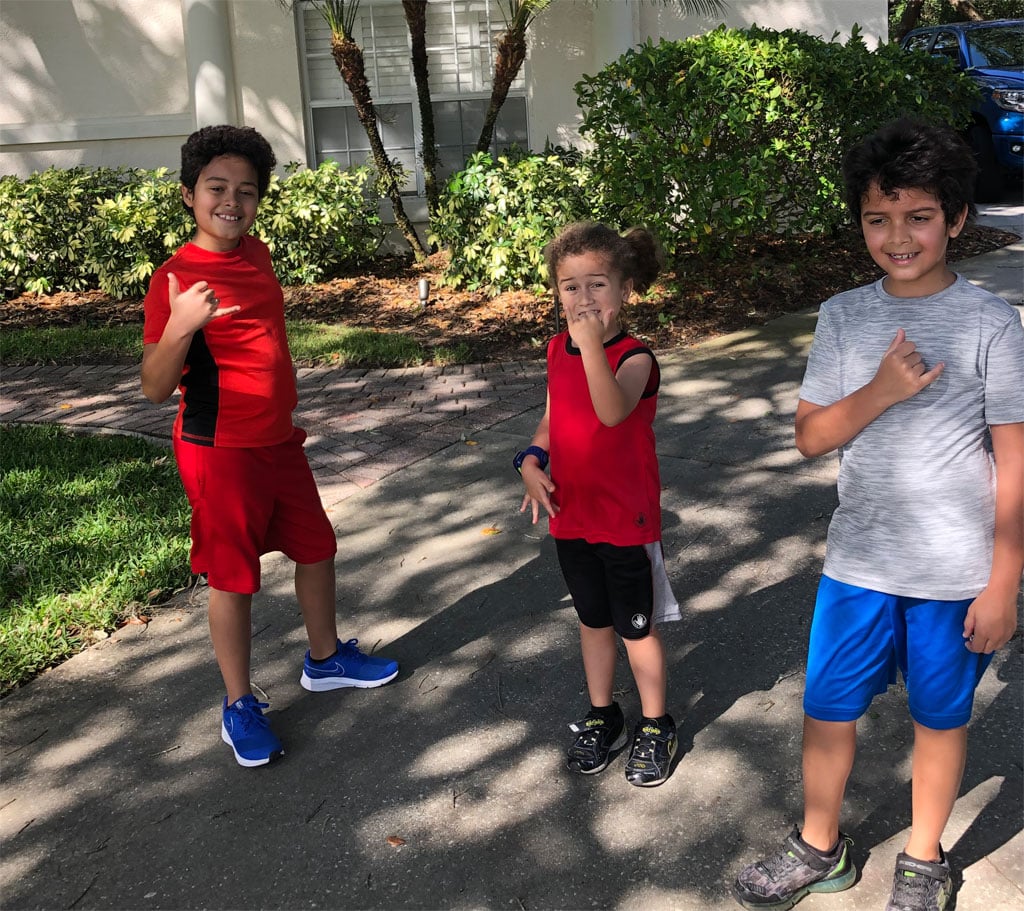 Photo: Courtesy of Jaymie Bercedoni
Former HONOLULU Family Cover Kid Jose, 10, (Summer 2016) and his brothers Julian, 8, and Jaeden, 5, finished their laps in their Florida suburb. The family trained for weeks before their 5k and reminisced about the first HONOLULU Family Fun Run they did in the Islands. "It was not easy with all three kids because Jaeden would get tired and not want to walk anymore, or we couldn't resist to stop and look for alligators or some other type of wildlife," mom Jaymie says. "It was great to get our mind off the pandemic and just be outside."
---
Mānoa
Courtesy: Julie Smeltzer
Julie, Steve and 5-year-old Hank finished their 5k on a long weekday walk through their neighborhood.
---
Waialua, Mililani and Mainland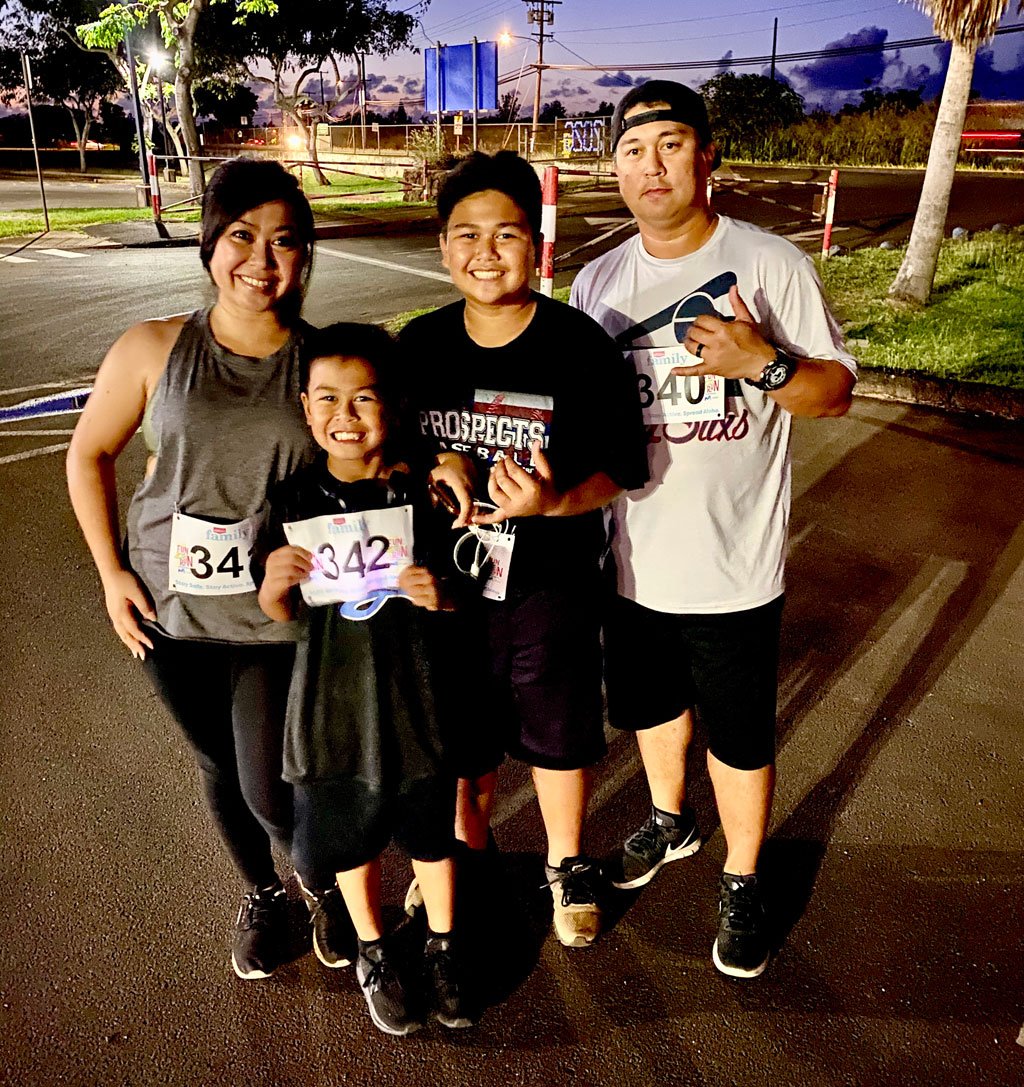 Photo: Courtesy of Kristine Manutai
Kristine and Jacob along with their kids Blaze, 12, and Justice, 8, ran and walked their 5k on the exercise path in Waialua. Their extended family also joined them virtually, including her parents from Mililani and her brothers' families on the Mainland. "Posting our times to each other and posing with our bibs made it feel like a real competition even though we weren't physically racing each other," Kristine says.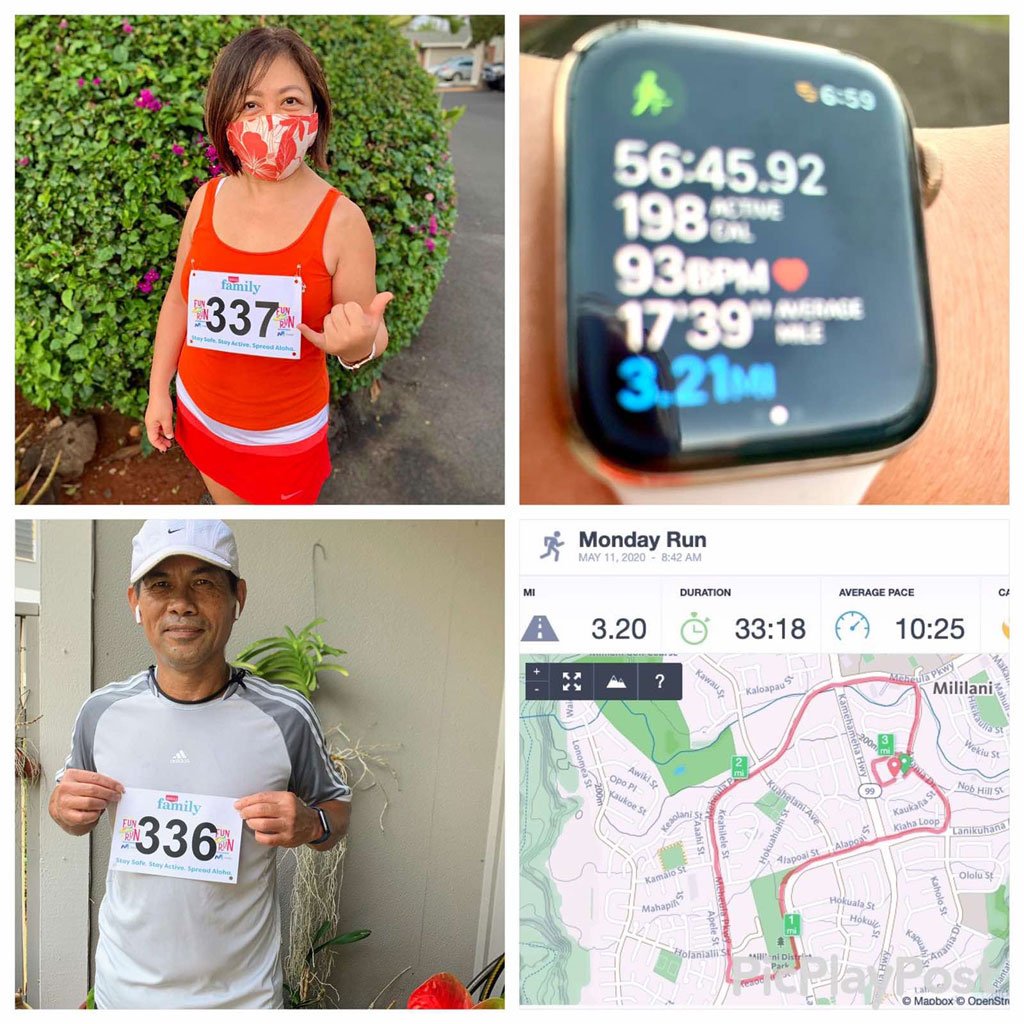 Photo: Courtesy of Tess Ballucang
Rick and Tess Ballucang of Mililani also finished the 5k along with their daughter and grandkids, the Manutai family.
---
Aberdeen, New Jersey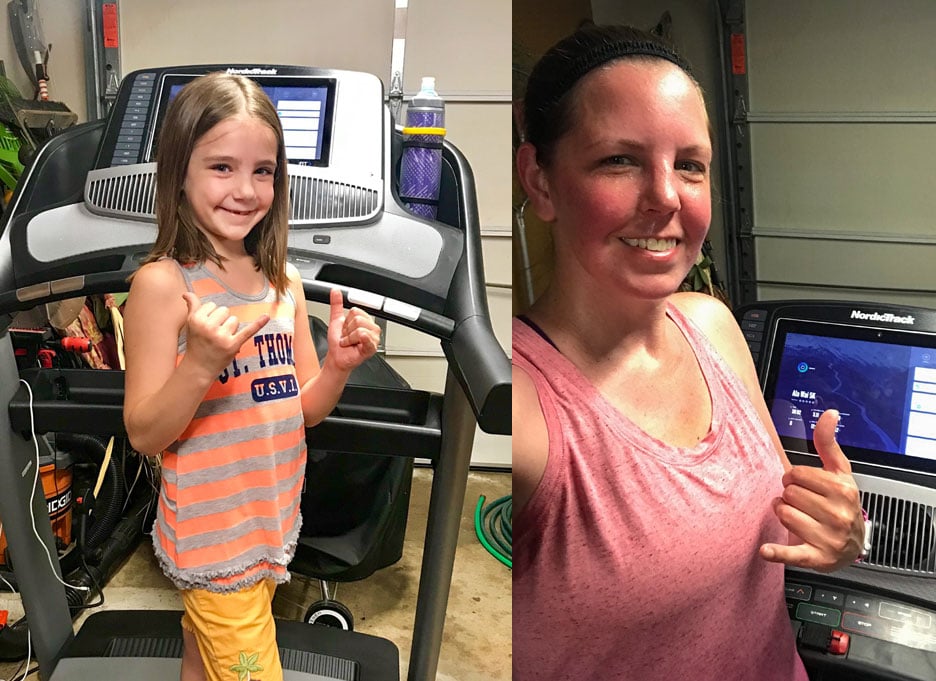 Photo: Courtesy of Kristen Conti
Olivia, 6, did the keiki dash while mom Kristen completed the 5k on their treadmill for their first virtual race. Kristen visited O'ahu a few times, fell in love with the Islands and was planning a trip with her husband back for their 10th anniversary this year until the pandemic happened. They programmed Google Maps so they could "run" along the Ala Wai canal!
---
Waipahu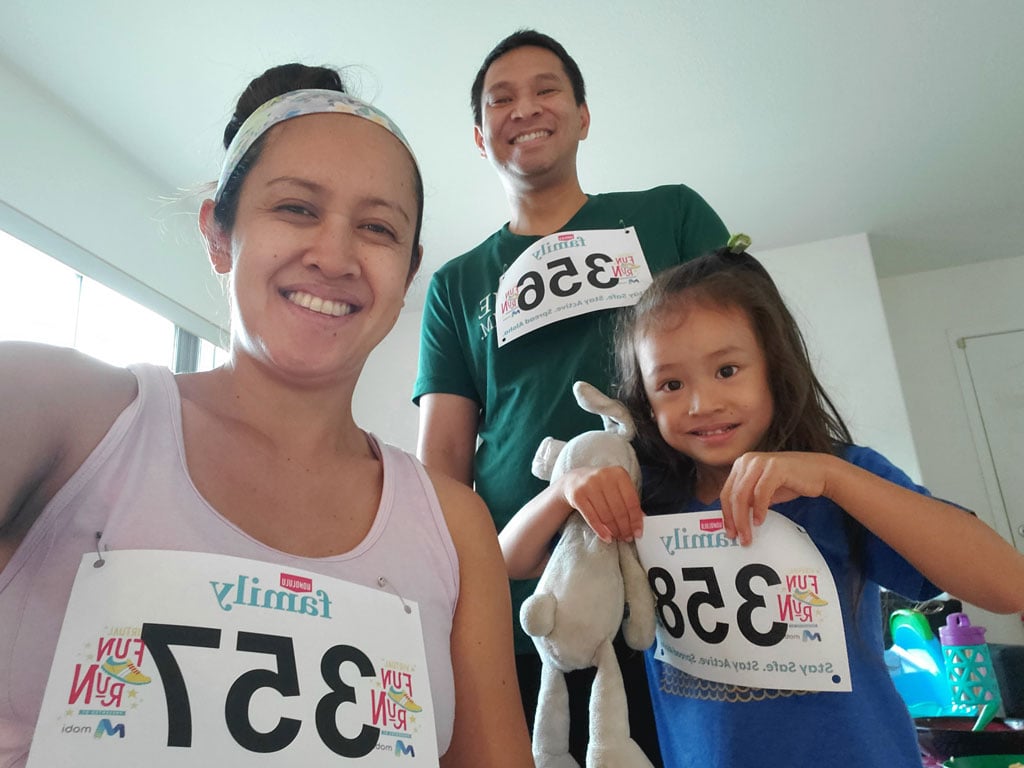 Photo: Courtesy of Sheinah Ricalde
Sheinah and Aldrich ran the 5k while daughter Rylie ran the 500-meter keiki dash. Sheinah says she was surprised to see how fast her 4-year-old could run!
---
Pearl City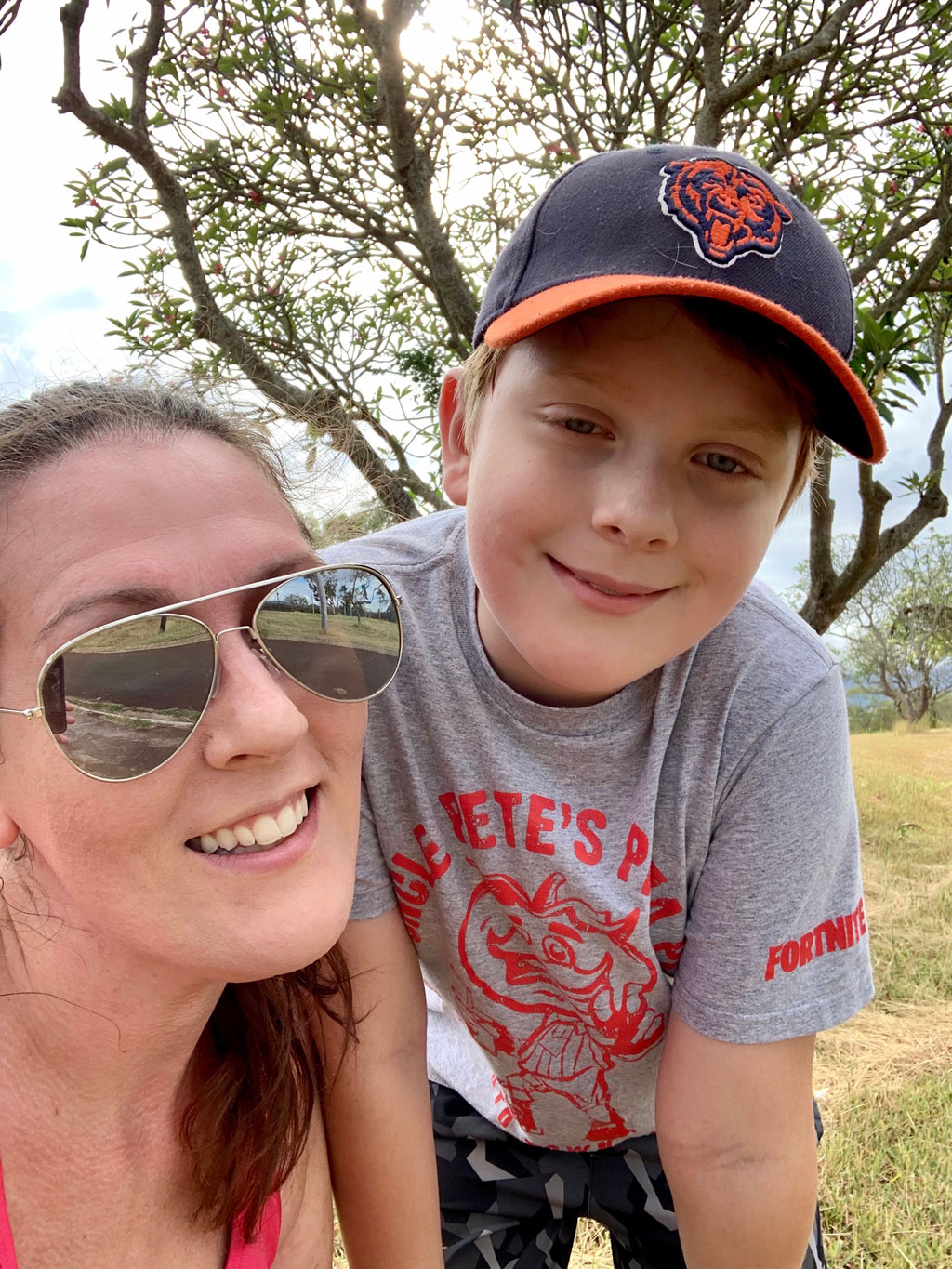 Photo: Courtesy of Megan Lyons
Megan and her son Gunnar, 9, tackled the 5k in two days as some mom-and-son time. (Gunnar's little sister and dad stayed home.) They used the Charity Miles app so they could give their miles to Feeding America and the Couch-to-5k app for hints as to when they needed to start moving faster. Next up is the Windward 5k which benefits the Aloha Council, Boy Scouts of America. Gunnar is a cub scout.
---
Wahiawā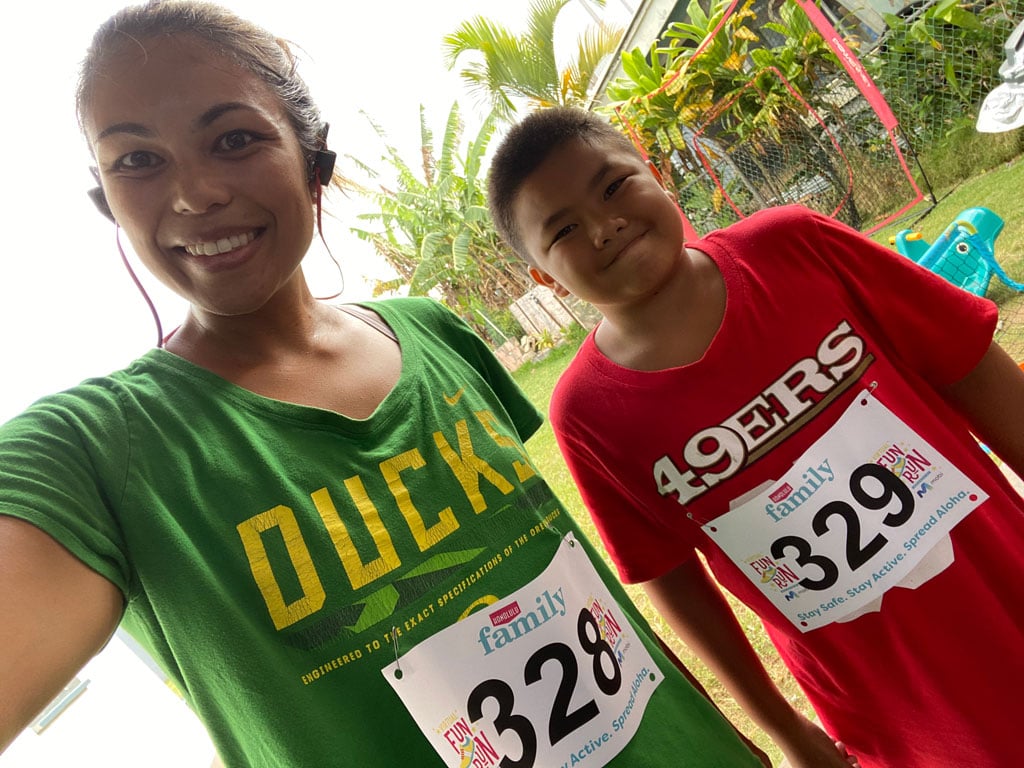 Photo: Courtesy of Janell Hale
Janell and Kingston.
---
Pepe'ekeo, Hawai'i Island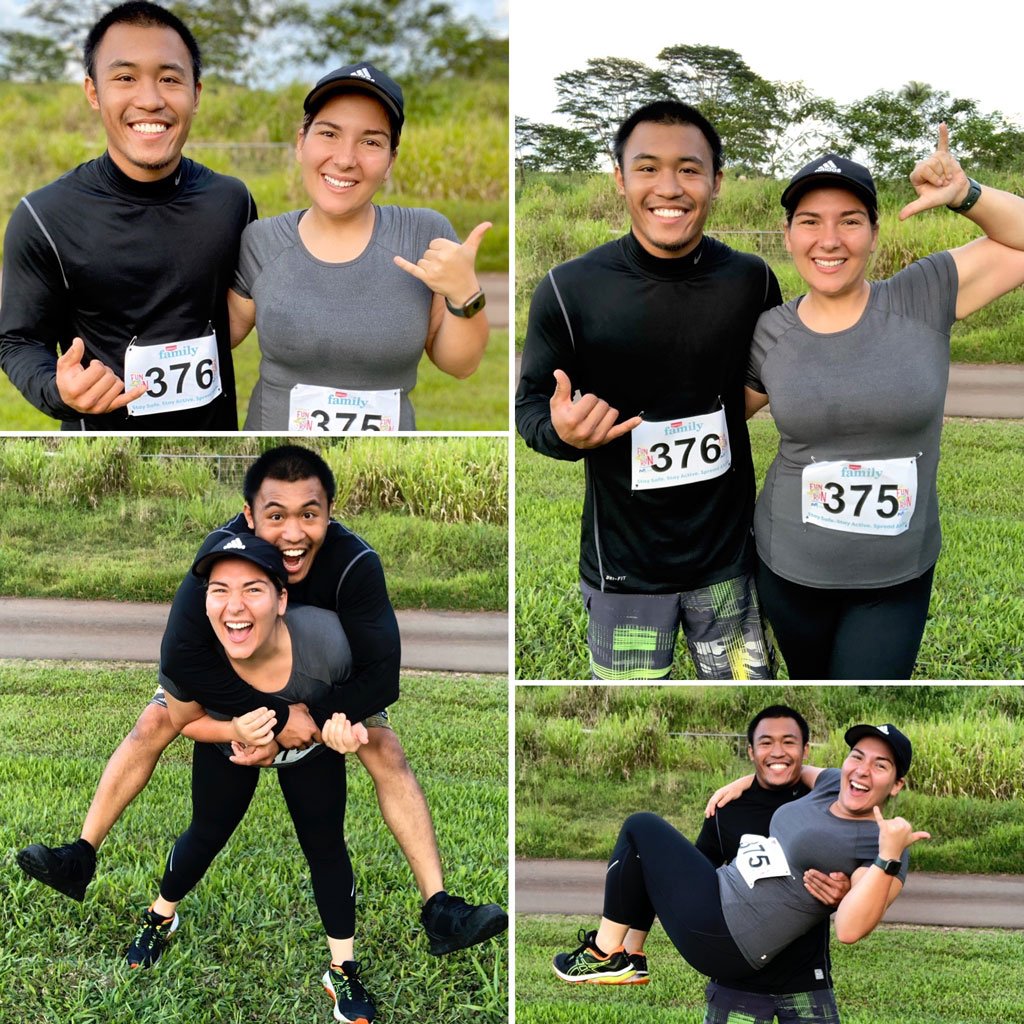 Photo: Courtesy of Summer Medeiros
Summer Medeiros and Kristian Martinez finished their 5k on the Big Island. The couple climbed up a "killer hill" but was also able to see a breathtaking sunset view. Medeiros, who is a Mobi employee, says, "The best part of the fun run was the quality time and conversations (we actually ended up going way farther and longer because of this=more exercise, yay.) "
---
Vacaville, California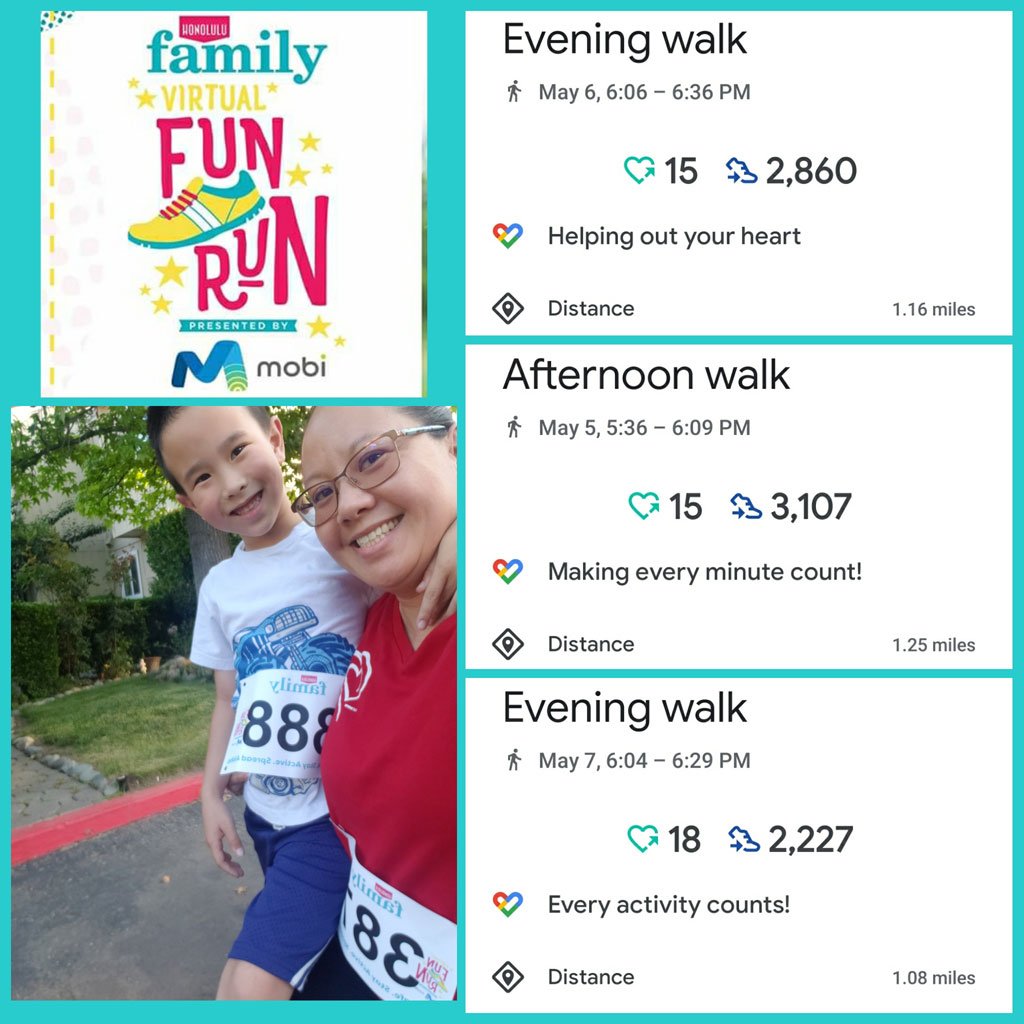 Photo: Courtesy of Jennifer Voight
Jennifer and her son, Landon, 7, finished their 5k in several shorter walks outside in California. "The best part was just getting outside for some fresh air and spending non-technology quality time with my son."
---
'Aiea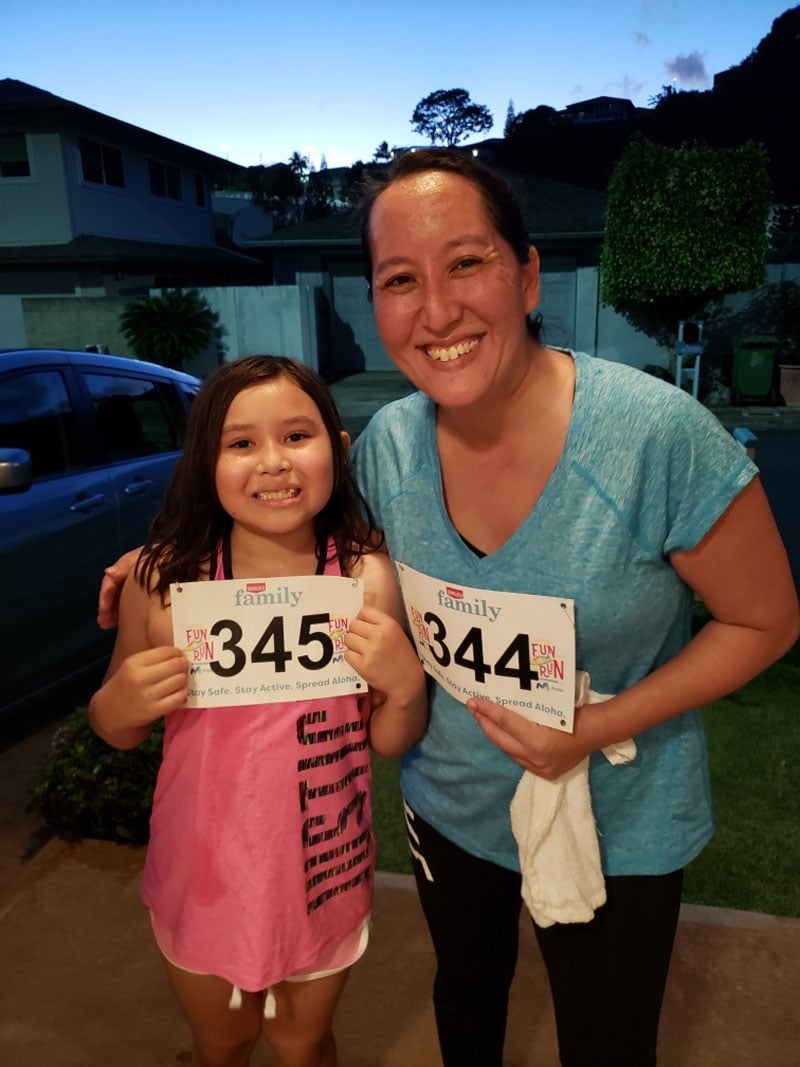 Photo: Courtesy of Renee Sato
Rachel, 8, and mom Renee ran and walked around their neighborhood. The best part, Renee says, was watching them get closer to the finish on their app.
---
'Ewa Beach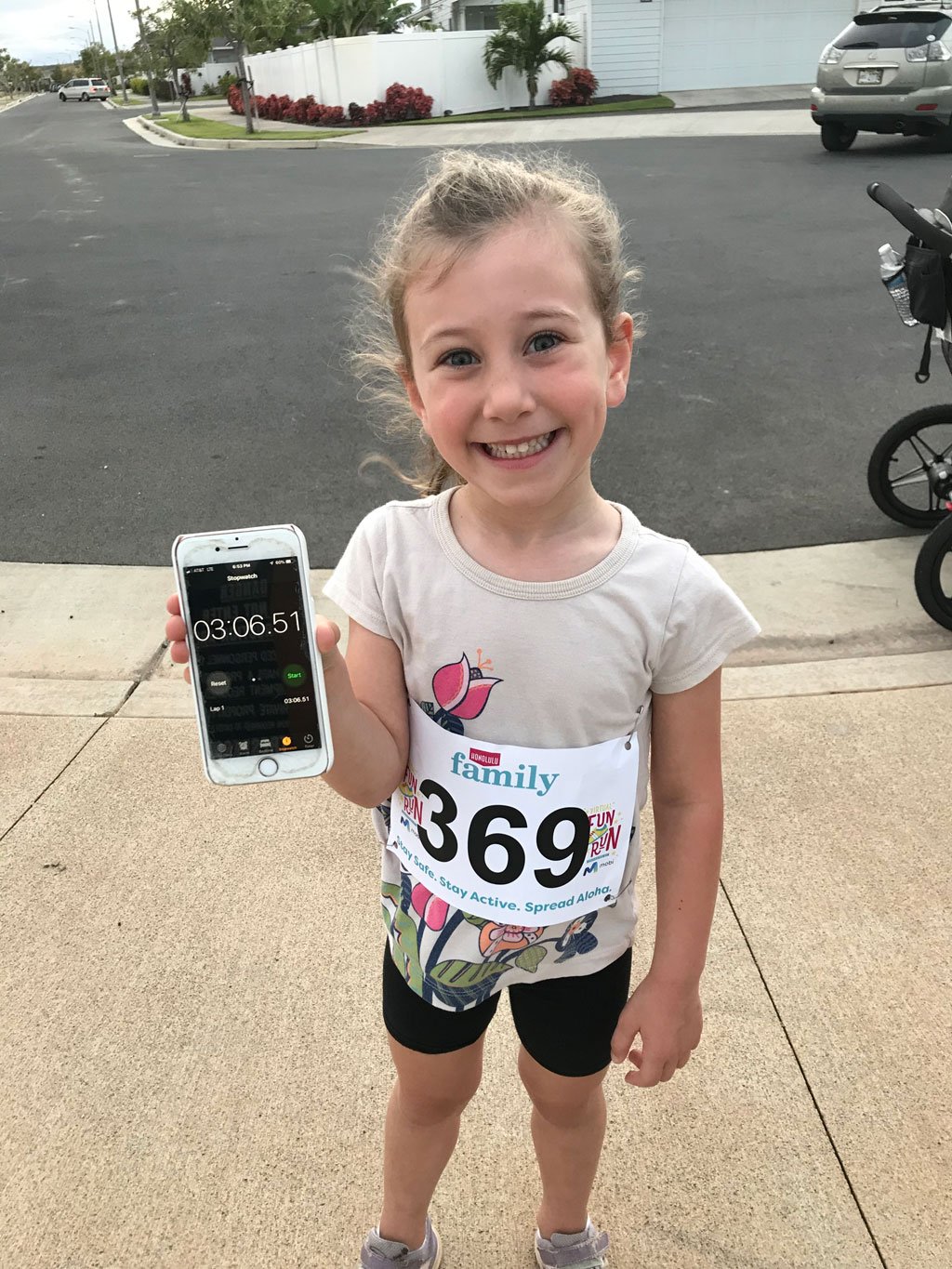 Photo: Courtesy of Evelyn Vento
Eloise, 4, her brother Griffin, 4, mom, dad and dog, Duke, enjoyed their run in 'Ewa Beach. Mom Evelyn says that Eloise loves to run and finished her 500-meter dash in just three minutes and six seconds. Eloise's tips: go to the bathroom before going for a run, don't look back and run all the way through the finish line!
---
North Bend, Washington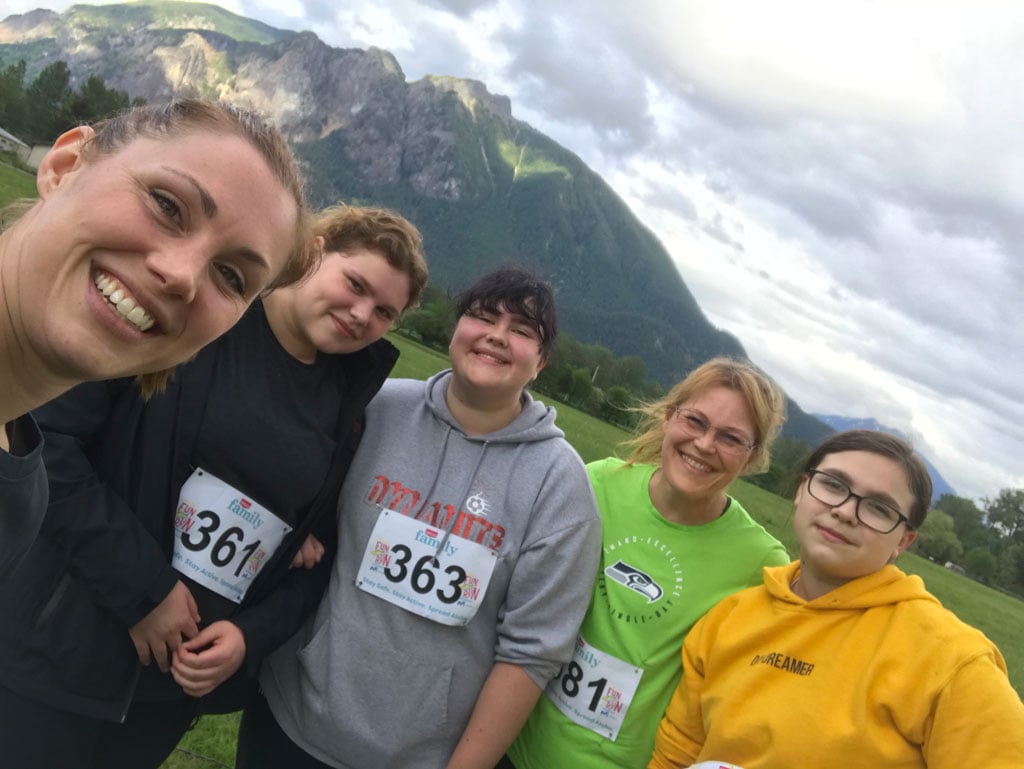 Photo: Courtesy of Jordan Sauvage
Jordan Sauvage (left) and her mom, Bronwyn (in the green shirt) ran the 5k. Jordan's daughters—left to right: Stella, Audrey and Claire—walked along.
---
Mililani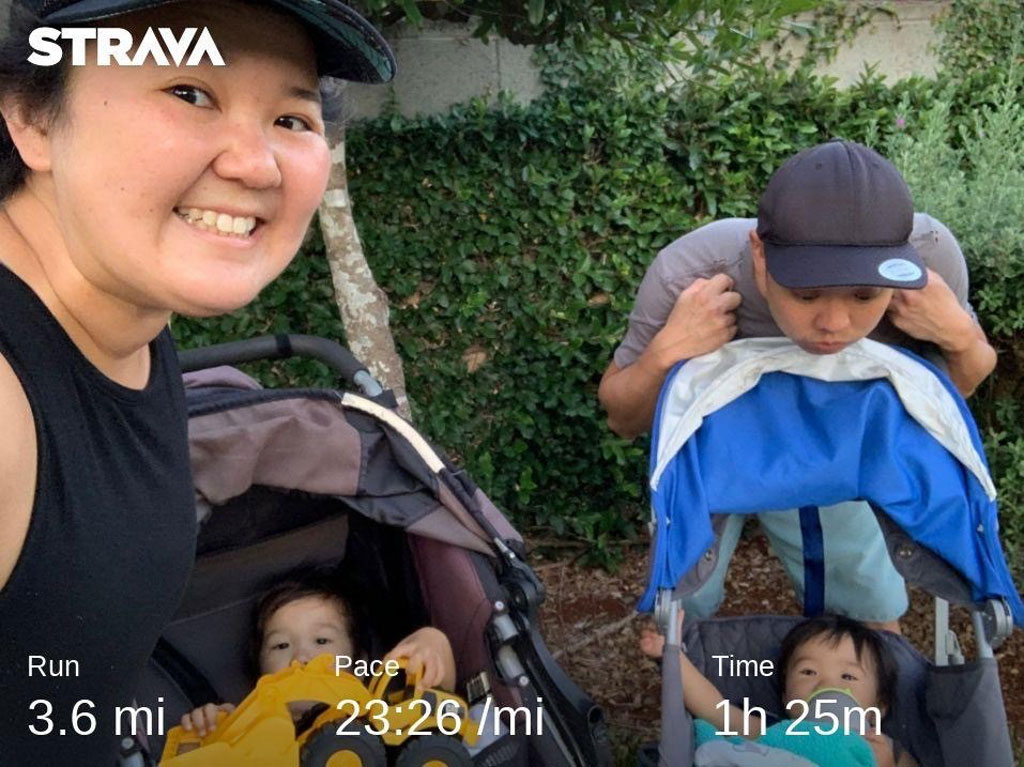 Photo: Courtesy of Jana Matsumoto
Jana and Ryan completed the 5k pushing sons Rylen, 2, and Rustyn, 1, in strollers. They loved exercising as a family and Rylen enjoyed pointing at the sights throughout the route. They packed snacks, milk and Jack Johnson songs.
---
Staten Island, New York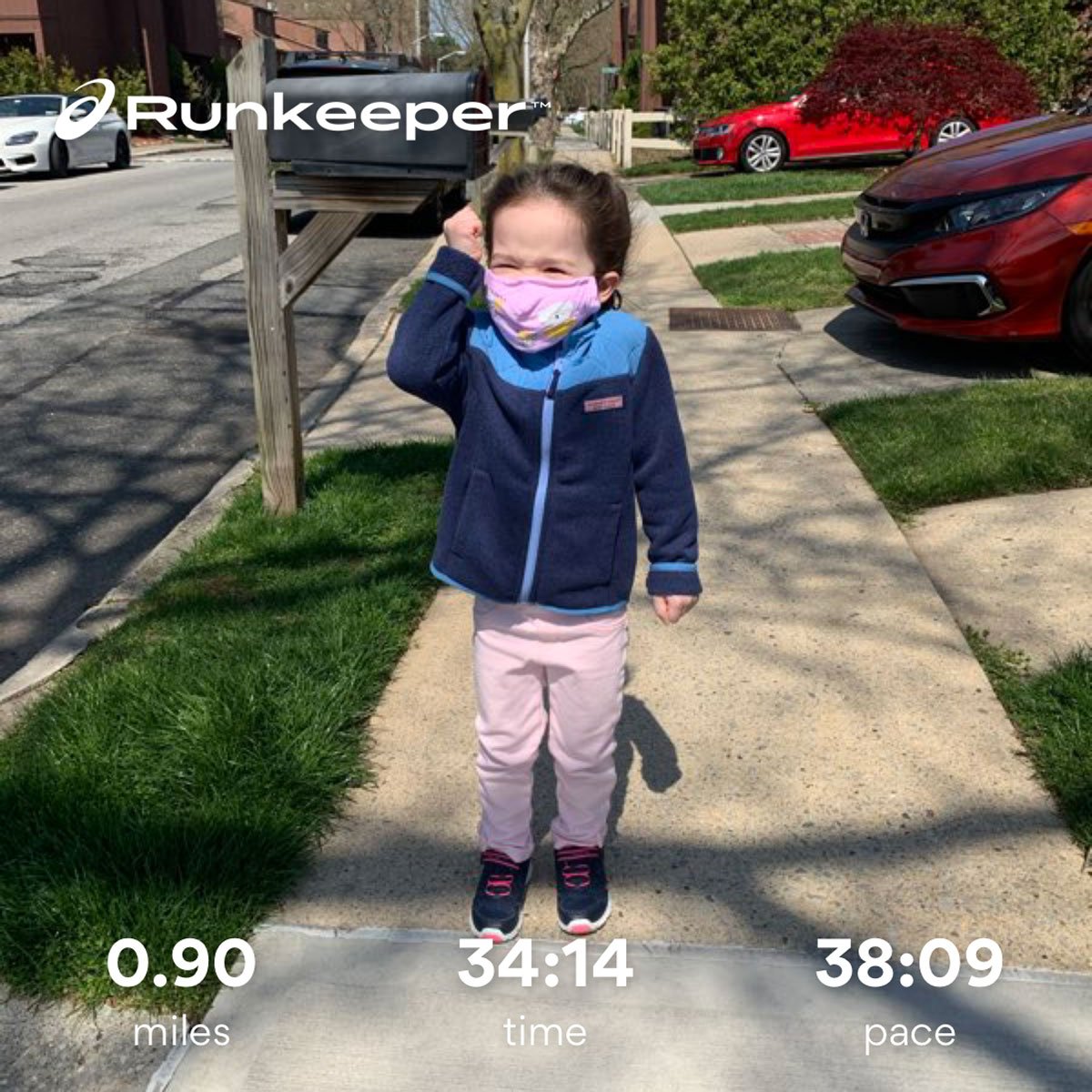 Photo: Courtesy of Donna Chan
4-year-old Alison finished almost a mile in the streets of New York to become the first finisher in the HONOLULU Family Fun Run. Read more about how this motivated preschooler got ready for her run here.
---
Charleston, West Virginia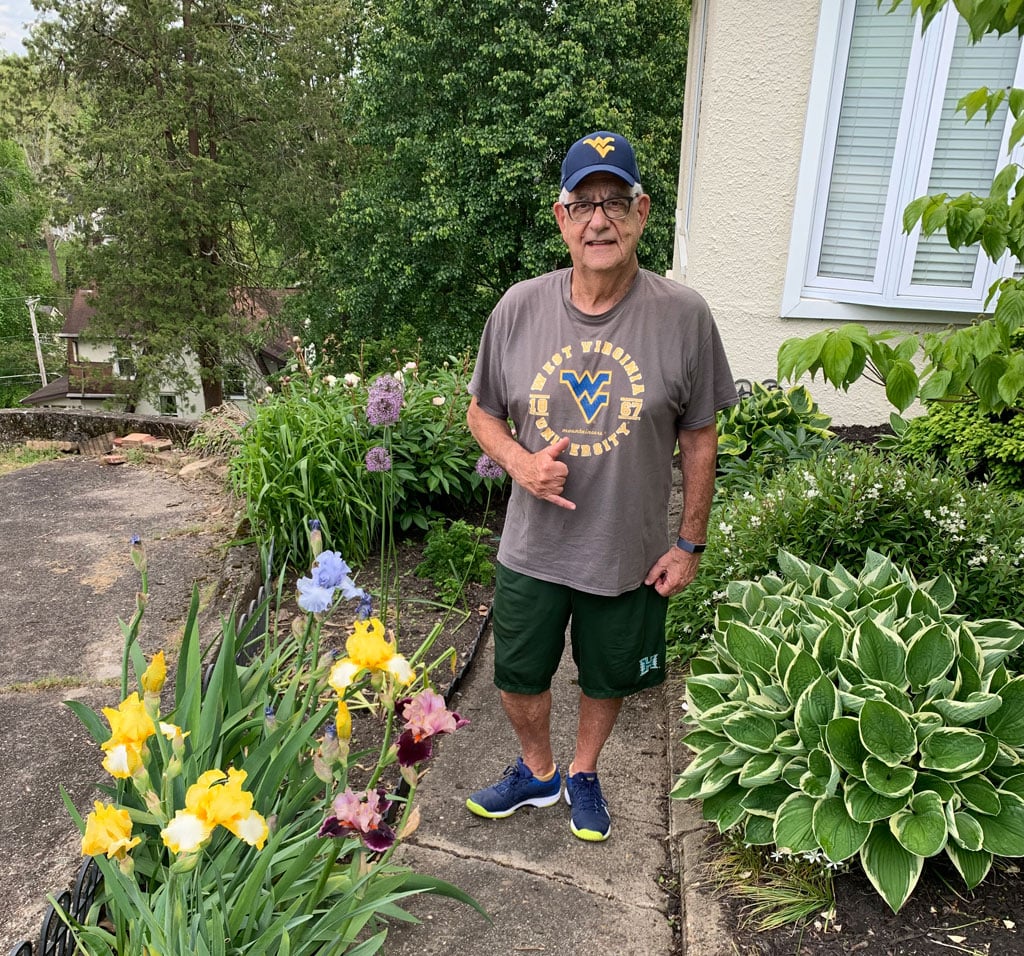 Photo: Courtesy of Simon Haddad
Simon Haddad.
---
Mililani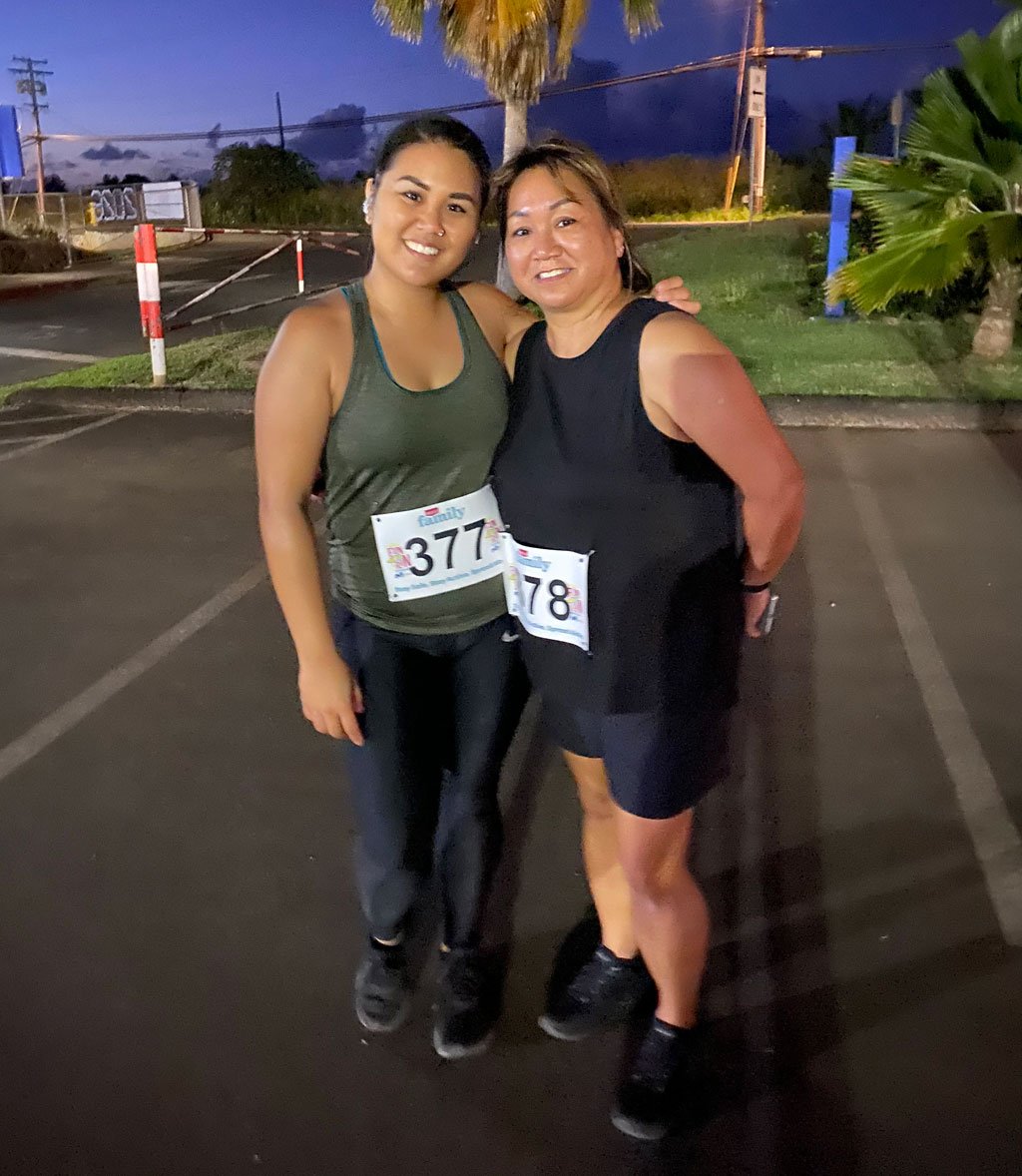 Photo: Courtesy of Toni Paracuelles
Toni and Leila Paracuelles.
---
Wahiawā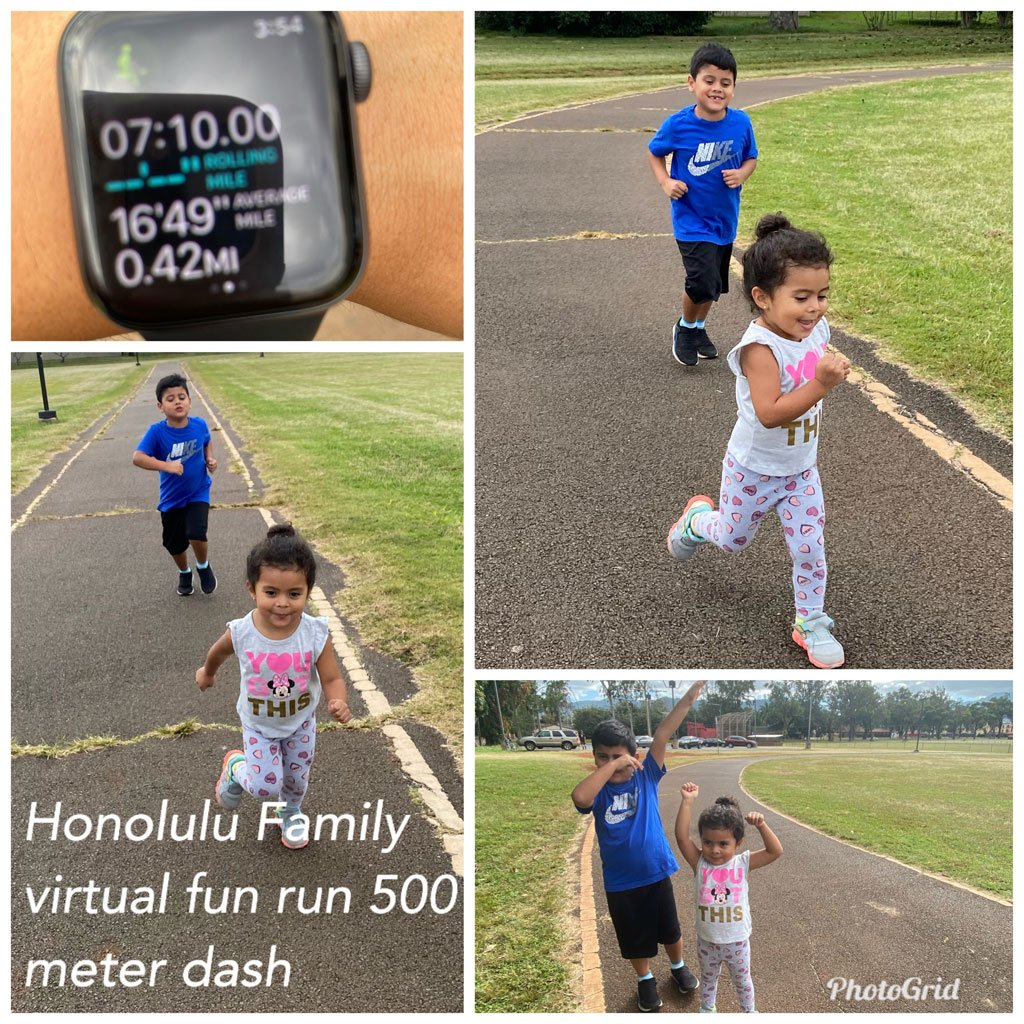 Photo: Courtesy of the Garcia Family
Camille, 3, and Gabriel, 6, dashed around a track to complete their 500 meters. The brother and sister loved competing against each other and are excited about receiving a medal, especially Camille, since this is her first fun run.
---
Hawai'i Kai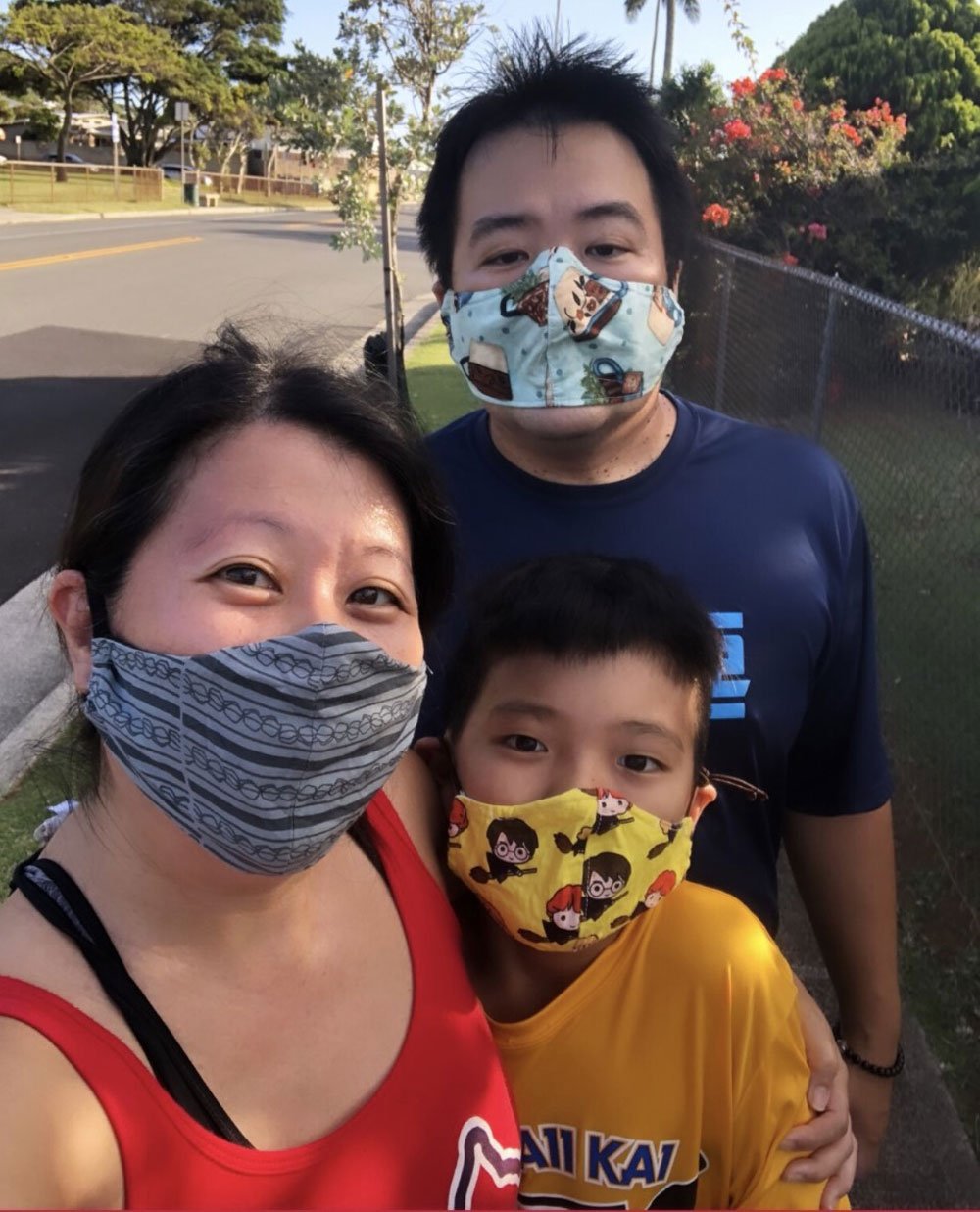 Photo: Courtesy of Melissa Yamaguchi
The Yamaguchis were the first finishers in Hawai'i. 11-year-old Brennan also finished the first HONOLULU Fun Run in 2017. Clockwise from left: mom Melissa, dad Ryan and Brennan.
---
Westville, Connecticut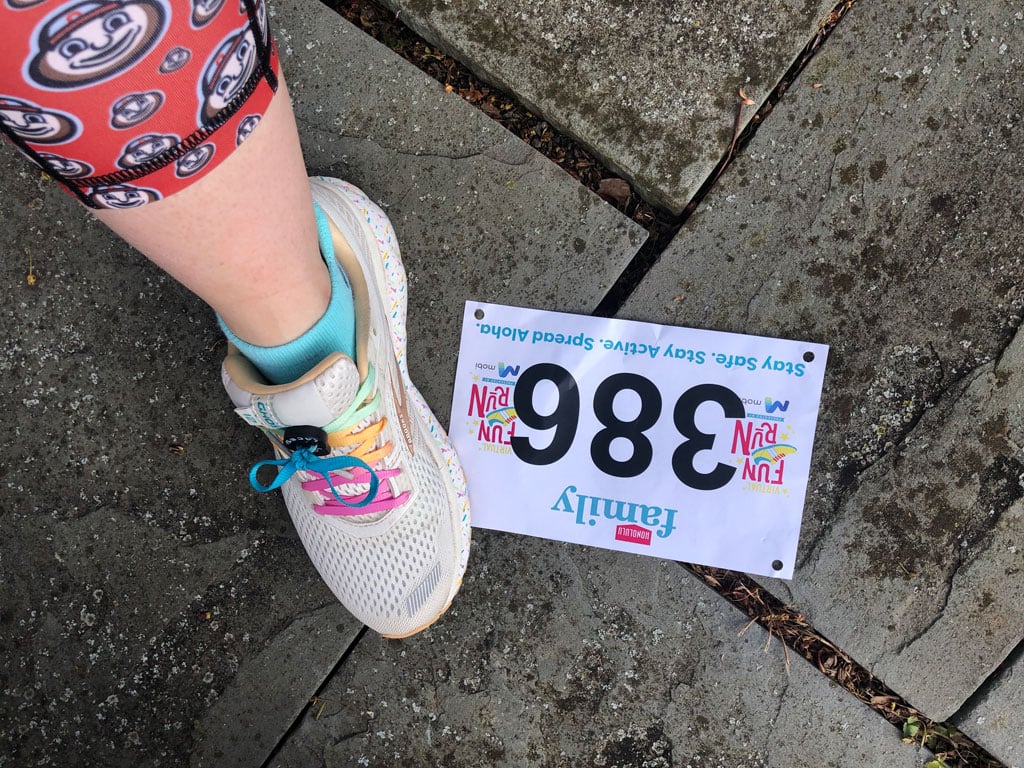 Photo: Courtesy of Emily Locher
A glimpse of her running shoes (and a pair of Ohio State Buckeye leggings) and her fun run number are the focus of Emily Locher's finisher photo. The Connecticut woman ran the 5k in 29 minutes and 37 seconds. She's been doing several virtual races benefiting good causes in states she has visited.
---
Pearl City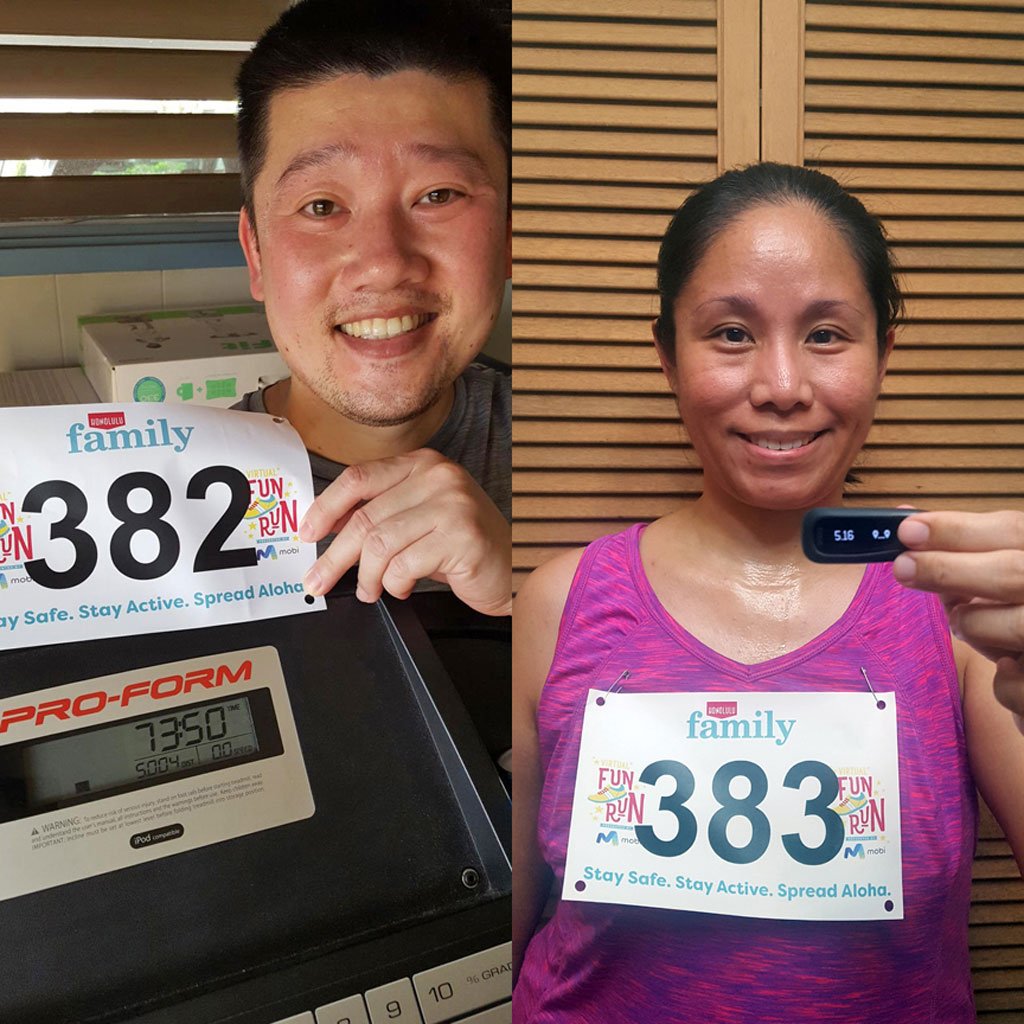 Photo: Courtesy Kevin and Sheri Ching
Kevin and Sheri Ching finished the 5K on their treadmill, running for about an hour or two on weekends as a break from their desk jobs.
---
Huntsville, Alabama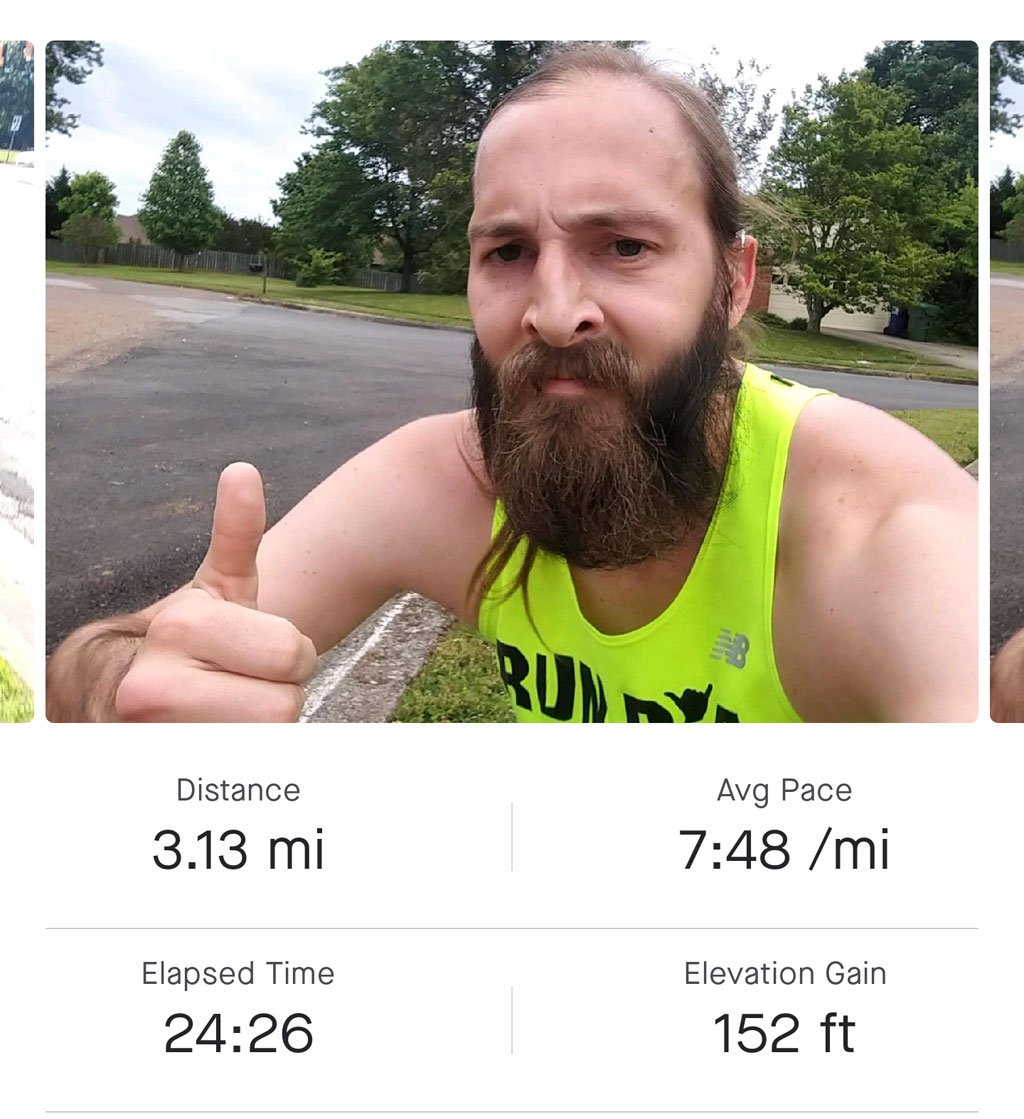 Photo: Courtesy of Matthew Jones
Matthew Jones visited O'ahu every year since he was a kid. Since all his local races were canceled, he ran our 5k through his neighborhood in Alabama. He says the best part was being able to run a race again. "The challenge was definitely my knees. They don't always agree with me."
---
San Francisco, California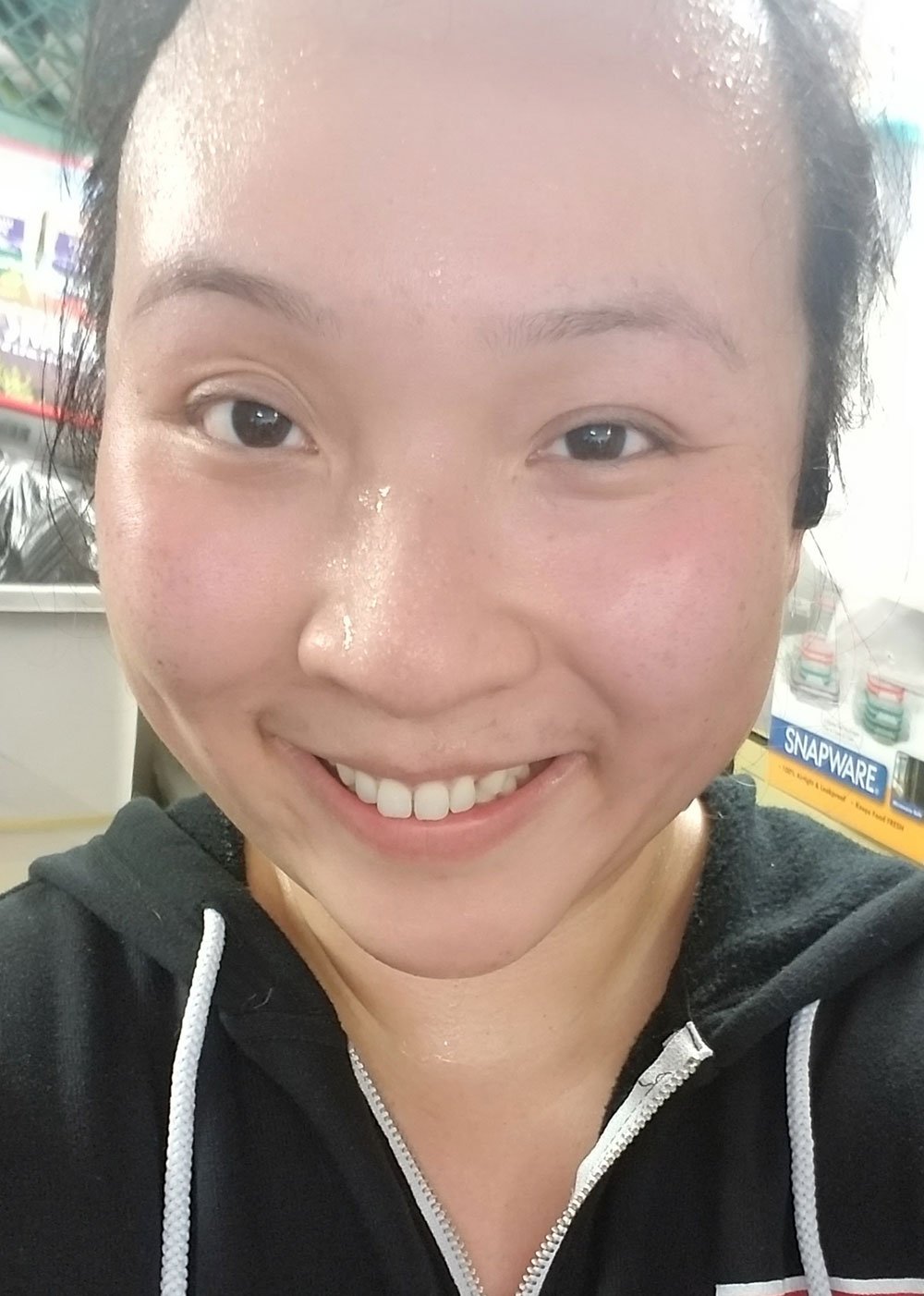 Photo: Courtesy of Tammy San
Tammy San is beginning to run again after a break. She finished her 5k on her treadmill. "The best part was my music playlist and being able to zone out everything."
---
Massapequa, New York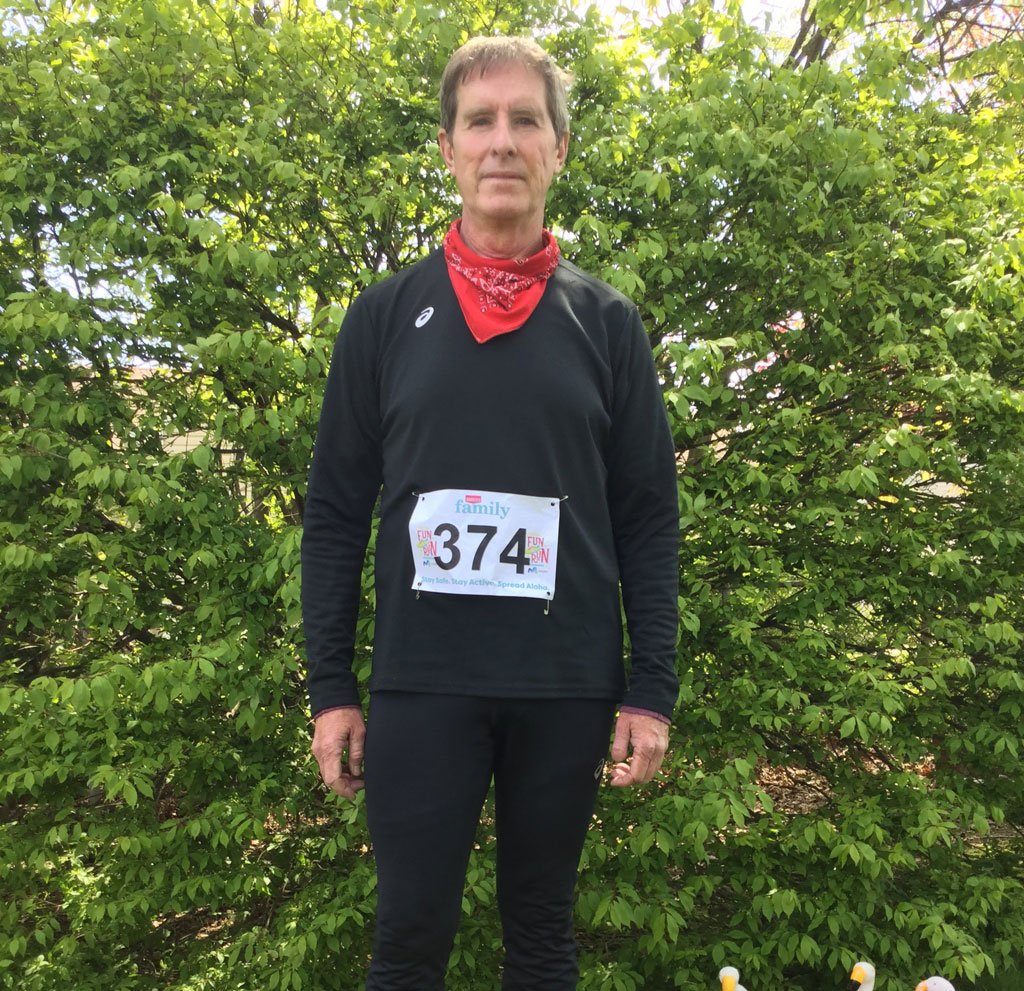 Photo: Courtesy of Brian Keogh
Brian Keogh in Massapequa, New York said it was great to have a reason, so it wasn't just another Saturday run.
---