Finding His Voice: A Honolulu Family's Journey to a Bright Future
How one family's tough beginning charted a course that inspired passions and aspirations for a bright future.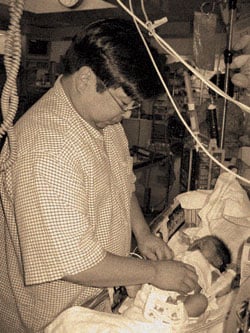 When my son's neurologist extended a hand of congratulations and told us that Kennedy wouldn't need his help anymore, my wife and I—surprised and confused—thanked him and left his office without saying a word. Once a month, for three years, we had visited the specialist, who gently stretched and rotated my son's limbs and head before sitting back and listening to us recount Kennedy's myriad accomplishments during his weekly physical-therapy sessions.
Kennedy had been injured during a difficult delivery: he didn't get enough oxygen, and a scan of his tiny head revealed bleeding in the areas of his brain that controlled gross motor function. Kennedy's limbs were stiff and his hands were always clenched into little ball-like fists, early signs of neurological distress. We asked our doctors if this meant that Kennedy would be unable to walk, talk or feed himself. They couldn't say for sure. But they did point out that newborns and their brains are surprisingly resilient.
When my wife was pregnant, I daydreamed that my son would grow up to be everything that I wasn't: a star quarterback/valedictorian/rocket scientist/classical guitarist/poet laureate. The night our doctor called to tell us the extent of Kennedy's injuries, I cried, long and hard.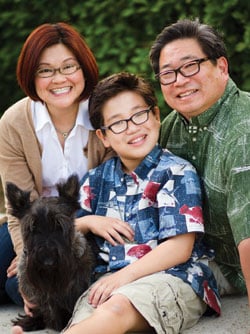 How would he ever play the guitar now? I wondered in a daze. As I dried my eyes, I realized I had just wasted a lot of tears on my dreams, not his. A little embarrassed, I made a promise to myself to never do that again.
To be honest, it's been hard keeping that promise. Following Kennedy's amazing recovery, we signed him up for a laundry list of activities and lessons: soccer, swimming, music, tae kwon do, etc. This was always done with the intention of broadening Kennedy's world, but I have to admit there was also a little part of me that wanted to uncover Kennedy's inner Michael Phelps, Bruce Lee or Jake Shimabukuro. I have to remind myself that it's about his interests, not mine. I will
support him in whatever he decides to do, even if it means I don't get a second chance at being at being a star quarterback or rocket scientist.
About two years ago, we joined the Hawaii Youth Opera Chorus, where he has been exposed to choral music from around the world. Now, Kennedy spontaneously breaks into song at the dinner table, in front of the TV or on the couch while reading. He sings in the car, in the shower and while on the toilet. He sings to me while I'm in the shower or on the toilet. It's like living with one of the Von Trapp children.
My favorite song that Kennedy sings is "Let There Be Peace on Earth." A Catholic-school veteran, I must have sung that song hundreds of times, but I've never heard anything as moving and beautiful as the Hawai'i Youth Opera Chorus' English/Hawaiian version, which usually provides an inspiring end to their concerts. It never fails. When the children's voices start to build and then crescendo to a rousing finish, my eyes start to water, my lower lip begins to quiver and I cry like a baby. My once fragile son has found his voice.