Field Notes: Removing Invasive Algae With Mālama Maunalua
Field Notes explores Honolulu's vast and varied scenes and subcultures. This month: the Mālama Maunalua community huki.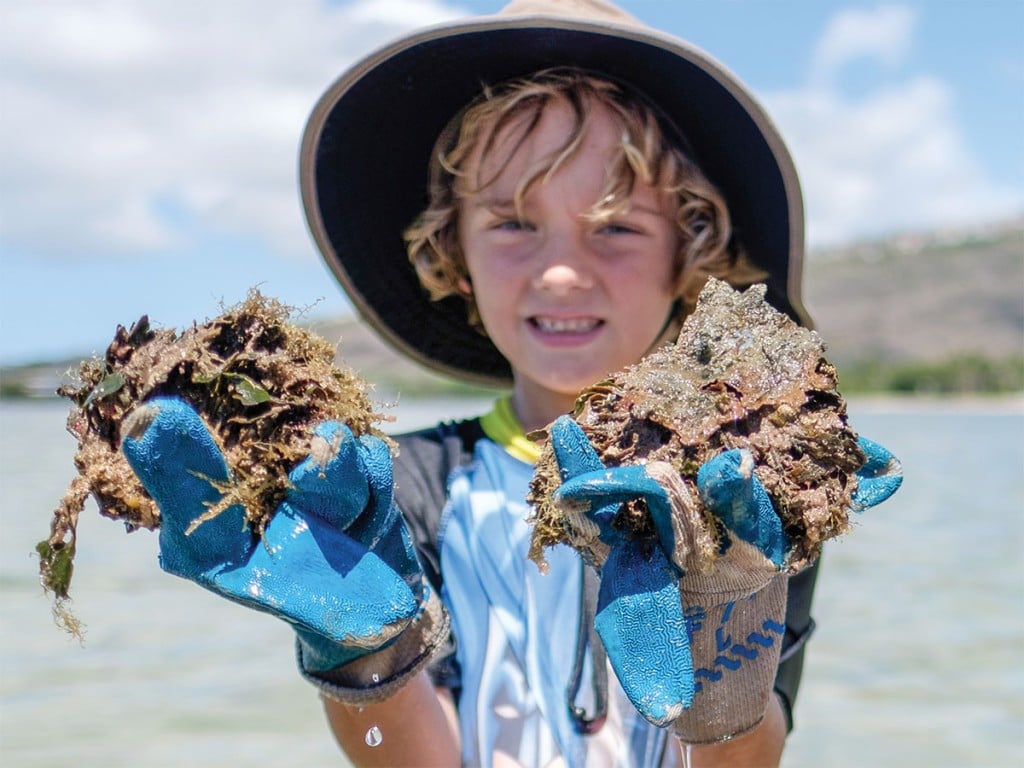 Editor's Note: This story was originally published in our November 2018 issue. For current volunteer opportunities, email volunteer@malamamaunalua.org.
What it is
Every month, the nonprofit Mālama Maunalua hosts at least one community workday where volunteers help to remove three types of invasive algae—leather mudweed, gorilla ogo and prickly seaweed—from Maunalua Bay. The bay, which stretches from Portlock Point to Black Point in East Honolulu, is filled with alien species that have pushed out endemic limu, limiting the biodiversity and damaging the health of the area.
Back in 2010, Mālama Maunalua partnered with The Nature Conservancy and Pono Pacific to tackle The Maunalua Bay Reef Restoration Project, or "The Great Huki," which has resulted in the removal of more than 3 million pounds of invasives. "We remove around 50,000 pounds annually," says Doug Harper, executive director of Mālama Maunalua.
---
SEE ALSO: Field Notes: Inside a Honolulu Community Garden
---
The experience
Volunteers of all ages meet at Kuli'ou'ou Beach Park at 9 a.m. on a Saturday. "We time it around low tides," Harper says. Staffers explain some history of the bay, why the workdays are so important and give a brief overview of what types of algae to look for. They lead the group on a 15-minute trek to the Paikō Restoration Area around the peninsula, just offshore from the Paikō Drive beach access point.
Once at the designated cleanup area, volunteers grab gloves from a bucket (make sure there's nothing living inside before putting them on), a mesh bag and head about 50 yards offshore. As we wade out, a little girl exclaims, "I found something!" and plunges into the 3-foot-deep water, pulling up a handful of algae. On such a hot day, kids are happy to splash around while the adults talk about how nice it is to be in the water and how they can't believe they've never done this before.
Some people choose to pair off, with one person holding the bag while the other fills it about a third full before throwing it onto a nearby kayak, which staffers tug back to shore and unload onto the beach. The actual cleanup only lasts about an hour—around 11 a.m., we wade back to shore and line up along the beach access to form a human chain, passing each bag of algae to a truck waiting on the street. Then, everyone walks back to the park together, to rinse off, enjoy some shade or go for a dip.
Who goes
Most cleanups average between a few dozen volunteers to as many as 100. But the day we went, 250 volunteers had signed up, the majority of whom came from HMSA, which was celebrating its 80th anniversary by giving back (the organization also donated $5,000 to Mālama Maunalua). Carol Sato, senior manager at provider services, recalls living in 'Āina Haina: "When I was a little kid, it was all about picking seaweed to eat," she says. Now, it's about camaraderie and "the feeling that you're giving back to the community."
Students from the Farrington and Kaiser Leo clubs also attended with members of the Hawai'i Lions. One of the Lions, 75-year-old Paula Chow, has lived in the area since 1963 but this is the first time she's volunteered here.
(808) 395–5050, volunteer@malamamaunalua.org, malamamaunalua.org, @malamamaunalua
---
The Volunteers
Kara Kitazaki-Chun, 41, Haha'ione, quality management department at HMSA, with sons Andruw and Maddux
"We just did a program out at Coconut Island where we learned about native species. It's cool for them to apply that in a different place."
Cindy Giorgias, 67, Hawai'i Kai, former principal at Haha'ione Elementary School
"Lions Club was my way of staying involved in the community. I've sent students in years past and I've always wanted to do this. It's so important for the environment."
Pono Martin, 62, Pālolo, surfboard engineer
"I volunteer with Sustainable Coastlines Hawai'i and just came back from the Dominican Republic. We were studying plastic pollution. My passion is to keep the ocean clean for the next generation."