Fashion Showcase by Illest and Puffer Hawaii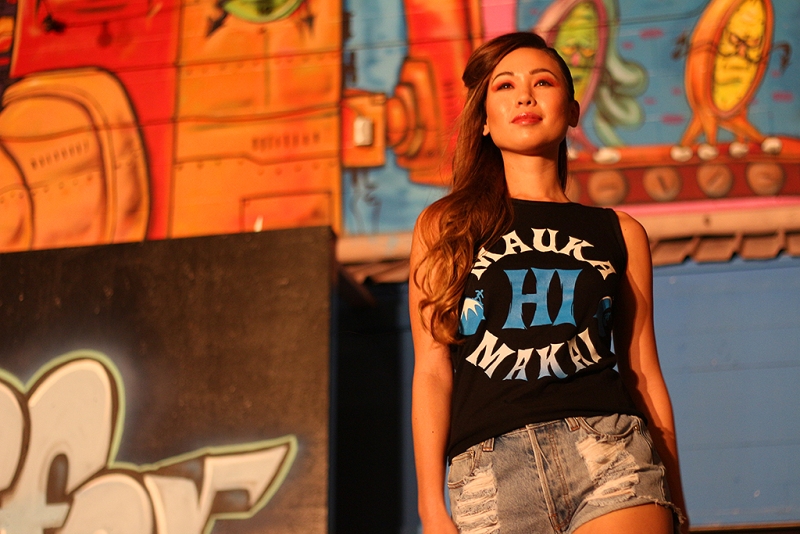 At Saturday's Honolulu Night Market, fresh urban looks from Illest and Puffer Hawaii were showcased on the runway. Illest Hawaii recently celebrated the grand opening of its street boutique in Kakaako, adding to shops in Los Angeles and Costa Mesa. The looks were super reminiscent of the 1990s rap scene, with three-quarter sweat pants, thick hoodies and neon graphics. What makes the collections unique and current are the merging of urban graphics and surf tees. It isn't surprising that the two worlds merged after chatting with Illest owner Mark Arcenal, a former graffiti artist and b-boy. "When I travel back and forth between California and Japan, I always visit Hawaii, which has been an inspiration to me," Arcenal says.
But to really know Illest, you must know the expression, made popular by New York City rappers in the early '90s, meaning the best, the tightest, the sh.. you know. Fatlace, the parent company of Illest, is also the name of Arcenal's popular blog about the elements of hip-hop with roots in music, breakdancing, graffiti art and his love for automotive culture. Fatlace pulled the word "illest" from lyrics of the era and created cursive Illest t-shirts and stickers — that's when its following really grew.
I am a true dance geek, and I asked Mark if Illest ever outfits iconic hip-hop dancers. He shared that the first four winning crews of MTV's "America's Best Dance Crew" (ABDC y'all) had meet and greets with their fans at one of his stores in California – so cool!
Here are scenes from the fashion show:
Night Market fashion show: illest & Puffer Hawaii
Illest Hawaii
680 Ala Moana Blvd. Suite 104A
Honolulu, HI 96813