Fashion: Anne Namba's spring line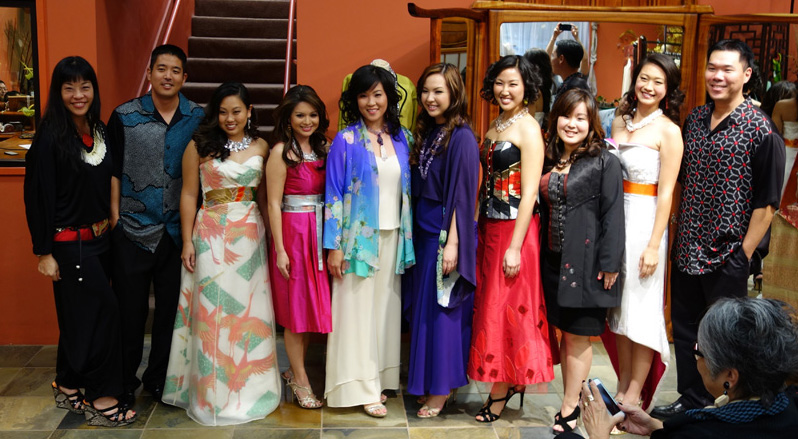 Local designer Anne Namba showcased her Spring 2014 line at her Kakaako studio last night, with the Cherry Blossom queen and princesses as her models. She brought out a lot of contemporary designs that appeal to younger women (and men), including laser-cut leather pieces and wedding/bridesmaid dresses.
Her pieces were on sale after the show, with a portion of the proceeds benefitting the Honolulu Japanese Junior Chamber of Commerce. I have to tell you this because I was hoping you'd be able to see these pieces at her next show, this Friday, which is benefitting the Hawaii Humane Society. But sales were brisk, so I believe only a couple of pieces will make it into tomorrow's show.
If you'd like to see more from Anne Namba's spring line, check out "Mutts and Models" tomorrow (Friday) at her studio at 324 Kamani St. As you'll see in the gallery below, there will be lots of bias cuts, pleats, sequins and a spectacular black sequined lace gown in a fishtail silhouette. Anna Meng, owner of The Meng Dynasty, will accessorize the pieces with her collection of fashion jewelry specially selected to complement Namba's new fashions. The show will also feature evening attire for men including a sleek new tuxedo jacket with modified mandarin collar. Celebrity models will include KHON's Olena Heu, Trini Kaopuiki and Kathy Muneno. A portion of all sales will be donated to the Hawaii Humane Society to care for their animals.
The fashion show is free; however, seating is limited and reservations are required. Complimentary pupus and drinks will be provided and valet parking will be available. To confirm your attendance, call Anne Namba Designs at 808-589-1135.
(By the way, if you're wondering why I've been posting a lot of fashion blogs lately, I've been playing with my new Sony QX-100, which is related to the lens I profiled in Nonstop's holiday gift guide.)