Farmers market finds: Kaiser High School PTSA's amazing Tuesday market
All of a sudden it's the Tuesday afternoon hotspot in Hawaii Kai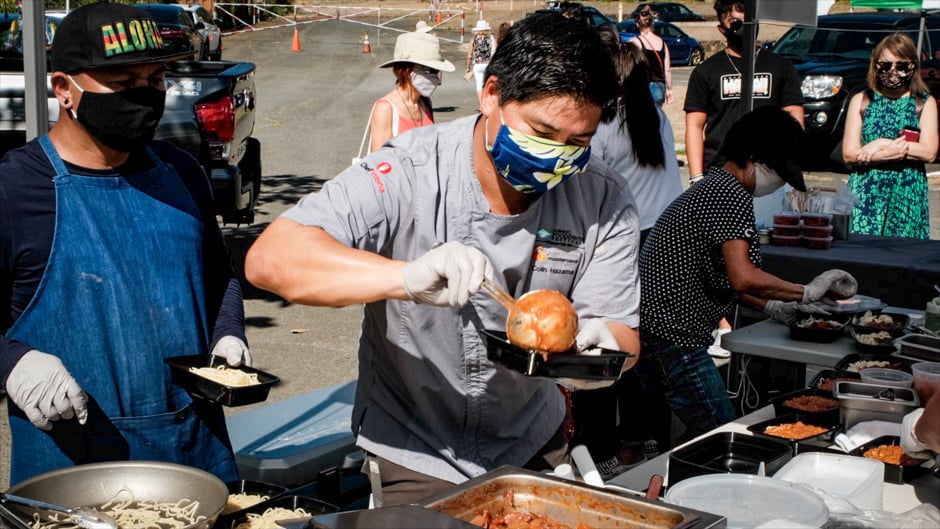 Update: This farmers market closed temporarily from Sept. 1, 2020 for the duration of the islandwide stay-at-home order, since all school campuses are closed. Check kaiserptsafarmersmarket.wordpress.com for the latest.
It's National Farmers Market Week and we're shining some light on a couple of markets that are attracting new vendors and customers. First up in this video series is the farmers market sponsored by the friends of Kaiser High School's Parent Teacher Student Association.
The Kaiser PTSA market started several years ago with only six vendors. It started attracting buzz about a month ago, when Chinatown's The Pig and the Lady set up shop, followed by haute cuisine chef Colin Hazama of the Royal Hawaiian Hotel, personal pie specialist Sweet Revenge and boulangerie La Tour Bakehouse. Now more than two dozen booths take over two rows of the school's parking lot. In addition to farmers selling their produce, you'll also find a mom selling backyard avocados along with booths selling handmade jewelry, soap and even face masks. With everything from Takoyaki Yamachan and Any Kine Snax freeze-dried Skittles to elevated comfort food, this market is thriving in Hawaii Kai.
See also: Farmers market finds: Katsu sandwiches at Kakaako
The whole thing is exponential. This pandemic with its job losses and restrictions on the flow of goods around the world has made us even more aware of the importance of supporting local. People are realizing that farmers markets are in their backyards and more and more, they're exploring and supporting them. The markets are outdoors, and they're making all kinds of fresh food and desserts using local produce. The people working here are the ones who grow your food or cook it. Rarely is supporting local so simple or direct.
See also: Farmers market finds: $5 bites from Dean & DeLuca
Go support your farmers market. Support the Kaiser High School PTSA farmers market. There are so many delicious things to eat.
Kaiser PTSA Farmers Market
511 Lunalilo Home Rd.
Hawaii Kai
Tuesday 4-6 p.m.
kaiserptsafarmersmarket.wordpress.com