Farmer's market finds: amazake smoothies, luxe breakfasts at Kakaako
Sweet fermented rice drinks blended with fruit are refreshing after a mean loco moco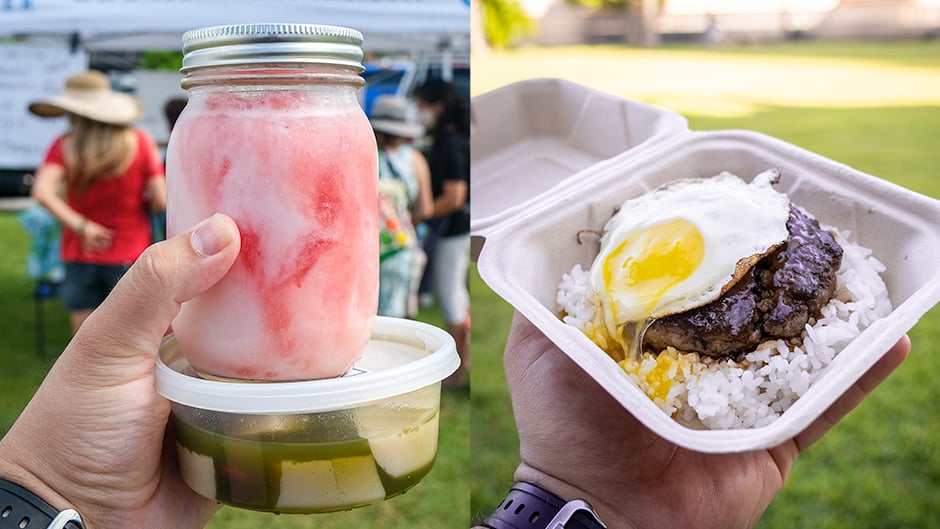 Farmer's markets are breeding grounds for food innovation and have given rise to some of Hawaii's most successful concepts and restaurants. Frolic's farmer's market finds series shines a light on interesting, unique and ono discoveries.
The Kakaako Farmers Market has evolved so much in recent weeks you probably wouldn't recognize it if you weren't a regular. Pre-pandemic, the market's prepared food, artisan products and produce all had their fans; now it's enormous, with an expansion in to the grassy area of Victoria Ward Park. Two noteworthy recent discoveries here are now part of my Saturday morning routine.
What: Amazake fermented rice drinks with fruit from Islander Sake Brewery
How much: $6 on ice, $8 in a mason jar
What market: Kakaako Farmers Market at Ward Village, 1050 Ala Moana Blvd.
Vendor schedule: Saturdays 8 a.m. to noon
At 8 a.m., the last thing on my mind is sake, but Islander Sake Brewery's booth at the Kakaako Farmers Market has a sign advertising tropical-looking drinks. It's Saturday so what the heck, right?
Well, not to disappoint, but they're actually pouring amazake, a naturally sweet fermented rice drink that's non-alcoholic. And it's not just plain amazake (although that's available). Islander will blend it into a fruit smoothie for an amazingly refreshing drink.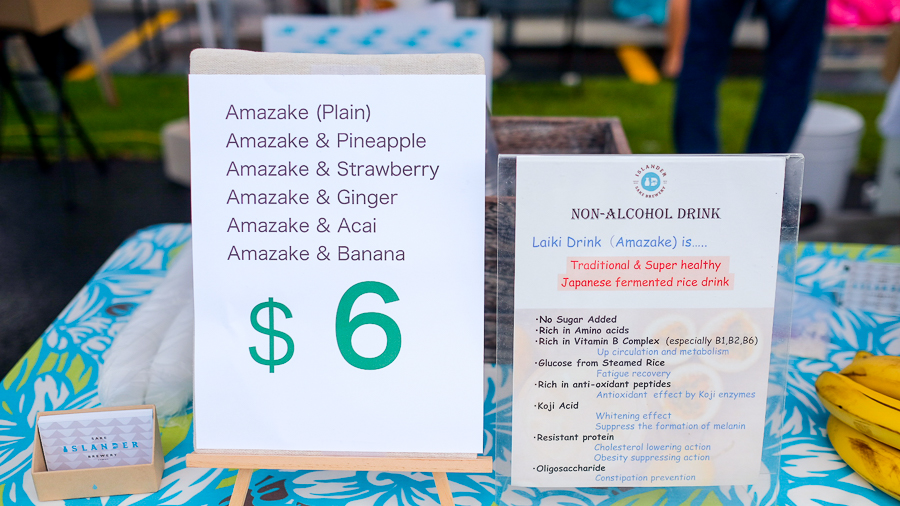 Flavors include watermelon, pineapple, strawberry, ginger, acai and banana, which I'm immediately drawn to. In seconds, they're blending frozen amazake with slices of fresh bananas from the market. There is no added sugar but the taste is mildly sweet from the fermentation, a result of mixing steamed sake rice with koji spores, the same starter used in the creation of Japanese staples like miso, shoyu, sake and shochu.
See also: Islander Sake is making Hawaii's first sake in three decades
Islander Sake Brewery lists several health benefits of amazake, like the fact it's rich in vitamin B and resistant proteins, which increase metabolism and help lower cholesterol. As for the taste … it's so yummy! I didn't wake up thinking I wanted an amazake smoothie, but after polishing off my first cup I'm yearning for my next one. I especially love the little icy chips that I crunch on between sips.
I follow up with the watermelon smoothie. Watermelon is a year-round favorite but it really is the best thirst quencher during these unseasonably hot Hawaiian mornings. The juicy fruit complements the mild, milky fermented sweetness of amazake — It's the only pink drink I stand behind and it turns out to be good for the gut to boot.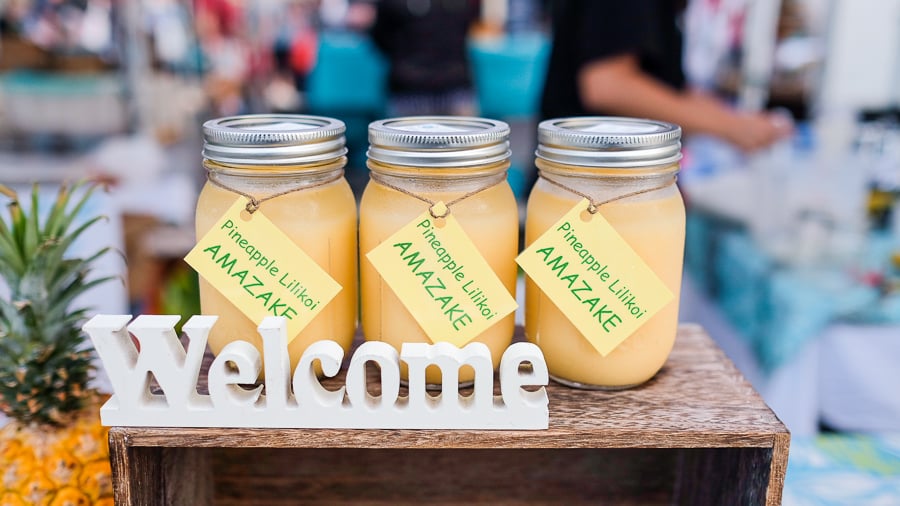 Get the mason jar so you can toss your smoothie in the freezer for a couple of hours for that ultimate slushie effect. Islander Sake Brewery opened during the pandemic and is Hawaii's first and only sake brewery in 30 years. If you miss them at the Saturday morning market, the brewery on Queen Street sells amazake and sake lees (a byproduct of sake-making) along with fresh, unpasteurized sake, something we're not used to here in hot and humid Hawaii.
See also: Kakaako's Islander Sake Brewery has opened its sake bar
If you've dined at the sake bar, you know that brewer Chiaki Takahashi knows her way around the kitchen, too. She's a talented baker and pastry chef who incorporates amazake and sake lees into creations like ciabatta boules, cheesecakes and puddings, which are displayed at her farmers market stall. I try the peach amazake panna cotta ($6), which comes in a small jar topped with fresh peach suspended in kanten jelly. It's delicate and summery and tastes best super chilled. Each week is a surprise; I can't wait to see what Takahashi creates next.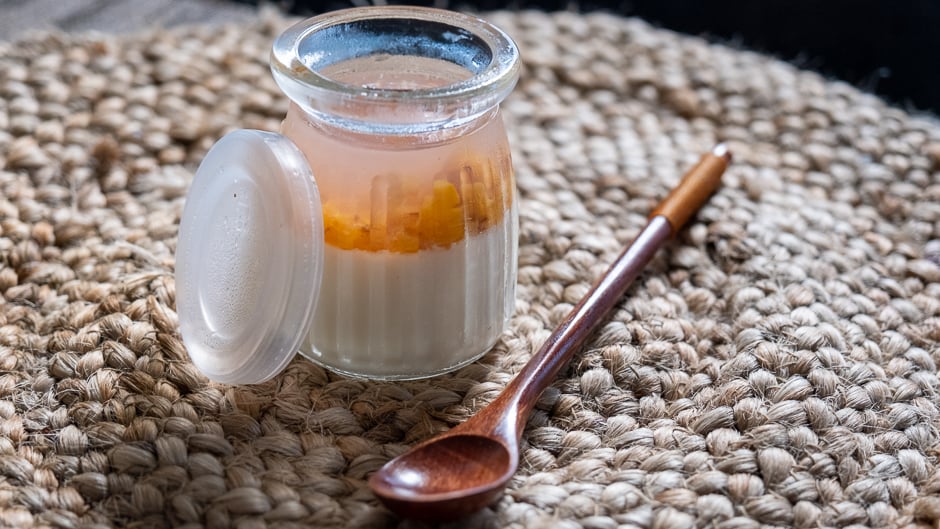 What: Breakfast and pastries from 53 by the Sea
How much: $12 loco moco, $19 bruschetta kits, $4-$6 pastries
What market: Kakaako Farmers Market at Ward Village, 1050 Ala Moana Blvd.
Vendor schedule: Saturdays 8 a.m. to noon
Kakaako fine dining restaurant 53 by the Sea has set up their brand new stall on the Auahi Street side of Victoria Ward Park. It's always busy with curious marketgoers perusing pastries and chatting with chef Lance Kosaka. The loco moco with a Waimana TKG egg ($12), versions of which have been a stalwart of Kosaka's repertoire for years, tickles my fancy, as does a bruschetta kit ($19) for later.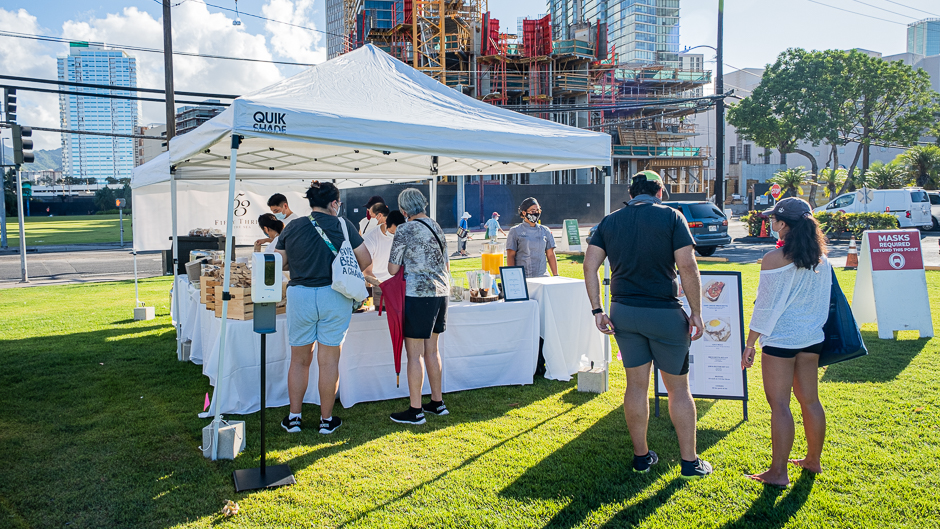 We collect our goodies and head to the shaded park across the street to begin our breakfast picnic. I tuck into the loco moco first: The patty is beefy and well seasoned if a bit tough and lean, but its thickness makes for a good ratio to the fried egg and rice. The demi-glace is sparse but flavorful. This isn't one of those "gravy all ova" mocos, so if you can get past that, it's is a solid option. Other options include a homemade pork sausage breakfast sandwich on house-baked focaccia, goat cheese bruschetta, and a yogurt panna cotta.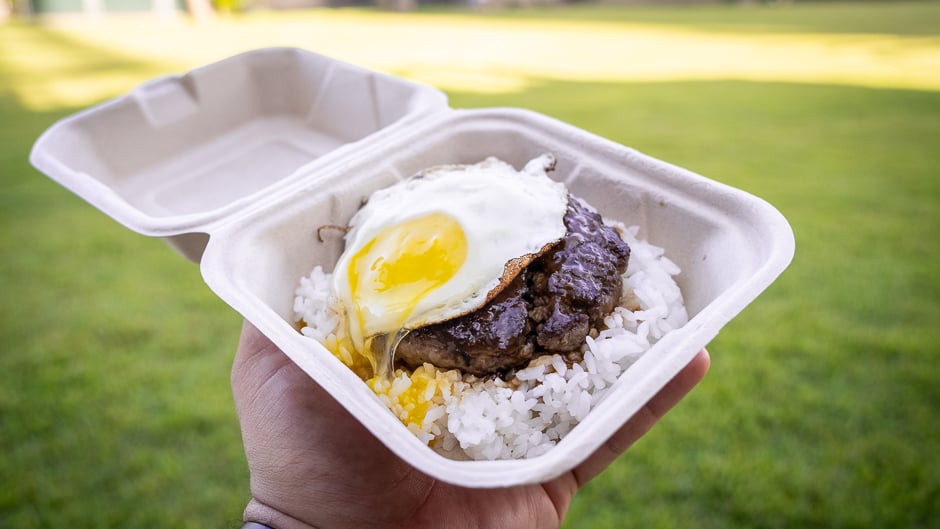 Back home, I assemble the bruschetta with creamy Hawaii Island Goat Dairy chevre cheese, a pot of house-made tomato jam and a half-sized ciabatta in baguette form. It's a cute set to add to your charcuterie board or bring over to a friend's house with a bottle of rose. The chevre is tangy and earthy while the tomato jam is sweet with a tinge of acidity. Add some herbs or sprouts on top and it would be the perfect pau hana bite.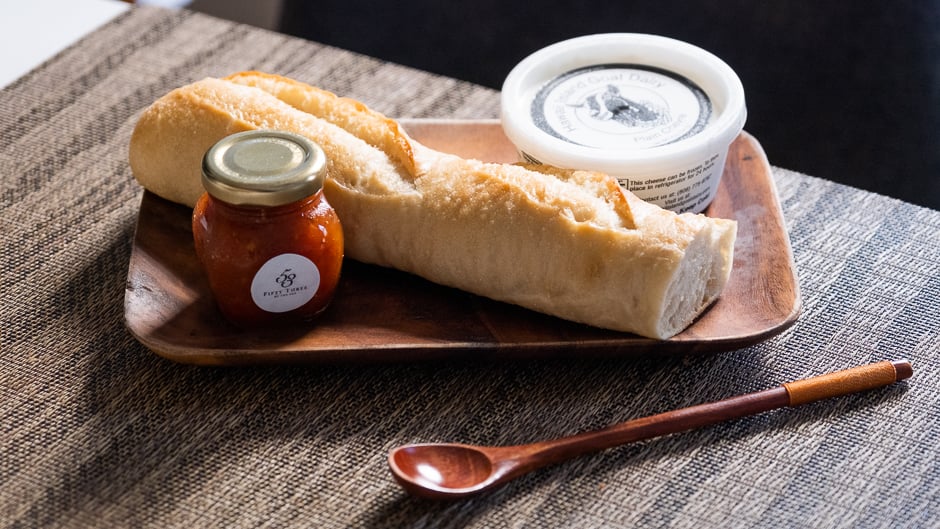 Living up the street from the market makes heading there on foot a pleasurable way to get the weekend started. I look forward to my reward of a tasty loco moco and an icy watermelon amazake smoothie.