Farm Friday: Kahumana Organic Farm in Wai'anae
There's more than farming happening at this organic farm in Lualualei Valley on O'ahu's West Side.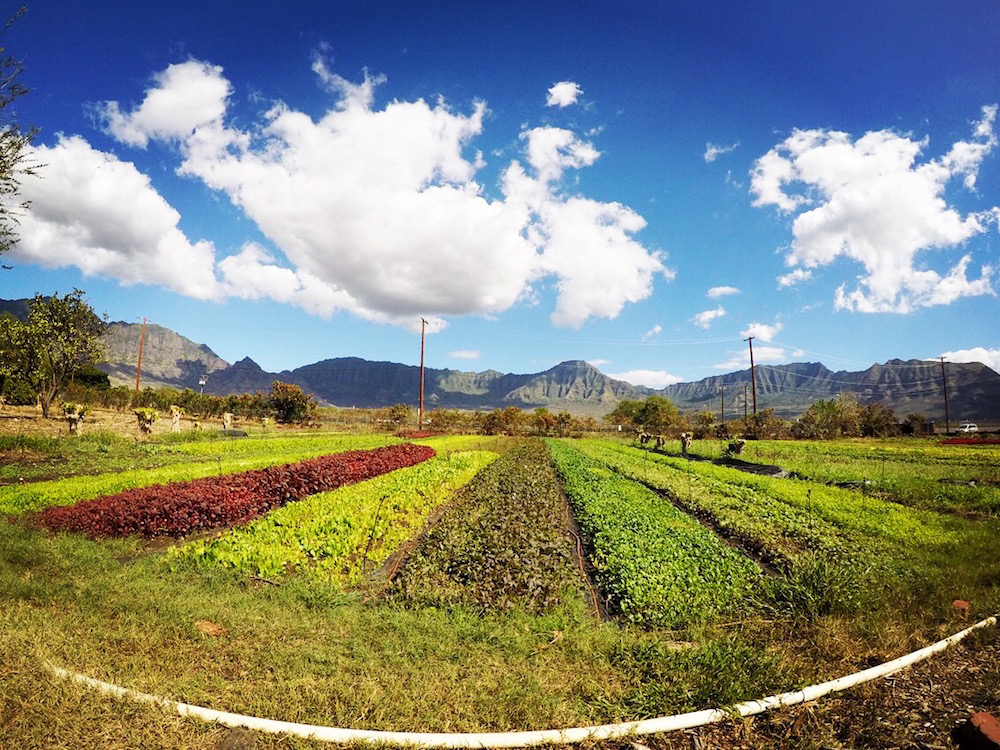 As soon as I drive up to Kahumana Organic Farm in the back of Lualualei Valley in Wai'anae, I realize I should have organized a place to meet.
On either side of the parking lot are 17-room homes used for retreats. There's an office, a store and café, a few sitting areas under trees. And then there's the organic farm, a few acres here and another 16 acres mauka of this property.
Good thing I have farm manager Christian Zuckerman's cell number. (And good thing my cell service works here.)
It's Thursday and the farm is already buzzing with preparation for this Saturday's fifth annual Farm Festival, which runs from 11 a.m. to sunset. The free event will feature food and craft booths, live local music, educational workshops, and a seed and plant exchange. Last year, the farm hosted more than 2,000 people.
While I wait for Zuckerman, I wander into the café, which opened to the public in 2008 and serves lunch and dinner Tuesdays through Fridays. The menu is brimming with farm-fresh ingredients: mixed baby greens, carrots, cucumbers, eggs, locally raised beef. Every so often you'll find tilapia as one of the daily specials, grown in aquaponic systems on the farm.
SEE ALSO: Farm Friday: 'Ili'ili Farms in Wai'anae
Today's special is lasagna, either with ground turkey ($19) or veggies ($17). The meal comes with a small bowl of the daily soup—green-pea veggie today—and a salad of the farm's special blend of 10 different baby greens including tatsoi, mizuna and arugula. Other popular dishes at the café include a macadamia-nut pesto served on whole-wheat pasta and farm-grown vegetables ($12), the refreshing Kahumana Cooler ($2) with hibiscus and herbs, and the liliko'i cheesecake ($3.50), made by Zuckerman's dad, Robert, who manages the café and has worked at Kahumana since moving here with his family from Europe 25 years ago.
Back then, the nonprofit ran holistic-based group homes for adults with special needs. Zuckerman, now 28, grew up here with his parents and younger brother.
"Let's say it was unique," he says about his childhood experience. "We were kids with a 14-acre property as our backyard. It was pretty special."
Since Kahumana started in 1974, the nonprofit has evolved. Today, Kahumana Organic Farm & Café, where we're sitting, is the epicenter of a 48-acre community that includes transitional housing for 125 homeless families, a learning center and homes that people book for corporate outings, yoga retreats, even vacations. Kahumana also has a certified commercial kitchen that provides more than 5,000 school lunches every week for 26 schools on the Leeward Coast, Waipahu, Kunia and Wahiawā, in addition to servicing both its transitional homes. The nonprofit provides vocational training for those in transition housing, offering paid part-time jobs in the café, market store, certified kitchen, retreat center and farm.
This year, Kahumana launched a USDA-supported food hub program, where the farm buys fruits and vegetables from backyard growers and small farmers who may not have the capacity to market, deliver, process or expand their business. The hub already has about 30 members from the community, averaging 8,000 to 10,000 pounds of produce a month. In May alone, Kahumana got more than 20,000 pounds of mangoes from local families and small farmers in the area.
"We're trying to empower farmers," Zuckerman explains, "so there's more food grown locally, less food wasted and just more food in the system."
And then there's the farm.
Kahumana has always had a farm of sorts. (More like a garden, Zuckerman says.) It really started to expand in the '90s, after the farm earned biodynamic certification from the not-for-profit Demeter Association. In 2008, when Kahumana opened the café to the public, the farm grew, too, to keep up with anticipated demand.
When Zuckerman came home from college on the Mainland five years ago and started managing the farm, it had a small CSA (community supported agriculture) program and only grew produce for the café and the transitional homes, selling whatever was left at farmers markets.
Today, the farm supplies produce to dozens of restaurants, incluing Roy's Hawai'i, Mud Hen Water, Juicy Brew, Fête and Moku Kitchen; and has a robust CSA program. Its produce, including what's called the OKG Mix (10 different baby greens), can be found in grocery stores and at farmers markets. Four years ago the farm took over another 16 adjacent acres to create a more production-focused farm, growing carrots, beets, watermelon radish, leafy greens, herbs, turnips and a variety of specialty and seasonal crops including fennel, purplette (miniature purple onions), tomatilla and eggplant. There's even a 1-acre lo'i with three varieties of kalo and about 8 acres reserved for an orchard. It recently launched the Plant a Tree of Hope Campaign, where you can buy a fruit tree that will be planted in the orchard in honor of a loved one. A citrus tree is $50, a mango tree $100, an avocado tree $150 and an 'ulu tree $200. Already, the farm has raised $10,000 worth of trees and will start planting soon.
In 2016, the total yield of everything grown at Kahumana was around 38,000 pounds. In the first six months of this year alone, the crew has already harvested more than 40,000 pounds of fruits and vegetables. Zuckerman expects to hit 150,000 pounds in 2018.
But unlike most commercial farms, this one puts all the money back into its social programs. So, buying Kahumana-grown carrots at the farmers market or a bag of dried māmaki leaves at the farm store supports the nonprofit's transitional housing and educational programs.
"Everything is linked to our social programs," Zuckerman explains.
Fifth annual Farm Festival, 11 a.m. to sunset, Saturday, Oct. 7, Kahumana Organic Farm & Café, 86-660 Lualualei Homestead Road, Wai'anae, (808) 696-2655, kahumana.org
---
This is part of an occasional series called Farm Friday, which highlights Hawai'i's vibrant and diverse agricultural industry. Every month we will visit farms, talk to food producers and discuss issues that affect the community from which our food comes.