Fantastical makes calendar input easy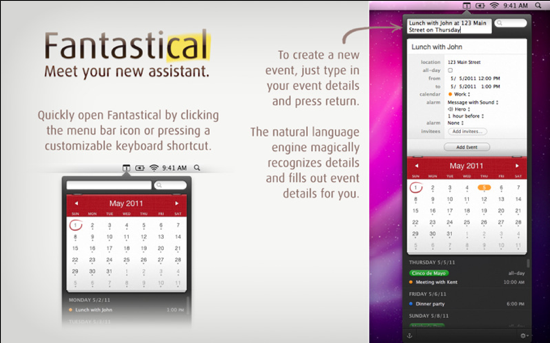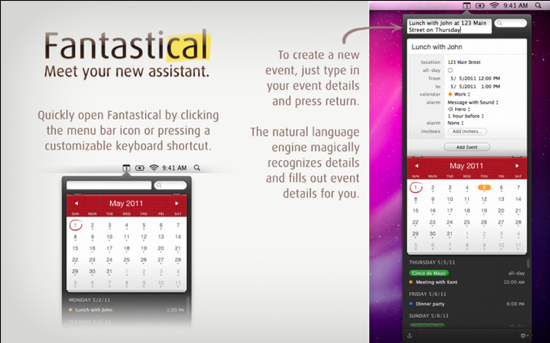 Ever forget to add something important in your calendar? Ever wish for an easier way to add things to your calendar? Well, Fantastical is the killer aha! application in computer calendaring that will make you wonder why it wasn't always this easy.
Fantastical, a new approach to personal and business calendaring by Flexibits, uses Natural Language input to add items and events to your Mac calendar. Fantastical doesn't replace iCal, Entourage or Outlook; instead, it allows you to interact in a whole new way.
Fantastical allows you to type in natural language as it automatically parses your input to create events without the tedious task of filling out cumbersome dialogue boxes. It not only handles dates and events, but understands the people and places in your address book.
The other big aha in Fantastical is native CalDav support, syncing calendars with MobileMe, GoogleCal and YahooCal that have been setup to use iCal as a conduit.
Fantastical sells for $19.99 from Flexibits Web Store or in the Mac App Store and is worth every penny. It does initially seem pricey for a calendar add-on, but the time I saved in the first three weeks of using it has paid for my purchase many times over. Fantastical removes the clunky input which we have all become accustomed to. For me, I know I'll add more things to my calendar and will forget important dates. It's a beautiful, well-built application that you should buy now or at least give the 14-day free trial a test drive.
If you have any productivity tips, hints or questions please leave them in the comments section. We would love to hear from you.