A family visit to Waimea Valley on the North Shore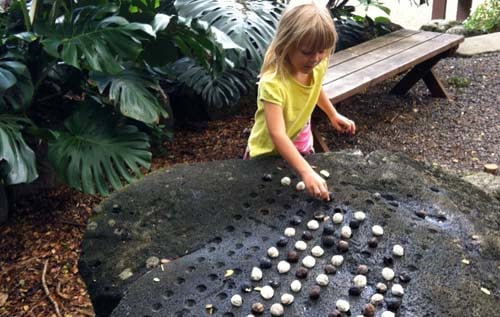 It's been 11 years since I've been to Waimea Valley, the famous botanical garden and historical site on the North Shore. Back then it felt like a theme park, complete with a diving show and hula lesson. I remember it being gorgeous, though, and I wanted to return, this time with two kids in tow. Although they're still pretty young (2 and 4), I knew my kids would love a new adventure and the chance to see a waterfall.
Before our trip, I scanned the Yelp reviews and saw some strong reactions. People tend to think it's an overpriced disappointment, or that it's the most magical place they've ever seen. (They must all be right; we all know online reviewers never exaggerate.)
Upon our arrival, a peacock greeted us right by our car in the parking lot, which was fun. Who doesn't like a surprise peacock greeting? We paid kamaaina rates for entry (see below for pricing) and trotted down the trail in good spirits. My husband and I enjoyed the beautiful scenery, my son loved running down the path and peering over the bridges, and my daughter was thrilled to use the trail map and lead the way (like Dora, natch). The "hike" is actually more of a walk, just three-quarters of a mile, paved, flat and really easy for kids.
Along the way we stopped to play some Hawaiian games. We tried our hands at ulu maika, a rolling disk game, and moa pahee, or dart sliding. They also thought the konane (Hawaiian checkers) were cool. We spent a good 20 minutes just playing around in this area, which turned out to be my kids' favorite part.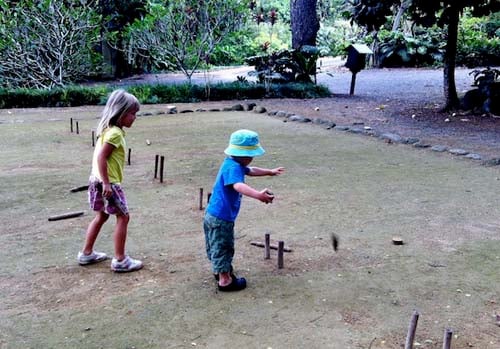 We were almost to the waterfall when we made a pit stop at the snack bar. We loaded up on hot dogs, chips and Ono Pops before continuing to the famous falls. But, I'll be honest, we didn't even make it there. It was close to naptime and my 2-year-old was on the brink of a meltdown. So I hailed the $4 return ride, saving us a tear-filled walk back. The kids immediately perked up at the thrill of a golf-cart ride and, as an added bonus, the friendly driver took us on a closed trail and shared all kinds of cool facts about the park. So we didn't make it to the waterfall, but, just like life, it's a journey, not a destination, right?
If you go: Check the park's website and schedules for daily guided activities. Swimming is available at the waterfall, and free life jackets are provided for kids. Bring sunscreen, water and bug spray. If you can, try to visit on the monthly Kanikapila Sundays, when kamaaina and military admission is reduced to $5 for adults and $2.50 for children ages 4 to 12.
Waimea Valley, 59-864 Kamehameha Highway, Hale'iwa. Regular kamaaina admission is $10 for adults and $5 for kids ages 4 to 12. Free parking. For more info call 638-7766 or visit www.waimeavalley.net.