Family Restaurant Review: Merriman's
Merriman's offers a fun and sophisticated lunch venue for your family.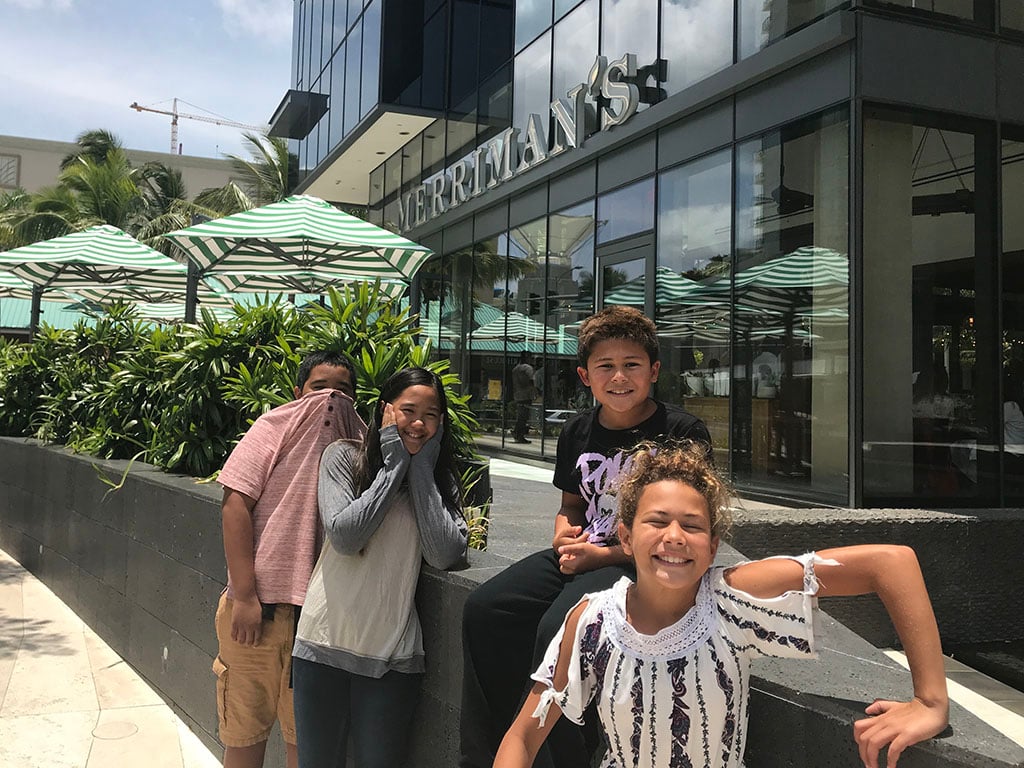 Photo: By Wendy Awai-Dakroub
Our keiki diners, ages 8 to 11, visit the new Merriman's restaurant at Ward Village.
Editor's Note: We've launched a new series, "Family Restaurant Review," featuring local eateries that welcome kids. We hope these will enhance your family's experiences around the food table. Food you don't have to cook, of course.
We will begin every review with our "Family-Friendly Checklist," six items parents want to know before deciding if the restaurant is a good fit for their little ones. Then, you'll read reviews from HONOLULU Family and HONOLULU Magazine's dining teams.
OUR DINING CHECKLIST:
Ambiance: The restaurant has an airy feeling, thanks to high ceilings, large windows and tropical ceiling fans. An island touch to a tailored space provides the ideal backdrop for introducing fine dining to keiki.
Parking: Complimentary valet parking is available from 11 a.m. to 2 p.m. and from 5 to 10 p.m. at Anaha complex in Ward Village with proof of purchase from Merriman's. Free additional parking is available at South Shore Market (near Nordstrom Rack and T.J. Maxx) and throughout Ward Village.
Bathrooms: Restrooms are beautifully decorated. However, no seating or baby changing stations are available.
High Chairs/Stroller-Friendly: High chairs are available for toddlers, and aisles are wide enough for strollers and wheelchairs.
Keiki Menu/Takeout Option: The keiki menu prices range from $6 to $25 with kid favorites, such as mac and cheese and burger and fries for younger children. Chow fun and filet mignon with broccoli and fries are for the older, adventurous eaters. Takeout is available. There is no delivery.
What to Know: To keep kids busy at the table, the restaurant provides kids with games and activities. The staff highly recommends you make reservations for parties larger than five. The 200-seat restaurant has indoor and outdoor seating. We recommend sitting inside during lunchtime, as we noticed customers sitting under direct sunlight and with little shade.
Our Little Foodies:
Lahikiola, 11, loves her breakfast. If she could can eat it for lunch and dinner, she would. Her favorite type of food is pasta with any sauce.
Kekanaloa, 11, is a lover of seafood and fish–both raw and cooked. His favorite meal would be a simple grilled steak and rice plate from Time's Supermarket.
Leah, 10, loves all things from the sea. The adventurous foodie's favorites include grape leaves, kibbeh (Lebanese raw meat with spices) and sushi.
Jaffer, 8, loves fruit and vegetables. His favorite place to eat is Down to Earth; he has a weakness for sweets, and his favorite foods are Spam musubi, chocolate chip pancakes, pears and mussels.
The opening of Merriman's at Ward Village has been taunting me since its initial announcement back in 2017. Here I am, a year later, driving up to the valet at Anaha luxury tower, eager and ready to experience the hype.
The newly opened restaurant owned by celebrity local chef Peter Merriman is his first in Honolulu. He is known in the culinary scene as a pioneer and advocate for Hawaii's sustainable food movement. Unlike his more casual restaurant concepts, Monkeypod Kitchen and Moku Kitchen, Merriman's in Honolulu caters to diners seeking a mix of local farm-to-table dining in an upscale venue.
We arrived just after 1 p.m. on a Tuesday afternoon, and the place was bustling with vacationers, local business men and women, and a few families here and there. Without reservations, our party of five was seated within five minutes. As we got situated at our large, round table at the back of the restaurant next to the open kitchen, the four children and I started scanning the menu.
A few minutes passed, and our server returned with a drawing activity, magnets and a stack of games for the kids to play with at the table. This was unexpected for an upscale restaurant but greatly appreciated since my son kept complaining he was hungry. It took the focus away from the hunger–for a good 10 minutes after we ordered!
The lunch menu is uncomplicated, with a price point that is on the "higher side" than your average restaurant in Kakaʻako. We decided to order a few different appetizers. We started out with the house-made bread taster ($4), bag o' biscuits ($5) and garlic butter keahole clams with Maui onion garnish with dipping bread ($17).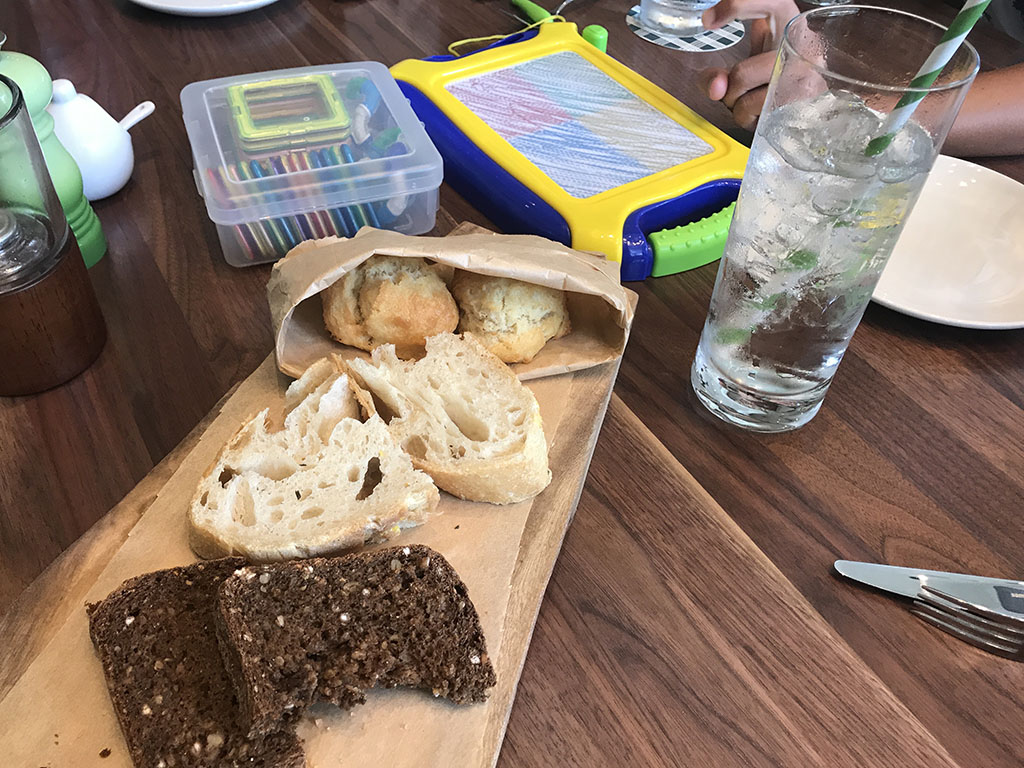 Photo: By Wendy Awai-Dakroub
Merriman's house-made bread taster comes with sprouted rye, country bread and buttermilk biscuits. Our server also brought out a few kids' games.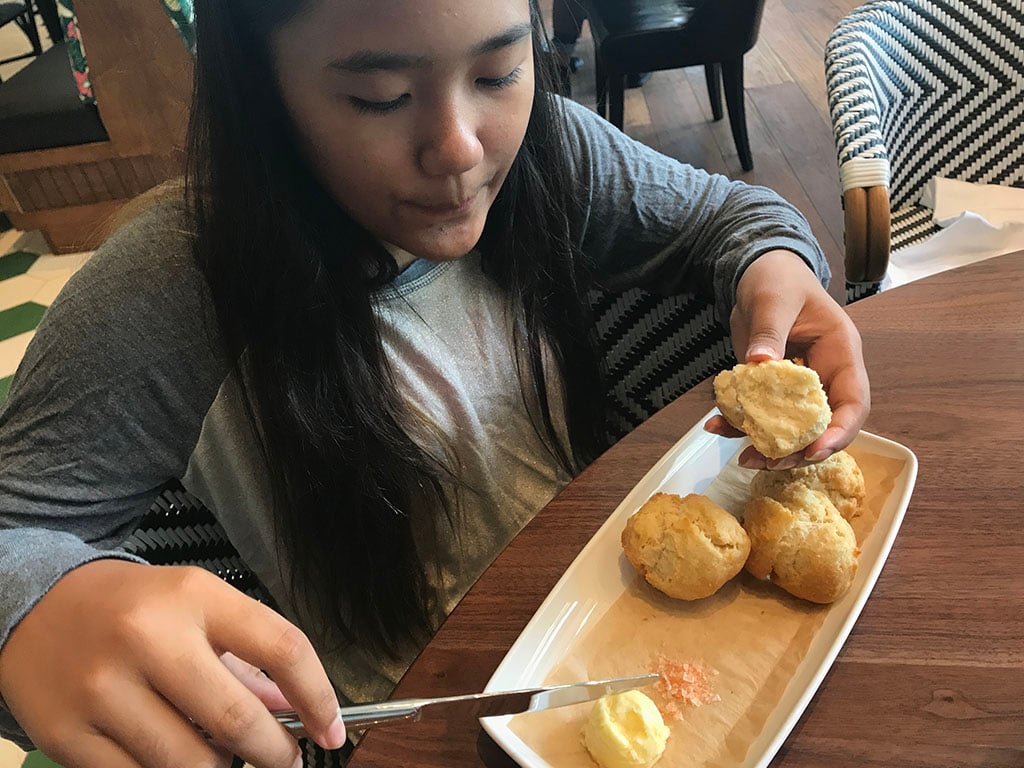 Photo: By Wendy Awai-Dakroub
The warm, buttermilk biscuits at Merriman's were an instant hit with our kids.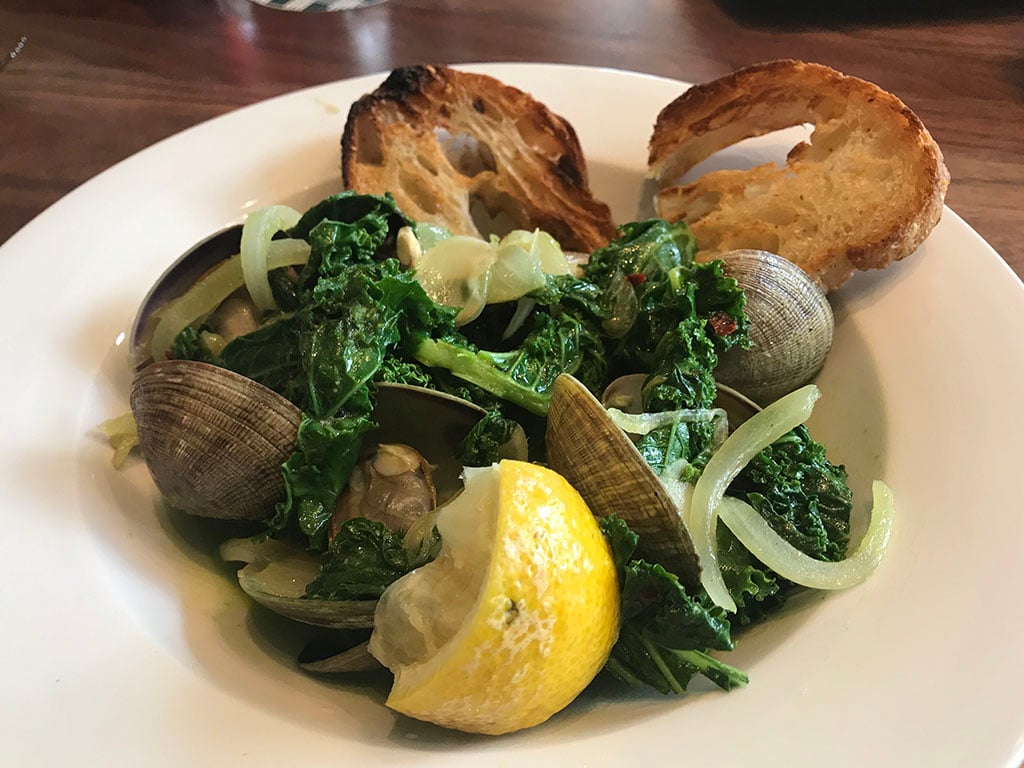 Photo: By Wendy Awai-Dakroub
My garlic butter Keahole clams came with a broth so flavorful that the kids soaked their bread in my dish.
The food arrived, and I let the kids devour the bread as I focused on the clams. They were fresh and served with a side of country bread for dipping. The light and flavorful broth was delicious, and everyone at the table started dipping their breads into the broth. It was that good. The warm buttermilk biscuits were a hit, as well.
As we ordered our entrées, I was happy to see they had a small keiki section in their menu and ordered the mac and cheese ($6) and chow fun ($9) for my kiddos.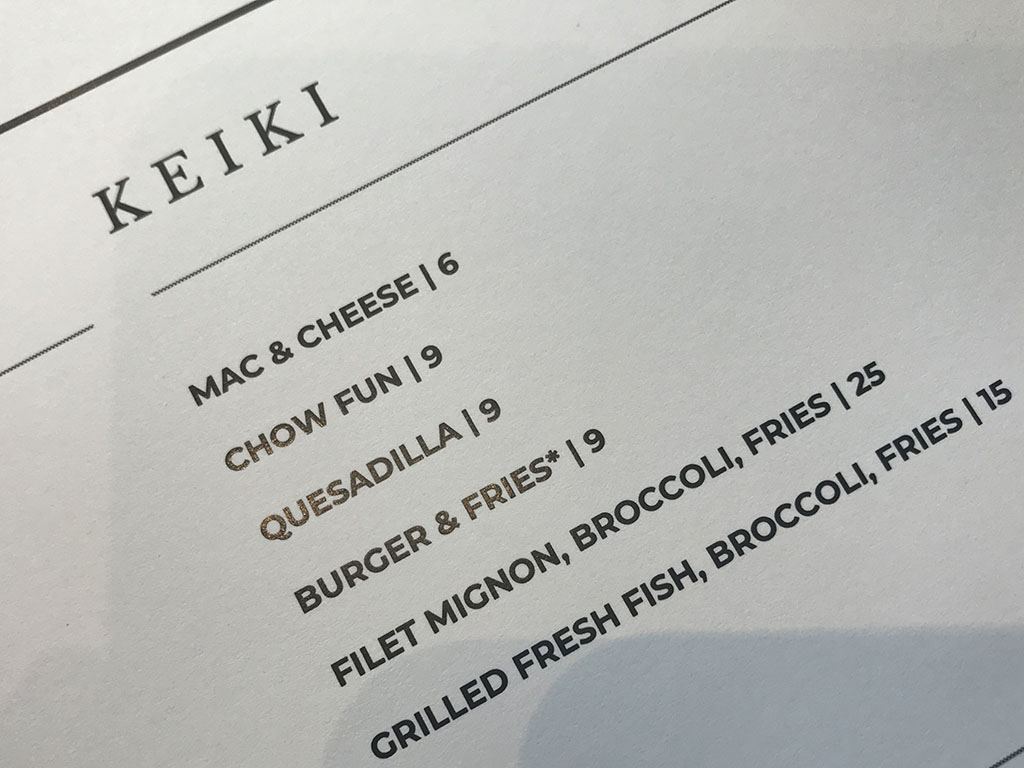 Photo: Wendy Awai-Dakroub
We were happy to see a keiki section in the Merriman's menu. Prices ranged from $6 to $25.
We also ordered the house-made cavatelli pasta with harbor farms Swiss chard, mushrooms, truffle oil, house-made ricotta ($16); and the fresh fish and chips with hapa brown ale, garlic, garlic rosemary fries ($22) for my older niece and nephew.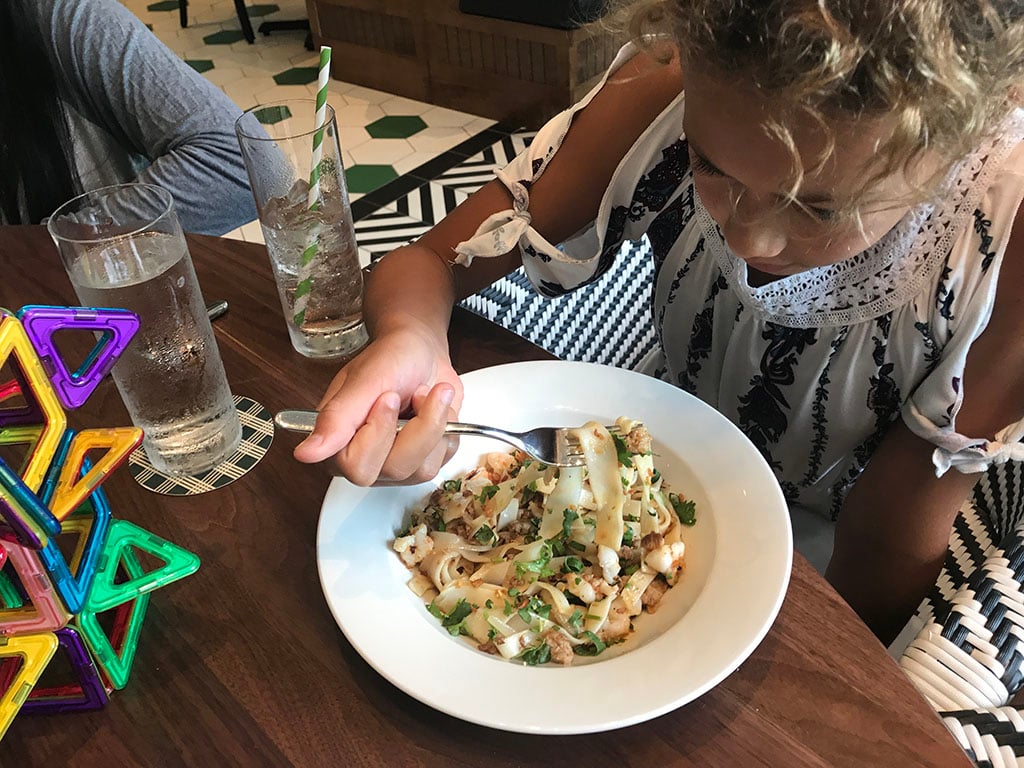 Photo: By Wendy Awai-Dakroub
My daughter enjoyed her keiki-sized chow fun, a classy take on a familiar noodle dish.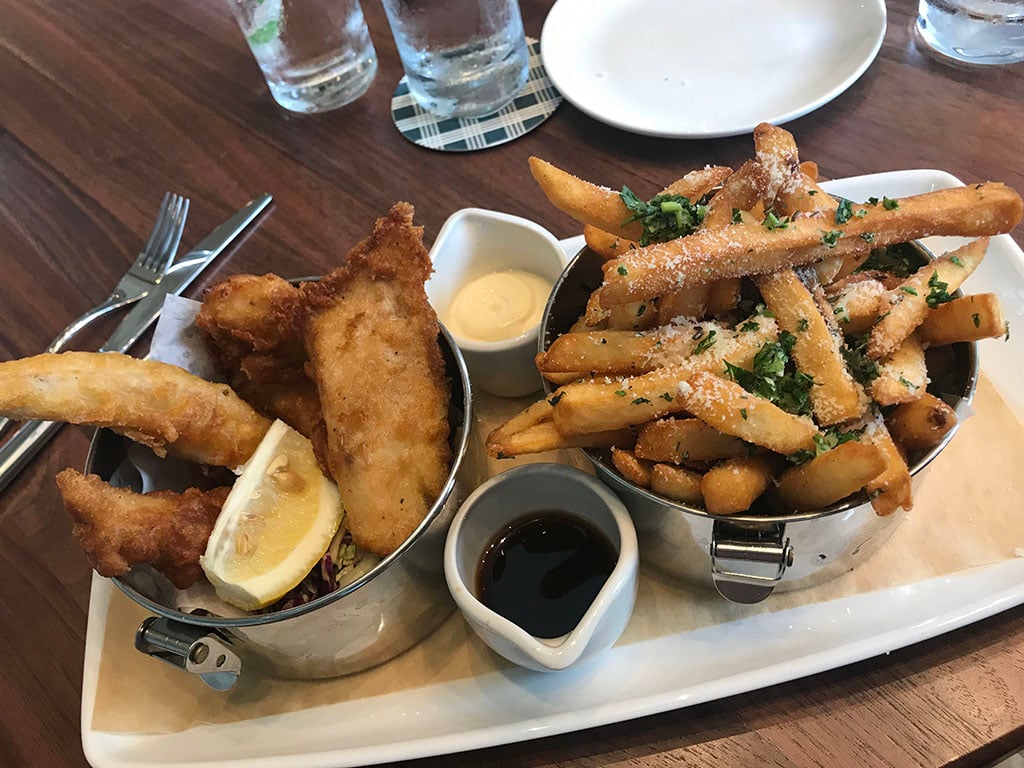 Photo: Wendy Awai-Dakroub
Fresh fish and chips with garlic, hapa brown ale and garlic rosemary fries.
The fish and chips were crunchy and tasty, as expected. The pasta sauce seemed a bit on the watery side, though the overall flavor was excellent. The mac and cheese disappeared in minutes while we had some confusion over the chow fun. Instead of receiving the keiki version, we received the adult version, which had chili pepper. However, our kind waiter quickly changed the order and apologized to my daughter for making her suffer through that experience.
All in all, the food and the service were good. Unfortunately, we did not have time to order desserts, as we had a movie to catch, but the bread pudding looked wonderful on the table next to us.
The kids enjoyed the biscuits the most and wished they offered local honey (or "chocolate sauce," according to my nephew) for dipping. The keiki version of the chow fun was a favorite too, though I felt the serving size for the keiki menu is more suitable for ages 5 and below.
The children still were hungry after we left. Our meal, including soft drinks, was well over $130, an expensive lunch when dining with kids. However, our entire experience at Merriman's was pleasant and made up for the amount we spent. We will definitely return in the future.
Merriman's is open from 11 a.m. to 11 p.m., daily. Ward Village, 1108 Auahi St., Honolulu, 96814. (808) 215-0022. merrimanshawaii.com/honolulu
---
Wendy Awai-Dakroub is a Hawai'i-based writer, founder of pintsizegourmets.com, photographer, traveler, and mom to kid-foodies Leah and Jaffer.