Family Restaurant Review: Fête
Small plates make for fun finger foods with a twist for kids with adventurous palates.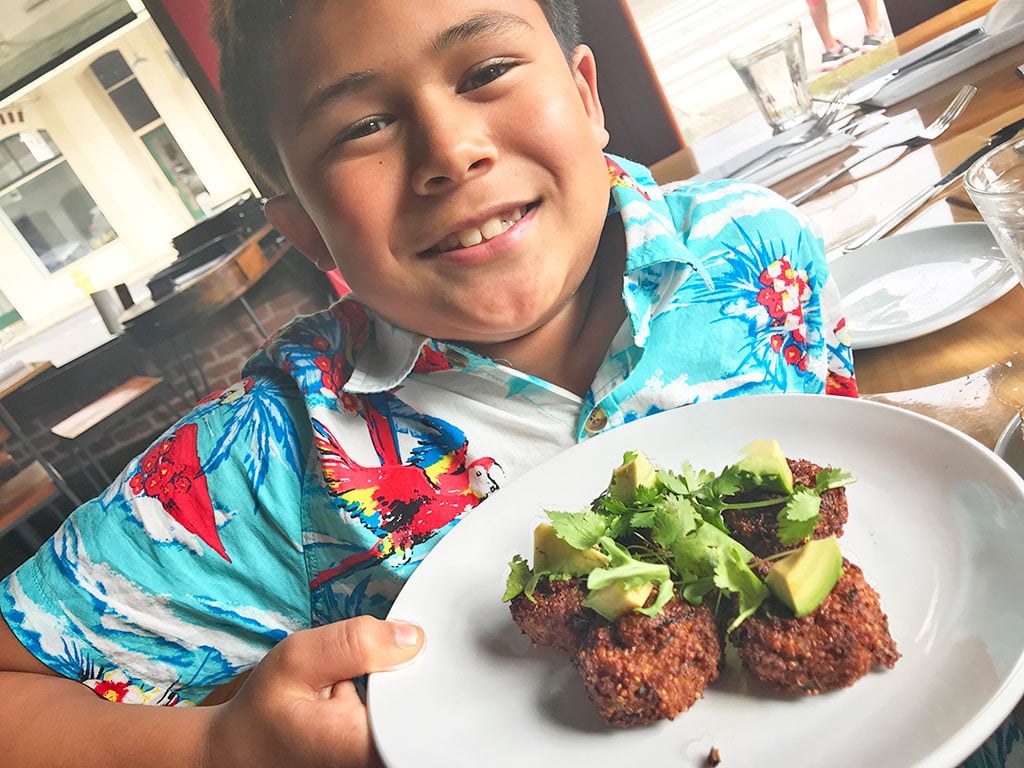 Photo: Wendy Awai-Dakroub
Jaffer and the quinoa cakes from Fête.
Editor's Note: We've launched a new series, "Family Restaurant Review," featuring local eateries that welcome kids. We hope these will enhance your family's experiences around the food table. Food you don't have to cook, of course.
We will begin every review with our "Family-Friendly Checklist," six items parents want to know before deciding if the restaurant is a good fit for their little ones. Then, you'll read reviews from HONOLULU Family and HONOLULU's dining teams.
FAMILY-FRIENDLY CHECKLIST:
Ambiance: Seating for up to 55 in a bright dining room with exposed brick walls and a live plant wall on the busy corner of Hotel Street and Nu'uanu Avenue. There's also a full bar and private dining room.
Parking: Parking is either metered street parking or in the municipal lots. Municipal lots are $3 or 75 cents for every half hour up to two hours, cash only. After 5 p.m. it is a flat rate of $5.
Bathrooms: Fête shares bathrooms with Encore Saloon, which is next door. The rest restrooms are clean but small, with no diaper-changing stations, and you have to exit the restaurant and walk through Encore's courtyard to get there.
High Chairs/Stroller-Friendly: Ask for high chairs, they're stashed in the back. Seating is tight, so finding space for a stroller may be easier during a weekend lunch than at dinner when the restaurant is usually full.
Keiki Menu/Takeout Option: The service during lunch was swift and staff easily tended to children. You can order anything "off menu" to tailor the dish since there are no kid menus. We were encouraged to order off their snack menu where items could be easily eaten with little fingers.
What to Know: The restaurant tends to get crowded between noon and 2 p.m. on weekdays so go early or have a late lunch. Friday and Saturday nights are busy so be sure to make a reservation if you are planning to arrive with a large group. Walk-ins are welcome on weekdays. Dishes are pricey—$32 for two sandwiches without drinks—and portions were perfect for sharing. Happy hour is from 2 to 5:30 p.m. Monday through Saturday.
Our little foodies:
Leah, 10, loves all things from the sea. The adventurous foodie's favorites include grape leaves, kibbeh (Lebanese raw meat with spices) and sushi.
Jaffer, 8, loves fruit and vegetables. His favorite place to eat is Down to Earth; he has a weakness for sweets and his favorite foods are spam musubi, chocolate chip pancakes, pears and mussels.
Fête, known as one of downtown Honolulu's prime spots for Modern American cuisine, serves up local, seasonal dishes in a cozy, relaxed spot. Our little foodies were warmly welcomed by the friendly staff as we ventured in for late lunch on a lazy Saturday afternoon.
The snack menu at Fête is short and sweet with just a handful of dishes to choose from, making it simple when you have hungry keiki in tow.
For starters, the bacalao fritters ($12) with harissa aioli are garnished with toasted coriander and were the perfect finger food snack to start off our lunch. Kids compared the fritters to hush puppies, but with way more pizazz. The quinoa cakes ($9) served with avocado and romesco sauce tasted similar to a crispy falafel, but be sure to order it with the romesco on the side as it has a bit of a bite and can be overwhelming for a young palate.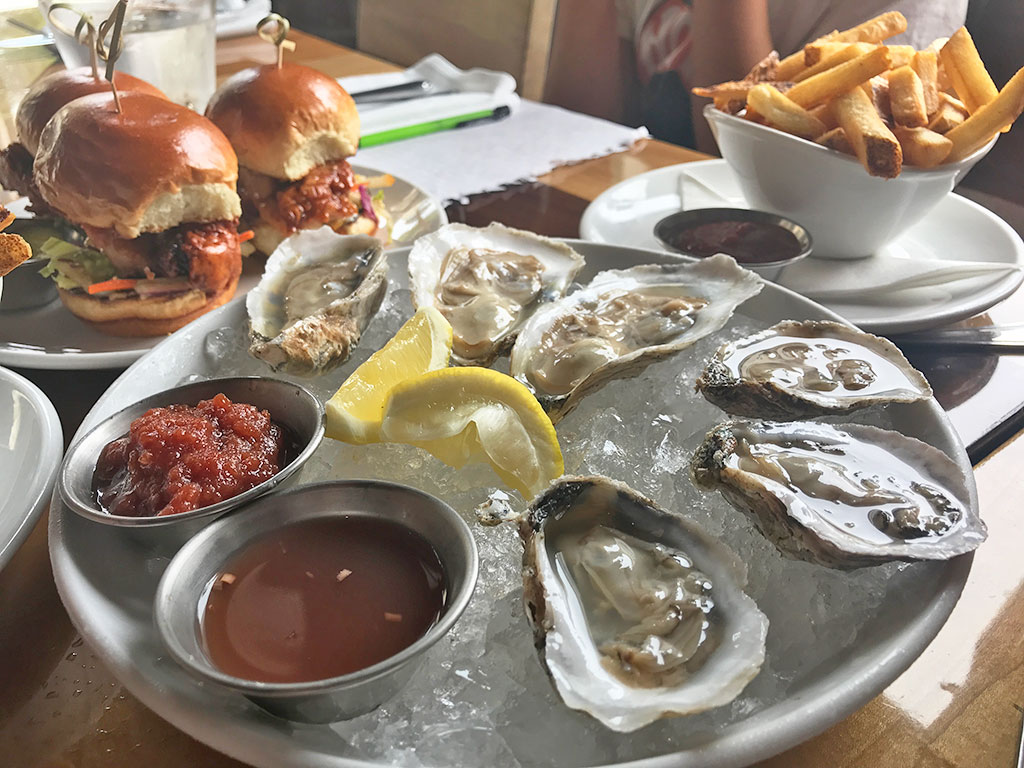 Photo: Wendy Awai-Dakroub
Fresh oysters on the half shell.
The parents in our group loved the half-dozen fresh oysters from Vermont and Connecticut ($21) with verjus mignonette sauce paired with a signature Chinatown No. 3 cocktail of vodka, Aperol, elderflower, lemon, and Prosecco. The co-owner and chef Robynne Mai'i personally came to deliver our appetizers and explained to the kids that the oysters actually had names; missy point (Vermont) and butt uglies (Connecticut), which made them laugh and even more curious to try them. The restaurant focuses heavily on farm-to-table dishes inspired by the owners' favorite foods and beverages. It was clear from our brief encounter how passionate they are about their menu.
Two snack menu items were an absolute hit with the kids: the Korean fried-chicken sliders ($14) served on toasted brioche with garlic-sesame aioli and an Asian pear slaw, and the linguettine carbonara ($21) a pasta-dish with Portuguese sausage, bacon and topped with grated parmigiano-reggiano and pecorino romano cheeses. Sandwiches are served with a choice of fries or a field green salad ($7).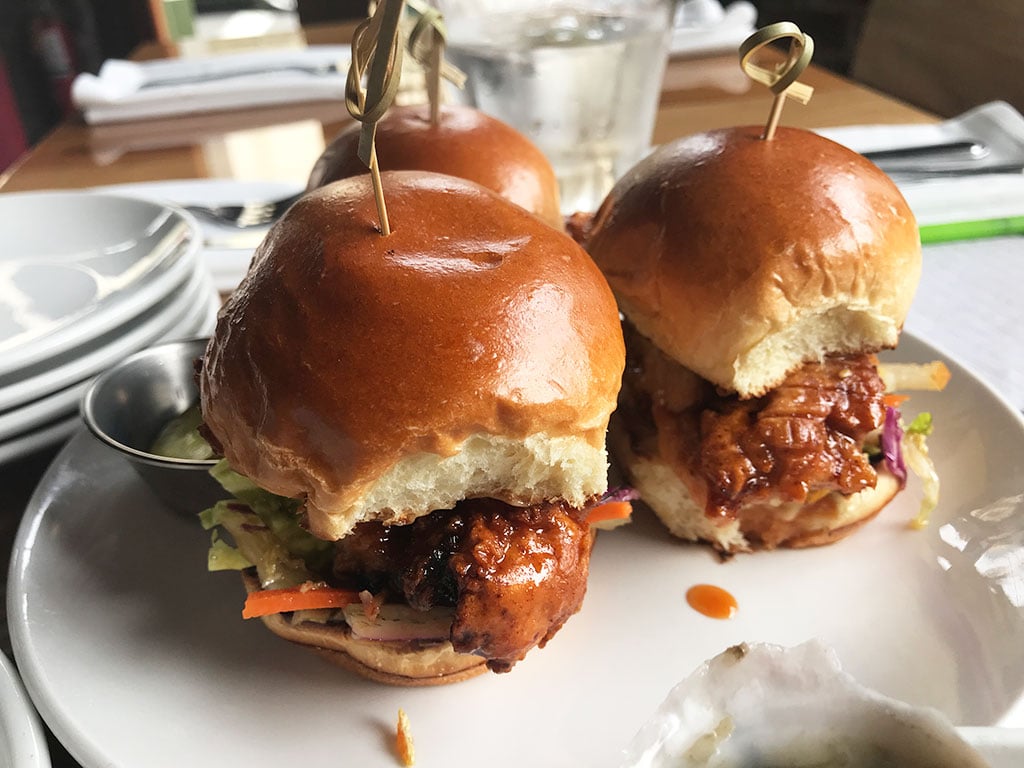 Photo: Wendy Awai-Dakroub
Korean Fried Chicken Sliders at Fête.
While the restaurant serves dessert, we were not offered a menu during lunch service. It just gives us another opportunity to return since we heard so much about their sweets. The restaurant, with its prompt service, extends a warm welcome to little ones, but the kids insist they could do better in offering kid-friendly placements and recommended a wooden board game or two that would match their walls very nicely.
Overall, the food was what really shined at Fête, which is probably why they are still one of the busiest restaurants in downtown Honolulu.
Fête, 2 N. Hotel St., Honolulu, open Monday through Thursday 11 a.m. to 10 p.m., Friday through Saturday 11 a.m. to 11 p.m., closed Sunday, (808) 369-1390, fetehawaii.com.
---
Wendy Awai-Dakroub is a Hawai'i-based writer, founder of pintsizegourmets.com, photographer, traveler, and mom to kid-foodies Leah and Jaffer.