What Families Can Expect From Disney's New "Moana" Film Starring a Hawai'i Girl
Meet Disney filmmakers and the newest (Polynesian!) princess.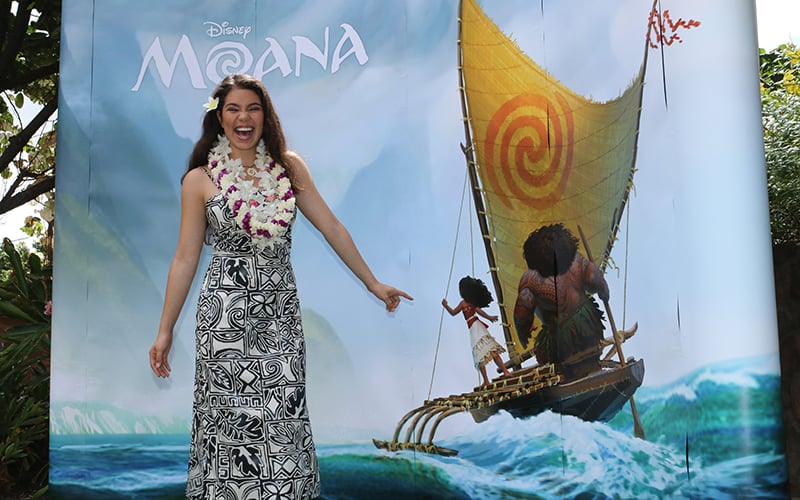 Photo: Hugh Gentry
Disney introduced Auli'i Cravalho for the first time onstage at Aulani Resort as the new voice for the title character in the upcoming Moana film.
What's the story?
Set in ancient Polynesia, Moana is a coming-of-age musical about a young princess who sets out on an adventure to seek a fabled island. Joined by a demigod Maui and her two sidekicks Pua, a friendly and adorable pig, and Hei Hei, a prickly rooster, Moana meets mythical legends and along the way, discovers her own true legacy as a voyager.
Meet Moana
Cravalho lives in Mililani, and attends Kamehameha School. She's the only child in her family, raised by proud single mom Puanani. She's definite Disney princess material: sweet, brave and energetic, and just 14 years old.
"We were looking for somebody who could embody the character, with all the strength and commitment, the humor and heart and compassion," says Moana producer Osnat Shurer. "When we met Auli'i, she was just Moana come to life."
Cravalho says she wasn't even going to audition; all her friends at school did, and she was intimidated by the talented people who had already auditioned during the open casting call. But a chance audition for a local charity play put her in touch with Rachel Sutton, the Oahu casting agent, who persuaded Cravalho and her mom that she should try for the part of Moana.
"I thought, 'Why not?' And I got a call back, and I couldn't believe it. It was so incredible," says Cravalho. Although she doesn't have any professional singing or acting experience, she sang in choir and acted in plays at school. Now that she's landed the job, she's started recording and will be working on-island part-time as well as at Disney's studios in Burbank, Calif.
"For all young girls and boys, I just want to say thank you, and to please go after your dream," she says. "I never thought I was good enough. Never put yourself down like I did, and remember that you are worth more than what anybody could ever tell you."
Meet the Makers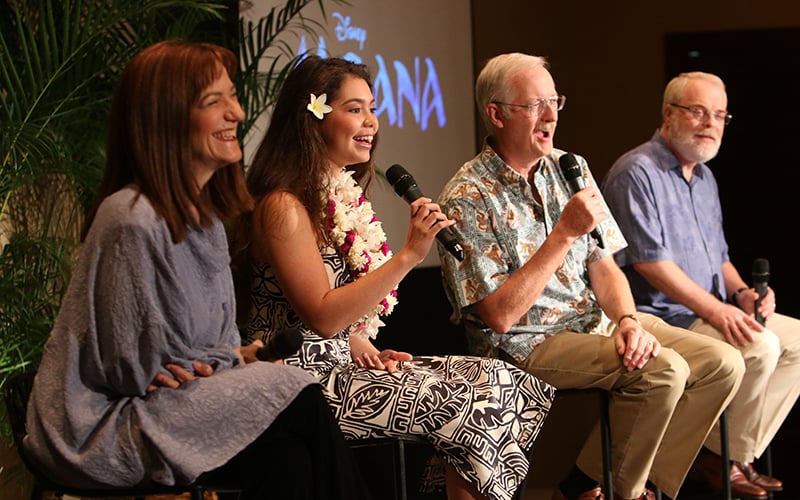 Photo: Hugh Gentry
Moana is the seventh film together for Disney directors John Musker and Ron Clements, after modern classics that include Aladdin, The Little Mermaid and Hercules, as well the more recent The Princess and the Frog, which featured Disney's first African-American princess.
Musker and Clements did their homework. They sailed multiple times across the Pacific Ocean to visit islands, attend music festivals, interview local fishermen and storytellers, consult with tattoo artists, Samoan songwriters and more. "We had two guiding compasses: make an entertaining movie with heart and humor, and honor the culture of the film," says Clements. "We want to do right by the South Pacific." Themes you can expect: importance of extended family and kūpuna, a respect for nature and a deep connection with the ocean.
"We don't want to think about these movies as movies just for kids," said Clements. "We try to make the movies for ourselves; adults can feel engaged, identify with problems and really feel the story."
"And even though we are old guys, we like the pie-in-the-face stuff, the slapstick. But we also are sticking to emotion of the story," says Musker. "We love the movies where you watch them as adults again and find out things you might have missed before."
The Look
This film looks great. During a scene of Moana's first encounter with the ocean as a little girl, the water teases and plays with her; each ripple and wave emoting like a living creature that's at once powerful and shy. It's a breathtaking and beautiful scene.
Musker and Clements are primarily hand-illustrators; this is their first movie doing nearly everything via computer graphics (CG). "The story's visual elements like the ocean benefited more from a CG instead of a two-dimensional technique," says Musker. "We're really hoping the audience can see how rich the CG is in the film."
---
Disney's Moana is slated to release Nov. 23, 2016.