Fall fashion with Clinton Kelly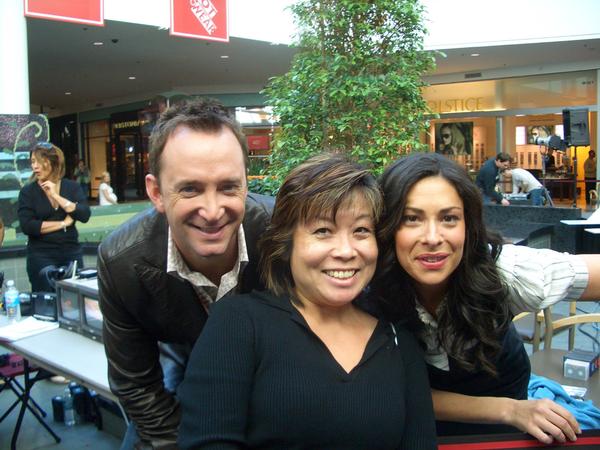 Macy's Ala Moana had a special fall fashion event featuring Clinton Kelly of "What Not to Wear," giving attendees a special preview of the season's best looks for day, work, evening and dates. It was a bonus to be able to ask the style expert about more specific problems that we encounter in Hawaii, like dressing for year-round hot weather, being large petites, and breaking out of fashion ruts due to not having seasons.
Here are shots from the fashion show — note the captions, as we tried to include some of his tips!
Clinton Kelly's fall preview
And, better yet, here are a few clips from his question and answer session after the fashion show:
Tyson Joines and I went to the show and, after absorbing some tips and trends, went off to find some new threads. (We wanted to get Clinton's new book, "Oh No She Didn't," which was a gift with a $100 purchase that day.) We stood in line for his autograph and each got to ask him a personal fashion/style question.
Tyson, wearing a new trench coat (yes, in Hawaii) asked if it was okay to dress for fashion, rather than comfort. Clinton said it was most important to dress in whatever makes him happy, as that would show through more than the actual piece itself. And, for the record, Tyson wasn't really sweating in the trench coat, so he wasn't necessarily uncomfortable.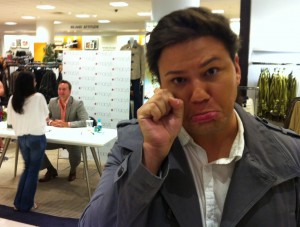 I had a ton of questions, but decided to ask Clinton how to dress for Nonstop Honolulu events so I could look fashionable without looking like an old person trying to look young. Since I'm older than most people who visit our site, I don't want to emphasize that, but I don't want to look like I'm trying too hard. He said the vibe he got was that I should dress in classic pieces, but dress them up and make them fun with dramatic accessories.
They didn't allow us to take photos with Clinton, thus Tyson's sad face after the event. We still had fun, though … and I walked away amazed that even after all these years of watching the show, I managed to learn something new. Then again, you've seen my lack of style, so there's lots to learn!