Facing Fertility Challenges: How Options in Hawai'i Provide Support and Hope
The joy of starting a family can quickly turn to heartbreak, but new-to Hawai'i techniques, a rare insurance rule and local groups can help women overcome some of the challenges.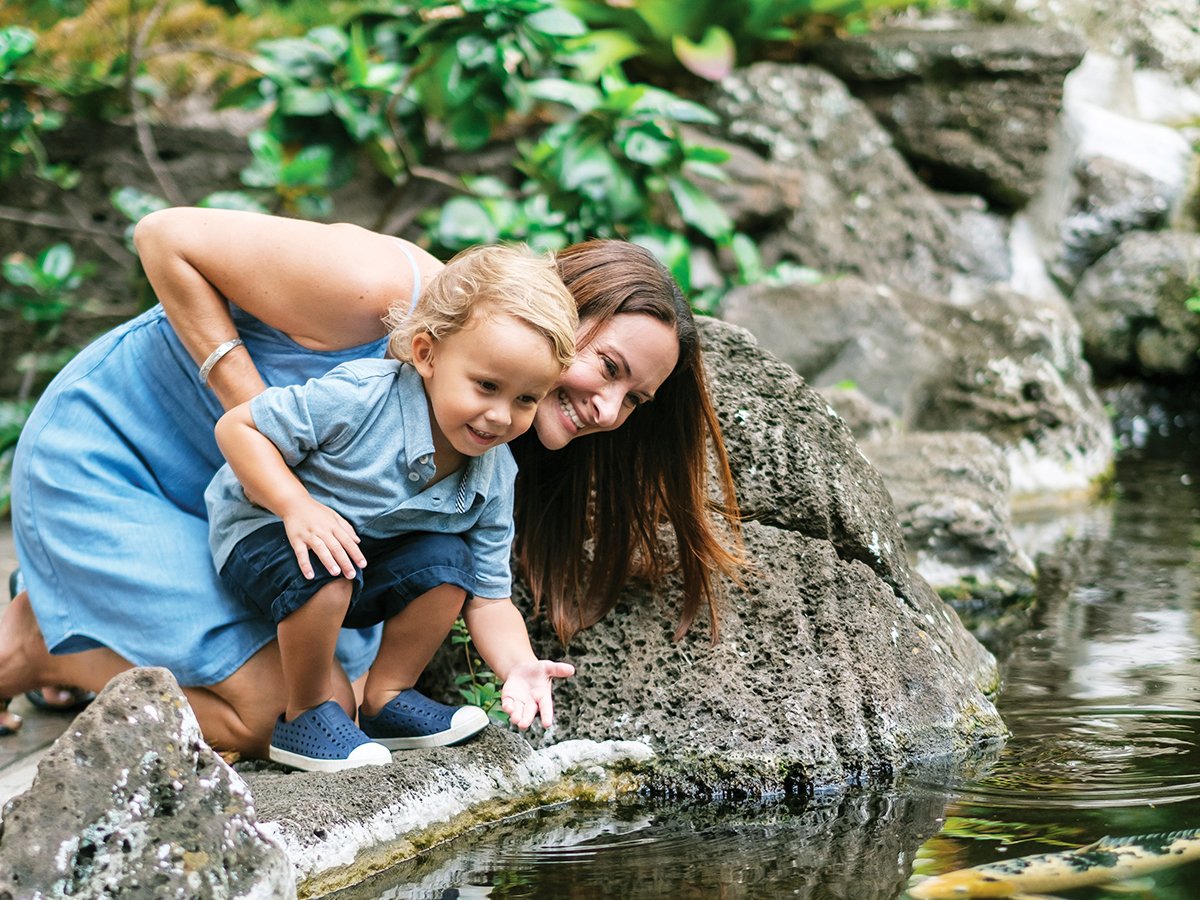 Positive for pregnancy.
That's what Vanessa Williamson's blood levels indicated. She had just completed her second round of in vitro fertilization, or IVF, the process in which a woman's eggs are fertilized outside of the body then implanted to increase the chances of a successful pregnancy.
Because she was in her mid-40s, Williamson and her new husband already knew that they were going to need help to get pregnant. Earlier, when she was 42 and single, she had gone to a specialist alone. "Immediately, the doctor said, 'I would recommend you go straight to IVF,' [and] that basically, 'Your eggs are too old,'" Williamson says. "My hormone levels weren't where they were supposed to be."
Now, Williamson had already gone through two rounds of intrauterine insemination, or IUI (where sperm is inserted into the uterus during ovulation), and surgery to remove a polyp before starting the IVF procedures. It would turn out that this round of IVF was a particularly rough chapter in Williamson's fertility story, which was still far from over.
It was six weeks before Williamson could test for pregnancy. The result was crushing. "You're tortured for weeks," she remembers. "We came to the appointment and I'm thinking: We're going to see two heartbeats! We're going to have twins!" Her voice wavers. "And there was no heartbeat. … It was so early on that it was … painful, for sure." Williamson learned that she was indeed pregnant, but it was a nonviable pregnancy. The baby had no chance of being born alive.
---
SEE ALSO: Can Telemedicine Save the Medical Care Crisis in Hawai'i?
"I think the biggest issue with infertility is that we do all this negative talk to ourselves."

Dr. Celia Dominguez
Pacific In Vitro Fertilization Institute
Waiting to start
While painful, such news is common for older women. "Infertility is increasing," says Dr. Celia Dominguez of the Pacific In Vitro Fertilization Institute. While there are many potential reasons, from problems with the sperm to the fallopian tubes to the eggs, one main factor is not a surprise for most. "The population is waiting [longer] to get pregnant. … The reality is that, unfortunately, our reproductive clock is set for youth," Dominguez says.
"Definitely, as women age the egg quality declines," says Dr. John Frattarelli of the Fertility Institute of Hawai'i. "Everything else can happen at any age [but] the best quality egg gives you your best success. And the best quality, when you're in your 20s, declines very slowly, and then starts to decline more rapidly when you get to your mid-30s, and then much more rapidly when you get to your upper 30s and 40s."
Issues with fallopian tubes, such as scarring or a history of infection (from, for example, chlamydia or gonorrhea) can also have negative effects. Other common issues? In Hawai'i, Dominguez says she often sees polycystic ovary syndrome, a hormonal disorder that can affect menstrual regularity and is more common in some Asian populations. Frattarelli cites endometriosis, a condition in which uterus lining grows in other places inside a woman's pelvis and can cause scarring, inflammation and reduced fertility potential. Typically, for women younger than 35, doctors recommend seeking help after a year of trying to get pregnant. But, for those with irregularities or histories of these conditions, experts suggest checking in earlier, even if the person isn't certain she wants to become pregnant. "The treatments to help those women ovulate are relatively simple," says Dr. Anatte Karmon of the Fertility Institute of Hawai'i. "Even if the infertility is unexplained, the treatments that we have still work."
Karmon says that a quarter of infertility cases go unexplained. "Everything can appear normal on the outside and even with our in-depth testing, a quarter of the time we don't find anything major wrong." Patients with problems ovulating can take oral medication called induction agents to produce more FSH, the hormone that stimulates the ovary. Or pure FSH can be given directly. There is also IUI, which puts 20 times more sperm into the uterus than during intercourse. And, of course, IVF has shown great results in recent decades for complications such as blocked fallopian tubes. In fact, success rates for IVF have soared in the past 30 years, says Dominguez. Before, rates were barely in the teens. "Now we're in the 60%–80% [range], depending on the circumstances."
---
SEE ALSO: 2019 Top Doctors in Hawai'i
"The majority of patients can achieve pregnancy with help."

Dr. Anatte Karmon
Fertility Institute of Hawai'i
Another chance
New procedures are also showing promise. Dominguez emphasizes recent advancements in egg freezing, which have shown success in preserving a woman's fertility at the age she has her eggs removed. Karmon cites the Invocell, a new-to-Hawai'i technique that uses the woman's body as her own incubator during the IVF process. Instead of putting the combined sperm and egg in an incubator, they're placed in the Invocell container and inserted back into the woman. Not only is it often a much more economical option, it appeals to patients who want a more natural process.
"A lot of the technology that's new is never seen by the patients," Frattarelli says, adding that laboratory techniques and incubators are improving. "The success rates with IVF have really drastically increased in the last 15 years because of everything that's happening behind the scenes." Procedures include delayed embryo transfers, in which embryos are actually frozen and the transfer done later.
But what happens when all of those fail, like in Williamson's case?
"The majority of patients can achieve pregnancy with help," declares Karmon. "But it may not be quite the journey that they were expecting and the way that they expected."
Donor help
For Williamson, the next recommended step was enlisting an egg donor. It would mean her child wouldn't have her DNA, a difficult choice for some women. But, "I asked one of my friends who had an egg donor and basically what she said to me is what I would say too," Williamson says. "Once you have that baby in your arms, those concerns or worries go away, because that's your child."
Egg donors are part of what Dominguez calls third-party reproductions, which also include sperm donors and surrogates. "Those options exist. And they're very available now," she says. "To me … one of the hugest breakthroughs over these last few years is the mainstream-ness of infertility and of options." Despite that, the Hawai'i Surrogacy Center is the only locally founded agency that sources and provides the services of highly vetted local surrogates.
Williamson and her husband's first IVF with donor eggs didn't take. With only two more donor eggs remaining, they had to decide what to do next—try again, find a new and proven young donor (someone whose eggs have previously impregnated someone), or stop all together.
"We're very lucky in that we're one of seven states that has insurance coverage for IVF as a mandate."

Dr. John Frattarelli
Fertility Institute of Hawai'i
The expense
Financial cost, of course, is a huge factor with fertility procedures. "We're very lucky in that we're one of seven states that has insurance coverage for IVF as a mandate," Frattarelli says. "There are some plans, like the QUEST (low income) plans for instance, that don't, but most Hawai'i-based insurance plans will cover one cycle of IVF for patients." You will have to pay attention to addendums, requirements to have already made attempts with other procedures. And, even with insurance, copays are in the thousands of dollars. Plus, only IVF is covered—not necessarily donor eggs or egg sperm. Freezing eggs isn't covered either and can easily cost more than $10,000.
---
SEE ALSO: The New Reality of Vog and What We Can Do About It
---
Staying positive
What Williamson remembers so distinctly, however, is the emotional cost. "I knew, like, this was it. There was nothing, there was no … backup plan," she says. "So, I was pretty devastated on that day going through the process because you start to eventually be like, 'Here we go again.' It's so hard to stay positive over and over and over again."
But she refused to give up. "I was going to have a family," she says. Today, her phone is full of pictures of happy, healthy Tyler—a blond miracle she conceived after that second round of donor egg IVF. "I don't regret any of the decisions that I made, because I have my son," Williamson says. As emotionally and physically excruciating as the long experience was—at one point after that second round of nondonor IVF when she experienced the nonviable pregnancy, she had to induce a painful at-home miscarriage—it was absolutely worth it.
Finding support
What helped her along was Resolve, an infertility support group. Resolve is a national organization, but when Williamson moved to Hawai'i, she discovered there was no chapter based here. She started one. Now, the group provides a space for local women to talk about their stories and struggles with infertility, and to help each other stay positive.
"I think … the biggest issue with infertility is that we do all this negative talk to ourselves," Dominguez says. "Sometimes, we believe things that aren't even real. We might believe it's all us, or our fault, or that we're being punished. Some of it is really, really hard. And that's why I think it's important to let the word out on infertility and let women know that they're not alone."
---
This story originally appeared as "Family Matters" in the October 2019 issue of HONOLULU Magazine. Get your copy at shop.honolulumagazine.com and subscribe to the print and digital editions now.