Ethel's Grill expands … to Hawaii Kai
Kalihi's holy grail of ahi tataki and taco rice shines some light in the far reaches of the culinary universe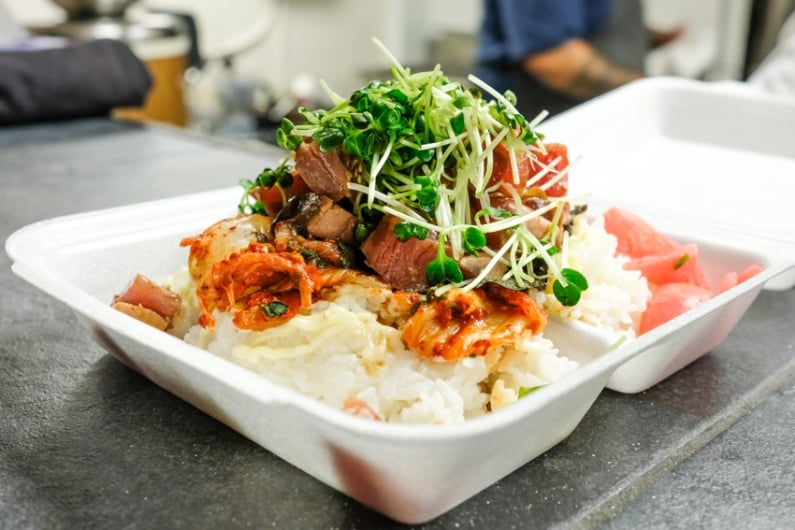 This location has since closed.
Anyone who has been to the original Ethel's Grill in Kalihi Kai knows it has been there forever. As in decades. And only there. So when I saw that Ethel's second generation – daughter Minaka Urquidi, her husband Robert and Robert's brother Mark – were opening up The Cafe by Ethel's Grill in Hawaii Kai's Oahu Club last week, I did a double-take. HAWAII KAI?
Who's mental enough to drive to the edge of the universe for plate lunch?
*raises hand*
Judging by the club's visitor log, quite a few others are, too – and you bet it's totally worth it.
A great deal of the Cafe's menu includes some of the classics from Kalihi, like the garlic ahi plate ($12) and the steak special with chimichurri ($15.50). But you'll also find a bunch of new items and daily specials like poke bowls ($13.75) and a daily sweet potato ($9.50). A special pau hana menu with $5 items will be available on select Fridays from 4 p.m. to closing. As for booze, you're encouraged to bring your own.
I went for one of my favorites, the steak special with chimichurri, and found heaven in its lurid green sauce. I was in Hawaii Kai, so I had to splurge a little, right? Served pupu-style on a bed of rice, the plate comes with a garnish of highlighter pink pickled onions, a nice complement to the tangy chimichurri.
I backed up my steak with an order of the daily sweet potato, which was topped with a sweet Carolina-style barbecue pork on the day I dined. Although it's the basis for this dish, sweet potato can be had in place of rice on other plates.
The kimchee ahi poke bowl is a delicious interpretation of spicy ahi, with the extroverted kick of wasabi aioli mellowing out to the pungent heat of kimchee. The ahi cubes, slightly blanched, are thick and soak up the sauce well.
After your meal, you're going to want your betsubara (second stomach) for some of Minaka's baked goods or her insane desserts like fairy toast. For the latter she takes a slice of Breadshop city bread, slathers it with Nutella, toasts some marshmallows and adds rainbow sprinkles. You don't have to understand it. Just know it's a must-have.
As for breakfast, toast is on the menu (duh). You can choose between a gut-busting slice topped with chopped ham and cheese in a soft egg scramble ($9.50) or one with a healthy dose of smashed avocado and edamame (edamamole) topped with two sunny-side local eggs ($8.50).
The Ethel's Grill I know has always been a family restaurant, so bringing it to Hawaii Kai is a homecoming of sorts. Robert and Mark grew up not too far from the club and Minaka's parents are happily retired nearby, making it a breeze for the couple's daughters to be dropped off after school. Eventually, they'd like to consolidate the operation into one location again, but as of right now the world is blessed with two Ethel's Grills.
Although it's part of the private Oahu Club, the Cafe is open to the public – just sign the visitor log at the entrance.
The Cafe by Ethel's Grill
Inside The Oahu Club
6800 Hawaii Kai Dr
Hawaii Kai
394-2233
@thecafe_by_ethels_grill on Instagram
Soft open hours (subject to change)
Monday closed
Tuesday – Friday 8 a.m. – 8 p.m.
Saturday 8 a.m. – 7 p.m.
Sunday 8 a.m. – 3 p.m.