The Mission: Bringing Home Native Hawaiian Remains
No Hawaiian has done as much repatriation work as Edward Halealoha Ayau, who has been bringing back Native Hawaiian human remains for more than 30 years.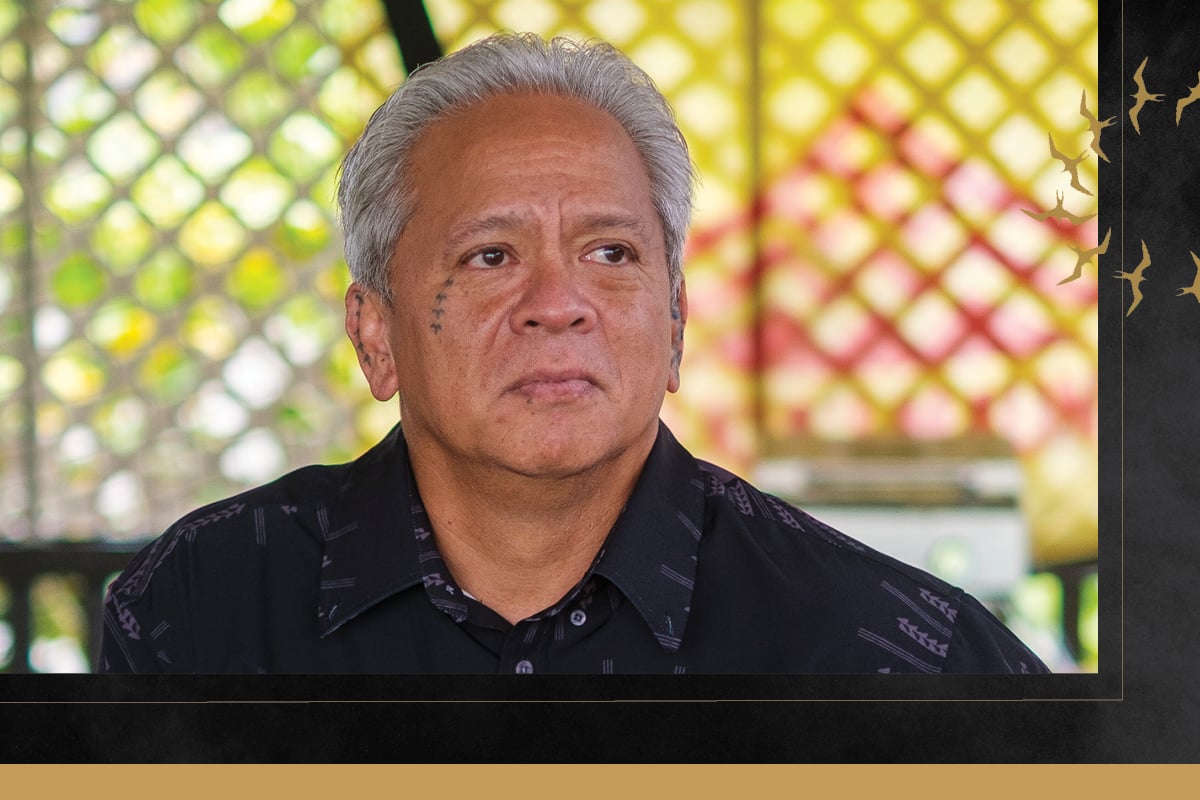 "If this is a case where you want to find really nice things to say about Eddie Ayau, you're talking to the wrong person," says La'akea Suganuma, who has battled Ayau in and out of court.
I say that I just want to hear from his opponents.
"I'm not an opponent. I like Eddie."
"OK, well an opponent in the case of the Forbes Cave," the one that Suganuma has just told me was one of the most controversial in Hawai'i in recent history.
"I'm on the side of the truth. I'm on the side of the kūpuna. I don't like when he lies. There's so many lies."
I say that Ayau also believes he's on the side of the kūpuna.
"We all can believe what we want to believe. But the truth is the truth, and the truth is not changeable."
I had told Ayau that I would be talking to some of his critics. He says he heard they have mellowed with age, that they have begun to appreciate what he's done.
It doesn't seem like they've mellowed.
But neither has Ayau.
I didn't know about the Forbes Cave controversy back in October when I was heading to a Pearl Jam concert in California with Edward Halealoha Ayau ("Eddie" to some, "Hale" to others). What I knew then: That in February 2020, he helped bring back to Hawai'i the skulls of 12 female warriors who had died in the 1795 Battle of Nu'uanu. That after 29 years of inquiry, the University of Cambridge's Duckworth Laboratory in England finally released the skulls, and Ayau repatriated them. That he has spent his life relentlessly pursuing and returning Native Hawaiian remains to Hawai'i. That he had once spent time in prison for his actions. All this intrigued me. In a place where so much has been stolen and destroyed, here was someone who was returning tangible pieces of what had been taken. No, not pieces, what was once people. At a time when it feels we are losing faster than we can save, Ayau seemed a bright light of dogged determination. And I wanted to know, what is it like to believe in something so strongly that you'd go to prison for it?
So when I meet him one morning over breakfast at Zippy's and find out he's heading on another repatriation trip later that week to California and Ohio, I ask if I can come. He says no. We continue to talk, and he tells me that on the same trip, he'll be attending Pearl Jam concerts in Dana Point in Orange County. That Pearl Jam's keyboardist, Boom Gaspar, is a friend who also grew up on Hawaiian homestead land in Moloka'i and gives him passes to concerts.
"Wait, do you plan your repatriation trips around Pearl Jam concerts?" I ask.
"You've figured out the method to my madness," he says. I ask if I can go to the Pearl Jam concerts then. He laughs, like it's a joke. I say I'm serious. The next day, he emails to say that if I really am serious, I can come on the trip, all of it, the concerts and the repatriations. Later, he tells me he's impressed with my persistence, that "history favors the bold."
Three days later, we are at a rooftop bar at a West Hollywood hotel, where Ayau's friend works and invited him to stay. I ask Ayau about the tattoos on his face—the four 'iwa like tears falling from the corner of his right eye, each one for a miscarriage. The birds, Ayau says, "are considered guardians of the burials because they hover about the burial sites from the air." ("'Iwa" can also mean "thief" in Hawaiian.) The five 'iwa inside his right ear, for each of his five children who lived, "so that they will listen to me." The lizard in his left ear was inked in 2006, during the Forbes Cave controversy, "the worst dispute in modern Hawaiian history," said The Honolulu Advertiser at the time, and which resulted in a federal judge sending Ayau to prison. Of the lizard, Ayau says, "I wanted somebody who was watching my back and whispering in my ear at the same time."
Ayau, who is 58, has spent the past 32 years "dealing with something that we never should have had to deal with," he says—the return and reburial of Native Hawaiian bones, many scattered across the country and Europe. Once, Ayau came across a skull on eBay, offered for $12,500 by a California man who took it decades earlier from an excavation site on Maui. But more often, Ayau hunts and tracks down ancestral remains from museums and universities, vestiges of a time more than a century ago when explorers and researchers robbed graves and trafficked human bones. He has led and participated in 130 repatriations, from the Smithsonian to Sweden, bringing back bones representing more than 6,000 individuals. "He's the leading Hawaiian expert on repatriation," says Kamakana Ferreira of the Office of Hawaiian Affairs, who works with Ayau on some cases. ("We do a pretty good, good cop-bad cop kind of thing," Ferreira says when dealing with reluctant institutions. "Sometimes he lays it down, and then I tone it down.") The key to Ayau's success is that "he's very persistent. He goes into the repatriation process assuming repatriation is going to happen."
"If I knew then what I know now, I never would have done it. Nobody would intentionally want to do this."


–Edward Halealoha Ayau
Ayau used to face more resistance from institutions that considered the bones their property or useful for their "genuine scientific value" (wrote London's Natural History Museum in 1992 in response to a repatriation request). But lately, places like "Cambridge, once they tasted the Kool-Aid of humanity, they loved it," Ayau says.
He says when people ask, "Why can't Hawaiians get their shit together?" it's because their foundation has been compromised by the removal and desecration of iwi kūpuna. The bones possess mana. In ancient times, he says, one of the ways Hawaiians declared war was by digging up the iwi of their opponents' ancestors. If they wanted the war to never end, they dug them up and burned them. Ayau has dedicated his life to finding iwi and returning them home, bone by bone. For him, doing so is nothing less than ending a war.
But his actions have pitted Native Hawaiians against each other. His opponents and harshest critics have included prominent Hawaiians who have called him a bully who lies to get his way. Ayau doesn't deny those charges. To those who disagree with him, he says "that is the influence of Christianity, the overall influence of colonialism and just how distant Hawaiian people have gotten from who they are."
He frequently has the air of a martyr, or "drama queen," as Suganuma says. Suganuma also suggests that Ayau profits off of grants for his repatriation work. To his critics, Ayau says: "You fail to understand it so badly. You think this is a privilege. But it's a burden. If I knew then what I know now, I never would have done it. Nobody would intentionally want to do this."
He says kāula, or seers, relay to him the voices of the deceased, angry at having their bodies removed and examined. "We may be dead, but we're not deaf," they say. To counter a life dealing with the dead, Ayau throws himself deeply into the pursuits of the living. Most Sundays, he flies from where he lives in Pauka'a on Hawai'i Island to play lacrosse in Honolulu. And then those Pearl Jam concerts. On the eight-day repatriation trip in October, he planned to attend two concerts at Dana Point, drive to the University of California, Santa Barbara to meet with its repatriation committee, then drive six hours to the University of California, Berkeley to collect a jawbone, then fly overnight to Cleveland to meet up with a repatriation team and collect five iwi, and fly to Hawai'i to bury them before sunrise the next day. Also, he says, he wants to visit the Rock & Roll Hall of Fame in Cleveland. The afterlife may be forever, but there is a lot to do before then.
But after spending a week with him on that trip, it occurs to me that what he calls balance—these recreations outside of repatriation work—could also come from the same place of rage and restlessness. Lacrosse, though often associated with East Coast prep schools, is a Native American sport that trained players for war, Ayau informs me. And while he found his way to Pearl Jam by chance, his affinity for the band unafraid to fight for causes seems only natural. With his extra concert passes, Ayau often invites friends from lacrosse, including those from Canadian teams. Once, when players from American teams asked why Canadians get invited instead of them, he told them, "because they're not illegally occupying my home."
At 2 a.m. after the first concert night, we take a Lyft back to the hotel. When the driver finds out we are from Hawai'i, he talks about how strict Hawai'i's protocols were for travelers during the pandemic. He says his friends visited in the early days of COVID and skipped out on the mandatory quarantine. "They were arrested!" he says in disbelief. Ayau, who had seemed to be dozing in the back seat, sits up and snaps, "Hawai'i is not your playground!" It's hard to pinpoint the target of his rage: Quarantine-breakers? Iwi takers? Or just outsiders in Hawai'i in general? Ayau's friends try to calm him down and explain to the driver the fragility of the Islands. After the driver leaves, Ayau seethes, "This is my vacation. I deal with this shit every day. It's not my duty to have to educate the ignorant." Then the anger recedes, and he just looks tired.
A few days later, Ayau is on a call with officials from the University of Freiburg in Germany to repatriate remains. Ferreira was alerted to the iwi by a University of Hawai'i anthropologist whom Ayau used to have "full on epic battles with," Ayau says. "But he's retired now, and more reflective of his career. Everybody's getting older and more mellow." Most of the iwi came from the late 19th century collection of Wilhelm Hillebrand, one of Hawai'i's most influential foreign botanists and physicians. The Freiburg officials say that the human remains were gifted to them, but bombing from World War II had destroyed some of the museum's records, and they're uncertain if they are Hawaiian. They seek Ayau's permission to examine the bones to confirm their ethnicity.
There is a long pause, and Ayau speaks in a voice of controlled anger. "No Hawaiian family has ever said, 'Take grandma's head, we don't need it. Take our grandchildren's head, hell, we don't need it.' We have to be assertive of our humanity. Because the way you framed it, you dehumanize us. Our role in all of this for the last 31 years has been to try and bring healing to our ancestors and our people, and that healing occurs through obtaining them, returning them and reburying them." The problem, he tells them, is any form of examination, or even exposure to light, is desecration. "This is the part of this work that we do that I hate. Because as if we weren't burdened enough, now we have to be saddled with the responsibility of 'oh, make sure you don't take somebody else's.' Which of course goes back to the original thought of the kind doctor that was in Hawai'i, who 'gifted' our ancestors' heads to this institution. He actually stole them. Somebody did, then trafficked them. But we're all talking about it like he was doing humanity some great favor. I hope we're clear that that's not what's going on here."
He ends the call, saying, "Let's please put our heads together to figure out what is the best way forward so that we identify our people accurately without causing them any further harm and arrange for us to come get them." He closes his laptop and looks at his friend and me, who have been sitting, quiet and subdued, in the wake of his rage. "What's for lunch?" he asks.
"When I graduated from Kamehameha [Schools], I was told I had the record for most suspensions (four) while still graduating," Ayau says. He remembers getting into a lot of fights. "My dad told me 'you just have to survive it, no matter what happens. If you get called out to fight you fight, even if you know the guy will kick your ass. You're just gonna get picked on worse if you don't.'"
Ayau was born and raised on Moloka'i during the time when Hawaiians sought to end the bombing of Kaho'olawe, which was being used as target practice by the U.S. Navy. His father used to sneak Hawaiian activists to Kaho'olawe by boat. Ayau went on to study Indigenous law, graduating from the University of Redlands and Colorado School of Law, and clerking for Native American activist Walter Echo-Hawk, who was instrumental in the 1990 passage of the Native American Graves Protection and Repatriation Act (NAGPRA), a federal law requiring institutions that receive federal funding to return Native American human remains and sacred and funerary objects to lineal descendants and Indigenous groups.
In 1989, Ayau, then a clerk for the Native American Rights Fund in Colorado, visited the dunes at Honokahua on Maui. "It was the most painful thing I ever experienced," he says, and that he felt so heavy he could barely walk through the area. By that year, more than a thousand skeletons in an ancient Hawaiian burial site had been exhumed to make way for a Ritz-Carlton. Bones were sent to labs for examination. Protesters, horrified by the treatment of the iwi, halted the development and demanded the bones be put back. "Those bones have been buried there for thousands of years, they are our history and our culture," Edward Kanahele, a history and social science professor at Hawai'i Community College in Hilo, said at the time. "We should not be swayed by the brief economic interlude provided by a hotel that surely won't last as long as those remains." Ayau said later: "If someone had removed 1,100 bones from Punchbowl, it would've been a crime, but to build a hotel on an ancient burial ground was not."
"My motivation is to bring forward the truth about the culture, represent those who cannot speak for themselves and what they wanted for the children that are yet unborn."

–La'akea Suganuma
The activists succeeded in forcing the Ritz-Carlton to move farther inland and reburied the iwi. The area is now designated a historic and cultural landmark, and Hui Mālama I Na Kūpuna O Hawai'i ("group caring for the ancestors of Hawai'i") was born. Edward Kanahele and his wife, Pualani, a cultural practitioner and daughter of legendary kumu hula Edith Kanaka'ole, founded Hui Mālama in 1989. They realized that not only were there no comprehensive laws covering the care of iwi, but that "Hawaiians had lost touch with our practices of caring for our ancestors," Ayau says, evidenced by OHA's initial greenlighting of the hotel development and examination of the bones. (OHA later reversed its position on the excavation, saying it didn't know the burial site's size and significance.)
Ayau began working on laws to protect iwi while studying under the Kanaheles. "They keep telling me, 'You're not going to get any of this until you understand the cultural side. Otherwise, this is only in your head, you're not going to get it. You're going to make the same mistakes the OHA guys did, thinking we gotta acquire knowledge, we gotta desecrate our ancestors. That's not the way. You gotta mālama them, you gotta just take care of them. You don't take from them."
Ayau helped author Hawai'i's burial treatment law that passed in 1990, giving unmarked burials the same protection as modern cemeteries. "We had intense opposition from the large archaeological and anthropological groups in Hawai'i because they felt like we were undermining their academic integrity. I used to tell them that's just code for undermining your racism," Ayau says.
Honokahua and NAGPRA marked the beginning of modern protections of Native remains, but by the late '90s and early 2000s, controversy around Hui Mālama was escalating. Among the disputes: In 1997, Hui Mālama declared that a statue being sold by a museum of natural history in Providence, Rhode Island, was a sacred object that should be returned to Hawai'i. Before a NAGPRA review committee, Herb Kawainui Kāne, a beloved Native Hawaiian artist, historian and a founder of the Polynesian Voyaging Society, testified that it was more likely a fishing pole rack. Pualani Kanahele, after listing her credentials and lineage, turned to Kāne and said, "And where are you from? Minnesota?" Ultimately, the committee decided in Hui Mālama's favor. That was one item. A few years later, Hui Mālama would be accused of stealing 83 objects that it considered sacred.
And it's at this point, as I began reading through the archives, I realized that this isn't the straightforward hero story I thought it was. Instead, I had waded into a controversy about "what it means to be Hawaiian," as a Honolulu Star-Bulletin article said at the time, one that a judge once compared to religious conflicts in the Middle East that lead people to strap bombs to themselves. That this is a story about beliefs and how they continue to divide us, from Maunakea to the pandemic. And if the Forbes dispute was like war, does that make Ayau the suicide bomber?
In 1905, David Forbes, a Scottish plantation manager and judge in Waimea, and two others explored a burial cave in Kawaihae, later known as the Forbes Cave. They stole a mummified baby, four bundles of bones wrapped in kapa and cultural items, including four ki'i 'aumākua and ipu 'aina (refuse bowls inlaid with human teeth). Forbes wrote to William Brigham, then director of Bishop Museum, asking the value of the items, and Brigham expressed interest while also cautioning to "keep the matter quiet for there are severe laws here concerning burial caves."
Forbes and his friends drew straws to determine who got what. Over time, through donation and purchase, Bishop Museum acquired most of the items. NAGPRA passed in 1990, and in 1998, Hui Mālama repatriated the iwi removed from the Kawaihae cave. But the museum retained possession of the cultural items "in favor of further discussion," wrote Ayau in a November 1999 report. "Although Hui Mālama strongly disagreed with this decision, we felt that we could not turn down an opportunity to return the iwi kūpuna closer to their home and to their families, and so we proceeded with repatriation. Culturally, when objects are placed with iwi kūpuna, the relationship is considered eternally binding. Nothing can interfere with this bond, especially not the curiosity of the living. It is imperative that the Native Hawaiian Organizations involved come to understand that the objects are all moepū (funerary objects) and must be reunited with the iwi kūpuna immediately."
"Immediately" didn't happen fast enough for Hui Mālama. On a Saturday in February 2000, two museum employees, likely sympathetic to Hui Mālama's cause, packed 83 items from the Forbes Cave and two other nearby Kawaihae burial caves in crates and gave them to Ayau with an invoice that called it a one-year loan. Over the next year, more Native Hawaiian groups, including Suganuma's organization, emerged as claimants. (Under NAGPRA, claims by lineal descendants trump all others, but in their absence, any Native Hawaiian organization with cultural affiliation to the items can submit a claim.) Bishop Museum requested the items back. Hui Mālama refused.
Ayau told reporters then: "We never intended to give them back. We reburied them. We did this for our kūpuna. We did this to set things right." When I ask Ayau about this loan, whether it was really a loan, he says, "I was the repo man; I can lie, say whatever I want. They never belonged to the Bishop Museum. They were stolen."
Then in 2004, pieces that Hui Mālama had said it reburied in another cave, at Kanupa on Hawai'i Island, surfaced on the black market. People began questioning whether Hui Mālama was actually reburying the iwi and funerary objects or selling them. In 2006, federal agents and a private investigator hired by Hui Mālama eventually identified the thieves who stole the items from the cave.
But the idea of burial caves and their contents being susceptible to theft and deterioration convinced Abigail Kawānanakoa, descendant of Hawaiian royalty and a Campbell Estate heir, to throw her resources behind Suganuma, a cultural steward who wanted the items back at Bishop Museum. Hui Mālama members were "maka'āinana," or commoners, she said, who would never have been a part of the rituals at the Kawaihae caves, an ali'i burial site. The conflict escalated to federal court.
At the heart of the clash was a fundamental disagreement of what the items in the burial caves stand for. For Ayau, they belong to the dead. For Suganuma, they belong to the living.
Ayau and Hui Mālama refer to a Hawaiian saying reported by Mary Kawena Pūku'i (Suganuma's own grandmother), "Mai lawe wale i na mea i ho'omoepū 'ia," or "Don't wantonly take things placed with the dead." Ayau believes the 83 items were placed with the dead to provide nourishment, comfort and protection in the next world, and returning the items to the dead honored the ancestors' wishes.
Ayau remembers a classmate calling him and saying, "I gotta tell you, Hale, that what you guys did I really disagree. I'm a single Hawaiian mother and I took my daughter to the museum to teach her her culture, and there was an empty glass case with a note that said removed by Hui Mālama. You're interfering with my responsibility to teach my daughter." Ayau replied, "Number one, there's no culture in the museum. A museum is objects. If that's your definition of our culture, you're in trouble, too. Our culture is a dynamic interaction between our values, our 'āina and those objects. Objects themselves are not culture. If you like teach your daughter her culture, teach her not to steal from the dead."
Suganuma doesn't consider the items funerary, but perhaps placed there after burial for safekeeping after 1819, when Queen Ka'ahumanu ordered the destruction of heiau and statues of ancient gods. "The items in there are not the personal items you would want the deceased to take with them on their travels," he says. "Most of this I learned from my grandmother Mary Kawena Pūku'i. I was practically raised at the museum. I've seen all these articles from when I was little. The people that worked in the museum in those days knew how to take care of these things. Send away whatever was with them so that nobody would be hurt. My grandma worked there a long time. My motivation is to bring forward the truth about the culture, represent those who cannot speak for themselves and what they wanted for the children that are yet unborn."
In some ways, whether the items are funerary or not is beside the point for Suganuma. "It's a decision of those people whose items they belong to," he says. "So in one case, they may say they want these things to be revealed; in another case, they say, 'nope, nobody will ever see them.'" In this case, though, "I think that these things were revealed, so that their descendants and the people would know what they were capable of doing." In other words, the dead, just like us, who will eventually join them, have differing wishes for their possessions when they're gone.
The federal judge ordered Ayau to disclose the location of the reburial, which he refused. The judge threatened imprisonment, to which Ayau responded, "I would be honored." Ayau rang in the new year of 2006 in prison, where he stayed for three weeks. Supporters likened him to Gandhi, Martin Luther King Jr. and a prisoner of war, while others said, "It shall no longer be the Hui Mālama way or the highway." When it was clear that Ayau would not yield, and there was no resolution even after months of ho'oponopono with mediators Nainoa Thompson and Earl Kawa'a, the judge went through the Department of Hawaiian Home Lands to locate the cave (on state lands and under DHHL jurisdiction). A group including Bishop Museum representatives retrieved the cultural items, leaving the iwi. They were returned to the museum, not for display, but for safekeeping as the more than dozen claimants tried to agree on what to do with them. Today, there still isn't a resolution for the items.
"The sad thing here is that we have Hawaiians versus Hawaiians," said the judge presiding over the case at the time. And yet, Hawaiians versus Hawaiians is nothing new—the locations of burial caves for ali'i were secret so that enemies couldn't find the iwi and use their mana against them. Two of the pieces Forbes took from the cave were bowls with human teeth embedded in them, to use like a rubbish can, a state of perpetual desecration.
What religion, what group, even, doesn't have conflict? The burden and faith of all religions rests on humans, those capricious, emotional, unreliable beings interpreting history—history written by humans, those capricious, emotional, unreliable beings—for guidance on how to live in the present.
"You're Hawaiian, right?"
Sara Kahanamoku steeled herself for the question that would come next. Her adviser at Berkeley had discovered a jawbone from a Hawaiian in the zoology department and wanted to return it to Hawai'i. (Yes, the zoology department.) Kahanamoku contacted Ayau. The last time Ayau was at Berkeley was in 1993, repatriating iwi from its museum of anthropology. Tim D. White, curator at the museum and an anthropologist famous for discovering Lucy and Ardi, some of the oldest remains of human ancestors, opposed the repatriation. He likened it to taking a book from the Library of Congress and setting fire to it. Ayau responded, "You just compared grandma to a book."
In 2012, White co-authored a book that argued "skeletons in museum collections … have the potential to inform all people about the past. When reburied, they will join the vast majority of ancestors who have gone missing without a trace. Who looks out for the unborn great-great-grandchildren of contemporary Native Americans or Australians? Who will tell the generations to come that during the late 20th century, some of their relatives decided to deprive them of the best means of knowing the past?" In reading this, I'm reminded of what Suganuma had said about "bringing forward the truth about the culture" for the children "yet unborn." And that's Ayau's point—when you take from the dead, then what's to stop you from taking the dead themselves, and then what's to stop you from taking everything?
This time, however, after the iwi transfer ceremony, staff show Ayau an online database of their entire anthropological collection of cultural objects. They tell him to look at anything identified as Hawaiian, and if he believed it belonged in Hawai'i, they would begin the process of repatriation. Ayau clicks through. There are pages and pages.
"The point of the ceremony is to establish trust. You can tell when they don't. You have problems. That's their way of expressing discomfort. When everything goes well, they fit in, they trust that we know what we're doing to take them home."


–Edward Halealoha Ayau
The day after, we are in Cleveland, and I feel like I'm in a heist movie. The repatriation team has transformed a suite at the Hilton into a command center. Pelican cases, heavy duty boxes protected with foam, line the perimeter. Nestled in them are lau hala baskets, in which the human remains will be placed. No'eau Peralto, who will lead the ceremony the next day, goes over his printed plan with Ayau. Mana Caceres has already driven the route from the Cleveland Museum of Natural History back to the hotel, guided by Siri's voice in British English, to make sure he won't get lost. The entire team, which also includes Kalehua Caceres and Kalena Thatcher, have practiced wheeling the Pelican cases through the hotel lobby and lifting them over the gap between the floor and elevator to ensure the smoothest transition for the iwi kūpuna.
The next morning, during the museum site visit, a room is set up for the transfer of iwi and a lei niho palaoa, a lei made of cords of tightly braided human hair and a pendant of whale ivory shaped like a tongue. Ayau asks for the windows to be blacked out. "Please do not allow any direct light upon them (the iwi) at any time, for their world is pō (darkness)," he says. The museum is building a new wing, but all construction will be halted during the ceremony to ensure quiet. Ayau measures the lei niho palaoa to make sure it will fit in a Pelican case. Sometimes, iwi "don't fit in the containers that we bring," Ayau says. "The point of the ceremony is to establish trust. You can tell when they don't. You have problems. That's their way of expressing discomfort. When everything goes well, they fit in, they trust that we know what we're doing to take them home."
After gathering last-minute materials from Target and lunch at Panda Express, it's time. The group reconvenes in Caceres' suite, all of them wearing kīhei, black cloth draped and knotted over one shoulder, and the men in malo. They chant Nā 'Aumākua in unison.
There is more, but Ayau prefers I not publish it. They each take a Pelican case and load into the van, drive to the museum and enter, silent the entire way, until they reach the closed door of the room where the museum staff have placed the iwi. Like a flock of birds in flight, they form a V, one hand on the shoulder in front of them. Each of them in turn recites their lineage, in voices that range from confident and strong to wavering with tears.
Ayau says the purpose of the genealogical chant is to "introduce yourself to them. You introduce who your parents are, who your grandparents are, you just keep going back as far as you can. Because what you're trying to do is find a family line that they come from. Once that connection is made, then they trust you because they know you're 'ohana."
Some prominent Hawaiians have criticized Pualani Kanahele, who established with her late husband the reburial protocols, for "making it all up." She says in a 2006 Honolulu Advertiser article that "[w]hen we first started, we were baffled with this because the whole thing was totally new." She said she researched traditional chants passed down by her family and studied older burials. Of course these are new rituals, Ayau says, because "reburials are a contemporary problem. Our ability to create ceremony to connect to ancestors, connect our genealogy to make them comfortable—I think that's awesome."
At the museum, the five Hawaiians open the door and enter the darkness. I do not enter because I am not Hawaiian. From outside, I can hear their prayers. An hour passes, then two. And then, as it grows dark outside, thunder and lightning strike. Almost five hours later, they are wheeling the cases back through the Hilton lobby, stern, purposeful, quiet, the black malo and kīhei exposing tattoos that run along their legs, and for some, to their faces. People know instinctively to give them space. Each case is in the care of one person, and they are carefully stowed in the rooms. We set an alarm to wake up at 5 a.m. to catch our flight the next morning, but not so loud as to disturb the kūpuna. I sleep lightly, and wonder if the bones, in their dark boxes, do too.
We reach Honolulu's airport, met by representatives from OHA and the burial council on Maui. They perform a handoff ceremony, with airport officials trying to direct unaware travelers around the group so the ceremony won't be disrupted. One woman tries to pass through anyway. She needs to find the Wiki Wiki shuttle. Throughout this, I am struck by how the urgency of the past chafes against the present. Bones that need to return home. Bones that need to be kept for future study because our scientific methods are constantly evolving. Items that need to be reburied. Items that need to be preserved, a reminder of a culture that was almost obliterated. But how do you decide which beliefs should prevail? Suganuma says he doesn't condone Ayau's methods, the bullying and lying. But when you didn't grow up in a museum, and instead learned that you need to take back what was taken from you, fully aware of the history of people taking your country by force or lies, how is it possible to see another way to accomplish what you believe is right?
Ayau texts me the next morning. "Our reburial on Hawai'i Island went well last night and the reburial on Maui too. All iwi and moepū from this repatriation trip were in the ground before the sunrise."
Hui Mālama dissolved in 2015—Ayau says it had done its job of raising awareness—but Ayau continues to teach workshops on reburial protocols to the next generation of practitioners, his work largely funded by grants. And since the Cleveland trip, he has gone on to repatriate from institutions in Berlin, Vienna, Edinburgh and Belfast. "History favors the bold," Ayau had said. Boldness, however, does not equate to virtue or heroism or vice or malice—history is populated by saints and despots alike. Boldness can obscure complexities in favor of certainty. But that's the unfortunate truth of history: If you don't write it, someone else will.