Eating Okinawan: Izakaya Naru
A modern hole-in-the-wall from Tokyo with legit Okinawan food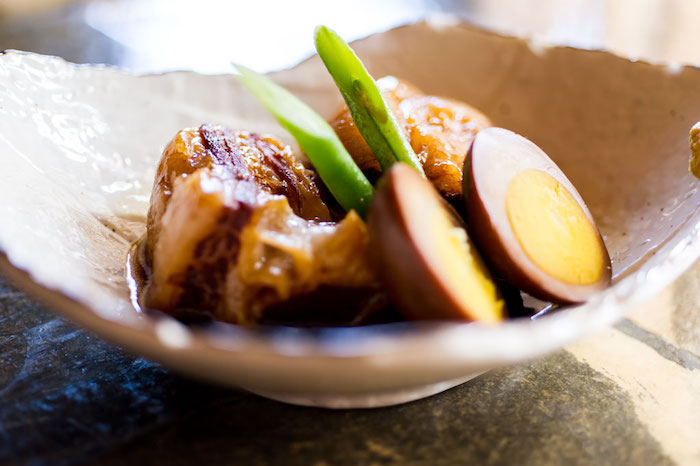 When Izakaya Naru opened its doors in 2010, I dubbed it faux Okinawan. Even though it served Okinawan food and awamori, Naru was part of a small chain from Tokyo and none of the staff were Okinawan.
However, Naru has more than proved itself. The food is authentic Okinawan and delicious. I was wrong to mock them!
Insider tips:
Naru seats 27 people — make reservations.
It is located in a busy strip mall, so parking can be competitive. Street parking is limited.
The place can get noisy as alcohol consumption increases. If you are bothered by loud and cramped spaces, you might want to order takeout.
There's no fixed sign, but you'll see a noren (Japanese cloth banner) in front of the door when they are open.
Opt for family style, order a lot of dishes and share.
Here's the thing you REALLY need to know. Izakaya are not like restaurants where you wait for your server to check on you. At Naru, it is okay to yell out "Excuse me!" to get someone's attention when you're ready to order food or drink.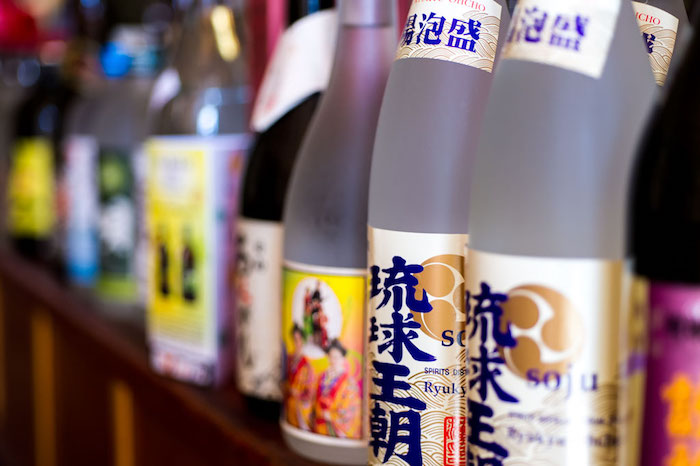 AWAMORI
Awamori is a distilled liquor only found in Okinawa. I like to drink young awamori mixed with other ingredients (like you do with vodka) and I treat aged awamori like single malt scotch (sip and savor). While Naru has a variety of awamori labels, I enjoy their infused awamori. Flavors include Kona coffee, shiso, pineapple, kokuto (brown sugar unique to Okinawa) and ukon (turmeric). The awamori infuses with these flavors for a month before being served. Until you figure out your favorite, you can get a sampler for $9.50 that lets you pick three flavors. My favorite is the shiso.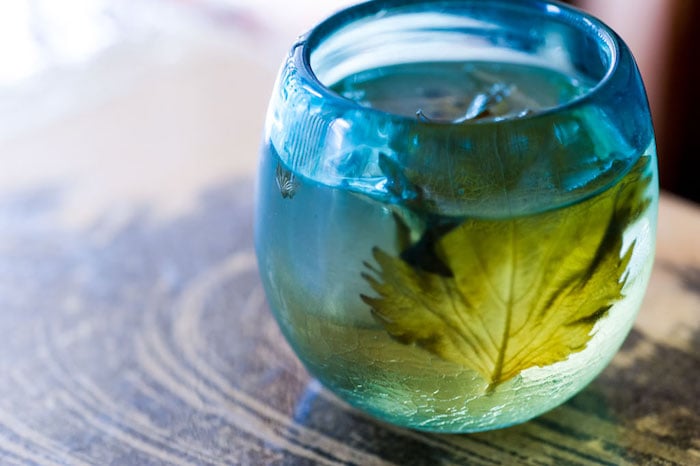 THE FOOD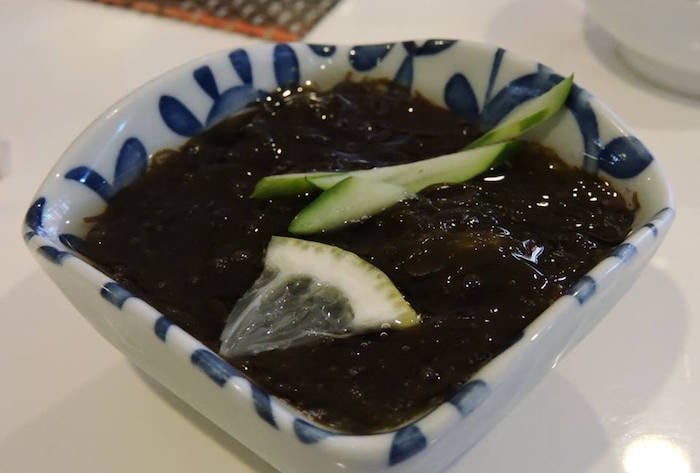 Mozuku, $4.25
Mozuku is a seaweed harvested in Okinawa. It has a refreshing taste and a slimy texture that makes it awesome to slurp.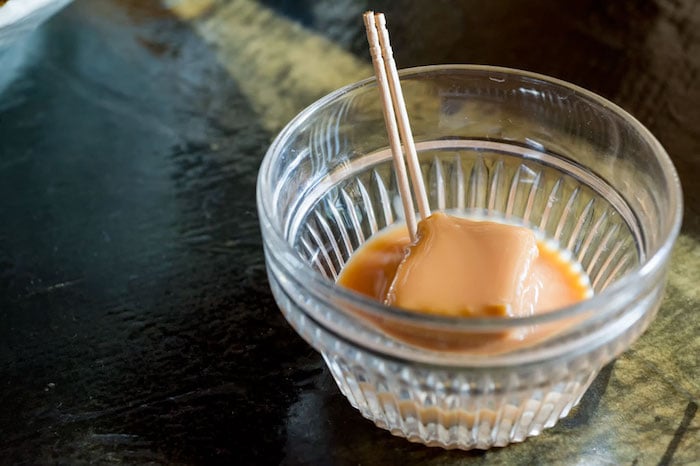 Tofuyo, $6.75
Tofuyo is a fermented tofu that is reminiscent of stinky cheese and pairs well with awamori. Tip: Scoop up small bits with a toothpick and savor it a little at a time. Do not pop the whole thing in your mouth.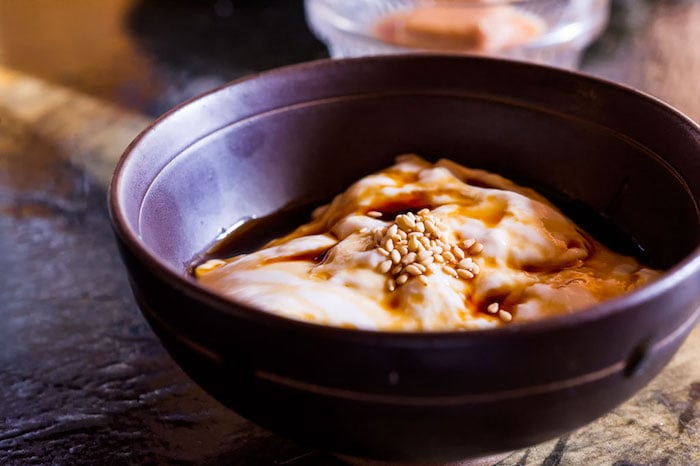 Special to Naru: Jimami tofu, $6
Naru makes this Okinawan peanut tofu in-house! They serve it with a shoyu, sake and mirin sauce with a garnish of sesame seeds. The texture is very smooth and gooey, with a delicious peanut flavor. Naru is the only place here that offers jimami tofu. This is one of my favorite Okinawan dishes!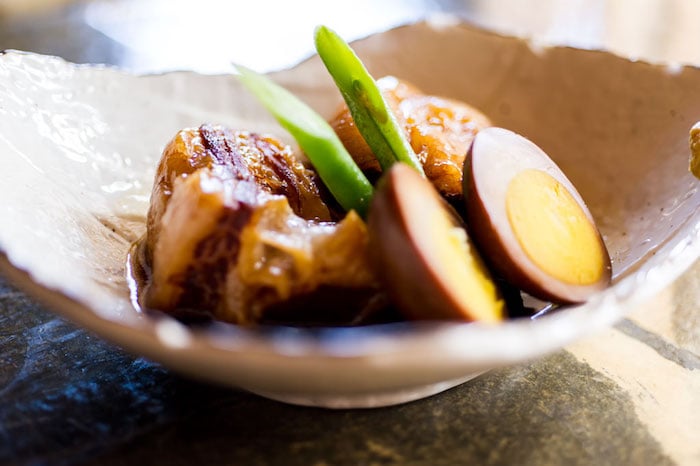 Rafute, $9.75
Naru uses a pressure cooker for this pork belly cooked with shoyu, mirin, awamori and kokuto (brown sugar). The flavor is not overly sweet, which is really nice.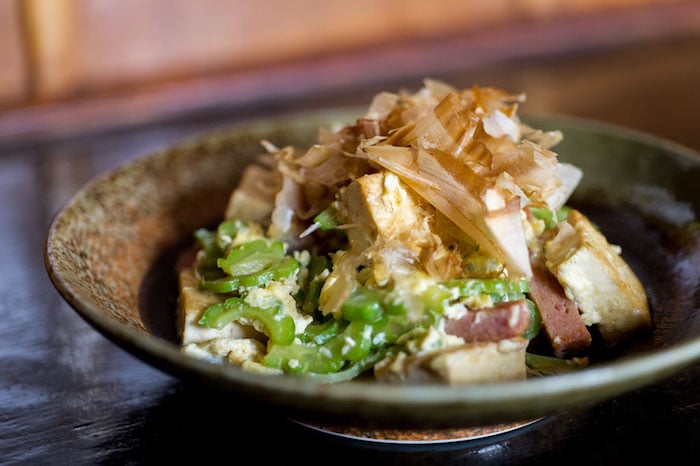 Goya champuru, $8.75
Large pieces of tofu, Spam and goya bitter melon are sauteed, with salt and sake added to mitigate the bitterness and dashi added for seasoning. Eggs go into the dashi, so they end up fluffy. The goya is cut super thin, which I like. My friend Todd Maeda loves Naru's goya champuru and calls a gateway goya — not too bitter and a great way to bring people over to the "bittermelon side."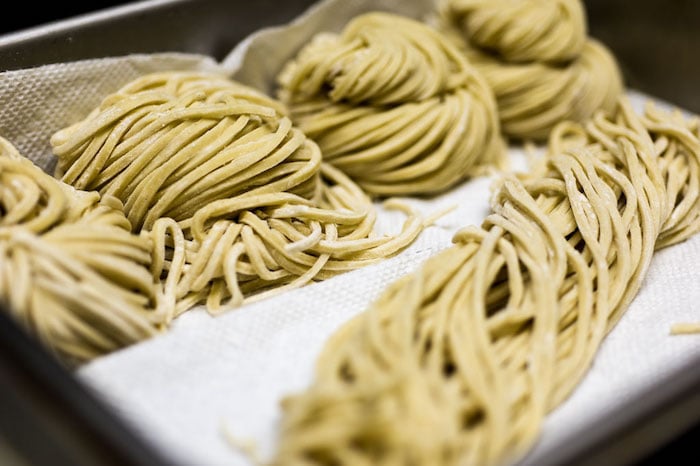 Okinawan soba, $10.75
Naru makes their Okinawan soba noodles in-house and cuts the noodles daily! They are not wavy or yellow like the Sun noodles that the other Hawaii Okinawan restaurants use. You can taste the freshness in Naru's noodles, meltingly soft and chewy. The broth, made from pork and fish, is light and flavorful. There are three options for toppings: souki (sparerib), kakuni (pork belly) and tofu.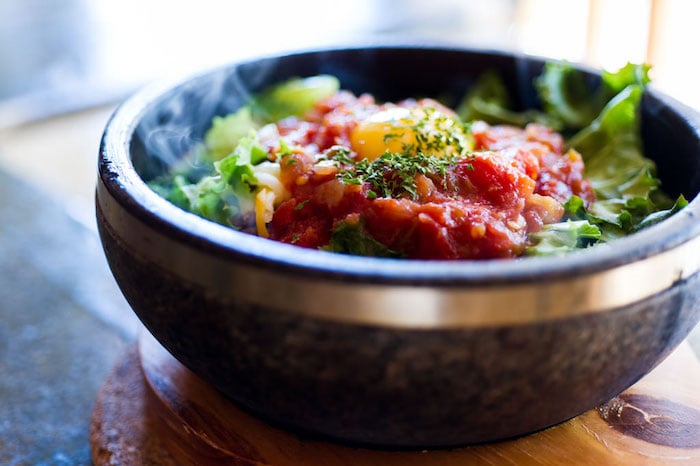 Special to Naru: Okinawan taco rice bowl, $11.75
Taco rice is a fusion between Tex-Mex and Japanese flavors. It is a really popular dish in Okinawa with locals and U.S. military personnel. Don't confuse it with tako (octopus)! Think of it as the ingredients of a taco placed on top of white rice.
At Naru, the dish has a Korean twist: It's served in a sizzling hot stone bowl like bi bim bap. Rice, seasoned ground beef, shredded cheese, lettuce, salsa and a raw egg yolk are layered in. You can hear the rice sizzling against the hot stone as it is brought to the table, where the server mixes everything together for you.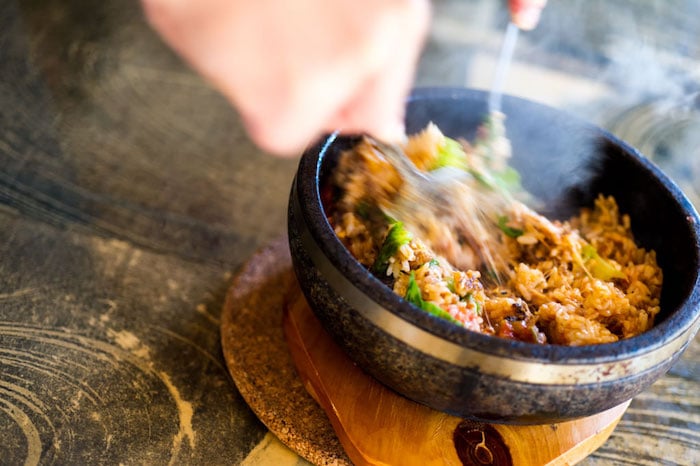 There is a richness of flavor from the meat and salsa, with some spiciness. The lettuce does get cooked and leaves the impression of lettuce flavor. Thought it would be odd but it worked! I tried the original taco rice in Okinawa and prefer Naru's version. The use of the hot stone bowl is brilliant.
Note: If you want a more traditional taco rice like what you'll find in Okinawa, try the one at Ethel's Grill in Kalihi. They layer on rice, American cheese, seasoned ground beef, lettuce, eggs and salsa. To top if off, they break a crispy taco shell in half and stick it into the top. Ends up looking like a rabbit!
Izakaya Naru is distinctly different from Honolulu's other three home-style Okinawan restaurants, but in a good way. They bring in delicacies from Okinawa and serve authentic dishes along with a clever contemporary twist on taco rice. What gets my respect is the time and effort they put into making their Okinawan soba noodles and jimami tofu from scratch. Kwatchii sabira! Let's eat!>
Izakaya Naru
2700 S King Street
951-0510
Monday-Sunday, 5:30 pm to 2 am *
* Closed periodically on some Tuesdays
– Photos courtesy of Todd Maeda
Here's the rest of our Eating Okinawan series: