Eating at the bar by yourself—and where to go—in Honolulu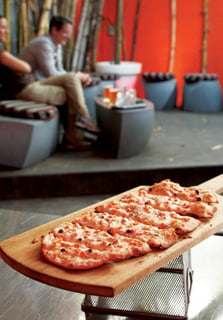 Eating at the bar by yourself has a stigma to it. Some people find it embarrassing and constantly fidget with their phone, as if they're trying to convey that they're not always alone. And, then there are the few that are comfortable with it (namely men). As a nightlife writer, I dined alone at bars a few (too many) times and believe it or not, nobody cares that you're there by yourself. So, pull up a stool and dine at a bar—on your own schedule and with no reservations.
JJ Dolan's
Okay, if you're the type that worries about people seeing you at a bar by yourself, JJ's is the perfect place for you. It's so packed that no one will be able to tell that you came alone. Because of the noise, striking up conversations with fellow bar mates is difficult—so, this one is also perfect for the quiet types. Another plus: pizzas are served by the slice. 1147 Bethel St., Chinatown.
Bar 35
This bar is not as packed on weekday nights, and you won't be the only person at the bar by yourself. The flat-bread pizzas are made to share, but you could eat the whole thing by yourself (you didn't hear it from me). And the drinks are a decent price too during happy hour with $3.75 martinis. So, if you're looking for a bar for its drinks as much as for its food, then I recommend this one. 35 N. Hotel St., Chinatown.
Side Street Inn (Hopaka and Kapahulu)
No matter which location, these bars were built like they were made for single diners with ample bar space. John Heckathorn wrote, "the food is upscale. Everyone always eats the pork chops and the fried rice. But it pays to explore the rest of the menu," in his 2006 article "Eating at the Bar." You'll definitely have leftovers. 614 Kapahulu Ave. and 1225 Hopaka St., Honolulu.
The Beachhouse at the Moana
Of course, any upscale restaurants that you dine at will have a bar with an amazing menu to choose from. The night I dined at the Beachhouse's bar by myself, it was full of single diners. If you sit in the middle of them, getting caught up into other's conversations about their vacations in the Islands is inevitable. Moana Surfrider Resort, 2365 Kalakaua Ave., Waikiki.