Eat your way through Waikiki Yokocho's $9 lunch sets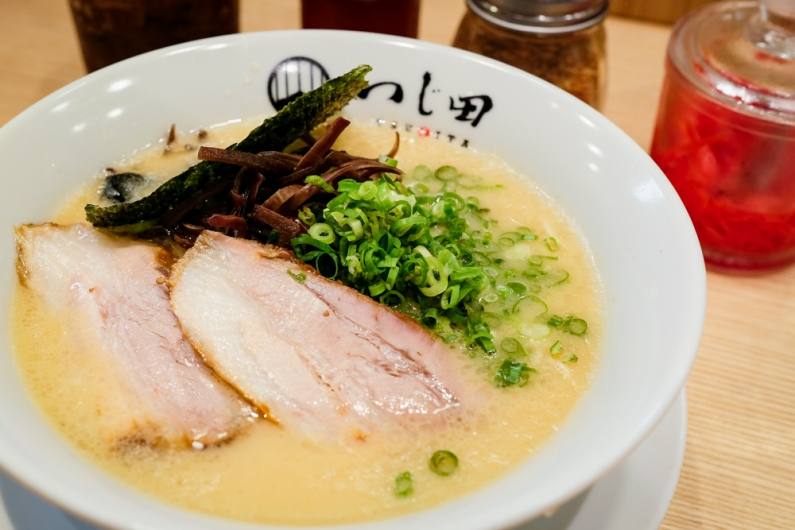 It's increasingly difficult to scope out a square meal for under 10 bucks. If you're one of the thousands that work or play in Waikiki, it's next to impossible. Waikiki Yokocho, the underground Japanese food mecca below Waikiki Shopping Plaza, aims to make lunch (11 a.m. – 2 p.m.) cheap again with a full line-up of meals priced at $9.95. Kamaaina? Flash your Hawaii I.D. for an additional 10 percent discount.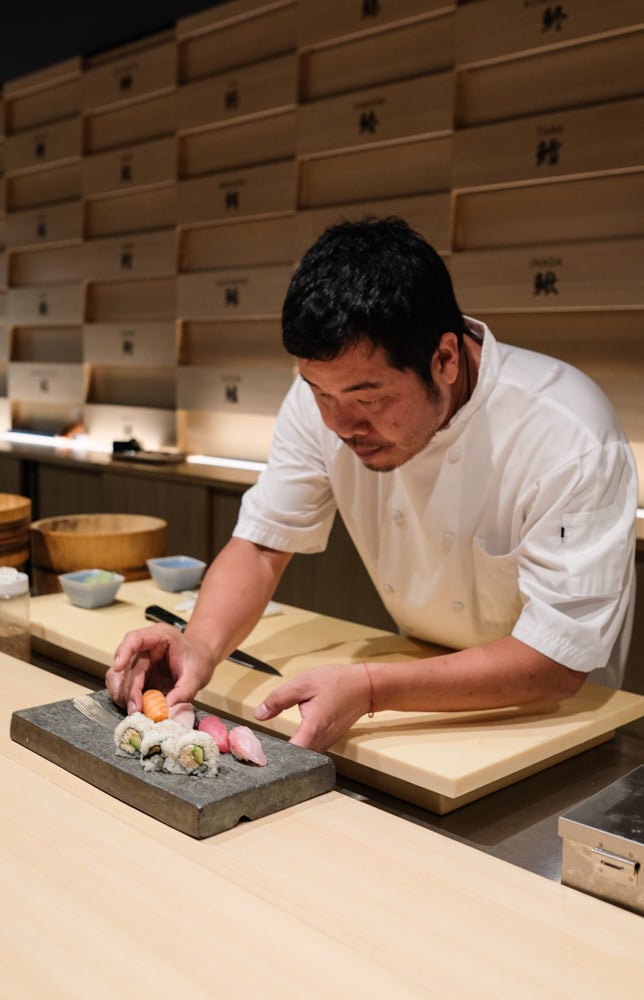 Yes, you can even get a sushi set for under $10.
I was invited by Waikiki Yokocho to check these meal deals out and I'm glad to report that they're almost even worth the trip from my downtown office and the trouble of parking in Waikiki. If parking were free, I'd be here more often than I'm willing to admit – the food is just that good.
Here are some of my favorites:
Tsujita – tonkotsu ramen
While this iconic noodle stand is known most for its pork- and seafood-based tsukemen (dipping noodles), Tsujita's humble bowl of tonkotsu ramen has officially stolen the show. The Hakata-style noodle soup has an opaque broth made from boiled pork bones, which makes for a distinct creaminess. The noodles, thin and straight, are meant to be eaten fast and can be accented by adding roasted sesame seeds, beni shoga pickled ginger, special ramen sauce and spicy miso paste. Extra noodles, kaedama, are available ($1.50/serving) until you've finished your broth.
It's one of the best bowls of ramen you'll have over, and over, and over, and over again without the heaviness or saltiness of other broths.
Umami Teppan Kingo – chicken karaage
Turning down a platter of universally delicious fried chicken would be a huge mistake, especially the one found at Umami Teppan Kingyo, the Osaka-based okonomiyaki restaurant. Boneless chicken thigh pieces are marinated in a koji-based sauce overnight before taking a dip in flour and hot oil. The result is a feast of hot chicken karaage with top quality rice, miso soup and salad for $9. The koji marinade helps break down any chewiness in the chicken and actually seals in all of its delicious juices – just pair it with an ice cold biiru.
Beniya – sushi set
When you're craving a splurge meal but can't front the cash, let the luxe sushi bar at Beniya make you feel at home with a nine-piece $9 sushi set. The fish, some flown in from Tokyo's Tsukiji Market, change daily yet represent a seasonal variety many can enjoy in nigiri form while the California roll and spicy tuna or negitoro gunkan are a nice addition to the set.
Sizzle – yakiniku donburi
The simplicity of this gyudon or beef rice bowl makes for a comforting lunch option. The marinated beef, similar to kalbi, was tender and flavorful although the portion was on the small side. But when you consider it incorporates wagyu beef, house pickled kimchi and steamy premium rice from the Rice Factory, you'll realize it's still great deal at $9.95. It may be just enough to get you and your budget through the day.
Baikohken Ramen – kale ramen salad
Hannosuke Kaneko Tempura – kakiage bento (take-out only)
Kushikatsu Tanaka – chicken katsu set
Nana's Green Tea – matcha shiratama anmitsu with houjicha tea
Nin Nin Curry – shrimp curry udon
Nomu – Hanalei IPA beer with chicken namban
Ramen BARIO – half ramen
Shichimusubi – omusubi (2) and tonjiru (pork miso soup) set
Tonkotsu Kazan Ramen – vegetable ramen
Waikiki Yokocho
2250 Kalakaua Ave
Basement of Waikiki Shopping Plaza, same building as Buho Cocina y Cantina and Tanaka of Tokyo
Available only between 11 a.m. and 2 p.m. or until quantities last
www.waikiki-yokocho.com