Eat the Street Pro Bowl preview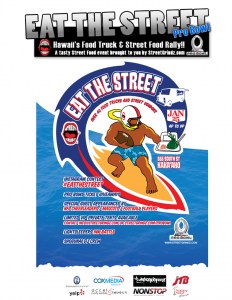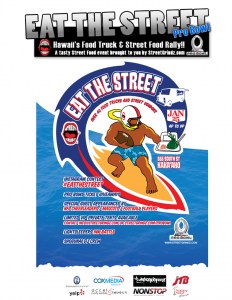 Biggest. ETS. Ever. Seriously? We had to count twice — 53 food trucks and street food vendors, every one tonight serving up an iconic dish from an NFL city. And since this one's an official Pro Bowl event, that means you'll be mingling with pro football stars, cheerleaders and mascots, and if you Instagram pics with the hashtag #eatthestreet, you'll get a shot at an hourly prize plus a chance to win the grand prize: a free ticket to Sunday's game.
But what is ETS about if not food? Tonight's eats span the country like the biggest tailgate party ever. Think Buffalo Bills wings, New England Patriots clam chowder, Cincinnati Bengals chili, Pittsburgh Steelers pierogi, Green Bay Packers poutine, Oakland Raiders coconut cake. Plus the dishes you'll see in the photo gallery below. From sea to shining sea.
Bring your cameras and get ready to snap your favorite team. See you in Kakaako tonight.
When: Friday, Jan. 25, from 4 to 9 p.m.
Where: 555 South St. in Kaka'ako (at Halekauwila, kitty-corner from Restaurant Row)
Admission: Free
Parking: On-site and street parking
Full list of vendors and menus here.
ETS Pro Bowl preview
Picture 1 of 8
Island Popper: Chicago Bears popcorn
Cheesy cheddar meets crispy caramel in this savory-sweet mix, a nod to the famed Garrett Popcorn's iconic Chicago mix. This one's made fresh just before and during ETS by Andrea Turnis-Vagenas, a Midwesterner who spent her college years in Chicago. She's calling it Da Bears Mix.