Eat the Street preview: Simply Ono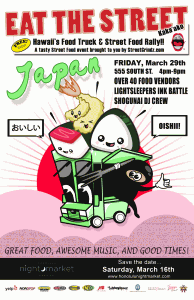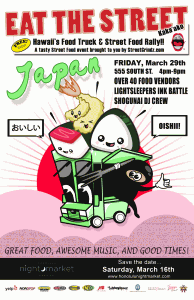 Yes, people, it IS the last Friday of the month already, which for the food-driven among you means one thing: It's Eat the Street night in Kakaako. Tonight's theme: Japan, meaning every one of the 40 food trucks and street food vendors will have at least one Japan-themed dish on the menu — or if they're like Simply Ono, they'll have five.
First, your necessary deets, then a quick video look at Simply Ono's unlikely, hot and sizzling hamachi kama.
When: Friday, March 29, from 4 to 9 p.m.
Where: 555 South St. in Kaka'ako (at Halekauwila, kitty-corner from Restaurant Row)
Admission: Free
Parking: On-site and street parking
Click here for each vendor's menu lineup.