Eat the Street Kaka'ako: A must for foodies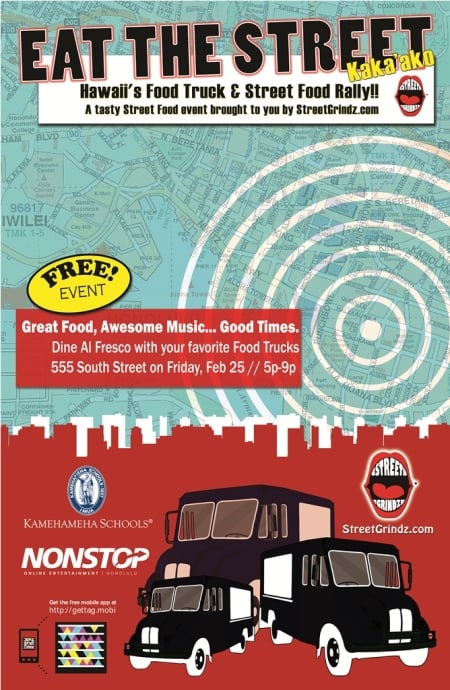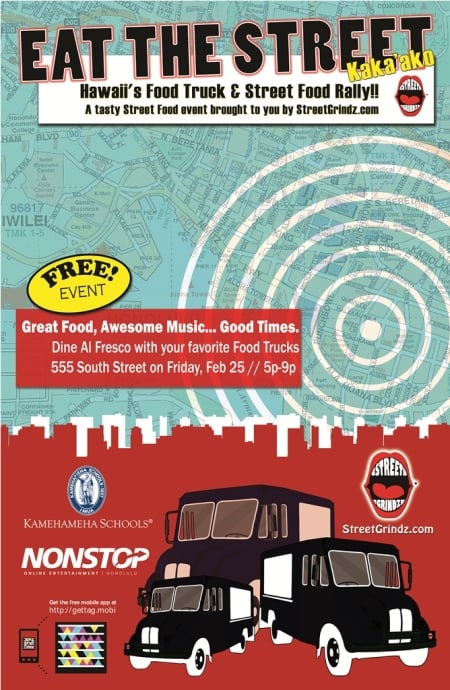 After January's hugely successful Eat the Street food truck rally — where 1,200-plus people jammed a Kapiolani Boulevard parking lot to taste everything from Gogi Korean Tacos to Melt's foie gras soup — it was clear Honolulu is hungry for innovative food events.
It was inevitable that Eat the Street organizer Poni Askew of StreetGrindz.com would throw another event, but this time, she's planning a much bigger food truck rally, with the help of two new partners — Kamehameha Schools and Nonstop Honolulu.
That's right. StreetGrindz.com, Kamehameha Schools and Nonstop Honolulu have teamed up for Eat the Street Kaka'ako, which will be held on Friday, Feb. 25, from 5 to 9 p.m., at a huge parking lot (at 555 South St.) owned by Kamehameha Schools.
Twenty six trucks and street food vendors have already signed up, including Melt Honolulu, Gogi Korean Tacos, Soul Patrol, Xtreme Tacos, Stacy's LauLau and Grindz, Malia's Pasteles and Poke, T.A.S.T.E., Let Them Eat Cupcakes, Dixie Grill, Elena's Home of Finest Filipino Foods, Zsoli's Chimney Cake, Le Crepe Cafe, Camille's on Wheels, Jawaiian Irie Jerk, Lickety Split, The Cafe Truck, Kaka'ako Kool, OnoPops, Fairy Cakes Hawaii, Simply Ono, J & K Local Grindz, 4 Caterers, Tacos Vicente, Whys Catering, Aloha Ice Cream Tricycles and Hawaii Hot Dogs. They'll also be other vendors and two DJs spinning tunes.
We're expecting a huge crowd, but this time, they'll be more space for people to roam, enjoy the music and eat al fresco. It's going to be a fantastic foodie event, so definitely mark your calendar.
While StreetGrindz remains the event organizer, Nonstop's role is to help promote and cover the event. We'll have preview galleries and video the week leading up to the event, and we'll be livestreaming the rally and posting photos and Twitter feeds on our site. We're really excited to be involved. We know our audience loves to go out, try new foods and meet new people, so Eat the Street Kaka'ako is perfectly synergistic to what we're all about.
Kamehameha Schools, meanwhile, has plans to build a new community on nine city blocks in Kaka'ako ma'uka, with shopping, dining and entertainment. Eat the Street Kaka'ako is a great way for them to be part of a fun, innovative event that supports their commercial tenants and mission.
If you have an iPhone, be sure to download the free Mālama Card app at http://bit.ly/MalamaApp. Participating food trucks will have deals available in a special Eat the Street Kaka'ako directory on the Mālama Card app.
So we'll see you on Feb. 25. And if you missed the first Eat the Street, here's a look at that event:
Eat the Street
Eat the Street
Picture 1 of 33
By Mari Taketa
Nonstop
An epic night, this town's first Eat the Street food truck rally, and if you were anywhere near the vicinity of Kapiolani Boulevard last night, you knew it.
How epic? For the first time ever in Hawaii, 10 food trucks plus more food booths converged in the parking lot across 24 Hour Fitness. Organizer StreetGrindz.com hoped for 800 eaters; by 7 p.m. there were more than 1,000: foodies, tweeps, lurkers and more, enough to earn a Swarm badge on Foursquare.
Totally chill crowd, which was good because the lines were epic too. As night fell, the wait for food at the most popular trucks stretched to more than an hour, and then the sold-out signs started going up.
Overall assessment? More, please. Honolulu's hungry for mainland-style food truck rallies. Last night absolutely proved it.
— Photo by Ernest Sanada