Eat the Street debut: Caribbean Spice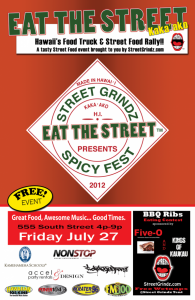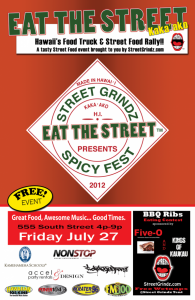 Spicy? You want spicy? How's 43 food trucks and street food booths serving up spicy crispy shrimp, kimchee wings, spicy ahi hand rolls, cayenne pepper popcorn, spicy salmon dynamite, chocolate chili gelato, spicy watermelon gazpacho, fresh roasted corn with jalapeno butter, fries with nuclear hot chili garlic sauce?
More? How about beef and chicken empanadas with spicy tomato sauce from Ono Empanadas or smokin' hot chicken and spicy mac and cheese from Tin Hut BBQ? Both make their first appearances at Eat the Street tonight along with newbie Jonny Mack and his Caribbean Spice. All you need to know about Mack: Blazing. Fire. Insane. These are in the names of his sauces. The rest is in the video below.
And if you're feeling some meaty heat, sign up for the BBQ rib eating contest, sponsored by Five-O Ribs and the Kings of Kaukau. It's just $15 to register, with prizes of $100 cash, $125 toward a Five-O Ribs catering event and a T-shirt. Email danny@fiveoribs.com if you want to enter.
What: Eat the Street Spicy Fest
When: Friday, July 27 from 4 to 9 p.m.
Where: 555 South St. in Kaka'ako (at Halekauwila, kitty-corner from Restaurant Row)
Admission: Free
Parking: On-site and street parking
Travel Channel's Andrew Zimmern shows how to eat that fish sandwich