Eat sushi off naked models, carrotmob Kale's Deli and more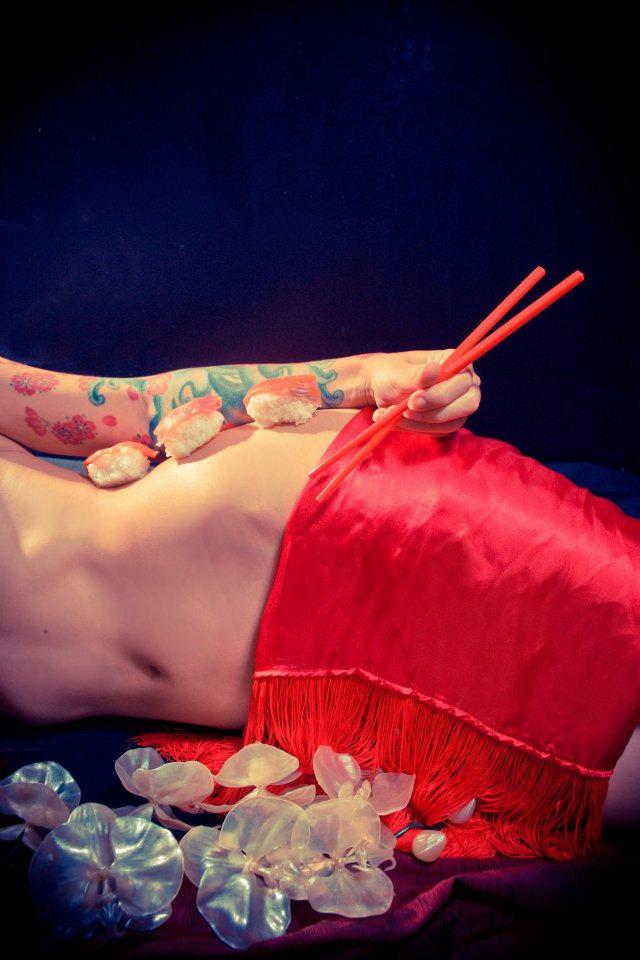 Naked Sushi Happy Hour at Chinatown's new sushi bar: RaKuen. A $10 Cover gets you chopsticks for eating sushi off of naked sushi models. Featuring Cherry Blossom Cabaret and body painting by Daniel Morris.
6:30-9:30pm, every 3rd Friday starting December 16, 1153 Bethel Street, 524-0920, rakuenlounge.com
(Update 12/7/11: Naked sushi cancelled. Read why.)

Carrot mob at Kale's Deli. Carrot mob: the antithesis of a boycott. Customers "mob" a business to help generate extra revenue for sustainability-related changes. The last carrot mob at The Wine Stop raised $6,912.43 for a more energy-efficient lighting and mechanical system retrofit. The next carrot mob will be at Kale's Deli, which will devote 20 percent of profits that day toward storefront recycling bins and cardboard recycling facilities at Hawaii Kai shopping center.
December 10, 8 a.m. to 5 p.m., Hawaii Kai Shopping Center, 377 Keahole Street, #A-1, 396-6993, kalesnaturalfoods.com
Outstanding in the Field, which originated in Santa Cruz, is a roving culinary adventure. Since 1999, it has hosted large dinners at farms, in sea caves or on cliffs. Its mission is to honor the growers and chefs who bring food to the table. It comes to Hawaii for the first time in 2012 for a series of farm dinners prepared by local chefs:
– January 14, 2012, Kauai: Kilohana Plantation, food by 22North.
– January 17, 2012, Maui: Kupaa Coffee Farm, food by Market Fresh Bistro.
– January 21, 2012, Oahu: MAO Organic Farms, food by Town.
– January 25, 2012, Big Island: Kekela Farms, food by Village Burger.
Dinners are $190. For more information on Outstanding in the Field and to buy tickets, visit outstandinginthefield.com.
Seasonal lunch service at Nobu Waikiki for the holidays. Menu items include Inaniwa udon and a small chirashi ($24); bento box with sashimi, black cod miso, rock shrimp tempura ($30); sea bass foie gras donburi ($32).
Monday through Friday, 10 a.m. to 2 p.m., from December 19 to January 13. 2233 Helumoa Rd., 237-6999, noburestaurants.com
At The Modern Honolulu, happy hour specials and a new pupu menu:
Wednesday through Sunday at the Lobby Bar, 6 to 9 p.m.
$9 cocktail specials including: Agent Rouge, with Russian Standard Imperial Vodka, Gin, and Lillet Rouge; and Caribbean Fizz with coconut, guava and effervescence.
New food items include grilled pizza ($8), ribeye ($12) and butterscotch banana cream pie ($9).
Sunset Specials are available at the Pool Bar daily from 4 to 7 p.m.
$9 cocktail specials including: Dragon Berry Hai with Bacardi Dragonberry rum, strawberries, fresh lime and ginger. $7 wine by the glass specials.
New food items: bacon wrapped hot dog ($10), short rib slider ($10).
1775 Ala Moana Blvd., 943-5800, themodernhonolulu.com