Eat here … or here … or here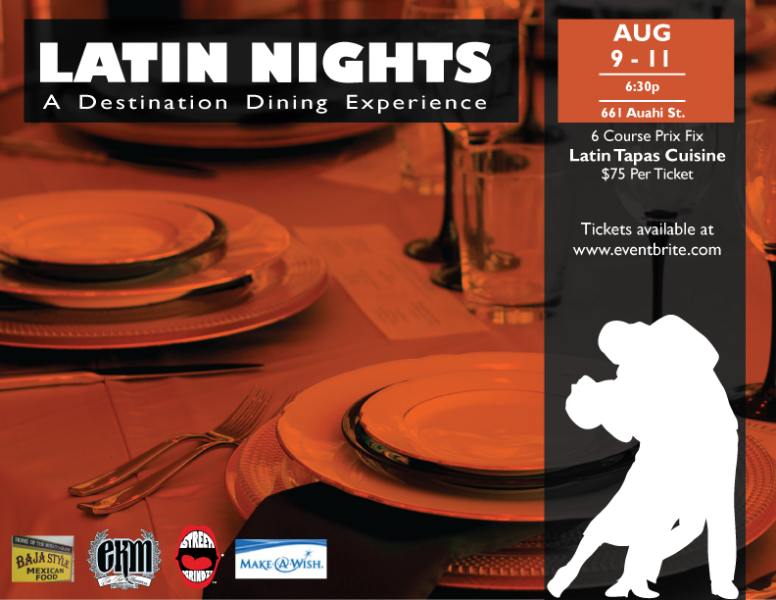 A year ago, pop-ups were so new to Honolulu they were like first bites that left us wanting more. We had only three: Pig and the Lady at Hank's Haute Dogs, Addis Ababa at J2 in Kaimuki, and Off-Premise, popping up once a month or so at a Waipahu warehouse, Kathy Ireland's Hawaii Kai estate and anywhere else you wouldn't think of.
Now we can gorge. This week alone, three excellent pop-ups present Honolulu eaters with a hard choice. Take your pick: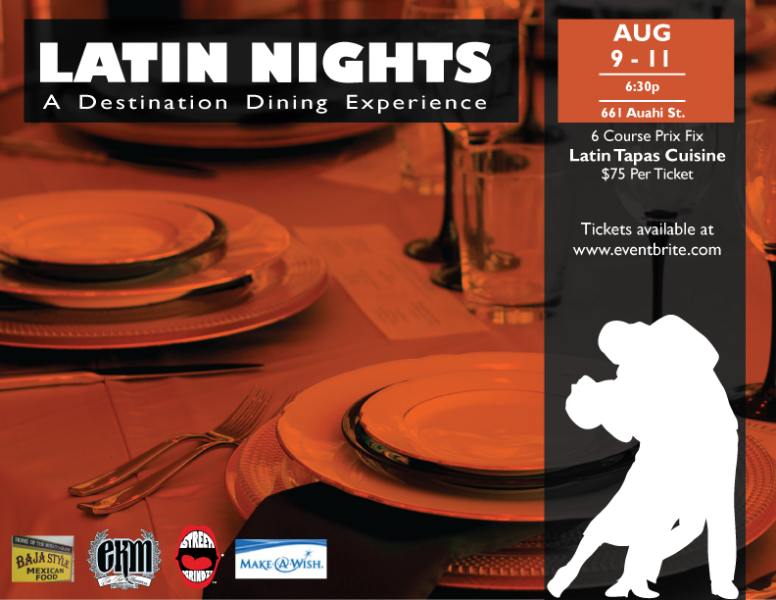 Latin Nights
What: Twelve high-end Latin tapas and two desserts by Baja Style food truck's Eric Okamura and Windy Aubrey (here's a preview), a 21-plus agua fresca bar and flamenco dancing in a transformed setting that will make you forget you're in a Kakaako warehouse. Proceeds benefit the Make A Wish Foundation
When: Aug. 9, 10, 11 at 6:30 p.m.
Where: 661 Auahi St. in Kakaako
BYOB? Yes; 21-plus agua fresca bar also available
Tickets: $75 online
Menu:
Quesada Con Camarones: Toasted cheese topped with shrimp
Mussels Sabrosa: Green-lip mussels on the half-shell
Ensalada Tropical: Arugula topped with fresh tropical fruit
Campenchana De Mariscos: Seafood cocktail
Atun Ahumado: Smoked ahi tuna with poblano chile and crema mexicana
Chicharones Cubana: Citrus- and garlic-infused, roasted pork belly with crispy skin
Barbacoa De Biria: Slow-baked goat in a mild red chile rub, topped with pickled onions
Nopales Salad con Tapenade: Marinated cactus paddles topped with olive tapenade
Pescaditos: Deep-fried whole baby smelts
Tamale Con Huitlacoche Y Pollo: Corn truffle and kiawe-smoked chicken steamed in corn masa
Papillote De Pescado: Baked fish layered with herbs and spices
Calamare Relleno A La De Ajos: Baked whole baby squid in a garlic sauce
Flan De Coco: Coconut egg custard
Kahlua Trifle: Cakes and creme laced with Kahlua liqueur
Cafe De Canela: Cinnamon coffee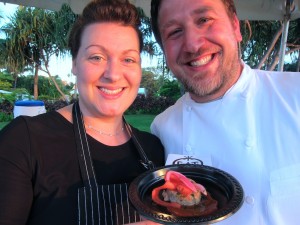 Ready to EAT!
What: Off-Premise's latest pop-up, featuring appetizers and three courses by David Passanisi of EAT Honolulu
When: Friday, Aug. 10 at 5 p.m. (dinner from 6 p.m.)
Where: Gentry Pacific Design Center, 560 N. Nimitz Hwy.
BYOB? Yes
Tickets: $45 online
Menu:
Passed Noshes: Shinsato Farms handmade "Italian" sausage anglotti with brown butter and Nalo sage, and tako carpaccio with olive aioli, fresh handmade mozzarella and fire-roasted Sugarland bell peppers
First Course: Handmade fettucini tossed with EAT Honolulu's signature "heirloom" Sicilian sauce and ricotta cream
Second Course: Pancetta-wrapped filet of beef with Madeira glaze over porcini mushroom risotto, and warmed Hawaiian Swiss chard
Sweet trEAT: Goat cheese panna cotta with Moscato-poached cherries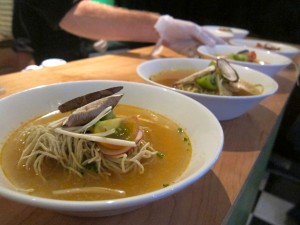 Miso & Ale x Lucky Belly
What: Roving pop-up's latest appearance, with five courses by Christopher Okuhara and Christopher Gee and sake pairings by Lucky Belly's certified sommelier, Dusty Grable
When: Sunday, Aug. 12 at 6 p.m.
Where: 50 N. Hotel St.
BYOB? No
Tickets: $69 online SOLD OUT, but Miso & Ale is scheduling three encores in August
Menu:
Surf & Turf Charcuterie: Tako confit with a chorizo-lemon relish and "ink" tahini, crispy cow's tongue with a burnt peach katsu sauce, and cured ahi with a grapefruit romesco
Soup, Salad and Balloons: Tomato cream-filled mozzarella balloon, petit herb salad, grilled apricots, balsamic and crispy Thai basil toast
Miso Lucky Ramen: Fresh chuka soba with a rich sesame-miso chicken broth, quick pickled vegetables, chicken gyoza and a poached egg
Pork on a Plank: Applewood-planked pork belly with heirloom carrots, roasted jalapeno cornbread and a hard apple cider butter
Deconstructed Upside-Down Pineapple Cake: Liquid nitrogen buttermilk ice cream with a caramelized pineapple pecan carpaccio and rum coconut sponge cake