Easy Que brings bangin' BBQ and dreamy dessert to Kailua
Proper central Texas barbecue and a dreamy soft serve starting Wednesday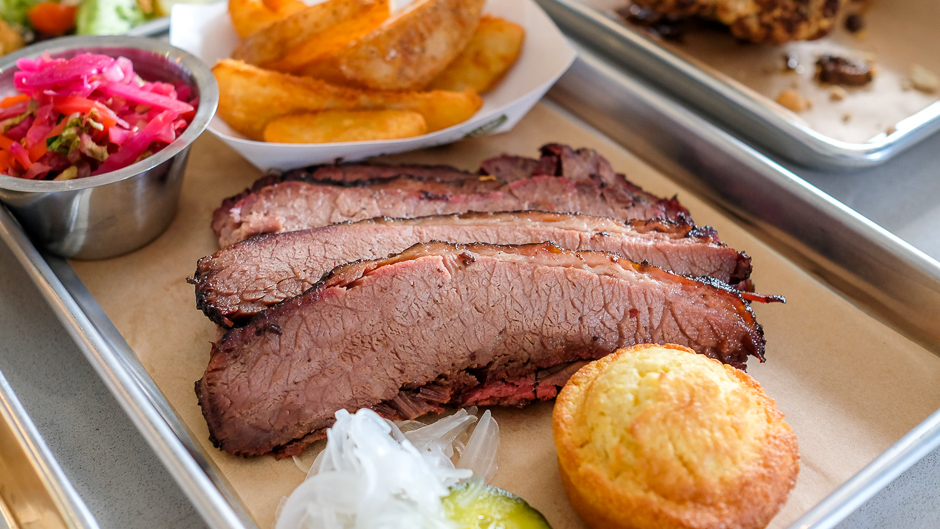 Imagine that. A brand new restaurant specializing in smoky central Texas barbecue is opening in Kailua and I fall in love with, of all things, their soft serve ice cream. Nik and Jen Lobendahn hosted me and a few bloggers for a small preview at Easy Que, which opens for dinner Wednesday, May 15 at 5 p.m. We sampled slices of luscious smoked brisket, pork ribs and sides before finishing with yogurt and pineapple soft serves topped with "pie crumbles."
That night, I had a dream about the ice cream. Aunty Ella Makio, the Yeehaw lady from Costco, was in it. Long story short, she'd take a bite and say, "It's sooo delicious, it'll make you go 'Yeeeee-hawwww!'"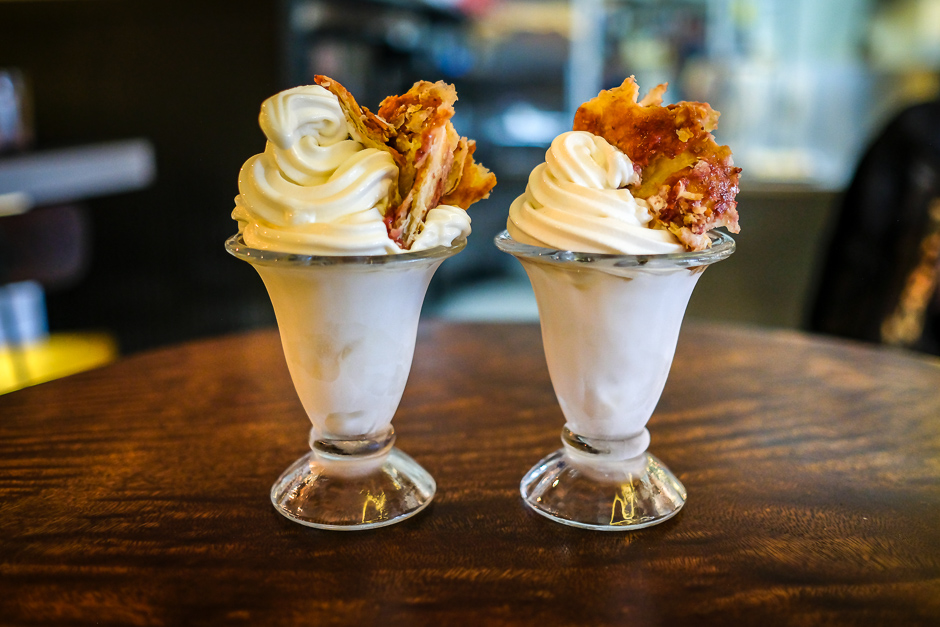 Picture a slice of pie. The best bites aren't the first ones you take, but the ones you save for last: the flaky, buttery crust bits that have soaked up the perfect amount of filling. Now picture that crust fanned on the edge of a soft serve swirl like a Karen Keawehawaii headpiece. An inverted pie ala mode, if you will.
Two bites in and you're lost in the nooks and crannies of a crust slathered with dreamy, creamy soft serve. Each bite seems more addicting than the last. I'm killing myself just thinking about it. This alone is worth the drive over the Koolau.
Thankfully, so is the barbecue, which has similarly been refined over numerous trials. This isn't the couple's first rodeo when it comes to restaurants: The Lobendahns also own Over Easy, a Kailua brunch spot they opened in 2016. With Easy Que, the Alan Wong alums aim to fill the Windward barbecue void with what thay're calling "aloha barbecue" — a menu of classic Texas 'que born of a team trip to Austin followed by a local makeover.
And let's be honest: It's not just Kailua that's devoid of proper smoky brisket and ribs, it's the entire island. The good news is Easy Que marks the start of a meat fest. This month, Sunset Smokehouse will expand into a permanent home in Wahiawa and 808 Tex is set to open by Teddy's Bigger Burgers in Hawaii Kai.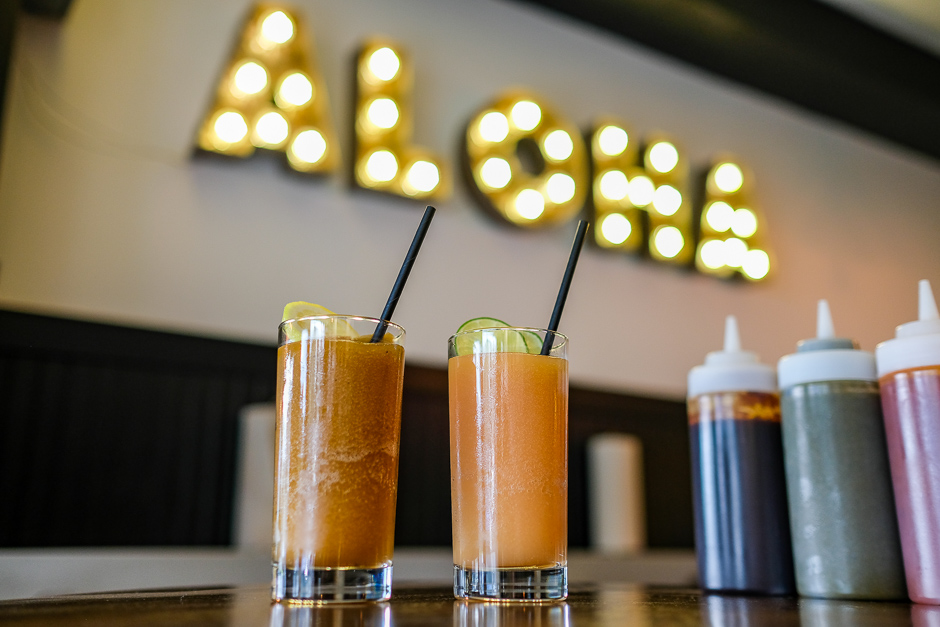 We'll start with the bar because oh my Lawd, what I would do for a sweet tea slushy spiked with vodka during this heat wave. It's a full bar whose Texas-sized list of libations starts with bourbons and whiskeys like Buffalo Trace ($8 a shot) and High West Campfire ($16 a shot). They also have a couple of $10 cocktails and boozy $10 slushies served straight up, swirled or virgin. You'll also find a small list of domestic and local beers by the can, pint, pitcher or bucket if you're classy ($5 – $29).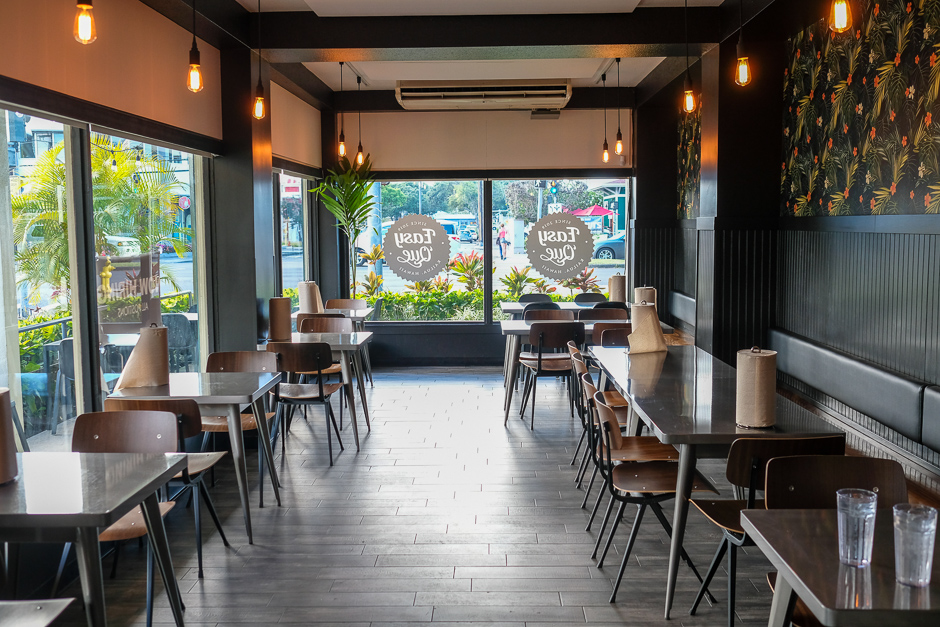 Now the food. All the 'que is prepared in a Southern Pride indoor smoker. One of two on Oahu, this baby is the champion of gas-burning smokers. You order by the plate combo or a la carte by the pound at the counter, then find a seat with your number. Everything comes arranged on butcher paper and metal trays. You won't find many frills here. There are rolls of paper towels at each table.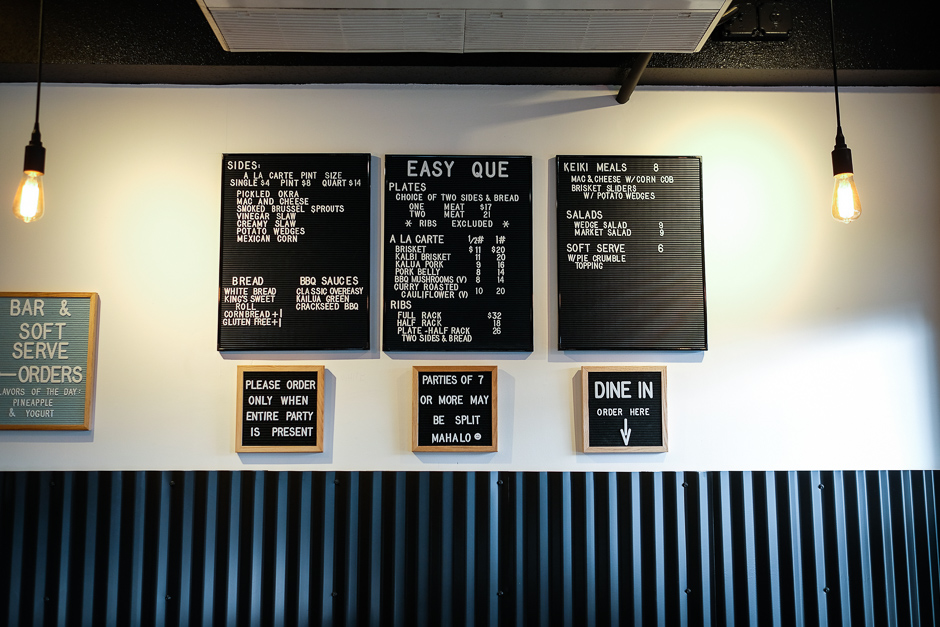 If you're with a hungry group, order glorious swaths of brisket, kalua pork or pork belly for $14 to $20 a pound. For smaller groups and individuals the combo plates include two sides, a bread and one ($17) or two ($21) meat selections excluding ribs, which you can order as a half-rack plate for $26. Combo plates let you combine sides and meats without having to splurge on large quantities of meat.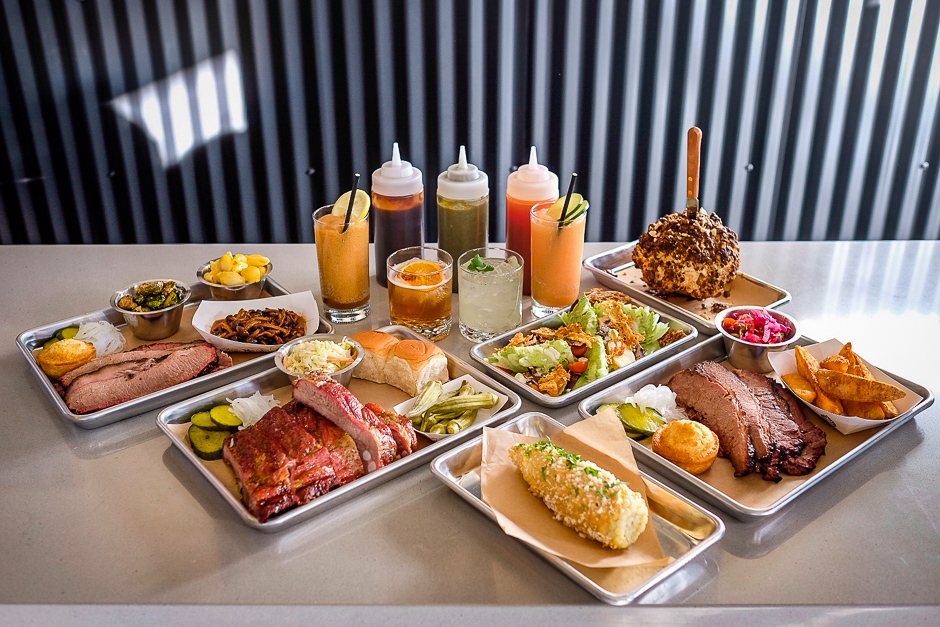 Of the two brisket styles, I prefer the kalbi brisket over the plain. It gets a marinade before it's smoked with kiawe wood for 15 hours, so there's a hint of sweetness on the edges and it practically falls apart in your mouth. By default you'll get a mix of lean and fatty brisket cuts, so if you prefer one or the other, let them know at the counter.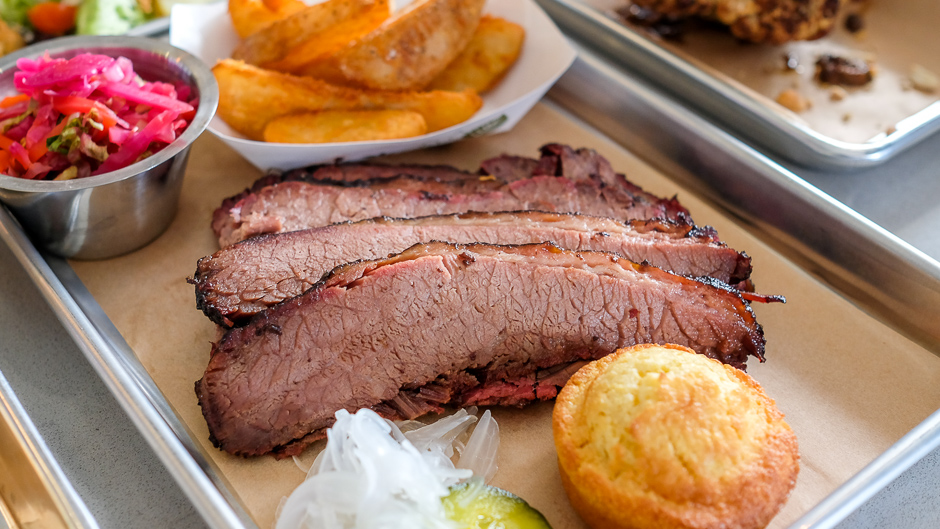 The pork ribs are delicious as well and come cleanly off the bone. They're seasoned, but you'll want the trio of homemade sauces if you're looking to jazz up your meat. Most exciting is the vinegary crackseed barbecue sauce, whose salty li hing twang holds up to the fattiness of the brisket. Kailua Green is a Thai green curry-based sauce and is much thicker because of herbs that are blended in. It's spicy but does not overpower. The original sauce is your traditional thick and sweet Carolina-style sauce with notes of brown sugar, worcestershire and honey and a consistency of hoisin.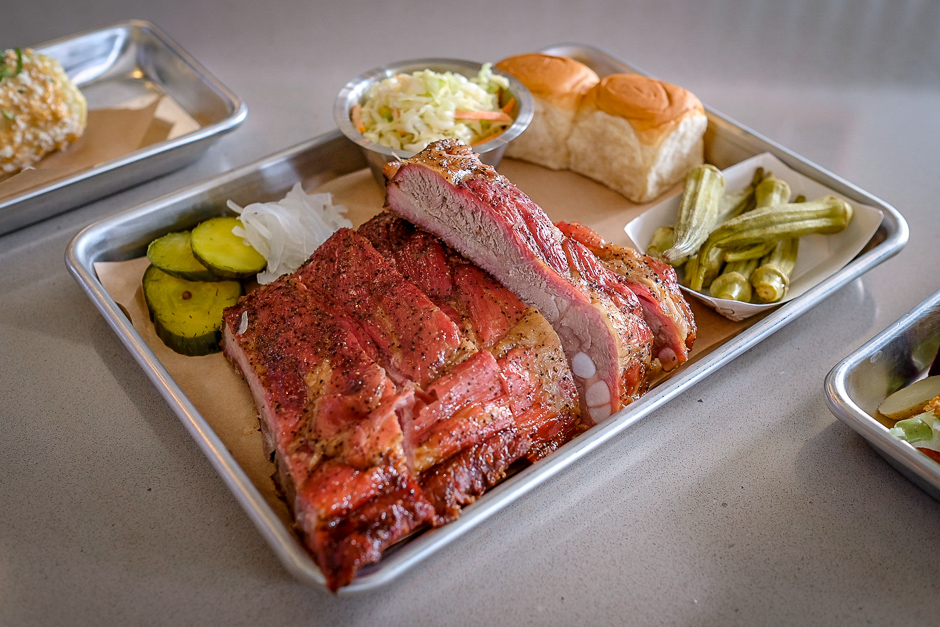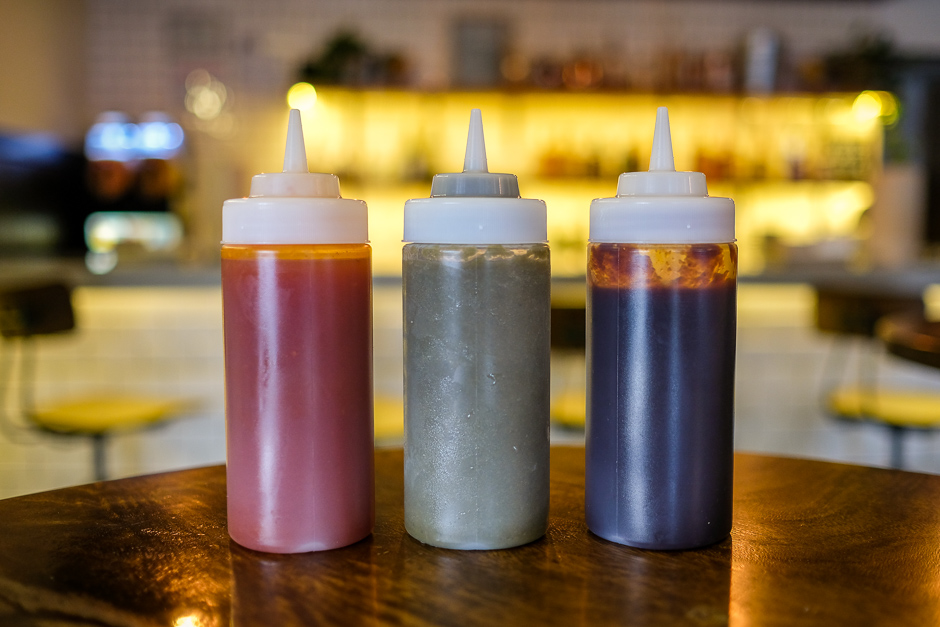 Sides include many Southern staples: baked mac and cheese (in shells), smoked brussels sprouts, pickled okra, two slaws, crispy fried potato wedges and a lovely Mexican elote (corn). Though difficult to narrow down, I'm going for the mac and cheese and juicy elote topped with cotija and mayo on my next visit. The crispy wedges are a close third for their seasoning and crunch factor, which contrasts with the tender meats.
Also, don't forget to snag a corn muffin as your bread choice. Made in a muffin pan, the edges have a crisp bite while the interior is extra crumbly.
I'm looking forward to giving the kalua pork and pork belly a go on my next visit. They'll be coming on a combo platter AFTER I have a moment with my soft serve and pie crust.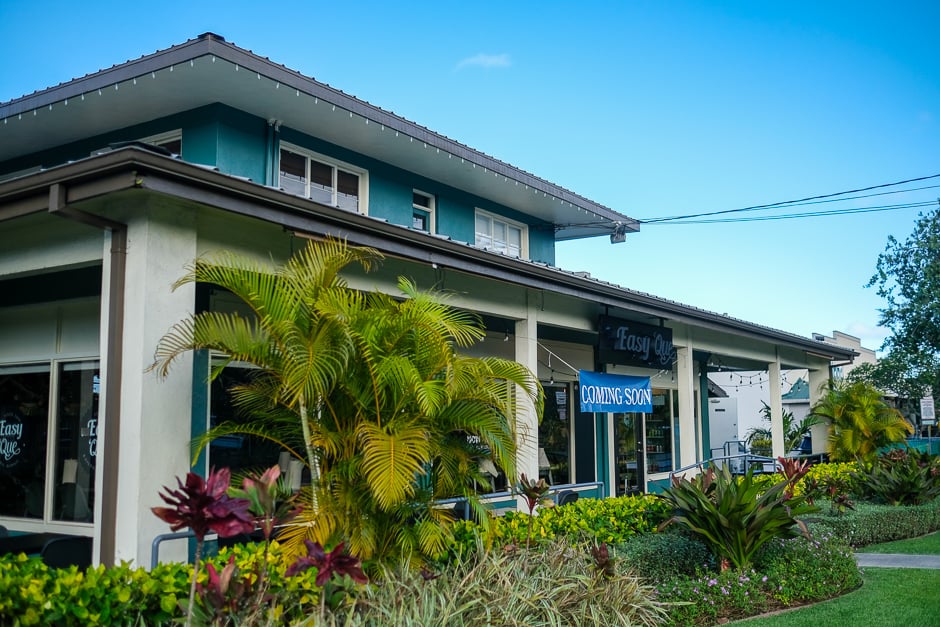 Easy Que
767 Kailua Rd., Suite 106
Kailua
762-3089
Soft opening limited hours Wed – Sun 5-8 p.m.
Normal hours after soft opening Wed – Sun 3:30 – 9 p.m.