Family Recipes to Try at Home with the Keiki: Easter Cookie Pops
Fun and festive treats that are easy to eat on the run.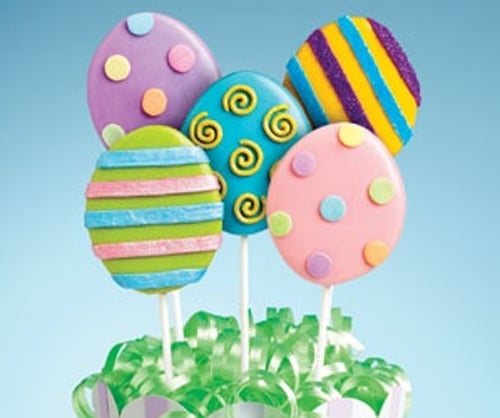 Ingredients
2 3/4 cups all-purpose flour
2 teaspoons baking powder
1 teaspoon salt
1 cup butter, softened
1/2 cup granulated sugar
1 egg
1 1/2 teaspoons vanilla extract
1/2 teaspoon almond extract
Decorations
White candy melts, melted
Primary, garden candy color sets
Yellow and white pearl dust
Imitation clear vanilla extract
Colored sugar of your choice
Jumbo confetti sprinkles
Treat sticks
Instructions
1. Preheat oven to 400°F.
2. In medium bowl, combine flour, baking powder and salt.
3. In large bowl, beat butter and sugar until light and fluffy. Add egg, vanilla and almond extracts; mix until blended.
4. Stir in flour mixture. Do not chill dough; divide into two balls.
5. On floured surface, roll each ball into a circle approximately 12 inches in diameter and 1/8-inch thick.
6. Dip egg-shaped cookie cutter in flour and cut dough; place on ungreased cookie sheet.
7. Bake 6 to 7 minutes and cool.
8. Tint melted white candy desired colors. Pour over cooled cookies to cover. Tap to settle; chill until firm.
9. Decorate with melted candy, sprinkles and colored sugars.
10. Brush set candy decorations with pearl dust/vanilla mixture.
11. Attach sticks to backs of cookies using melted candy.