Dumplings All Day Wong, a Cookbook by Lee Anne Wong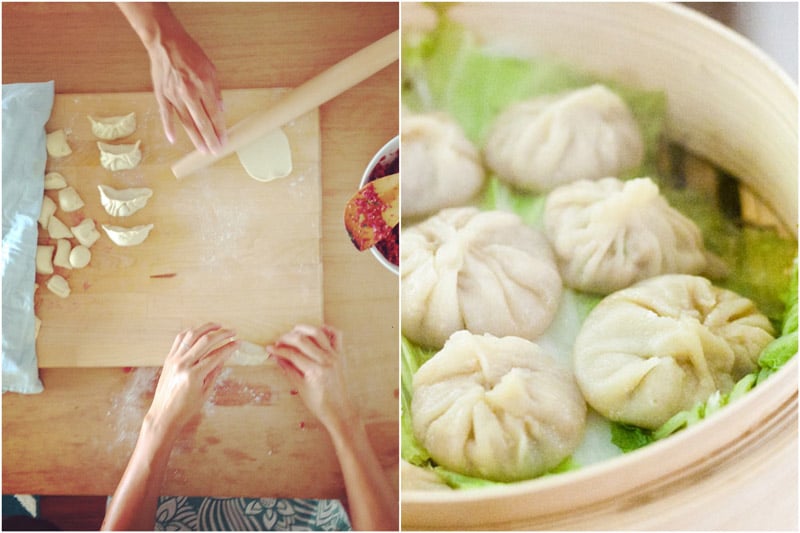 "A day spent eating dumplings is a good day," says one of the last members standing of Team Dumpling. We have been making and eating dumplings all day. Or rather, we have been making Dumplings All Day Wong, Lee Anne Wong's new cookbook with more than fifty dumpling recipes, from the classic pork and chive to a chicken parm shu mai.
For non-Chinese grandmothers or those who have folded fewer than 10,000 dumplings in their lifetime, they can be time-consuming to make from scratch. It took Team Dumpling three hours to make just 30. But I never get tired of making them: partly because the little pleats bring back memories of folding jiaozi with my grandma and partly because I never make them by myself, but always with free labor friends.
Who doesn't like dumplings? They're like tiny presents, and as Dumplings All Day Wong proves, can be filled with whatever you want. What I love about the book is its potential to bring dumpling excitement to the masses, taking it out of its only-for-dim-sum steamer and into a whole new world of grilled lamb satay shu mai and panang curry wontons. Be prepared to spend a lot of time with this book: both browsing it and with the recipes—most are not of the quick-and-easy variety.
From the cookbook, we tried the root vegetable dumpling with brown butter creme fraiche, a unique package that paired a fish-sauce and five-spice spiked filling with a creamy brown butter dip. Fish sauce and brown butter: Who knew they'd work so well together? (You might still want to keep a dish of shoyu on hand, though, for traditionalists.)
I also couldn't resist making the pork and crab soup dumplings, aka Shanghai soup dumplings or xiao long bao, one of my favorite dumplings ever. (I'm clearly not the only person in love with them: They're one of Shanghai's 83 "protected traditional treasures.") Plus, Wong describes them as "one of the true secret keys to happiness," and I'm pretty sure we could all use a spare happiness key. They take at least a day to make, so start the soup for them either the day before or early in the morning. They're totally worth it. If you want to get really serious about them (which I plan to the next time I make them), here's some extra homework: Go to a hardware store and get a one-inch diameter dowel to use as a rolling pin (the most common ones you'll find are just too big and bulky) and watch this video, which shows the technique of world-famous Din Tai Fung dumpling masters. And then revel in these little bundles of joy.
Pork and crab soup dumplings recipe from Dumplings All Day Wong by Lee Anne Wong
For the soup gelatin:
2 lb (900 g) chicken wings and/or feet
8 oz (225 g) pork belly, with skin
4 oz (115 g) Chinese ham or bacon
8 cups (2 quarts) water
3 whole scallions, minced
1" (2.5 cm) piece ginger, thinly sliced
3 cloves garlic, lightly crushed
2 Tbsp (30 ml) Shaoxing rice wine, chilled
1 Tbsp (15 ml) soy sauce
For the filling:
8 oz (225 g) ground pork
4 oz (115 g) crabmeat, cleaned and picked through, or shrimp, peeled, deveined and minced
1/2 cup (25 g) minced scallion, white and green parts
2 Tbsp (30 ml) soy sauce
1 Tbsp (15 ml) Shaoxing rice wine
1/2 Tbsp (7.5 ml) sesame oil
2 tsp (10 g) sugar
1 tsp (5 g) salt
1 tsp (5 g) finely grated ginger
1/4 tsp ground white pepper
To make the soup gelatin:
Rinse the chicken and pork under cold water, then pat dry with paper towels. Using a large knife or cleaver, chop the chicken wings and feet in half to expose the bone. Dice the pork belly and ham into large chunks. Combine with the water, scallion, ginger and garlic in a large stockpot. Bring the water to a boil and then reduce to a rolling simmer. Skim the foam and impurities that rise to the surface of the stock for a clearer broth. Cook the broth for 2½ hours.
Strain the stock through a fine-mesh sieve or colander lined with a lint-free towel into a clean pot. Discard the solids (or pull the braised meat from the wing bones and chop and use for dumpling filling, stir-fry, salad, stew or sandwiches).
Place the strained broth back on the burner. Add the wine and soy sauce. Bring the broth to a rolling simmer and reduce until you only have 2 cups (475 ml) of liquid remaining. Pour the soup into a shallow baking dish. Allow the soup stock to cool enough to stop steaming, then cover and place in your refrigerator.
Chill the stock for several hours, until it is completely cold and set, like Jell-O. Using a fork, scrape up the gelatin and gently mash it to break it up into small pieces.
To make the filling:
Combine the ingredients in a bowl. Mix well. Stir in the soup gelatin until it is well distributed. Cover and refrigerate the filling.
For the dough:
2 cups (200 g) packed all-purpose flour
1 cup (235 ml) boiling water
1 Tbsp (15 ml) sesame oil
To make the dough:
Place the flour in a bowl and make a well in the center. Pour the boiling water and sesame oil into the center of the well and stir with a fork or pair of chopsticks until the dough begins to come together. You may need to add more water if it is dry, or if the dough is sticky, a touch more flour. Once the dough comes together, turn it out onto a lightly floured surface and knead lightly for 3 to 4 minutes, until it can be kneaded into a smooth ball. Wrap the dough in plastic wrap and refrigerate for at least 1 hour.
Working on a lightly floured surface, roll the dough into a 2-inch (5-cm)-thick rope and divide the dough into 10 even pieces. Roll each piece into a 1-inch (2.5-cm)-thick rope and cut into 4 pieces, for a total of 40 pieces. Keep the dough covered in plastic wrap or with a damp towel.
Using a small rolling pin, roll each piece of dough into a 4-inch (10-cm) circle about 1⁄16 inch (0.2 cm) thick. You may roll out all the wrappers at once if you keep them lightly floured and covered.
Add a heaping tablespoon (12 g) of filling to the center of the wrapper and wet the edges with a pastry brush or your finger. Begin to gather the edge of the wrapper and make tiny overlapping pleats, keeping the center of the dumpling as the focal point, until you have gathered all of the dough and the dumpling is formed. Gently pinch the pleats to seal the dumpling.
Store on a lightly floured tray, covered with plastic wrap. Refrigerate or freeze as needed.
To steam the xiao long bao:
Arrange the dumplings at least 1½ inches (4 cm) apart in a dim sum steamer lined with blanched napa cabbage leaves or greased parchment paper that has holes punched in it. Place the dim sum basket over several inches of water in a wok (the water should reach just below the bottom tier of the first basket). Bring the water to a boil and steam the dumplings for 6 to 8 minutes, adding more water to the bottom pan as necessary.
Serve hot with black or red vinegar dipping sauce and chile oil.