Droolworthy: Volcano Shakes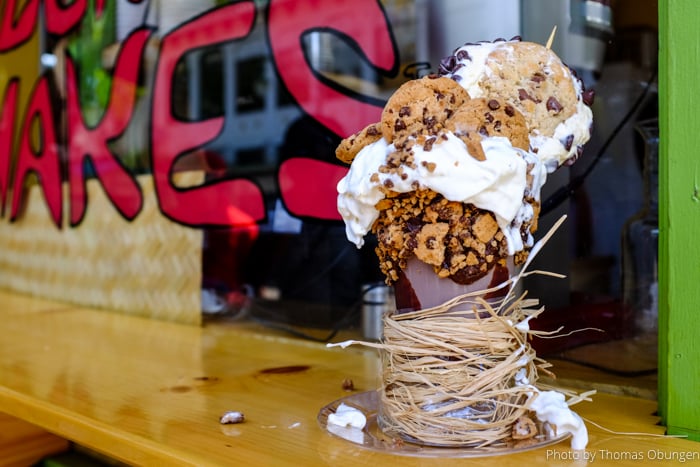 The Mt. Saint Helens Volcano Shake
Volcano Shakes
Chances are you saw (and gasped at) a video posted by Business Insider on the mile-high milkshakes that shot New York City's Black Tap Burgers & Bar to astronomical Instafame levels. Since then, I've had it bookmarked for my next jaunt to the East Coast.
But wait! No longer will we need to visit the Big Apple to satisfy our lust for copious amounts of whipped cream, cookies and every sweet under the sun piled onto a hand-spun milkshake.
Volcano Shakes burst onto the Chinatown food scene in mid-April with an incredible menu of milkshakes adorned with gigantic donuts (from Mr Donut's of course), toasty marshmallow s'mores and gut-busting ice cream sandwiches. All 32 of my sweet teeth squealed with joy when I walked by on a day they were serving these coveted monstrosities.
Be forewarned, you may need to wait upwards of an hour or two for a Volcano Shake.
The Mt Saint Helens ($15.25) shake blew my mind when it arrived at the counter — its shock-and-awe was worth the 45-minute wait. Easily a foot tall, this Volcano Shake was erupting with whipped cream, semi-sweet chocolate chips, Chips Ahoy cookies and an entire ice cream sandwich I watched them make by hand.
Days of late have been especially hot, so this extra tall shake was pure, sugary bliss. The malty chocolate milkshake made the perfect bath for dunking the cookies and the boba straw was the perfect implement to suck up every last chocolate chip and cookie crumb.
Bring a friend (or five), your lunch and a whole lot of patience and you too can indulge in this on-trend milkshake.
Volcano Shakes
Chinatown
102 N Hotel St
888-9939
Volcano Shakes on Facebook