Droolworthy: Steak & Fish Company scallops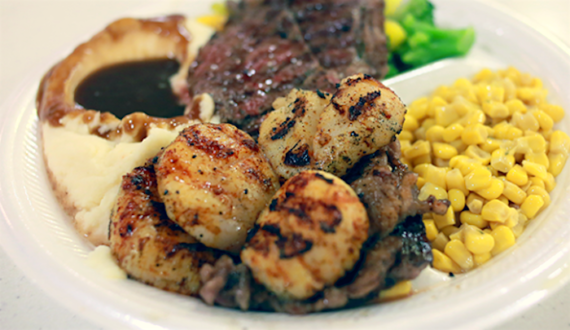 Do you ever not expect much from a place, so you get yourself ready for the worst? That's what we did. Expect the worst from Steak & Fish Company, because it was a tiny place we'd never heard of, in the middle of a food court.
Growing up, I remember thinking mall food courts were the epitome of fine dining. When I finally had enough money to buy my own food court meals, I felt like such an adult. Poor, innocent, high-school Eric. When did I become such a food court snob?
The girlfriend and I found ourselves in Ala Moana's Makai Market a few weekends ago. We were in eater's purgatory: You need to eat, but have no real appetite. We were aimless, listless, in a fugue state.
Then we saw the horde. Tourists gathered around a cash register waiting for their meals. I turned to the girlfriend and said with gravitas, HERE. There's a lot of people here, so it must be good. You can't argue with logic like that.
So we found ourselves at the Steak & Fish Company. I like steak. I like fish. I navigated around the sea of tourists and found a counter filled with trays of meat. Glistening, juicy, tender-looking pieces of meat. At that moment my stomach gurgled. So this was why the tourists were here.
I looked at the menu, still not expecting much. Then I saw scallops. I had to look again. My God. Scallops. In the food court.
Scallops are my holy grail of seafood. Sweet, light flavor. Tender flesh giving way as your teeth sink in. And not just scallops. Scallops and steak. A combo of two of my favorite things. The decision had been made. But I kept my feelings in check. I was happy finding scallops, but they were going to be the size of quarters. But still, they were scallops. And I was past the point of caring.
Then the scallops and steak plate ($14.95) came. It was like the Lord Jesus Christ himself took me out of eater's purgatory and brought my appetite back to life.
Mine eyes beheld seafood majesty. Scallops, as far as the eye could see. They covered a fourth of the plate. And these weren't quarter-sized scallops. These had size, heft, character. The thin seared crust on the top, glistening with juices. The flaky texture as I bit in. I chewed slowly, deliberately, savoring the taste of the ocean. And then I went for another. And another. There were scallops aplenty. And they weren't alone.
There was steak. A strip of thin meat that belied the flavor within. It was juicy and cooked medium-rare, just as requested. There was a slightly smoky flavor. It came apart in tender, delicious morsels. Oh, and there were vegetables. There's always vegetables. But we came here for meat. And scallops.
In the end, we got more than that. We got our expectations met above and beyond what we thought possible for a food court. The scallops and steak combo plate at the Steak & Fish Company taught us that sometimes, even in adult life, a food court really can come pretty close to fine dining.
Steak & Fish Company
Ala Moana Center Makai Market
1450 Ala Moana Blvd.
941-1388
Monday to Saturday 10 a.m. – 9 p.m.
Sunday 10 a.m. – 7 p.m.