Droolworthy: Paella at Waikiki's Pindan Foods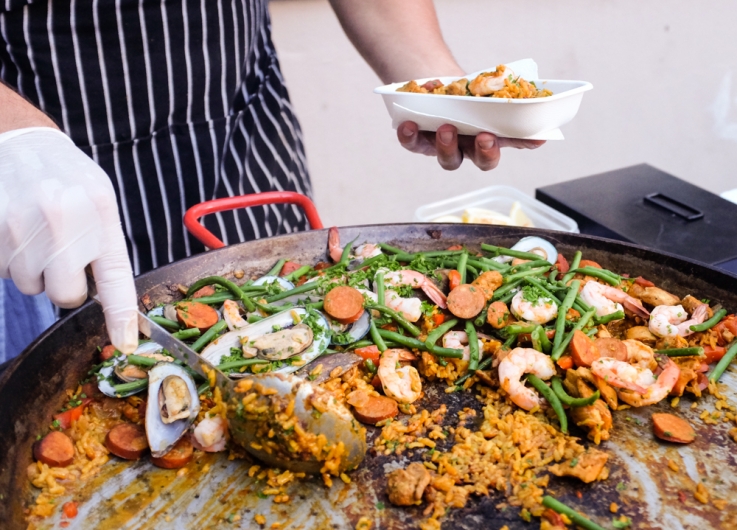 Truth be told, I had a difficult time writing this post. Not because I wasn't confident you would love Pindan's paella, oh no. I wrestled with the thought of telling a secret I've been keeping for the past eight months at the cost of having to wait in line to get it. But since I'm anything but selfish, I'll let you in on one of Waikiki's best dinner deals.
Take that $11 burning a hole in your pocket and get yourself a plate of gorgeous paella at Pindan Foods, one of the stalls in the Kings Village Shops farmers market. Pindan is the name for red soil (not unlike our red dirt) in Western Australia, where owner and paella master Cameron Payne is from – what this has to do with paella beats me, but I'm not complaining.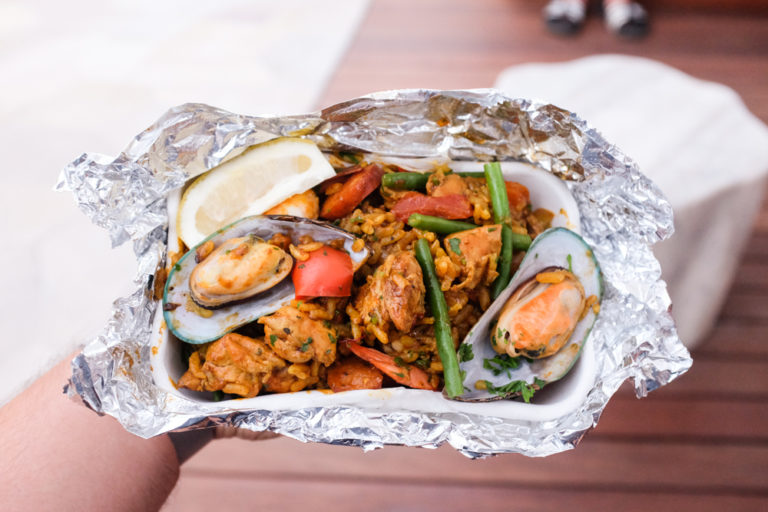 Come to the market early and wander to the back of Kings Village. You'll see paella being prepared and served out of three enormous paelleras, shallow pans for cooking paella. Vibrant hues of golden saffron and red-orange paprika coat every inch. Plump shrimp, juicy mussels, tender chicken, green beans and hunks of chorizo sausage are plentiful throughout. The rice? Cooked perfectly – all it needs is a spritz of lemon juice to liven up the tomato base.
Grab a plate and eat it on the spot or head to International Market Place and feast in one of the spacious cabanas on the Grand Lanai: al fresco dining at its finest. The only thing missing is a bottle of your favorite rioja.
Pindan Foods
Kings Village Farmers Market
131 Kaiulani Ave.
Waikiki
489-4557
Monday, Wednesday, Friday & Saturday 4 – 8:30 p.m.
Cash only