Droolworthy: Macarons by Tiffany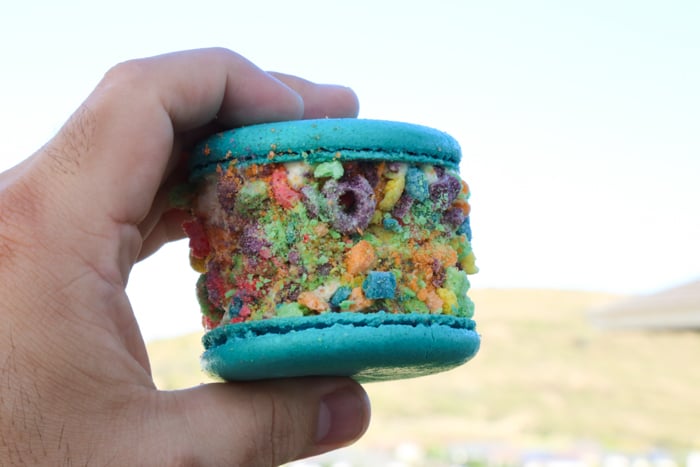 On a Friday afternoon I got a text. "Hi! This is macarons by Tiffany. I have one Froot Loops ice cream macaron available. It's $5 for one. Let me know if you are interested. Mahalo."
Never mind that Tiffany was in Makakilo. I didn't even have to think. "Yes! When shall I pick up?"
It's been two years since I started following @MacaronsbyTiffany on Instagram. Her macarons are so beautiful and creative that people order them months in advance. They have to. Tiffany's macarons have a cult following. They're so popular she's sold out into the foreseeable future, even though her only pickup location is in Makakilo. There are Lucky Charms, Fruity Pebbles, Cocoa Pebbles, Froot Loops, vanilla, chocolate, smores, Ferrero Rocher, Oreo, circus animal cookie, blueberry cheesecake, chocolate mint chip and mac nut macarons, any of which she can make into ice cream sandwiches.
So I added myself to her waitlist and crossed my fingers that something would become available.
Getting Tiffany's text was like winning a lottery. In no time I rounded up two macaron-loving buddies and we found ourselves driving out to Makakilo in Friday-afternoon traffic. For a single macaron ice cream sandwich.
It was worth every penny and every minute of the 60-minute drive. The macaron shells were perfect: lightly sweet, Froot Loopy and delicate without being too fragile. In between, two inches of vanilla ice cream were coated in crispy cereal, giving the sandwich a crunch and a nostalgic sugary sweetness.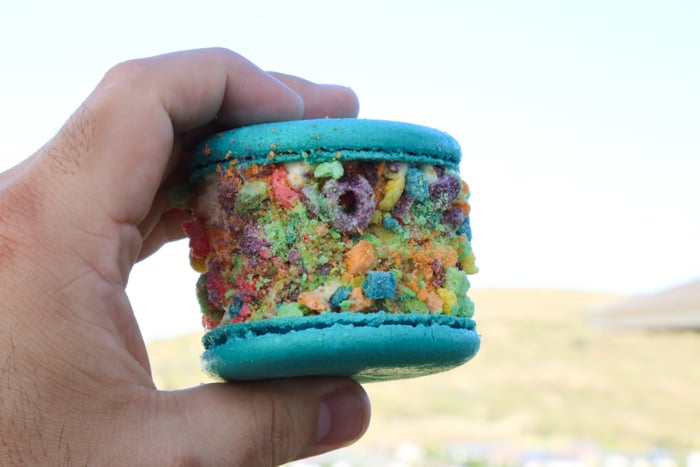 Standing in the parking lot, the three of us shared the one sandwich. It was a great Friday afternoon.
Tiffany is booked with orders until sometime in April. If you want to try her macarons (20 per box) or macaron ice cream sandwiches, you can contact her at macaronsbytiffany@gmail.com. I put myself back on the waitlist. You can bet I'd drive out there again.